5 Ways To Help Students Overcome Math Anxiety
All Posts
Math anxiety is defined as "a feeling of tension, apprehension, or fear that interferes with math performance". Often seen in students, math anxiety can range from general discomfort and mental disorganization to feelings of panic and high anxiety. Even though most students can cope up with this distress, for some the fear is so severe that it affects their math learning abilities and in turn, becomes a vicious cycle of failure.
Since math anxiety is a natural feeling based on the fear of not scoring or not excelling in the subject, as a teacher, you can help your students overcome math anxiety through several tips and techniques. Here are the top 5 methods to help overcome math anxiety in students:
1. Debunk Myth Around Math
When it comes to overcoming math anxiety, the first thing you need to do is to debunk every myth surrounding math that your students believe or have heard about. Having false belief only stirs up the underlying anxiety in students, especially for those who have a slower pace in learning math.
As a teacher, you should completely eliminate the idea of having a "math brain" to succeed in math, which most students naturally believe even before they start learning math. Busting these myths builds confidence in students to understand the subject with an open mind.
2. Positive Reinforcement
The worst fear of a student is the humiliation faced after getting a problem wrong or scoring low on a test. As a teacher, building confidence and ensuring students through positive and encouraging remarks is the first step to overcome the built-up anxiety in students. 
Eliminating negative remarks during class and rewarding students for efforts taken goes a long way in gaining their trust and building confidence.
3. Back To Basics
If your students are suffering from math anxiety, there's always a chance it is deep-rooted and is developed over a few years. Therefore, going back to the basics and strengthening their core skills is always a good idea. Give your students the opportunity to practice and master essential math skills before they jump into much more difficult problems. 
The more they practice basic math concepts, the stronger their logical skills will become which in turn helps in building confidence. Practicing mental maths will improve their working memory and help them proceed ahead.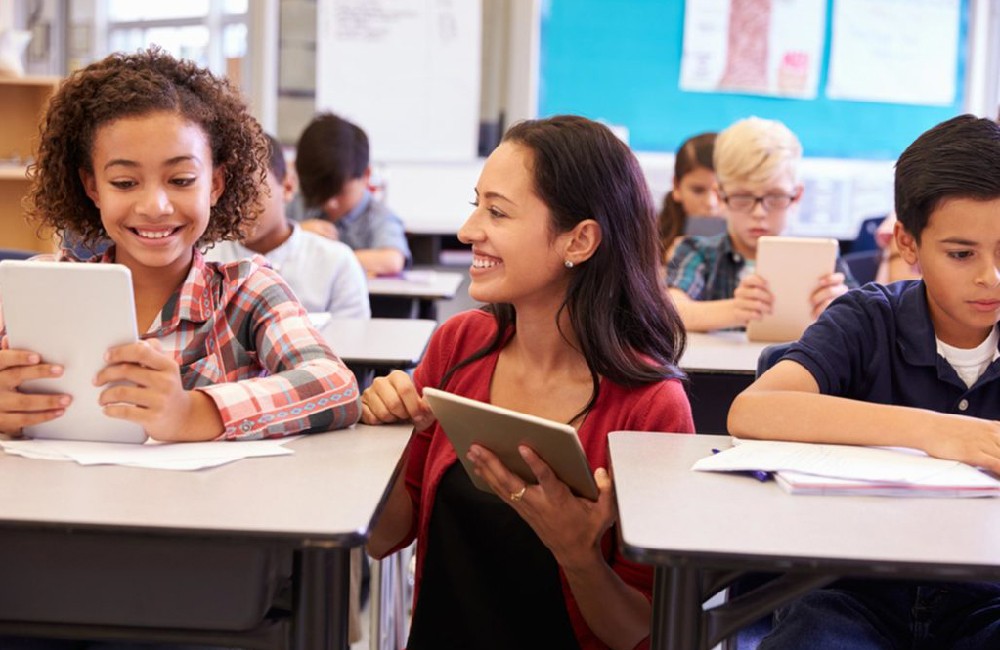 4. Make Math Fun
The best way to overcome math anxiety and removing the fear of failure in students is to introduce interesting and fun methods of understanding and practicing math. 
Game-based learning is a popular way these days, which students love and enjoy. So If your students get anxious while performing in tests and solving problems in class, you can introduce fun online math games through which they can practice and improve their skills. 
Students love playing games. Therefore, bringing math games in class will not only get their attention, but it will also make them actively participate in class which can become a challenge for teachers these days. Building an engaging environment in class through numerous puzzles, quizzes, and challenges are a great way to reduce their anxiety since students shift their focus from solving problems to winning in games.
Many schools have already introduced game-based learning in class that inculcates a new way of learning and also helps students develop cognitive learning skills by playing educational games.
Our online math game Prodigy is specifically designed for students from class 1-8. Keeping in mind the developing brain of students, Prodigy introduces a fun and interactive game where students fight battles, defeat their opponents and win points all the while solving crucial skill bases math problems.
5. Develop A Growth Mindset
Having a "growth mindset" means believing that a person can learn and grow in their abilities. This is really important for students at an age where their mind is constantly developing and understanding how society and their surrounding environment works.
Encouraging your students to take risks, take up challenging problems and practicing more will help them develop a growth mindset and will also motivate them to work harder.  
It is natural for students to get anxious over their performance in class, especially when it comes to a subject like math. Therefore, it is important for a teacher to not only instill that confidence in them but also use unique techniques and teaching practices in class that will help them develop an affinity to the subject. Fondness for a subject is also often based on the teacher's ability to make the class more comfortable and help them enjoy the subject.
If your students are always anxious about math problems, you should take a closer look at their math skills and introduce these techniques in class to help them overcome math anxiety,
If you're looking to introduce Prodigy in your school too, you can refer your school leader today at http://india.prodigygame.com/get-started/