How To Use Prodigy to Improve Your Child's Math Skills
All Posts
You want your child to love learning math. We want to help.
Prodigy is an educational math game that gets kids excited to learn math. Set Goals and give Rewards in Prodigy to encourage your child to practice curriculum-aligned math skills in an engaging and effective way. And best of all? It's free!
1. Set a Goal to motivate your child
Parent involvement is one of the biggest factors in student success. When you set a Goal for your child, you're motivating them to keep learning and tackling new problems.
Goals challenge your child to complete a certain number of questions correctly in a row. This encourages them to practice and master skills that align with lesson content, assignments or curriculum goals.
Here's how:
Visit the Prodigy website and click Login in the top-right corner.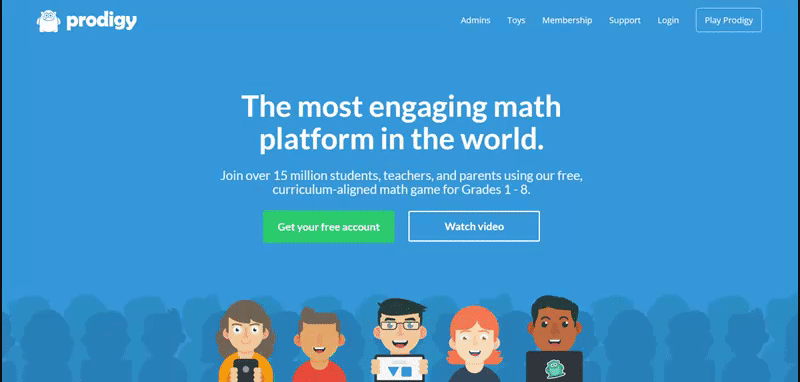 Then, select the child you'd like to set a Goal for.
Here you'll see your Dashboard, where you can send Goals, give Rewards and track your child's progress at a glance. To send a Goal, just select Set new Goal and choose the number of questions you'd like your child to complete.
Go to Goal Progress on the top left-hand side of the screen to see your child's progress, as well as how many Goals they've already completed. After you set a Goal, your child will receive an in-game notification. Check back to Goal Progress or the Dashboard anytime to see how your child is doing.
A Goal is considered complete when your child correctly answers the specified number of questions in a row. When you set a Goal, you're encouraging your child to keep practicing skills that align with what they're learning at school!
2. Give a Reward to encourage your child
Your child has successfully completed a Goal — congratulations!
Naturally, you want to reward them for all their hard work.
Here's how:
Once your child has completed a Goal, you'll be notified up to three ways:
Receiving an email letting you know that your child has completed the

Goal

and you can now send them a

Reward

Seeing a prompt on your

Dashboard

Visiting the Goal Progress page
Follow the prompts to send your child a unique in-game Reward, which they'll receive next time they log on to play. Rewards remind your child how much they've accomplished and incentivize them to keep learning. Once you've sent a Reward, follow the prompts to create another Goal.
3. Repeat!
Continue to set Goals for your child and inspire them to keep learning new math skills. By using positive reinforcement, you're investing in your child's future and giving them tools that will help them develop a lifelong love for learning.
>Click here to create or log in to your parent account on Prodigy – a free, game-based learning platform for math that's easy to use for parents and students. Effective and engaging, Prodigy is loved by more than three million parents and 50 million students.
---
Want to motivate your child to learn more math?
Our Premium Membership is a great way to encourage your child to practice -- and love to learn -- math!
I have seen many students improve their understanding of math concepts after reviewing the skills on Prodigy. My students who have the privilege of being able to access Prodigy at home show even more growth.
Susan Phillips
2nd grade teacher
Miamisburg City Schools