Introducing 3 New Premium Membership Features for Parents
All Posts

Written by Maria Kampen
Inspire your child
Use your Prodigy parent account to set learning goals for your child and give them in-game rewards.
Create your free account
As a parent, you've got a lot of roles to juggle: coach, cheerleader, homework helper, inspiration, motivation... the list goes on.
Now, you can be the difference in your child's education with three brand-new Premium Membership features made just for parents:
Practice Areas
Practice Sheets
Classroom Learning
Whether your child is learning remotely, in the classroom or a bit of both, our Premium features for parents give you insights into:
When your child's teacher sends assignments in Prodigy
What math questions your child is answering as they play 
Where you can jump in to support their learning and help them progress
It's the same Premium Membership your child will love, but with new features that give you on-demand info about their math progress.
When you have the tools to track and support your child's learning, you can encourage them to feel confident in their math skills — and that makes all the difference.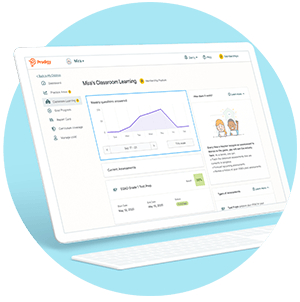 No more waiting for report cards or test results — get at-a-glance looks at the work your child's teacher assigned in Prodigy and find ways to support your child's learning. 
Practice Areas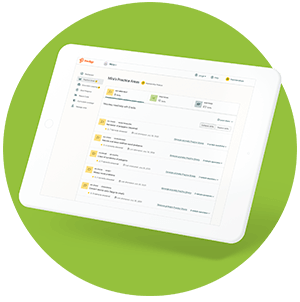 See the types of questions your child is answering as they play Prodigy Math, understand their learning progress and pinpoint new ways to help build key skills. 
Practice Sheets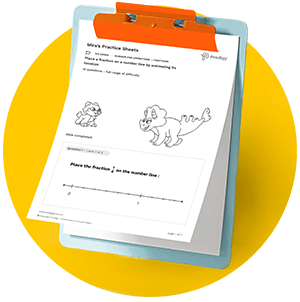 Use Practice Sheets to print off worksheets tailored to your child's skill level and work through skill-building questions together. Plus, every set of sheets comes with unique Prodigy artwork for coloring in!
Upgrade to a Premium Membership today
A Premium Membership delivers even more fun!
While all players get free in-game educational content to practice their math skills with, there's even more fun to have with a Premium Membership.
Upgrading to a Premium Membership unlocks extra rewards and game content for your child like:
Member-only items and rewards
Collecting and evolving up to 100 pets
Monthly loot drops with exclusive rewards
Access to all game areas — including the Dark Tower, where players answer more challenging questions the higher they climb
☝️ All things that can help a child enjoy practicing math, stay motivated and build a positive attitude towards math.
It's a win-win — your child answers more questions, and you get more insights into how they're learning.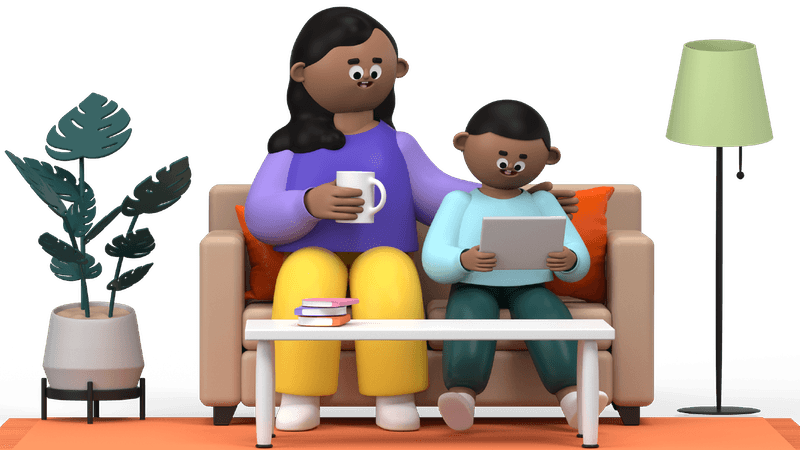 Already have a Premium Membership for your child? You don't need to do anything else — just log in to your parent account and check out the brand-new features.
Want access to new parent features? Classroom Learning, Practice Areas and Practice Sheets are automatically included at no extra cost when you purchase a Premium Membership for your child!
Upgrade to a Premium Membership today
No more missed assignments with Classroom Learning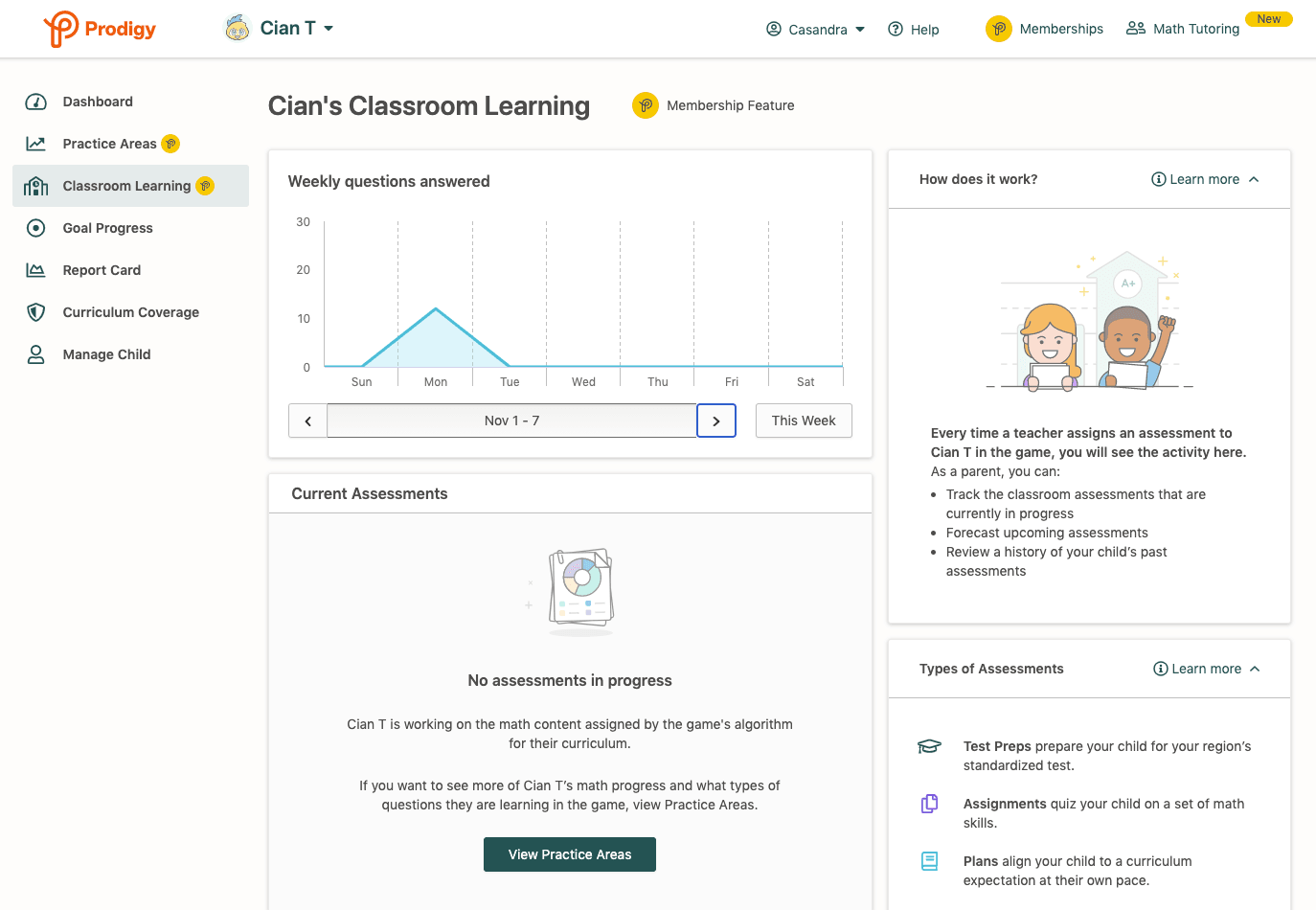 You can't always afford to wait for a report card or parent-teacher conference to understand how your child is learning. 
That's why we built Classroom Learning to give you a real-time look at the math work your child is completing — all while they go on exciting adventures, collect new pets and earn member-only rewards. 
You'll be able to see all the current, upcoming and past work your child's teacher has assigned for them to complete as they play. Use this information to:
See work in progress and encourage your child to complete assessments on time
View past assessment results to understand where your child needs extra support
Understand what's happening in the classroom so you can communicate with your child's teacher effectively
Once you see an upcoming assessment using the Classroom Learning tool, set a Goal and motivate your child to complete it faster! Once they're finished, you can send them a Reward for a job well done. 
Explore Classroom Learning
See where your child needs help with Practice Areas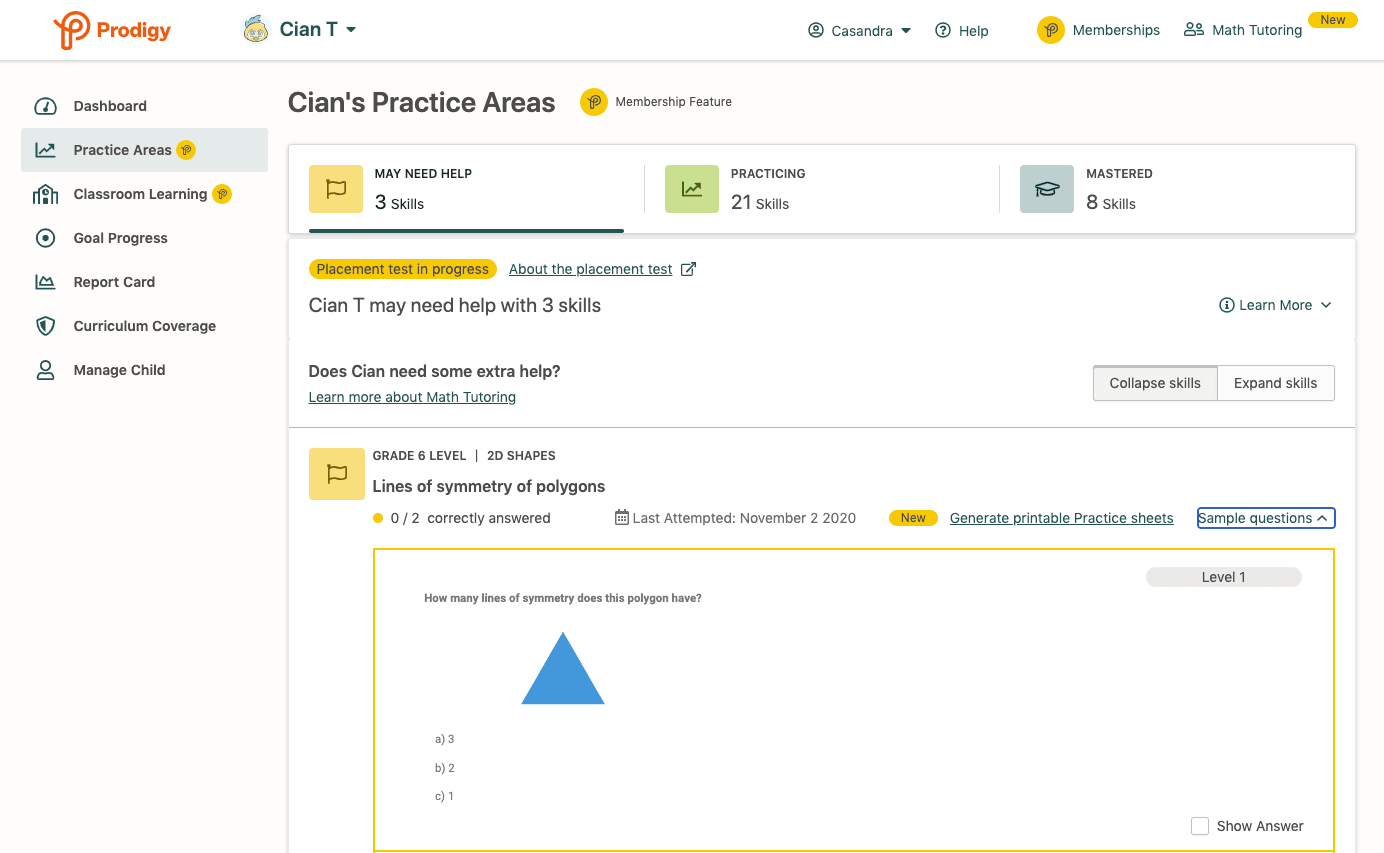 I want to help my child be more confident in their math skills, but I just don't know where to start.
Sound familiar?
Prodigy's new Practice Areas tool keeps you in the know when it comes to what math skills your child is learning and gives you up-to-date insights into where you can help.
Here's how it works:
Highlight where your child needs help at a grade and skill level
See sample questions and understand what skills your child is practicing as they play
Stay in the know and make sure your child is getting math practice tailored to their learning needs
With real-time skills progress and sample questions at your fingertips, it's easy to see where you can jump in and help your child learn. 
And when your child has you in their corner, there's no telling what they'll be able to accomplish.
Explore Practice Areas
Make homework fun with customized Practice Sheets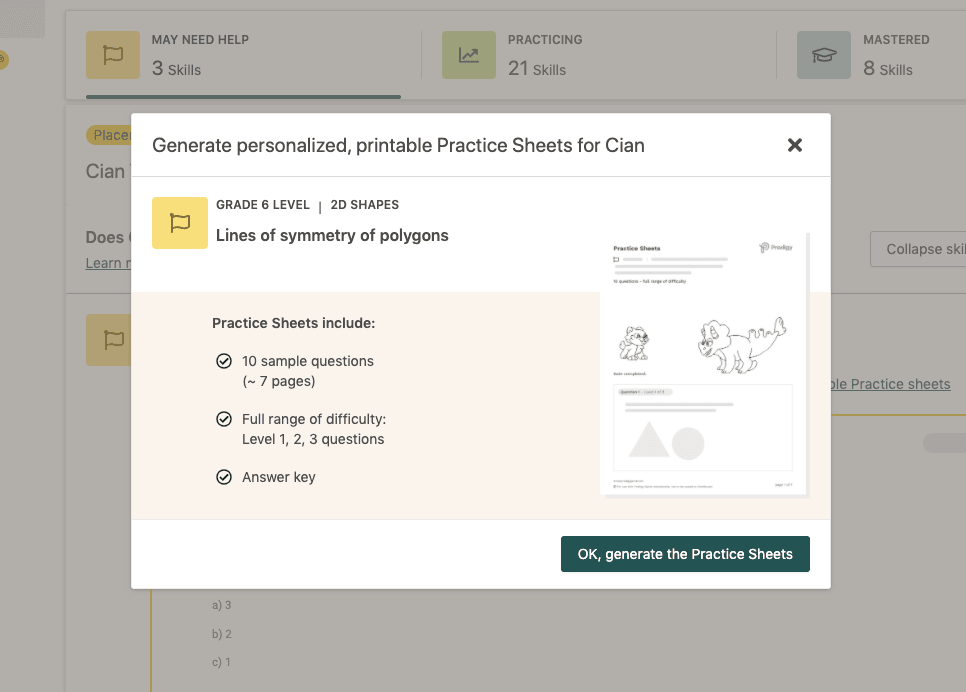 We've all been there -- searching the internet for just the right worksheet or resource to help your child master a tricky math concept. 
Practice Sheets makes helping with homework easy!
Test their online Prodigy learning offline with worksheets tailored to your child's skill development. Use Practice Sheets to:
Pinpoint math skills your child is working on and may need help mastering
Generate a sheet of questions tailored to what your child is learning in the classroom and where they need more practice
Print new worksheets as your child's skills develop and they learn new concepts
Have your child work independently, or sit down at the kitchen table and go through the questions together. Use them as a quick review, practice on a tricky concept or to prepare for an upcoming test.
Plus, every set of Practice Sheets pairs skill-building math questions with exclusive Prodigy art your child can color in. Display it on the fridge as a reminder of your child's math progress and creativity.
Explore Practice Sheets
The benefits of a Premium Membership keep adding up
All of Prodigy's new parent features are included at no extra cost when you purchase a Premium Membership for your child!
While they have a blast with new in-game items and exciting pets, you'll get insights into their progress that help you support learning whether they're at home or at school. 
What could your child accomplish with a Premium Membership?
Upgrade to a Premium Membership today