A Parent's Guide to Prodigy: Goals, Reports, Memberships
All Posts
Congratulations! You're now part of the most engaging math platform in the world.
Soon, you'll start hearing your child rave about levelling up, casting spells, defeating monsters, catching pets, earning badges, and it may sound somewhat confusing.
But have no fear! It's all part of the curriculum-aligned, fantasy-inspired adventure that's boosting children's confidence and improving math skills!
As a new Prodigy parent, there are some exciting perks we cover for you below:
Join our Prodigy Parent Community on Facebook to connect with other parents, share tips and get answers to all your questions!
What's Prodigy and why should you encourage your child to play?
Prodigy is loved by more than 1.5 million teachers and 50 million students worldwide. And more than 3 million parents  like you use Prodigy to make math fun for their kids!
With 1,400+ curriculum-aligned math skills for 1st to 8th grade, it's much more than a game. Prodigy is an engaging game-based learning platform that's dedicated to improving students' academic achievements in math.
Research suggests Prodigy can increase math scores and effectively supplement student growth:
Compared to Inactive schools — ones that didn't use Prodigy — we found evidence that Active and High-Usage schools achieved 3.0% and 11.6% improvements in 3rd grade EQAO test scores (via 2014 case study)
In contrast to 2015 scores, there was a correlation between schools who played Prodigy the most and students who passed both Satisfactory and Advanced benchmarks on the STAAR math exams by 13.6% and 12.5% respectively (via 2016 case study)
After analyzing 171 schools' STAAR exam test scores, we found evidence that 119 schools enrolled in Prodigy saw an average increase of 12.39 points (via 2018 case study)
The more students use Prodigy at school — and at home — the more their understanding will deepen, skillset will grow, and grades will improve.
Become a Premium Member today!
Value of Goals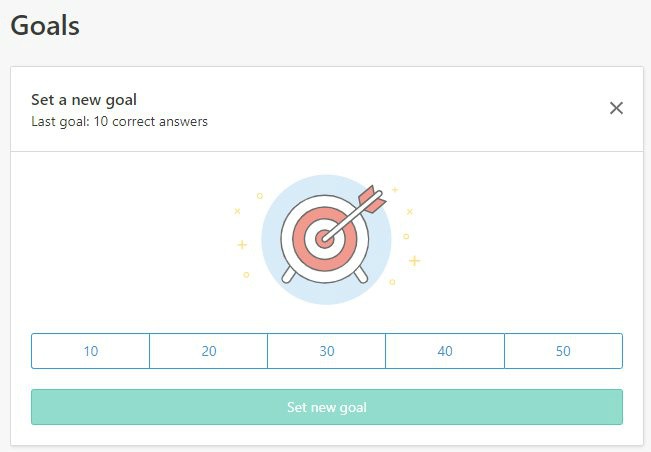 Use Prodigy to set learning goals for your child to complete. For example, you can set a goal of answering 20 questions correctly.
And upon completing that goal, you can send them an in-game reward for their achievement!
But, why should you set goals for your children?
In a 2017 study published in the Center for Educational Policy Studies Journal, researchers found:
Parental involvement provides an important opportunity for schools to enrich current school programmes by bringing parents into the educational process. Increased parental involvement has been shown to increase student success, enhanced parent and teacher satisfaction, and improved school climate.
Psychologists Edwin A. Locke and Gary P. Latham's research has also linked setting goals with motivation, self-confidence, and autonomy.
Regularly giving your child incentivized goals will:
Get them in the habit of answering math questions
Motivate them to answer more and more questions
In short, the combination of parent involvement and healthy goal-setting with your child can drastically increase their ability to succeed in school and beyond.
Ready to empower the next generation? Here's how to use Prodigy to improve your child's math skills!
Oh — and the more questions your child answers, the more data Prodigy receives — which is important for parents as you'll see below.
Value of Reports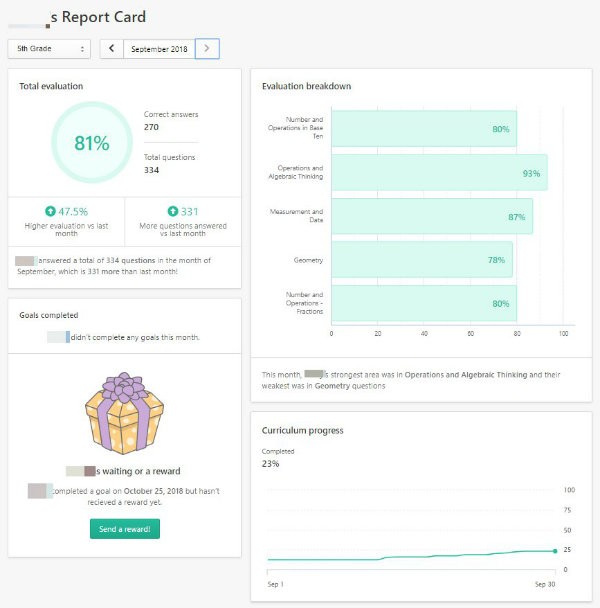 Each minute your child plays Prodigy, all their math progress is tracked.
Enter the Parent Dashboard, the place where you'll gain access to clear and concise visual reports such as:
Curriculum Coverage — See how your child is progressing through each topic in the curriculum.
Curriculum Progress — Check the percentage of content they've completed in each grade.
Questions Answered — Discover how many questions your child answers at home and at school every week.
Grade Level — Find out which grade level your child is working at, or if they're still working through the Placement Test.
Recent Activity — Stay up-to-date on the content your child is currently working on.
Goal Progress — Set or review goals you've set for your child.
Report Card — Access a monthly report card that illustrates how your child is performing in Prodigy, where they're excelling, and where they need more practice.
We highly encourage you to visit your parent dashboard weekly to know how your child is progressing, where they could use more practice, and when to celebrate academic successes!
Create or log in to your free parent account to set a goal for your child!
Value of Memberships
Did you know that compared to non-Members, Prodigy Members answer more questions and master more Prodigy skills?
Keeping in line with our mission to help every child love learning math, access to all education content will always be free.
However, your child will spend more time practicing math with the help of the following member features:
Monthly gift box with exclusive items
Access to exclusive gear
Level up 50% faster
Ride an exclusive cloud mount
Unlock special treasure chests
Catch all 100+ pets
Customize your character with unique styles
Extra prize wheel spins each day
Unique buddy pets

Check out what teachers have to say about Premium Memberships!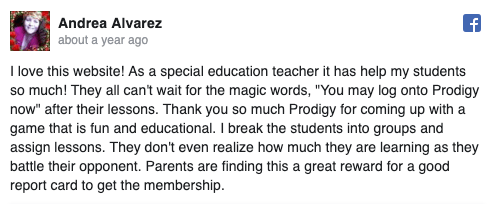 I have seen many students improve their understanding of math concepts after reviewing the skills on Prodigy. My students who have the privilege of being able to access Prodigy at home show even more growth. Susan Phillips 2nd grade teacher Miamisburg City Schools
Students are very motivated to do math with the use of Prodigy. They're actually excited by the choice to have homework… Parents have recognized the improvement Prodigy has had for their children and have purchased Memberships to give their children more opportunities to practice math. Shannon Hunt Middle school teacher Russell Independent Schools
I recommend Prodigy! I've had so many more students playing from home since they got their memberships, it's crazy. And the total number of questions answered has skyrocketed. Our overall high score used to top out in the low 100s… It's in the upper 400s right now! I wish I could give them memberships for the rest of the year! Crystal Babb 4th grade teacher Odessa Upper Elementary
👉 Learn more about Prodigy's Premium Memberships!Tap the green button below.
Become a Premium Member today!