Prodigy 2019: Looking Back, Looking Forward [Year in Review]
All Posts
2019 was an amazing year! And guess what? It was all thanks to you — our inspiring Prodigy educators — and the students you tirelessly help to love learning math.
That's why we made big updates to your Dashboard, and continue to release new pets, special items and fun festivals. Now, we want to remember 2019 together with you, as one big Prodigy family.
Scroll down and witness how much math learning you made possible this year!
In 2019, Prodigy students achieved a lot…

Put another way, that's almost 379 BILLION seconds spent learning math. (For context, if you were to travel back in time one billion seconds, you would be in the year 1988!)
Because they put in the work…

Parents are helping teachers by setting goals for their children at home, with their own free Parent Accounts!
At school and at home…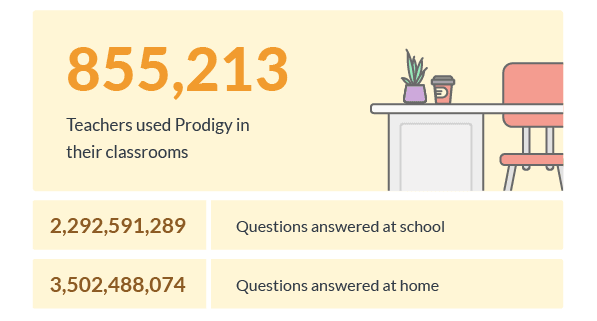 Isn't it amazing that students answered more math questions at home than they did at school? Goes to show just how fun and engaging Prodigy makes math practice for students around the world!
While having tons of fun!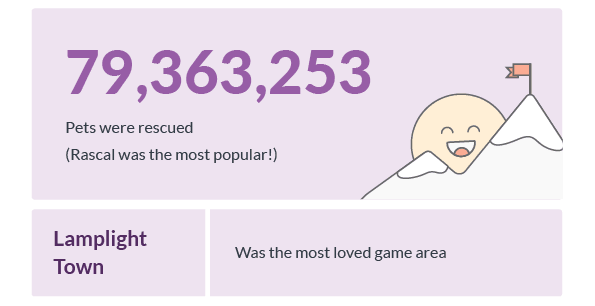 The top 3 most recused pets were Rascal (3,446,750), TripTrop (3,289,732) and Puck (3,134,583).
Looking forward
There it is: 2019 in a nutshell! We're so fortunate to have passionate people like you who use Prodigy and believe in our mission to help every student in the world love learning.
Without you that mission isn't possible, so thank you.
You can expect some big news in the new year that we think you'll love. We can't wait to share it with you!
But for now, let's start 2020 with even more momentum and keep our students engaged with their favorite math program!
Create an Alignment for 2020!
What did you love most in 2019?
"With so many students and so little time, I am stretched to find a way to help each of my students. Prodigy has been a tool to help even the most challenging students in my classes and it has shown them that they can learn math while having fun." — Cheryl Sayers, Teacher "I saw tremendous growth in my students. Students who had a history of not doing homework were now completing a few hundred problems a week at home. It paid off too, my class all passed their state assessments." — Dan McMonagle, Teacher "One of the highlights of 2019 was seeing how many students were engaged over the summer. It was amazing!" — Leanne Brown, Teacher
What are you looking forward to most in 2020?
"I'm looking forward to seeing our middle of the year testing data. I'm expecting to see a great amount of growth because of regular math practice using Prodigy." — Katie Whitehurst, Teacher "Keeping kids engaged even on the weekends and having them play Prodigy instead of Fortnite!" — Margaret Taylor, Teacher "I am excited for my students to continue to explore their love of math." — Sarah Szpak, Teacher
Create an Alignment for 2020!
P.S. Your students' second Placement Test begins on January 7. So make sure your alignment ends by January 6 to avoid the the Placement Test being paused.
Jordan crafts content for Prodigy — and wishes the game existed when he was in school. He's interested in education and passionate about helping build up the next generation!