Must-See Prodigy Updates: Fun Features to Boost Learning
All Posts

As we enter this unique school year, there are probably a lot more things running through your mind than usual. And helping your child succeed academically to overcome summer learning loss likely feels quite daunting.
That's why we make it easy for you to engage your child with math, so they actually want to learn more. 
We wanted to make Prodigy Math Game extra fun all year round to promote a growth mindset and help students become lifelong learners. That's where our special events, videos and in-game features come in. They make the game even more fun and keep your child extra excited to play (and answer more math questions, of course). 
Here are some things your child can look forward to this year!
In-game festivals 
Throughout the year, our themed events bring some festive fun to the Prodigy world. 
Each one offers exclusive items, gear and more that players can only get while the festival is happening.
To access these special items, players participate in battles against other characters, where they'll answer math questions to win. Your child should make sure to play lots of Prodigy during each festival if they want new loot for their characters! 
Encourage them to join the festivities and let them know what's coming up in their Prodigy calendars. You can even start a countdown for each one to bring the excitement up a notch! 
Starlight Festival — August & September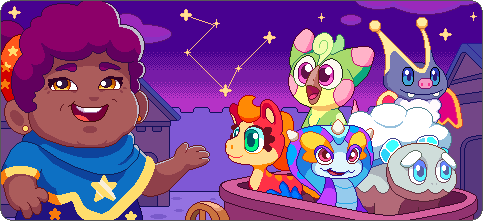 This is perhaps the most exciting festival, because it's happening right now!
From August 17 to September 28, your child can explore this special event where the days are covered in dusk, so players can always see the stars.
And it gets even better! 
Starlight Festival is also the only time you can get new starter pets without starting a new account. Considering how adorable they are, this is definitely something players don't want to miss.

Once a day, a star falls from the sky and into Lamplight Town. Players must help Mama Star gather star shards by answering math questions to win the battle for the fallen star. 
Players can then get exclusive items from the Starlight Festival shop that Mama Star offers in exchange for star shards to add to her collection. 

View your child's progress!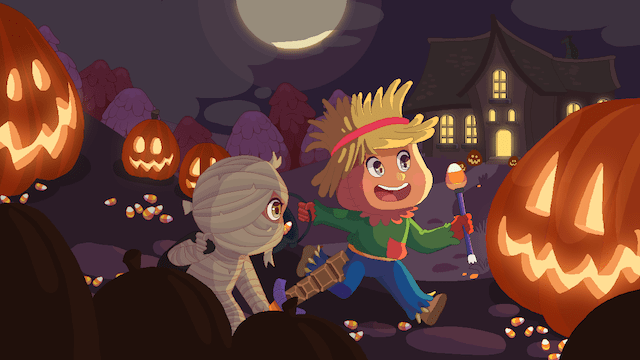 Look out for the fun of Pumpkinfest next, starting in October!
Prodigy's next adventure
Make sure your math wizards are ready for this one — an awesome adventure is on its way! 
Coming soon to Prodigy, The Rune Run update will offer players a brand new way to enjoy the game like they've never experienced before!
Players will explore Harmony Island, where they'll: 
Go on mini-adventures to collect Runes
Use Runes to power up like never before and become extra strong for upcoming math battles
Find mini-bosses, extra adventures and discover a whole new way to play Prodigy!
Stay tuned for more information very soon!
Prodigy Pet Adventures
Has your child ever wondered what their favorite Prodigy pets are up to while they're logged off? 
Our new video series follows the adventures of the Prodigy Pets as they play, explore and make new friends. 
Check out what Charfoal, Mermina, Snowfluff, Sproot and Wott are doing in the Prodigy world! 
Subscribe to our youtube channel to catch every episode when it comes out! 
Subscribe now!
P.S. Stay up to date with Prodigy Pet Adventures and more on our social media pages. 
How to keep your child motivated all year with Prodigy
Our fun in-game features are sure to engage your child, but you can bring this engagement to the next level with your Prodigy parent account. 
Set Goals and send in-game Rewards to boost motivation. When your child answers a certain number of questions in Prodigy, you can send them a fun in-game reward that incentivizes them to play even more. 
Set Goal now!
Want an easy way to boost engagement even more? 
Premium Memberships provide special rewards that make the Prodigy experience extra fun for players! This means more engagement, more math questions answered and more skills mastered. 
Plus, you'll get access to three brand-new parent features to help you track and support your child's learning!
When your child becomes a Premium Member, they unlock ALL these exclusive in-game products (and more): 
Pet Evolution — Rescue and evolve all 100+ pets. 
Dark Tower — Access all 100 levels of this mysterious tower. 
Cloud Mount — All Members get this mount as a gift for their character.
Member items — Get special member-locked items from in-game stores. 
Member Chests — Earn Member Chests after certain battles with extra fun rewards.
Monthly Member Box — Get a unique gift box every month with 2 exclusive items that can't be earned any other way — plus bonus goodies!
While they play, you'll get insights into their learning with three new parents features:
Practice Areas — See sample questions of the skills your child practiced and identify where they need more practice.
Classroom Learning — No more waiting for report cards or test results! Peek inside your child's classroom with a look at current assignments, past achievements and future work.
Practice Sheets — Print off custom worksheets tailored to your child's learning and reinforce key skills. Plus, every set of sheets comes with unique Prodigy artwork for your child to color!
The more your child plays, the more you'll be able to spot easy ways you can jump in and support their learning. Ready to see your child love math more than ever? 
Become a Premium Member today!