How To Use Prodigy for Effective Parent Teacher Conferences
All Posts

Written by Maria Kampen
Category
Teaching Strategies

Prodigy School
Whether parents want to understand their child's math progress or find ways to support their learning at home, there are plenty of ways Prodigy can help!
Using your teacher dashboard, you can:
Dive into Prodigy data to see student understanding and learning progress
Send Prodigy home so parents can track and motivate their child's learning outside of school
Sign up today
1. Explore Reports in your teacher dashboard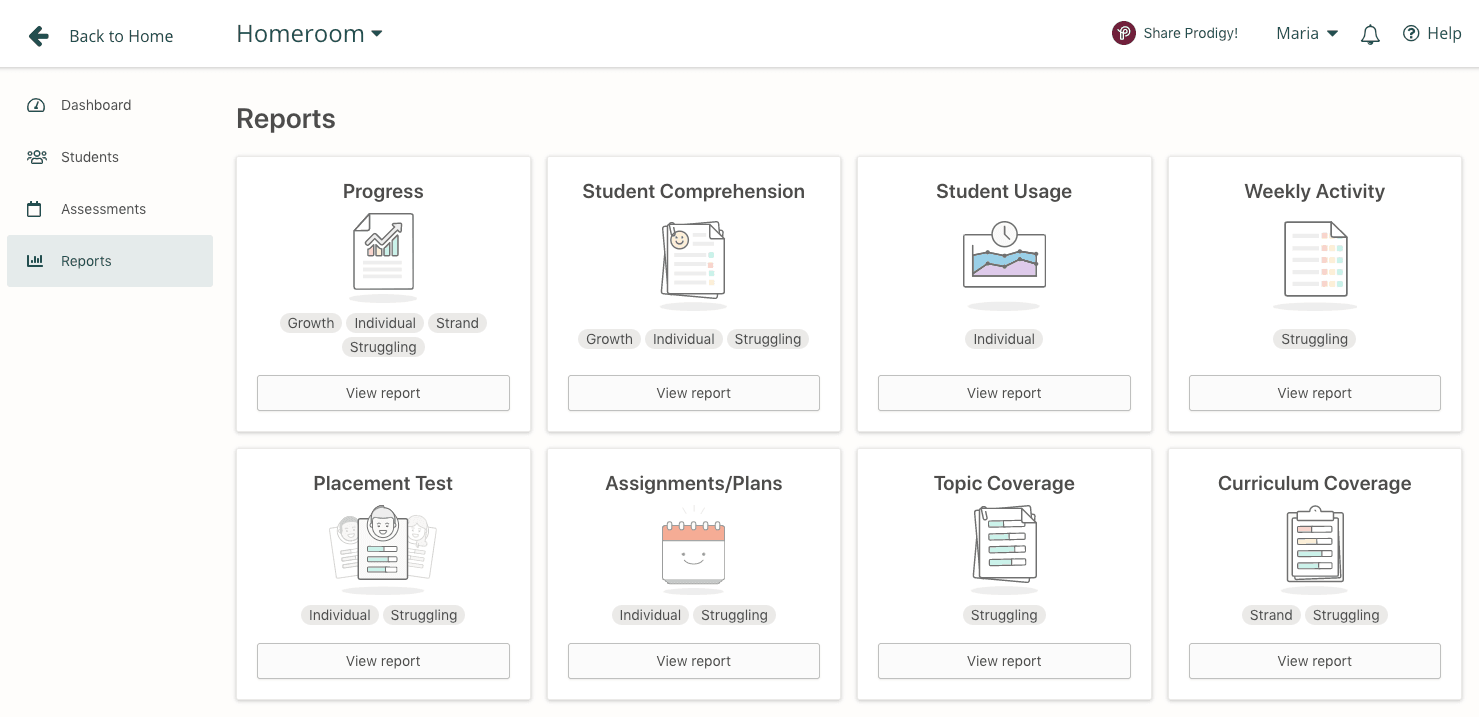 For every question students answer as they play Prodigy, you'll get real-time data on their progress and understanding with one of eight reports:
Progress 
Student Comprehension 
Student Usage 
Weekly Activity 
Placement Test 
Assignments/Plans 
Topic Coverage 
Curriculum Coverage
Student Comprehension report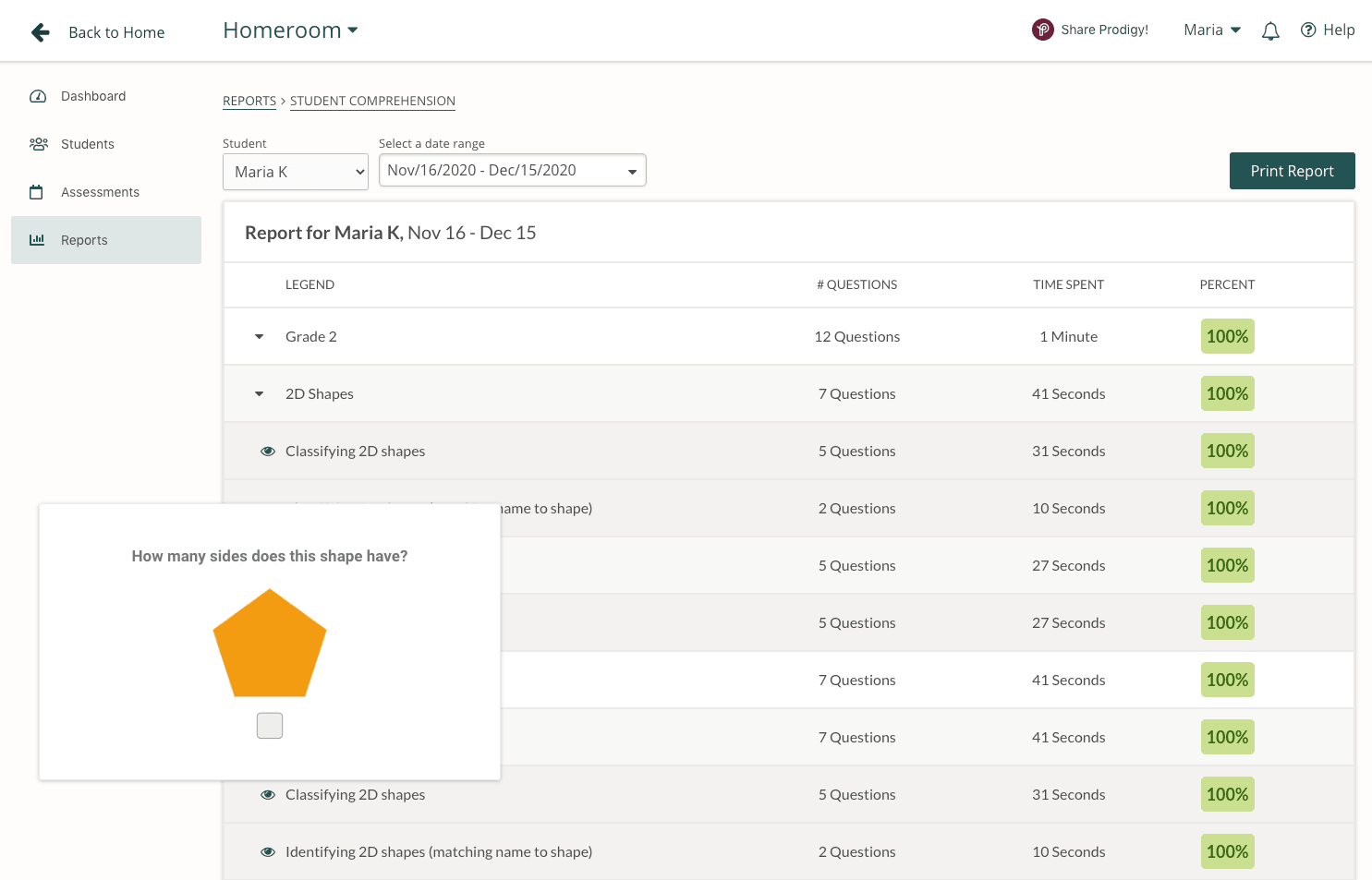 Get an at-a-glance view on how students are performing on different math skills within a selected time period.
Select Reports in your teacher dashboard, then select Student Comprehension
Using the drop-down menus, select the student you'd like to see data for
Pick a date range using the drop-down menu
You'll see a grade-by-grade breakdown of student work. Select a grade to see:
What standards a student worked on 
How many questions they completed
Specific skills students completed within a standard
The average grade for each skill
Sample questions students encountered
To include a hard copy of the report in a student portfolio for parents, select Print Report. It's a time-saving way to give parents a big-picture overview of their child's progress. All the data is there — just click print! 
Assignments/Plans report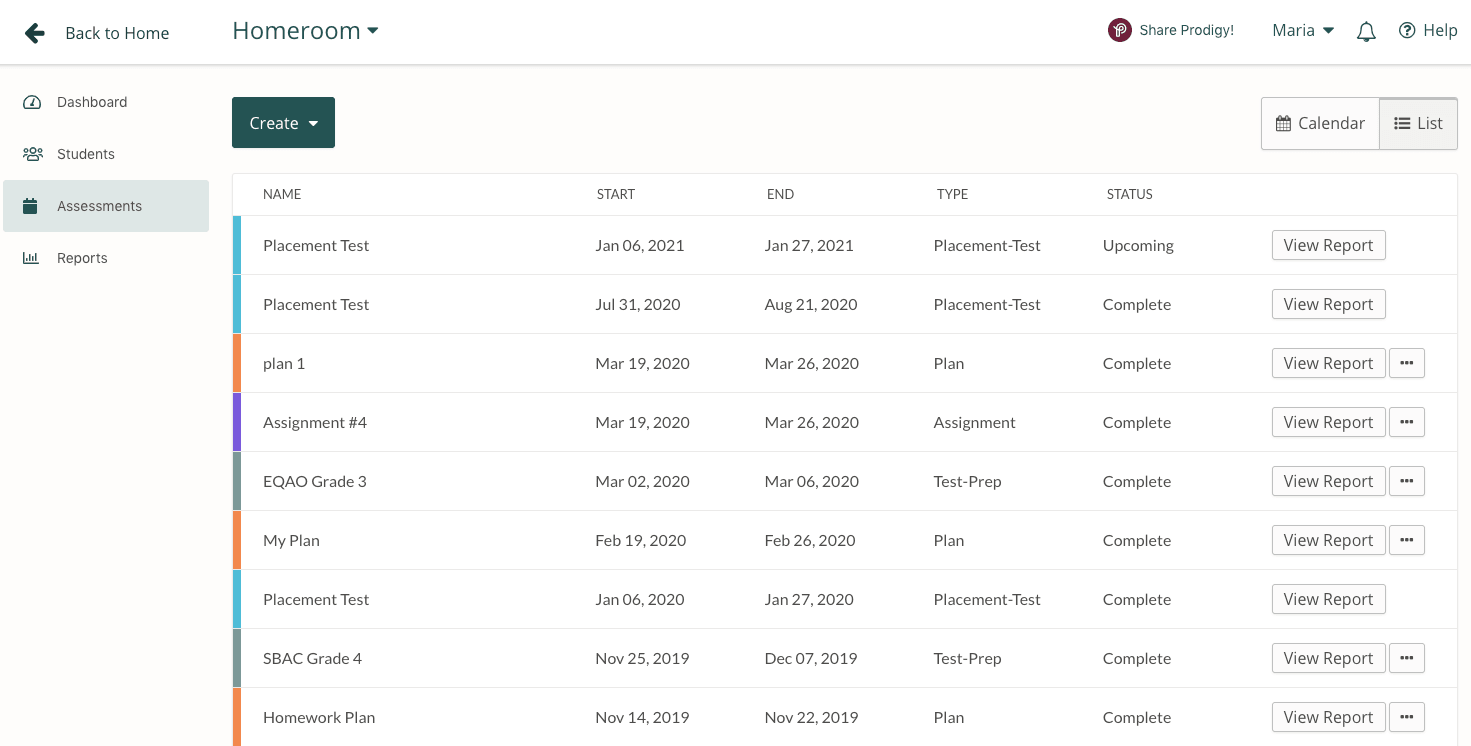 Did one student ace an Assignment or practice a Plan? When you use your Assessments tool to send lesson-aligned content in Prodigy, you'll automatically get insights into how the student performed.
"Prodigy helps show parents where their kids are struggling and gives them a tool to help their child work to fill any gaps." — Aimee M., First grade teacher
Share successes or areas of opportunity with parents to give them insights into how they can support learning at home. 
Select Reports in your teacher dashboard, then select Assignments/Plans
You'll see a list of all the Assignments, Plans, Test Preps and Placement Test results in one place. Select the Assessment you'd like to share with parents
Use the top right-hand buttons to switch between a list of Assessments or a calendar view
Select the Assessment you want to share with parents and dive into the data! You'll see:
Whether or not the student completed the Assessment
The questions they encountered in game and the answer they gave
Their score for each question
2. Send learning home with Prodigy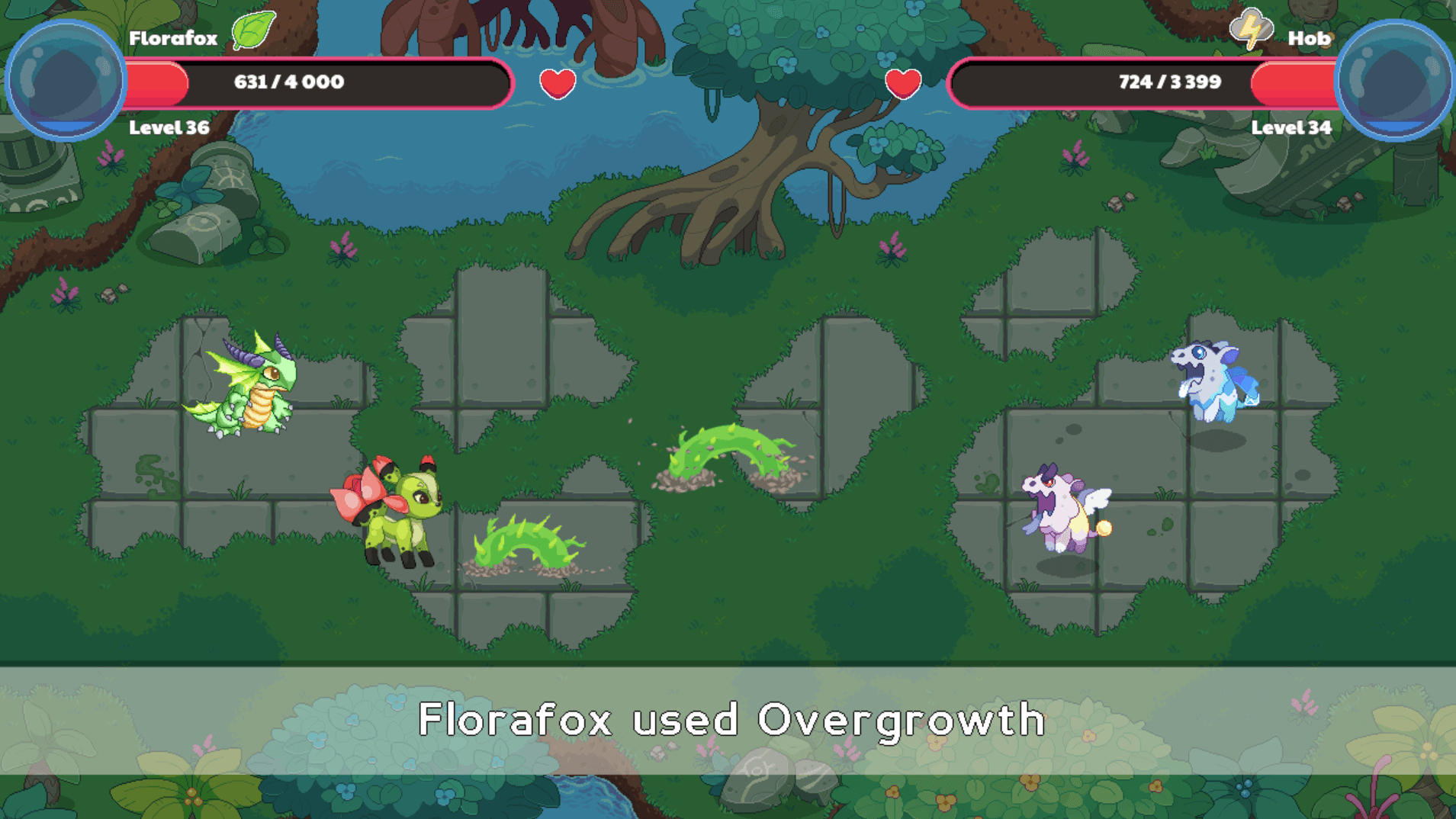 Parents often ask how they can support their child's math learning at home, and the answer is easy — Prodigy Math Game!
Make sure parents know whenever students play Prodigy Math Game, they'll be answering adaptive, skill-building math questions, whether they're playing at home or from school.
"I invited every parent to encourage their students to play Prodigy, and invited them all to a parent meeting about Prodigy." — Brad W., Teacher
And when parents sign up for their free Prodigy account, they get access to tools that help them:
See what skills their child is working on
Set a Goal for the number of questions they want their child to complete
Send in-game Rewards when a goal is completed and motivate their child to learn more

There are two easy ways to invite parents to join Prodigy:
Print and send home parent letters — Select the Students tab in your teacher dashboard and click Get parent letters to download a full class set of parent letters with student login information in English or Spanish. Send them home at the end of your parent teacher conference so students can learn at home

Invite parents through email — Select the Students tab and click Invite parents. Enter the email addresses of the parents you want to connect, or copy and paste an invite link to send through your classroom management system. Parents will review an email prompting them to sign up for their free account and support their child's learning. 

When parents have the resources to support their child at home, learning soars. And when students play Prodigy Math Game at home, they're building a lifelong love of learning!
Use Prodigy to boost learning year-round
When you use Prodigy throughout the school year, you'll have plenty of data to share at parent teacher conferences or in quick check-ins.
Check out 10 Tips for Effective Parent Teacher Conferences for more ways to prepare before, during and after conferences. Plus, get free downloads to help things run smoothly.
Good luck — you've got this!
Sign up today