Spring Break Activities for Kids: Free Teacher Activity Calendar Made By Teachers
All Posts

Not enough time plan spring break activities for kids this year? Our Prodigy teachers are back with another activity calendar for the month of March!
From the 1st to 31st, you'll find daily educational activities that will keep your kids engaged and learning all month long.
Each daily activity — perfect for primary and junior students (i.e., 1st to 6th grade) — falls into one of four categories:
Literacy
Physical
Numeracy
Social-emotional
This helps ensure your child continues to build important skills without getting bored — all while giving you a well-deserved break (if or when you need it).
Here's a preview of what you can expect in this spring break activities calendar!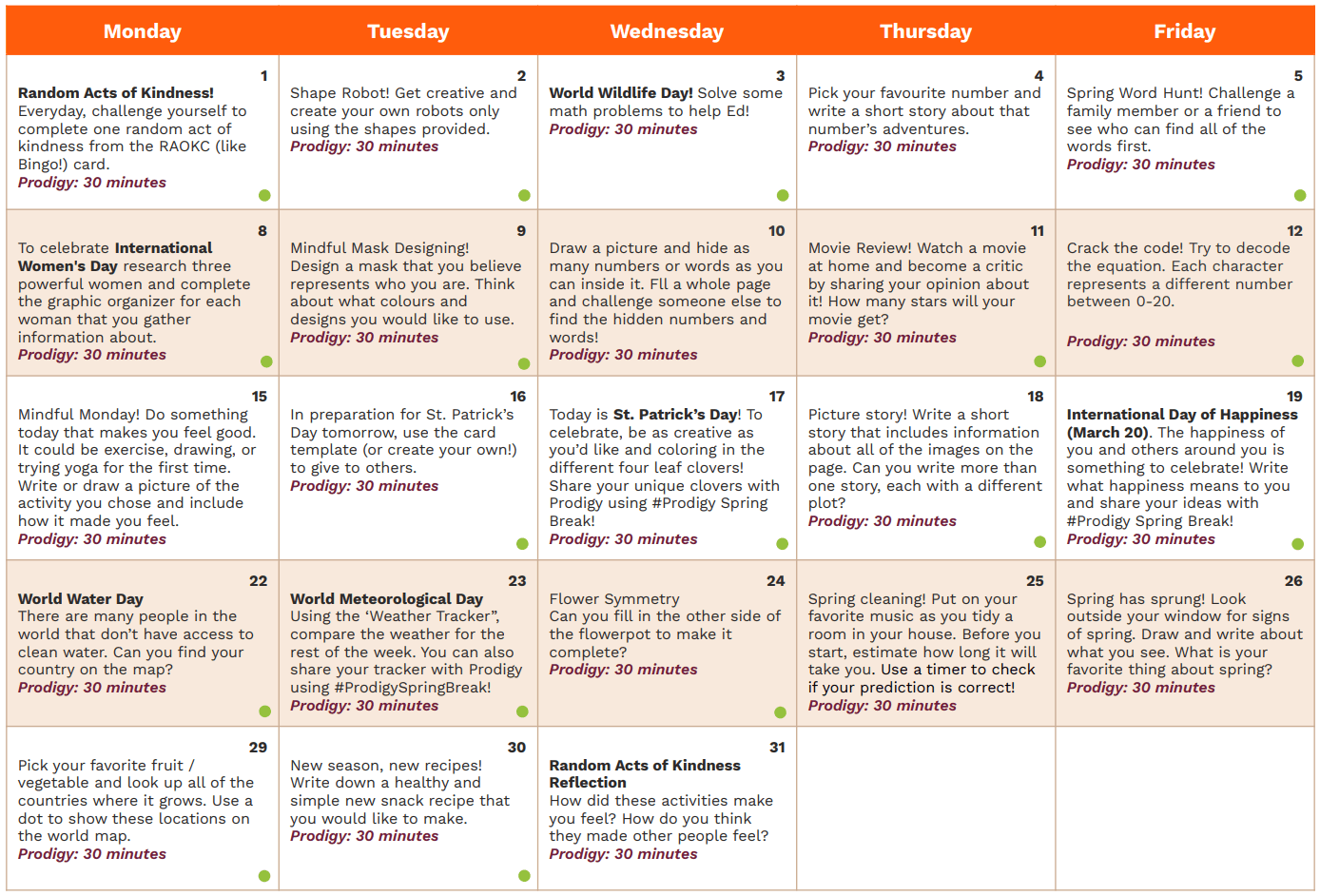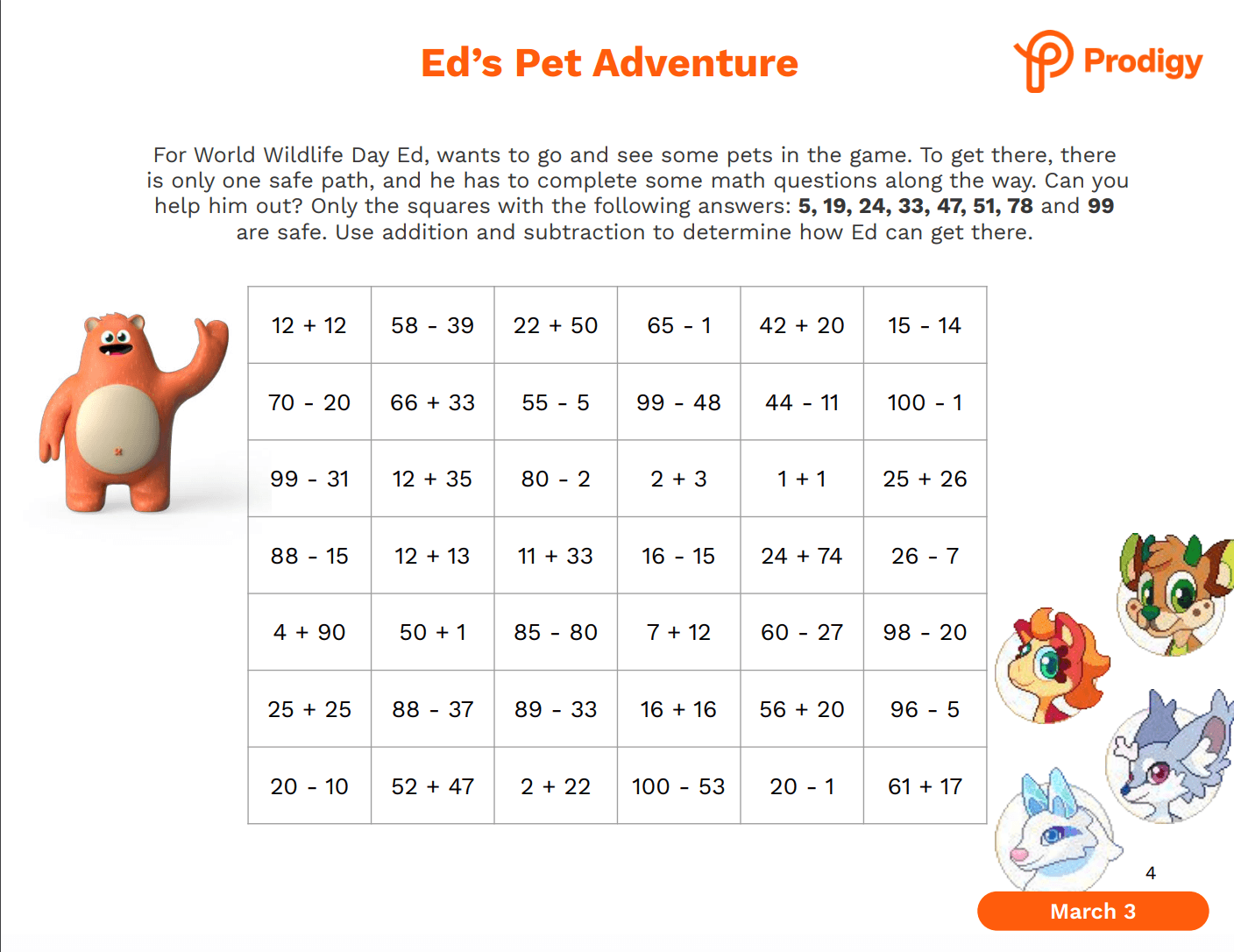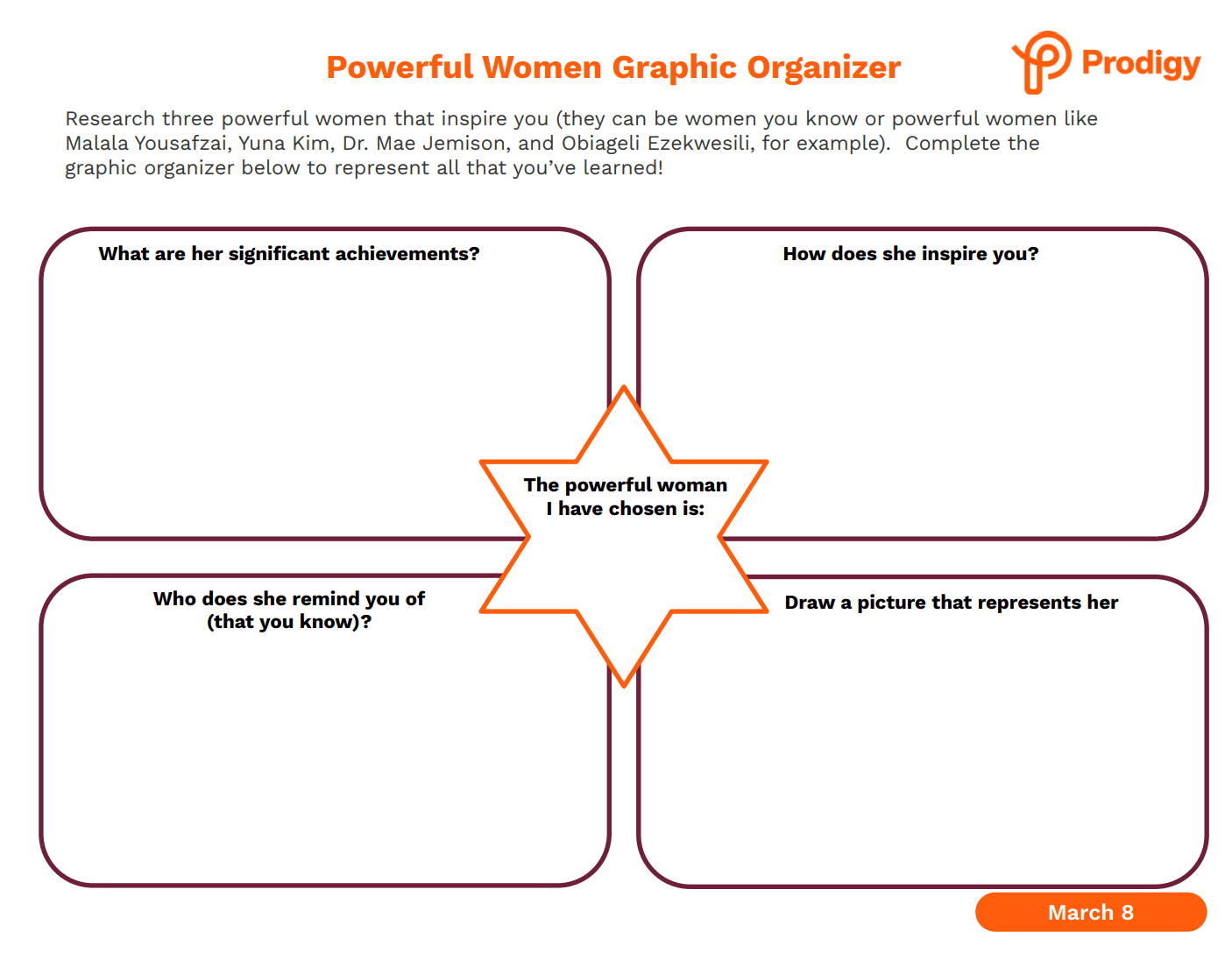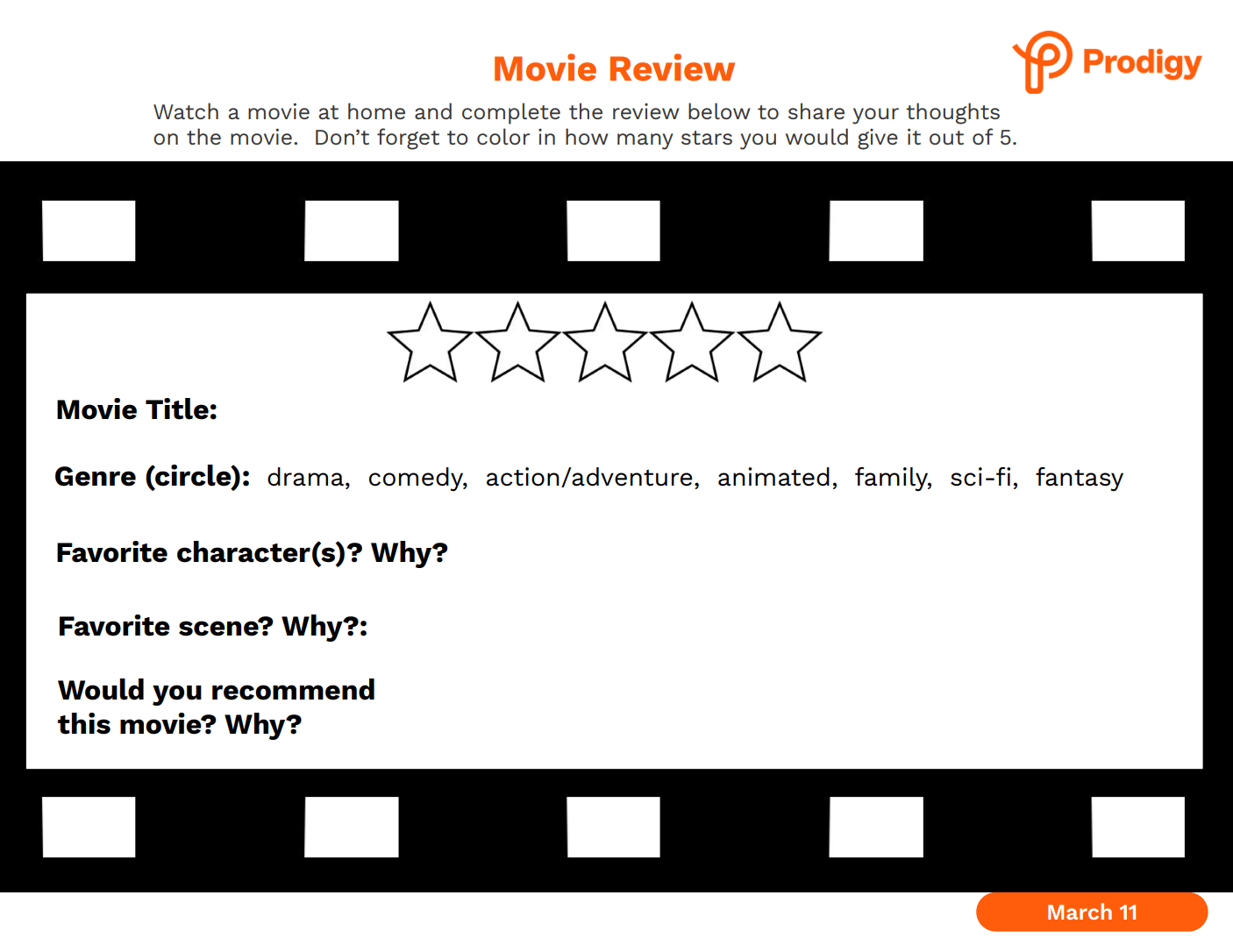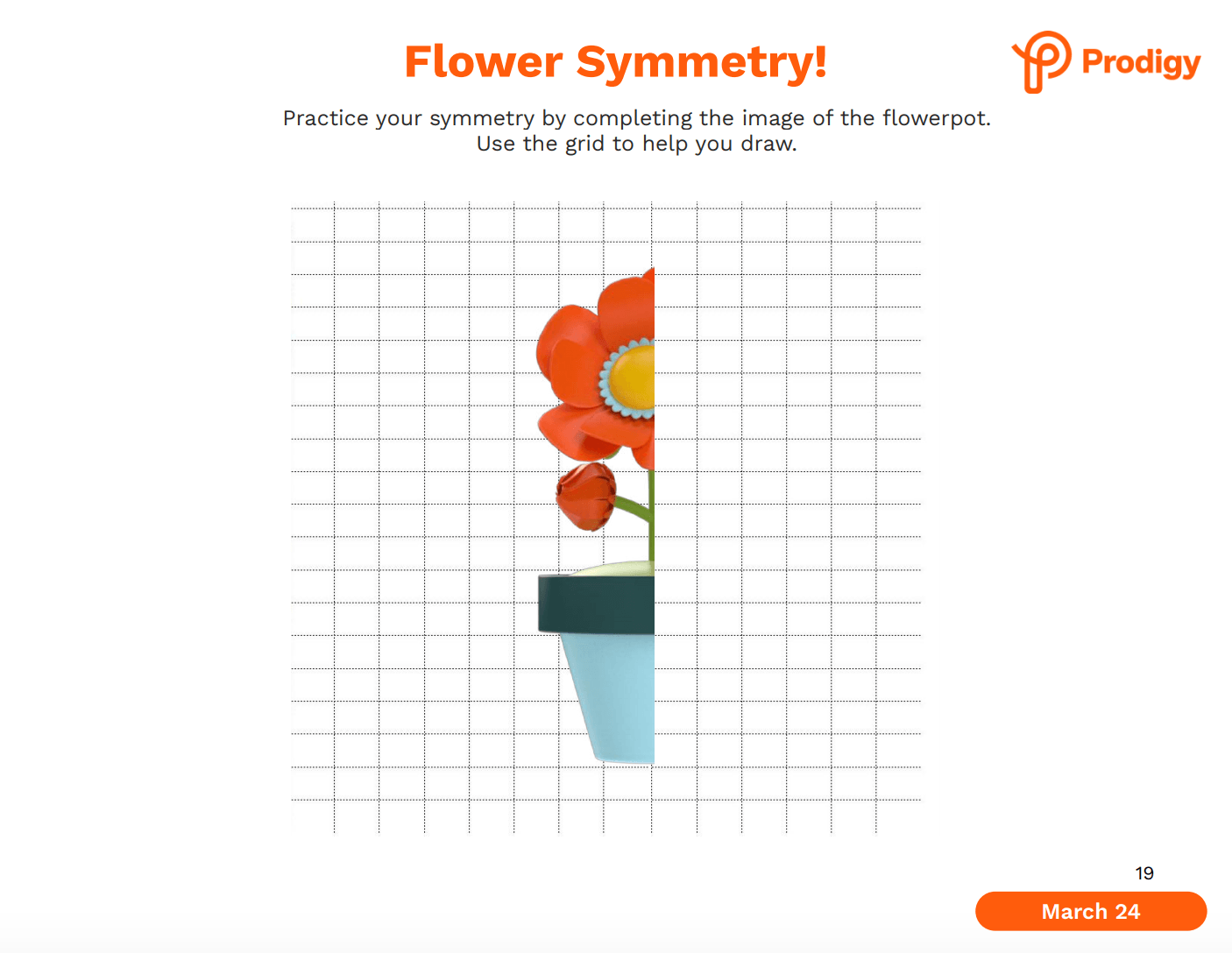 Be sure to download the full PDF to get all the accompanying spring break activities for kids that are included in this calendar of activities.
Get your March activity calendar now!
You can level up how you support your child's learning journey today
Prodigy's Premium Membership used to only unlock amazing in-game rewards and motivational benefits for kids.
But now, there are four powerful features for parents — and growing! — to give you more ways to keep your child motivated to learn.

Practice Areas — See the types of questions your child is answering as they play Prodigy Math Game, understand their learning and pinpoint new ways to help build key skills.

Classroom Learning — No more waiting for report cards or test scores. Get at-a-glance looks at what your child's teacher assigned in Prodigy and find ways to support your child's learning.

Video Lessons — Say goodbye to homework struggles and watch and learn! Access video lessons to help your child master key skills or work on new concepts together.

Practice Sheets — Bring math learning offline and print worksheets tailored to your child's unique learning needs. Plus, each set of sheets comes with fun coloring activities!
What's more? They're automatically included at no extra cost when you purchase a Premium Membership!
Learn more about Premium Memberships