How to Benchmark Student Progress Using Prodigy's Test Prep Tool
All Posts

Remote learning and COVID-19 have turned this school year upside down. One of the casualties? Standardized testing. 
Across the US, schools are closed and states have canceled their regular standardized tests. While controversial, there's no denying that these tests are an important source of data for educators when it comes to student progress and achievement. 
As the school year comes to a close and you need to make some important decisions, you might be wondering:
What lessons should I prioritize while students learn online?
How should I determine if students are ready to move on to the next grade?
What concepts will I have to revisit in my classroom once students are back in school?
Good news! Prodigy's revamped Test Prep tool gives you comprehensive data on the exact math concepts students have mastered, and where they still need more practice.
Already know that Prodigy's a proven, effective tool? Jump down to the how-to section and start prepping!
New research shows the effectiveness of Prodigy's Test Preps!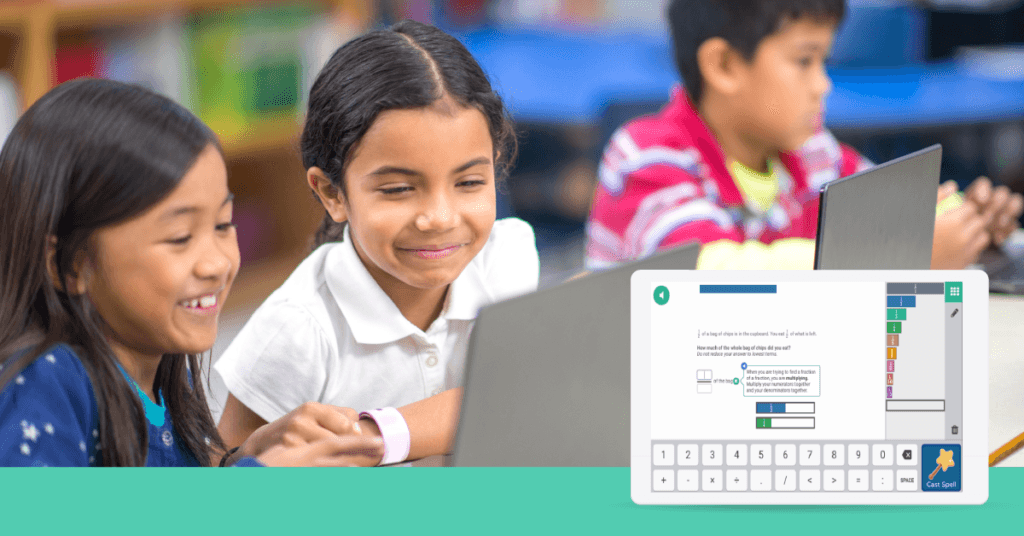 In collaboration with a south-central US school district, Johns Hopkins University (JHU) evaluated how effective Prodigy was in improving students' math achievement in the 2018/2019 school year. 
We compared students' Prodigy Test Prep scores with their state assessment scores and found a strong positive correlation between the two. (Want to know more? Check out the full study here — JHU validated the results!)
So what does this mean? (Good things!)
The Test Prep tool provides accurate data on student understanding and curriculum progress that helps you benchmark their achievement and make important decisions about your teaching.
Our team of Education Content Creators also recently audited the Test Preps for every state to ensure your students get the most accurate in-game content possible.
So, you can confidently use Prodigy's Test Prep tool to discover where your students have knowledge gaps — down to the exact skills — and make sure students are prepared to move on to the next grade.
Still not sure if you should set a Test Prep?
Here's why teachers like you are using Test Preps to support students through remote learning:
As an engaging practice tool — Test Preps span the entire curriculum, so your students can practice key math skills as they play.
To prepare for the year ahead — It's important to make sure students have mastered key skills and are prepared to move on to the next grade level.
To gather valuable data about your classroom — See how much your students have grown over the year and find out which standards they still need more practice on.
If you know the teacher you students will have next year, sharing the Test Prep results with them can also help with planning before students head back to school!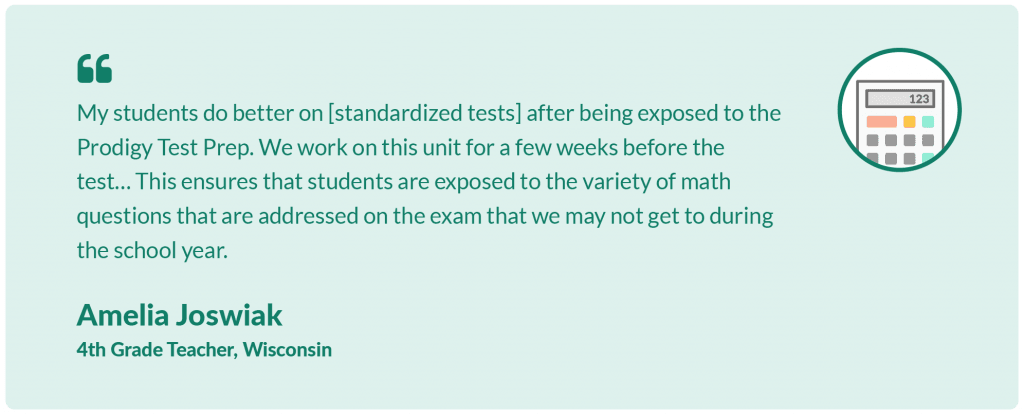 In short, Prodigy'sTest Prep is effective.So here's how you can use it to benchmark your students or prepare them students for their next standardized test.
Create a Test Prep now!
Don't forget:If you have overlapping assessments, students will complete them in order of priority —Test Preps and Assignments followed by Plans— and then by creation date (i.e., oldest to newest). Once students have completed all the assessments you created, they'll continue to receive adaptive math content. But, if you want students to start working through the test prep sooner, you can delete the existing overlapping Assignment(s).
Go to your in-account Assessments tool
Visit the Prodigy website and click Login in the top-right corner.
Select a classroom.
Within the classroom, go to the Assessments tool.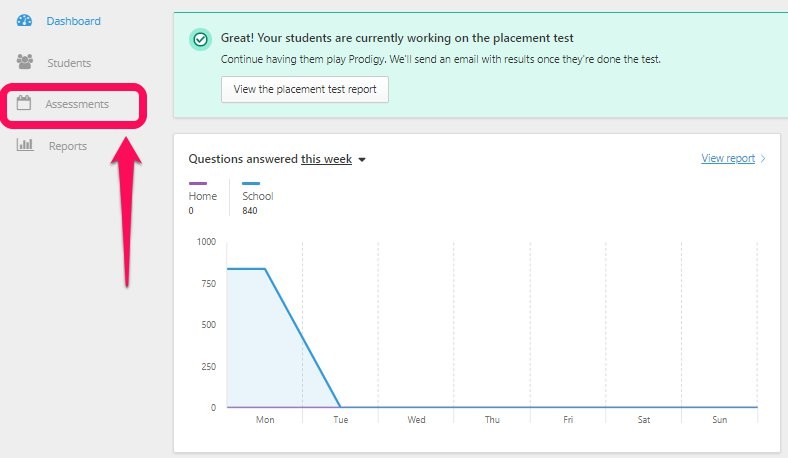 You can find theAssessmentstool at the left of your screen on desktop. If you're using a mobile device, it's at the bottom.
Click Create
At the top of your screen, click the green Create button.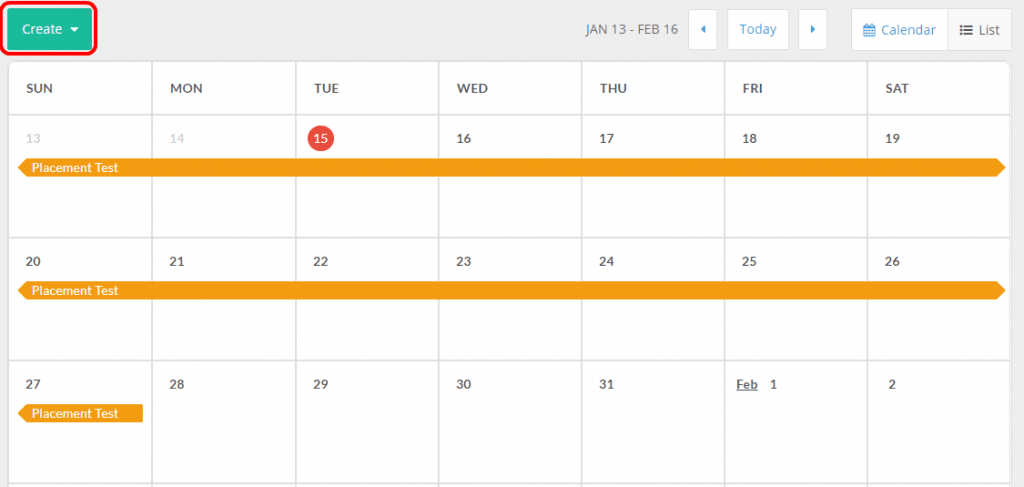 Select the third option in the list — Test Preps — and click the blue Continue button.
Test Preps in Prodigy will give your students practice for specific skills that are assessed by your region's standardized test, as your teacher account tracks their results.
Select a standardized test
Use the search box to look for your state or province. You can also use the drop-down menu to select your area.
Once you've selected your location, two more options will appear: drop-down menus to select your relevant standardized Test prep and Grade level.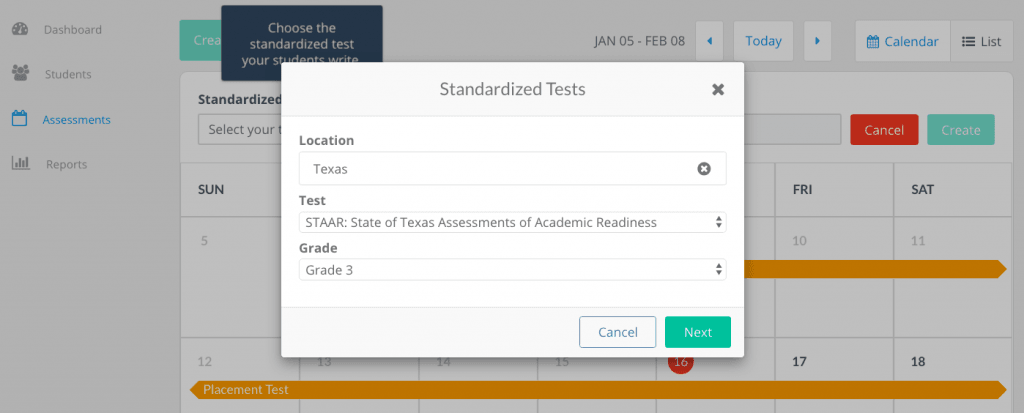 Choose the Start and End Date
Click the calendar date you want your prep to begin on,  and drag it to your desired end date.
When you select an end date, a green Create button will pop up. Click that to confirm your date range.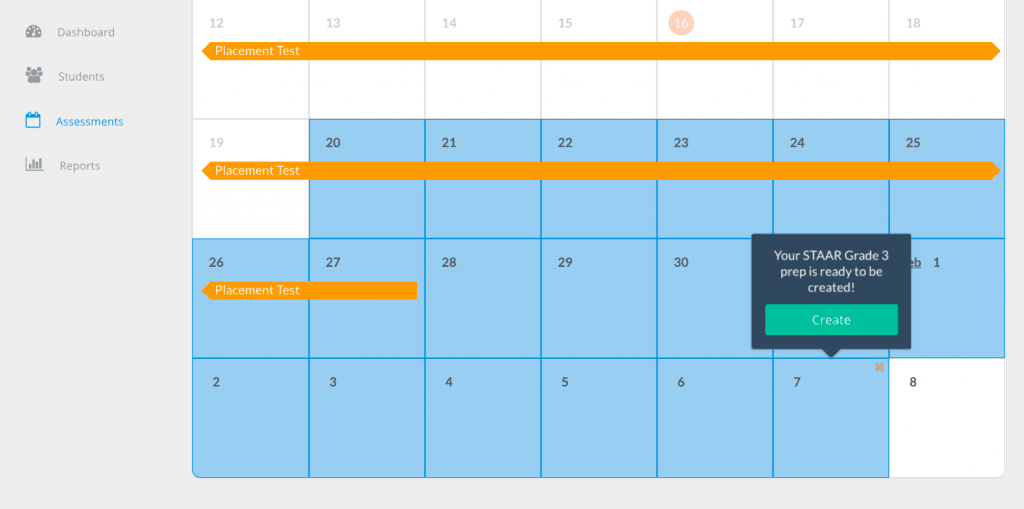 Standardized Test Preps can be fairly lengthy, so be sure to provide your students with enough time to complete them (e.g., two to four weeks instead of one).
A box will also appear suggesting an average daily playing time you should allow for your students to successfully complete the test prep on time.
To shorten or lengthen the test prep, click Adjust date range.
All set? Click the blue Got it button.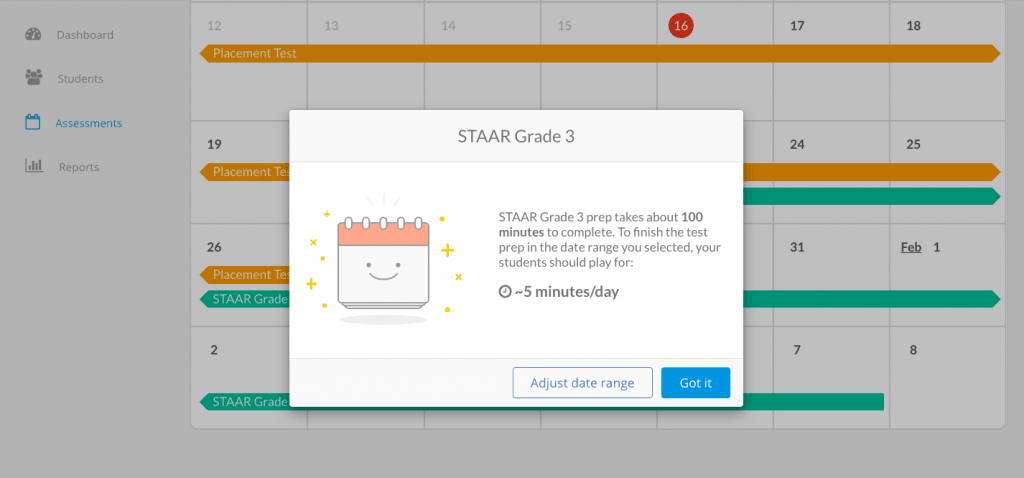 Voila! Your test prep will appear in the Assessments calendar as an Assessment or Assignment would. If you click on it, you'll be able to:
View your students' progress
Edit the Test Prep's length
Delete it
Once your students have completed the Test Prep, take a look at the results and send targeted Assignments to specific students to help fill any knowledge gaps.
Prodigy's fun and free Standardized Test Prep is an engaging way to help lower assessment anxiety, boost scores and benchmark student progress!
>> Get actionable teaching data in just a few clicks with Prodigy! Create or log in to your free teacher account to get started today.
Create a Test Prep now!
Jordan crafts content for Prodigy — and wishes the game existed when he was in school. He's interested in education and passionate about helping build up the next generation!