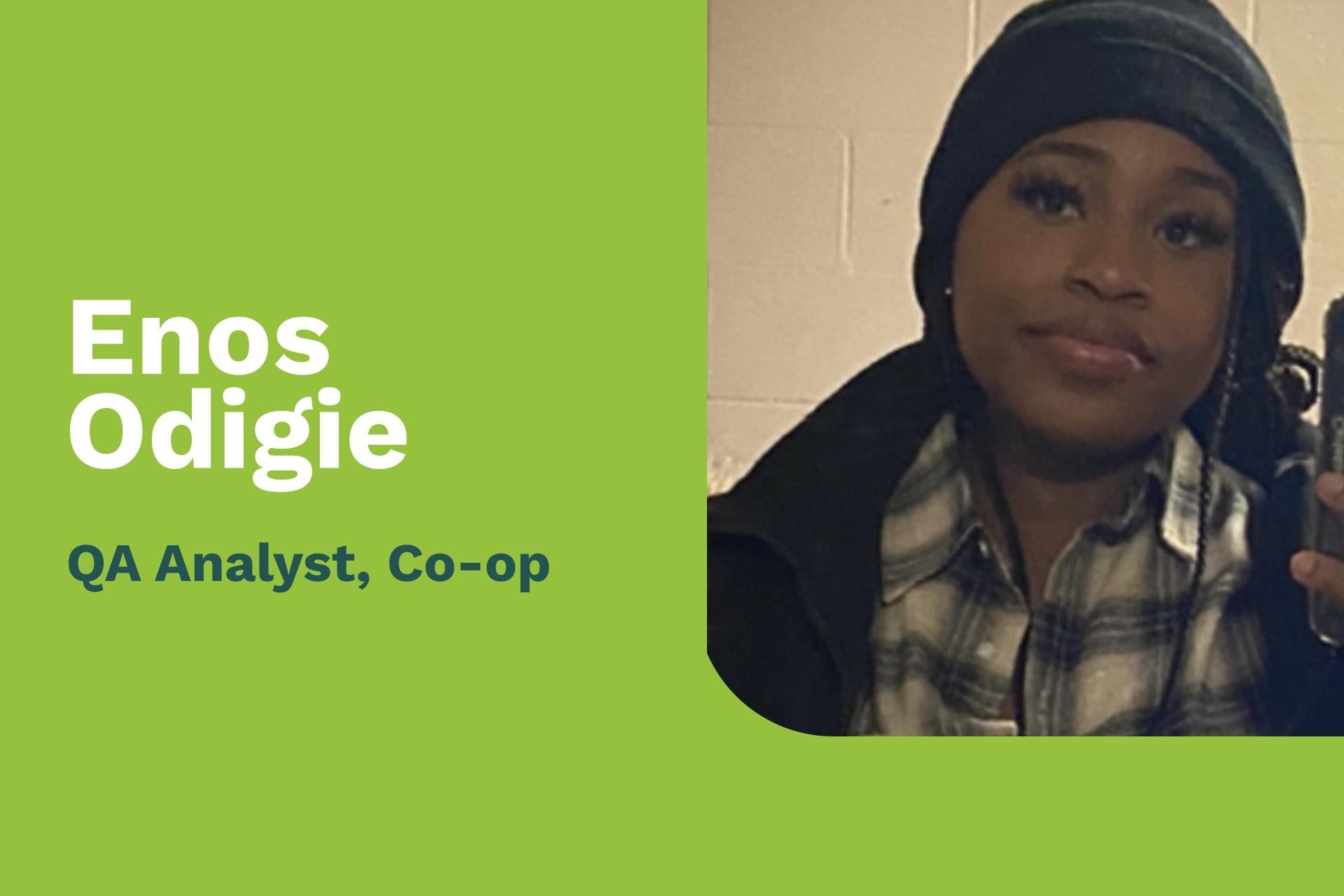 Proud to be Prodigy: Meet Enos!
Our Proud to be Prodigy series spotlights some of the talented individuals on our amazing team. Interested in joining us? Check out our open positions!
Meet Enos Odigie. One of her first memories of coming to Canada from her native Nigeria is playing Prodigy with her grade 5 math class!
Ten years later, Enos is still playing Prodigy, but now it's part of her role as a Quality Assurance Analyst. Enos is a first-year Computer Science student at Carleton University and recently joined Prodigy for a four-month co-op position. We had a chance to catch up with her to ask how it's going so far.
What attracted you to Prodigy? 

I was on LinkedIn and saw a post about Prodigy hiring interns and I thought, hey, I know Prodigy Math! I used to play this game a lot. I looked at the co-op roles and Quality Assurance - or QA - seemed like the best fit for me. Being here is a little surreal. I used to play this game and now I'm here, are you kidding me? 
Has the game changed much from what you remember? 

One of the first things I did was to play the game again to get familiar with it. There has definitely been an upgrade in the user interface and how the game functions. There are new maps, new features. It's not a total revamp – it's exactly like I remember, just better! 
What has been most surprising about your work at Prodigy? 
I love being behind the scenes. I've met people from different teams and now I can see how things work together! Like how someone logs in and which services are being used on the backend. It was an interesting transition for me because when you're playing the game, you don't think about these things. All you care about is how fast you can log in, play, and get rewards. But now, I see the entire process and I'm involved in testing everything. 
I test new features, like new arenas or pets, to make sure they work, but also to make sure they don't break existing functions within the game. Users still need to be able to create accounts, open pets or go into battle. There is so much to think about and look at! Now, whenever I use apps or online services I wonder what's going on behind the scenes! 
What does our culture value "User Obsessed" mean to you in your role? 
We're always talking about what our work means for the kids. Right now, for example, we're talking about a unified store for the game, but we wonder will this be too challenging or overwhelming for the kids? Does it benefit them? It doesn't matter what the feature is, or how much it benefits us, we always think about the kids. And I like that!
What's next for you after this co-op term? 
I'm back to school for eight months starting in September, then I'll have a second co-op term. I love that Prodigy is giving me a chance to explore different roles through my work. As I learn what other people on the team do, I think about whether I would like that kind of role. I enjoy being a QA Analyst, but I want to see what else is out there and this is a great chance to do that. 
One last question! What TV show or movie is your guilty pleasure? 
Definitely 'The Hunger Games', The movies are so dysfunctional and realistic so I think that's what draws me to it. I typically watch thriller/horror shows like 'Strangers from Hell' but I really love the hunger games.