Help your child learn with 1-on-1 online
Math Tutoring
Every child learns differently. Prodigy Math Tutors are certified teachers who adapt their style and lessons to teach your child in the way they learn best.
Request your free session
Purchase sessions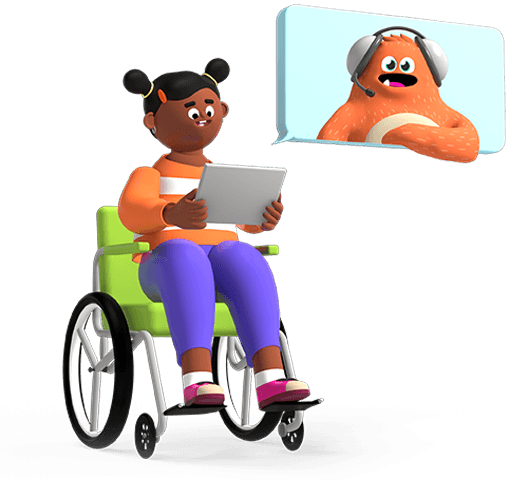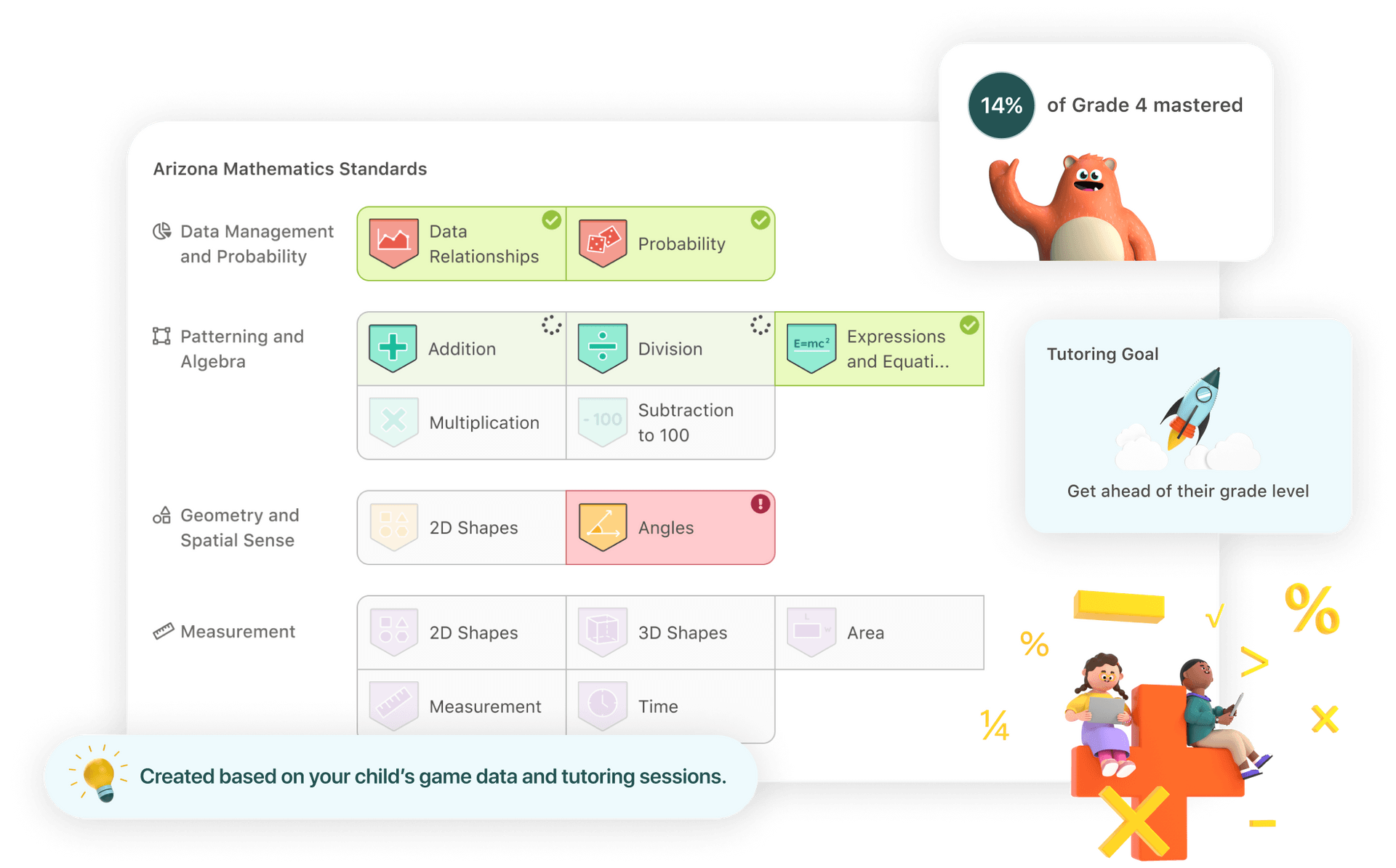 Personalized

Learning Plan
We understand that every child is unique. That's why our Learning Plans are custom-made and automatically adapt to your child's progress. Follow along with your child's learning - included for free with your first session.
1-on-1 learning is effective and fun!
Our flexible online tutoring approach is curriculum-aligned for children in 1st through 8th grade. Our mission is to help every student love learning.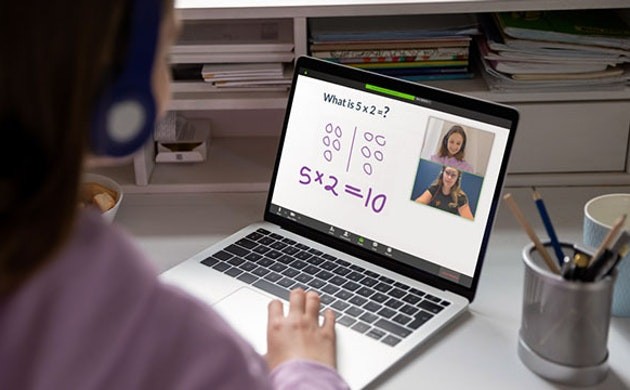 We help your child:
Reach their highest potential

Advance beyond their grade level

Increase their confidence in math

Get homework help and extra practice
An engaging and convenient way to learn math 1-on-1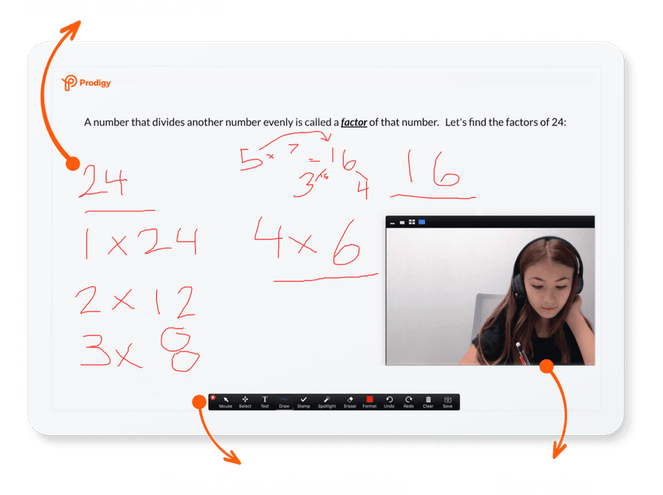 Access the tutoring sessions from the comfort of your home. Your child and their Math Tutor work together through math problems by typing, drawing and manipulating shapes in our online, interactive classroom.

Your child and their Math Tutor continue to learn together and build upon the foundation of each lesson. You can book sessions as needed, directly with your Math Tutor. No commitment is required.
Request your free session
Here's how to get started
Book your free session
In a few easy clicks select the date and time that works best for your free 30-minute tutoring session with an experienced classroom teacher.
Meet your tutor
During your free session, you will get to know your tutor and learn about our Prodigy tutoring method. Then our tutors will dive into a fun and engaging lesson with your child.
Continue to learn
After your session, you'll receive a debrief email from your tutor summarizing your child's progress and options to pick the tutoring plan that is right for you.
Keep learning with single or weekly tutoring sessions
Single Session
Perfect for on-demand help

30 minute 1-on-1 session with any available tutor

Written debrief and next steps
Weekly Recurring Sessions
per weekly session, billed every 4 weeks
Perfect for continual growth and understanding

30 minute weekly 1-on-1 sessions with the same tutor each week

Fill gaps, build confidence, do homework, extend your learning

Written debrief and next steps
Our online Math Tutors tailor lessons to your child's needs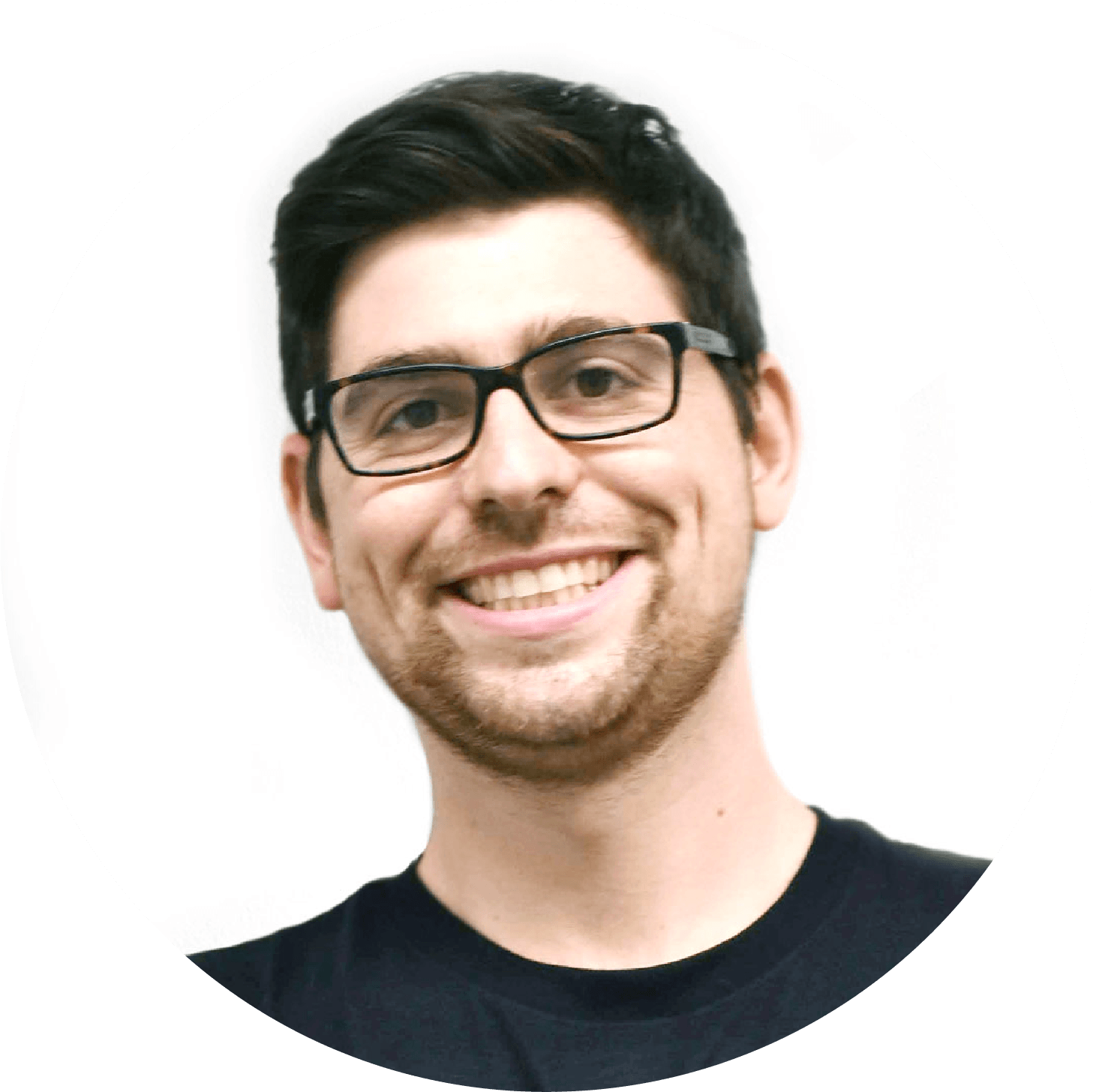 Tyler
"I love that 'aha' moment that comes from getting something after struggling with a topic."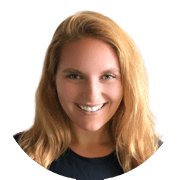 Julia
"I love helping students increase their mathematical confidence while achieving their academic goals."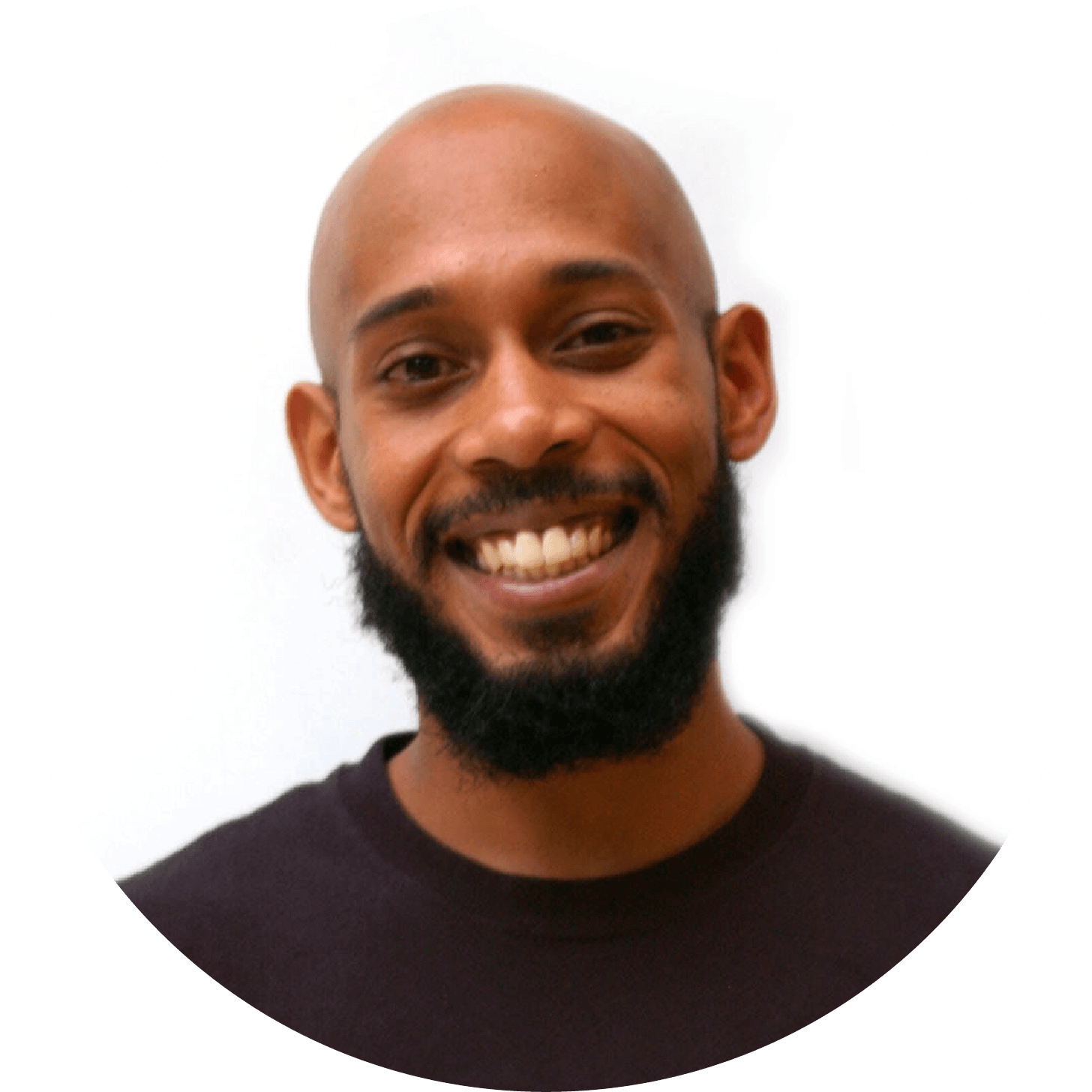 Kristian
"Helping to mold the future generation is extremely gratifying."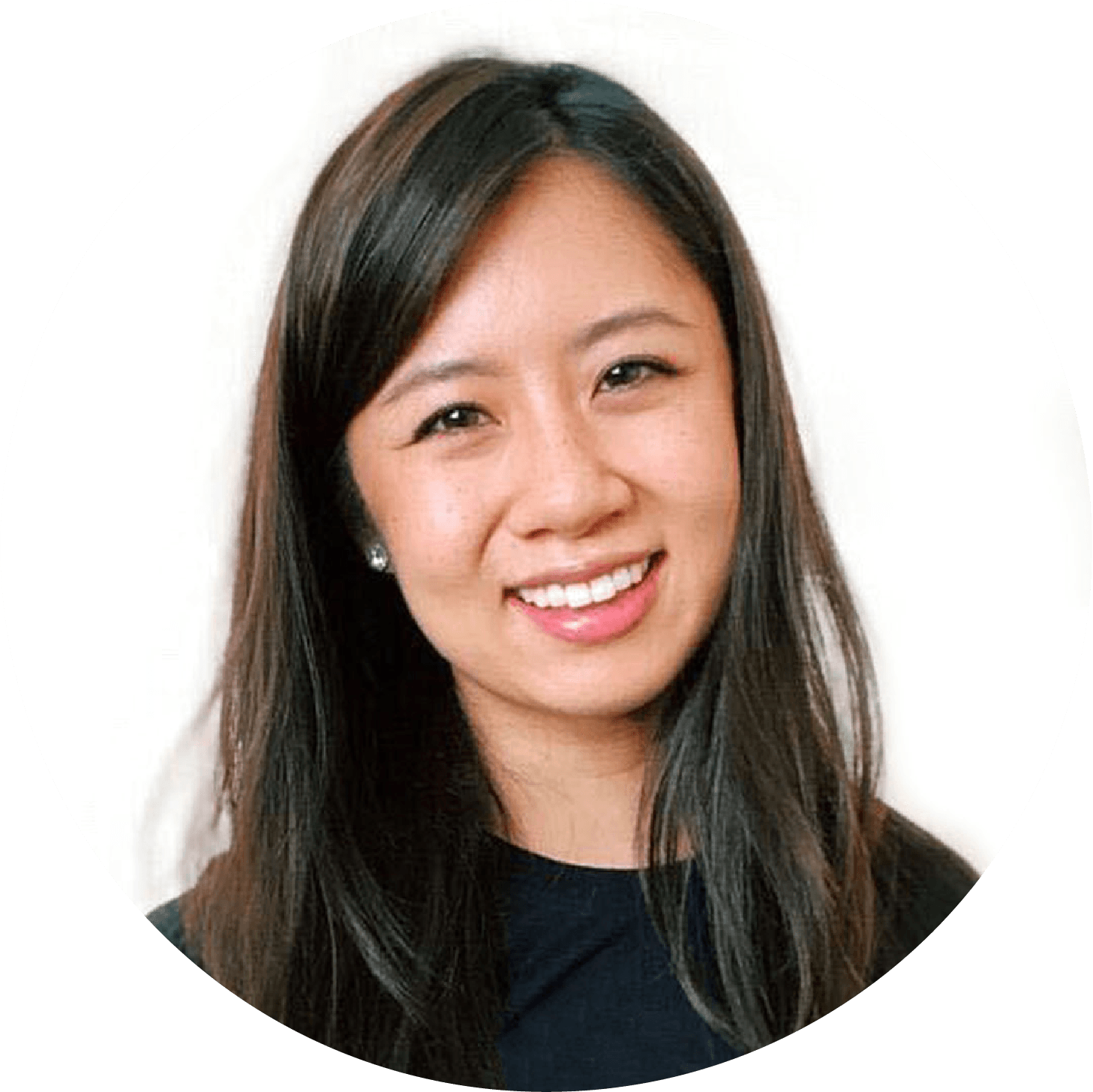 Jenn
"I treasure the relationships that I've built with each of my students, and I love watching them become more confident in a subject that I struggled with when I was their age."
Here's what parents are saying
"My two boys — ages 9 and 13 — disliked math. Both boys didn't want to do their homework and were falling behind. Weekly Prodigy math tutoring sessions have given them confidence. Their skills are advancing and they feel more capable. Working online simplifies everything."
Prodigy parent
"Tyler was engaging, fun, patient and kind. He was able to challenge our son to learn something new, while having fun at the same time. So far, we haven't missed a week and our son can't wait for his math tutoring!"
Prodigy parent
"My daughter really enjoyed her session — so much that she wants you to be her primary math mentor! Her little brother overheard the session and said he would love to work with a tutor, so he could progress further in Prodigy. Our kids are now self-motivated to learn."
Prodigy parent
Frequently Asked Questions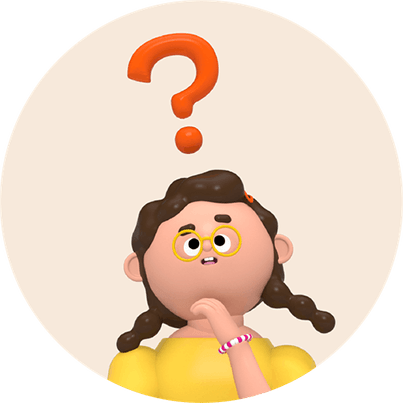 What curricula do you cover?
We cover the same material your child would see in school, adapted for their ability level and current progress on the topic.
What are your Tutors' certifications and backgrounds?
Prodigy Math Tutors are experienced math educators with classroom experience teaching multiple grade levels from 1st grade through to high school.
What technical requirements are there for a session?
Prodigy Math Tutoring uses Zoom conferencing to facilitate our sessions. In order to have the best experience, you will need a stable connection to the internet. You can follow Zoom's hardware and software guidelines to help you set up your environment. We recommend a laptop, desktop or tablet for the best experience.
We ask that you please download and install the Zoom app before your session. We will provide you with links and instructions on how to do this.
Is your Tutoring platform safe and secure?
Safety and privacy is a top concern for us. Each session can only be accessed by the tutor and the participant through a link sent to you by email. Additionally, you can read more about our Privacy Policy here. We record all tutoring sessions to ensure quality and safety.
As a parent should I sit with my child for their sessions?
For the free session we would like to talk to parents and children together. For regular sessions your child is welcome to work on their own, with their Math Tutor. We recommend that parents or responsible adults are on-hand to set up the session and to help if required but you do not need to be with your child for the entire session.
Do I need special hardware for online tutoring?
We recommend that your child wear headphones for their sessions. Please also ensure that your child is familiar with a mouse or computer trackpad if applicable.
How does your Prodigy game fit into this?
This is a learning experience offered by Prodigy Education that is informed by your child's progress in our game. We leverage insights from the questions they've answered to prepare a personalized learning plan for your child to be used in tutoring sessions
How do I schedule multiple 30-minute Math Tutoring sessions?
Check the link in your email after your free session for access to your child's learning plan and the ability to sign up for multiple 30-minute sessions. If you have any questions, please reach out to our support team here
Do you offer multiple-session discounts?
Yes, if you decide to purchase 3 or more sessions we will extend a 20% discount. Regular sessions cost $30 USD and with this discount they are $24 USD. Speak to your tutor to learn more!
What are your late, refund or cancellation policies?
If you are late, the Math Tutor will wait for you in the online session for 15 minutes. If you do join late, please be aware that the session will still conclude at the scheduled time. 
We are committed to providing the best tutoring for all students. When a customer cancels or misses a session without giving enough notice, it prevents us from working with another student. As such, we require 24-hour notice for any cancellations or changes to a session. Customers who provide less than 24-hour notice or miss their session will be charged in full for their scheduled session. 
If you need to rebook your session please reschedule online or contact our customer support team. For free sessions, if you miss more than 2 sessions without providing 24 hours advance notice we will not be able to provide you with a free session in the future. 
If you are not satisfied with your Prodigy Math Tutoring session, please reach out to our support team here.
Who do I contact if I need to cancel or reschedule?
Who do I contact if I need technical help?
Who do I contact if I have a question or concern?
We encourage you to contact our customer support team if you have any questions or concerns.