The Road Ahead: An EdTech Leader's Thoughts on Going Back to School
All Posts

Last week, I participated in a roundtable session with a handful of leaders in education: a group of Superintendents, Chief Academic Officers, and Technology Directors from school districts across the United States. I couldn't help but notice an overwhelming sense of uncertainty about this year's back-to-school preparations.
With schools around the globe shutting down in March to keep our students and communities safe, COVID-19 has already had a widespread impact on our education system. And with cases still running rampant in the US, we're faced with even more challenges as we prepare for the upcoming school year. 
Many districts still don't know whether classes will be in-person, virtual, or some combination of the two. Since we can't predict the progression of the virus between now and the beginning of the school year, many are expected to prepare for all three of these scenarios at once.
Taking everything we deliver within the four walls of a school building into a virtual or hybrid setting is a herculean task. And that's to say nothing of planning for all three scenarios at once. Classrooms simply aren't set up to keep kids six feet apart — and children, by nature, are social, messy, and easily distracted.
In light of the situation, I'd like to highlight some of the challenges in front of us and share some of my perspectives with the millions of parents, teachers, and school/district educators we serve at Prodigy. 
Our company has also recently opened an office in India, where the school year starts a few months earlier than the US. Our work on the ground there — observing the situation and watching schools cautiously reopen — could provide some unique insights on what might be in store for the US. 
At the end of this article, I'll share a few potential paths forward, outlining how to cope with the challenges ahead — and why Prodigy's mission of helping every student in the world love learning will be more important than ever in these chaotic times.
But first, some context.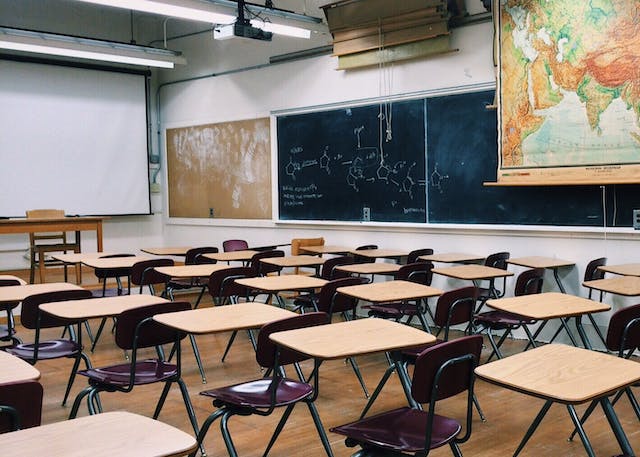 What will school "reopening" look like in the fall? 
How will schools "reopen" in the fall? That's the million dollar question — or, more accurately, the $706 billion question (that's how much is spent annually on public education in the US).
In early July, President Trump encouraged all schools to reopen in-person in the fall, but has recently softened that stance to say schools should delay reopening in coronavirus hot spots, but should open fully if they want to receive tens of billions of dollars in new federal aid.
Despite the guidance from POTUS, this remains a hotly debated issue — and each state seems to have a different stance on the best action to take. 
Florida, which has a relatively high number of COVID-19 cases, is still planning to push forward with reopening schools in full. California Governor Gavin Newsom announced guidelines on July 17, which indicate that most schools will likely start the school year virtually. 
New York Governor Cuomo has released data-driven guidance for reopening schools. At least one NY superintendent I've spoken to has called this guidance "nebulous" — saying it adds confusion, rather than clarity. North Carolina is preparing for all three scenarios, and one district in NC announced an A-B day schedule. 
My goal here isn't to politicize these events, or even to provide my opinion on how schools should be reopening. I'll leave that to our medical and pedagogical experts. Rather, I want to point out that this is an incredibly complex, emotionally charged, and constantly evolving issue.
Since there seems to be no consensus on how schools should or will actually reopen, I will point out some of the challenges in each of the three major scenarios:
Full in-person reopening
Virtual reopening
Hybrid reopening
Of course, there is a fourth scenario in which schools simply do not reopen this school year, but I think we can all agree that scenario will put our kids' mental and emotional development at serious risk.
1. Full in-person reopening
If schools do reopen in-person in the fall, the number one issue on everyone's mind will be safety. How do we keep our students safe? How do we keep our teachers and school staff safe? How do we prevent the school from becoming a petri dish for an outbreak in the community?  
In this section, I'll touch on what I believe will be the top three safety considerations for school reopenings: revamping school facilities, modifying student behaviour, and ensuring teacher and staff safety.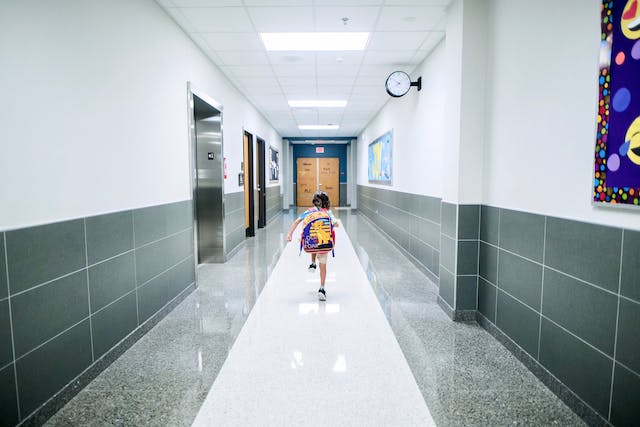 Modifying school facilities to help prevent the spread of COVID-19
Before we get into what facility changes might be required at schools, I'd love to draw a parallel to our own business to illustrate this point. At Prodigy, I co-lead an organization of 350 amazing team members who — until a few months ago — were used to working in one of our three offices (two in Canada and one in India) every day.  
On March 13, we decided to temporarily shut down our offices, to safeguard the health of our employees and their families. Since that point, our entire company has been operating completely remotely. In the background, our People and Operations teams have been working tirelessly to outfit our offices with the necessary safety precautions to let employees back in.
For example, in our head office, we will have a short waiver that every employee must sign before coming in that day, to confirm that they are free of symptoms and haven't been exposed to anyone exhibiting symptoms. 
We have marked all our common spaces with stickers to indicate positions that are six feet apart, and have made many of our hallways one-way only. We have folded up our tables and chairs in the cafeteria; people won't be able to sit together and socialize over lunch. We have reduced capacity at desks and blocked off certain alternating chairs in meeting rooms to ensure people are appropriately spaced apart.  
We have hand sanitizers everywhere and foot-pulls on bathroom doors so employees don't have to touch the door handle on the way out. We will require people to wear masks when roaming around the office, unless they're at their desks.  And sadly, we'll be temporarily discontinuing my personal favorite perk: free snacks, fruit, and (alcoholic and non-alcoholic) beverages.
One thing is for sure: the office we return to in the fall will be very different from the office we left in mid-March. And we have the luxury of having a brand new, 100,000 square foot headquarters that we moved into in December, which was occupied by only about 220 people prior to the pandemic. What happens when you superimpose similar safety precautions on a 40,000 square foot school building with over 500 students, teachers, and support staff?
I assume schools will require similar adaptations to the ones we've made at Prodigy. Hallways will likely have to be modified to be one-way, to minimize interaction between classes. Classrooms will likely have to be reconfigured so that students can be better spaced apart. Large all-school assemblies will almost certainly be discontinued.  
Which brings me to my next point: even if we do modify classrooms to distance kids and reduce the likelihood of the virus spreading from one child to another, how do we ensure compliance by a group of six-year-olds?
Changing student behaviors
Changing student behaviors is going to be one of the toughest challenges of reopening schools in person. Despite all of the safety precautions we've taken before looking to reopen our Prodigy headquarters, we still need to ensure that our employees comply with these safety precautions. 
That can be difficult, since many of them counter our usual behaviour — for example, going the right way on one-way hallways, or wearing masks when you're not at your desk. Keep in mind: we're dealing with adults that our team has had the benefit of meticulously screening and hand-picking over the years. How well will this work with children?
In my conversation with one superintendent, they pointed out that something as seemingly trivial as training students to properly wear masks will be a huge challenge. For this reason, the government of Ontario in Canada has announced in its back-to-school plans that wearing masks will only be mandatory for students in Grade 4 and above, and encouraged but not mandatory for younger students. 
Medical experts at the world-renowned SickKids Hospital in Toronto are recommending mask use in high school but not elementary school, as proper mask behaviour would be difficult to teach and "impractical" to enforce for younger students.
Encouraging kids to practice proper social distancing will also be a challenge, as children are naturally social and will want to interact with each other during recess and class time. One potential is to allow students to interact within their own classrooms, but to limit interaction between different classrooms. This approach could potentially limit the spread of COVID-19 if there were an outbreak in a school. 
Teacher wellbeing
Teacher and staff wellbeing is another important issue to consider. Many of us who know teachers have heard about the classroom setting putting teachers' immune systems to the test, since kids seem to be really good at spreading viruses and germs. Teachers have even written blog posts about how to avoid getting sick. It's not surprising that teachers are worried — and for good reason — about being in an environment where they could be exposed to the virus.
Let's put ourselves in the shoes of a veteran teacher. If I'm at an age where I'm more susceptible to the virus or have pre-existing medical conditions, is it worth risking my life to go back into the classroom?  Even if I'm a younger teacher and have a relatively clean bill of health, the risk of dying from the virus is still non-zero. Do I put myself and my family in harm's way?
According to an EdWeek Research Center survey, 43% of teachers say they personally have a high-risk condition, and nearly half say they live with someone who is at risk for serious illness due to COVID-19. One survey found 83% of teachers in Ontario, Canada were concerned about going back to school, where the daily case counts are drastically lower than the US. Another poll found that 1 in 5 teachers are unlikely to go back to school if classrooms reopen.
Stress, exhaustion and burnout are also top-of-mind right now. Teachers know back-to-school will be a lot more work this year, and much of the work involved in reshaping classroom structures will fall on their shoulders. Not to mention, many teachers are also parents who need to accommodate their own children's new learning structures. 
Teacher unions are starting to push back against this potential safety issue, with socially distant protests taking place in at least three dozen different counties across the country on August 3. Surveys have also found that a majority of teachers prefer to start the year with virtual instruction to keep many of the health concerns above at bay — which brings us to our second option...
2. Virtual Reopening
If schools are to reopen virtually, this will circumvent the safety issues highlighted above, but introduce a completely different set of challenges that relate to delivering and receiving instruction online.
Since schools in India start their school year in May/June — and a vast majority of these schools chose to start virtually — we'd like to use our observations on the ground there to illuminate what this scenario might look like stateside. The three challenges I'll discuss are child care, attendance, and assessment and remediation.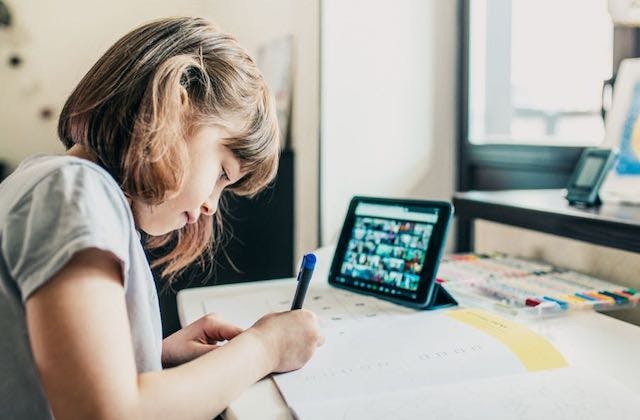 Child Care
With children at home, the burning issue for working parents becomes the ability to find and provide appropriate child care for their children, who are now home during prime working hours. Obviously, we have several parents at Prodigy, and I've witnessed firsthand the challenges that come with trying to focus on working from home while children are screaming for attention in the background.
The situation for parents who can't work from home is even worse. What do I do with my child if I need to work out of my workplace? Leaving your child with family members or trusted friends seems to be the only option for most parents, since many child care centers are operating at significantly reduced capacity as they put their own coronavirus precautions into place.
A lack of appropriate childcare could lead to our next concern: attendance.
Attendance
One of the biggest things to catch me by surprise in observing the situation unfold in India was the magnitude of attendance issues for schools offering virtual classes. 
Without getting into the details, only around 40% of the students in the schools we support in India were showing up for virtual lessons. And keep in mind, all of these students attend private schools where parents pay hefty fees, so I would have expected more of their students to participate in the virtual sessions. 
I don't think these parents are purposefully keeping their children away from learning. There are some very practical reasons for why students aren't attending online classes.
One of them is device availability. Let's say I'm a working parent with only one laptop at home and I have a meeting at the same time as my child's class. Do I prioritize my child's virtual lesson, or do I use the laptop for my meeting? In order to keep their jobs, I think most people would opt for the meeting.
Another reason is supervision. If parents are working, how do they ensure their children are actually logging into and attending their lessons on time? Who is there to help if a child encounters technical issues?
Attendance is the issue that I'm personally most concerned about in a virtual learning scenario, as it will disproportionately affect students from lower income households where both parents are likely to be working and devices are more scarce. 
The achievement gap between students from lower versus higher income households is well-established in research, as is its link to the higher income students' access to educational resources over the summer months. This difference will be further magnified in a learn-from-home environment.
Assessment and remediation
Assuming students are able to access online learning resources on their devices, the third major issue will be assessment and remediation.
Over the past 9 years, I've talked to thousands of teachers, and one recurring challenge is being able to properly assess the learning progress and trouble spots of each of the 20-30 students in their class — and being able to provide differentiated instruction to meet a given student's needs.  
This is already a challenge in a physical classroom, where a teacher quite literally has visibility into what a child is doing well and where they might be struggling. Imagine how much greater that challenge will be over a video call.
In India, we've observed that teachers are turning to online adaptive learning platforms like Prodigy for help, and this is also where software solutions shine. For example, as students play Prodigy, our adaptive algorithm constantly assesses which math topics and skills they're succeeding in, where they might be struggling, and how to keep them optimally engaged and challenged (which educators call the "zone of proximal development").
One word of caution here is to please review the feature set of your learning platform, as not all are adaptive, and not all adaptive algorithms are created equally.
What makes Prodigy's market-leading platform so powerful? We have over 25% of all 1st-8th grade students in North America as monthly active users — and those students answer up to 750 million math questions per month. We use all this data to improve our math questions, algorithms, and learning pathways, so that we're able to provide a learning experience that's catered to each child.
3. Hybrid Reopening
The final scenario for reopening is a hybrid (or blended) reopening, where schools employ a mix of in-person and virtual instruction. Since classrooms aren't designed to keep students six feet apart, I suspect that in the case of a reopening, many schools will opt for a hybrid approach — where some students are allowed into school during a given time period, while others learn from home.
For example, in an A/B group opening, there could be a group of students designated to Group A — say grades Pre-K, 1, 3, 5, and 7 — while the alternate grades are designated to Group B.  
Alamance-Burlington District in NC has taken this approach, where one half of students are scheduled to attend class at their school on Monday, Wednesday and alternate Fridays. Meanwhile, the second half of students come in on Tuesday, Thursday, and the remaining Fridays. 
Another approach for hybrid reopening could entail students for Groups A and B attending schools on alternate weeks, which would allow more time for the sanitization process (it could be done over the weekend) and ensure more separation between the groups.
I won't create a separate list of challenges for this group, as it shares the same areas of concern from both the in-person and virtual reopening groups above, except slightly muted. For example, child care will still be an issue for parents in the case of a weekly rotation, but they will be able to send their child to school at least half of the time.
Regardless of which scenario your school chooses to implement, it's safe to say that this will be materially different from last year, and that having the right tools and supports will be more essential than ever.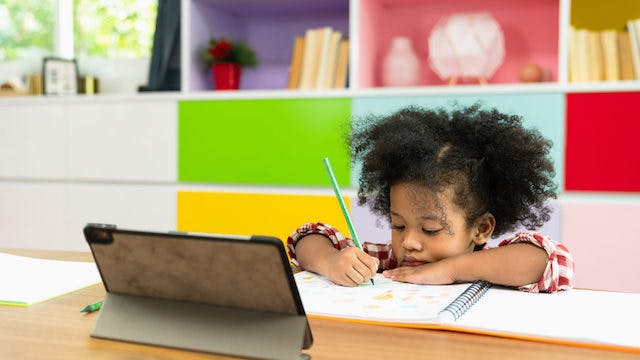 How can we help? 
By this point, you're probably sufficiently convinced about the challenges ahead and are looking for solutions.
While I can't pretend to have good answers to all of the issues highlighted above, I do want to walk through how Prodigy could be a small part of the solution in all three scenarios. 
Because it's online, adaptive, and highly engaging, Prodigy's math platform is ideally suited to help parents and teachers ensure their students are learning math in either an in-person, virtual, or hybrid learning environment.
There are three product attributes that I'd like to highlight here which can help in either scenario: world-class student engagement, easy assessment and remediation, and a shared data set between home and school.
World-class student engagement
As you may already know, our game-based-learning platform allows students to learn within a massive online fantasy world, where students can design their own wizard avatars, complete quests, and interact with friends — all while answering math questions.
In the background, our adaptive algorithm quickly learns which topics your student is doing well in and where they might be struggling, and caters to their individual learning level. This ensures students are appropriately challenged and are actually learning math as they play.
Since kids enjoy playing Prodigy, teachers and parents can effortlessly keep students on track with math learning, regardless of whether they're at home or in school.
Easy assessment and remediation
Whether in-person or virtual, Prodigy allows teachers to focus their time doing what they're best at — delivering amazing lessons — while we help take care of the rest. Teachers use our Reports and Assessments features, which are available for free on all teacher accounts, to make this happen. 
For example, in a virtual or hybrid learning environment, a teacher can deliver their lesson and use the Assessment feature to give all their students 15 questions on that specific topic for homework. The next time students log into Prodigy, they will automatically see those 15 questions, without any interruption to the look and feel of the game. These stealth assessments make homework and evaluation a painless process, and this can be done both in school or at home.
Prodigy's reports also highlight trouble spots for both teachers and parents, so you can drive remediation in these areas. Our platform tells you exactly where your students are doing well and where you can help.
For more details on our Assessments and Reports, please see the respective support pages (Assessments; Reports). 
Shared data between home and school
Finally, Prodigy offers a singular platform where parents, teachers, and school administrators can easily keep track of student learning. 
This is absolutely vital in a virtual or hybrid learning environment, where parents will have to play an active role in the student's learning. Even in an in-person environment, students may be pulled out of school at a moment's notice if there is an outbreak of the virus in your region. Prodigy's real-time reports and dashboards makes it easy and seamless for your students' learning to continue, despite a change of environment.
We're honored to support you
With all the challenges you've faced this year, we're so impressed with all the teachers, administrators, and parents stepping up and doing incredible work to ensure students can learn during this time.
This is an unprecedented time for all of us, and I just want to extend a huge thank you to all of you who are working tirelessly to improve the situation for our students, families, and communities.
Here at Prodigy, we're honored to help you and your students, and we wish you all the best for the new school year.
Rohan Mahimker
Co-Founder, Co-CEO
Prodigy Education