How to Use Your Premium Membership: Tips for Kids & Parents
All Posts
If your child has been asking for a Premium Membership lately, you may have decided to take the plunge and get them one (a wonderful choice, in our humble opinion!)
But now, you might find yourself wondering:
What's next?
How will they use their Premium Membership? How will you use it? And is it really worth the purchase? 
The best way to make sure it's worth it is to make the most of all your membership benefits! We'll show you how to use your child's Premium Membership in the game and in your parent account, so you can take full advantage of everything it offers.
Premium Membership benefits for you and your child
When you invest in a Premium Membership for your child, you'll both get instant access to exclusive rewards and features that can help you boost their learning! The package you choose will determine which of these features you get.
Membership package 1: Prodigy Level Up
Benefits for kids:
Track down and tame powerful EPIC creatures.
Rescue 100+ Prodigy pets and evolve ALL of them.
Access hundreds of members-only gear and items to customize their Prodigy wizards with.
Explore member-exclusive game areas, such as the Dark Tower and Rune Runs options on Harmony Island.
Benefits for parents:
Set Goals for your child and send in-game Rewards when they achieve them.
Cheer Them On with fun, encouraging messages your child will receive in-game.
Get Comparison Insights to discover how your child is performing alongside their peers.
Access Grade Override to adjust the difficulty of the questions your child will encounter in-game.
Use the Practice Areas tool to track your child's progress and see specific questions they're struggling with.
Access curated Video Lessons or printable Practice Sheets to help your child learn more about concepts they may need help with.
Membership package 2: Prodigy Ultimate
This plan includes everything in Prodigy Level Up, plus:
For kids:
Access to the Ultimate Member Box, which includes one exclusive Ultimate item and one exclusive Ultimate pet per season!
For parents:
The ability to set more challenging Goals for your child and choose from over 40 exciting in-game Rewards.
Access to Focus Mode to help encourage your child to answer more questions at home.
All the members-only in-game goodies make Prodigy Math Game even more fun and keep kids extra engaged. This means they'll:
spend more time playing
answer more skill-building math questions
fall more in love with learning than ever before!
Ready to make the most of your child's math learning?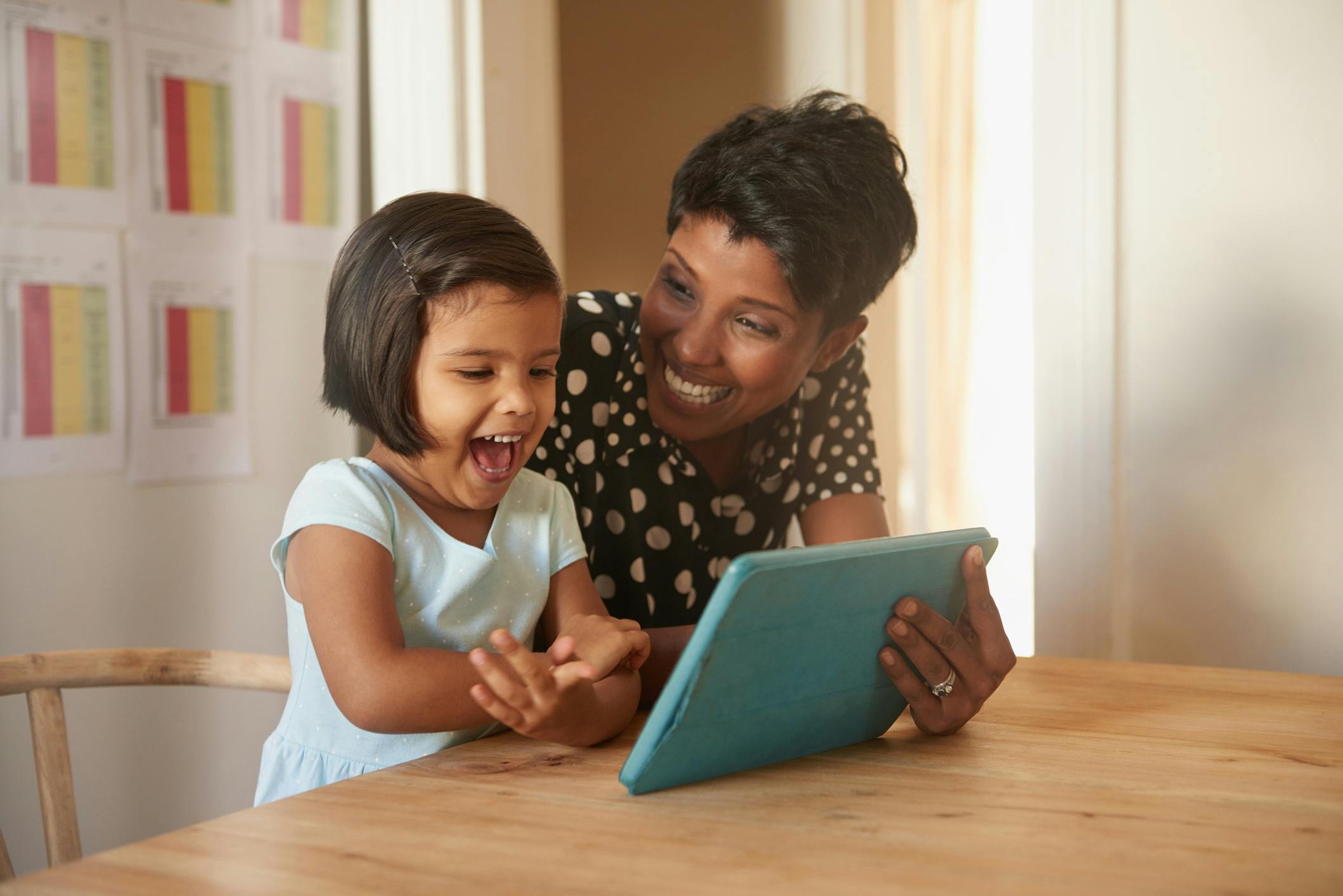 How to get your Premium Membership
The first step to enjoying all those members-only perks? Become a Premium Member! 
You can do it in five simple steps and just a few minutes! 
1. Choose your Premium Membership plan
Consider the following questions to help you choose the right membership for your family:
Which package do you and your child want?
How often do you want to make your payments?
How long do you want your membership to last?
How many kids in your household want a membership? 
This will help you figure out how to save the most money on your membership and choose the plan that works best.

3.  Select Purchase a Membership. 
4. From our Premium Memberships page, click on Buy Membership and then select the plan you want to sign up for.
Become a Premium Member now!
3. Give the Premium Membership to your child 
If your child's account is connected to yours, you'll see their name on the Assign membership page. Select the box beside their name and continue to the next step. 
Remember: each membership can only be applied to one student account. If you select multiple children during this step, you'll be getting each child their own membership.
Oops — did you apply your Premium Membership to the wrong child? No worries! Here's how to transfer it to the correct account.
4. Complete your purchase
Select Continue to payment details, then enter your payment on our secure site and select Continue to review purchase. 
All payments are billed in USD. If you're in Canada, the cost will be converted to CAD on your credit card statement.
To review your purchase, log into your parent account and select Memberships in the top right corner to see your Membership page. This will show the status of your membership and the next billing date.
5. Enjoy your Premium Membership benefits!
Once your purchase is complete, your child is automatically a Premium Member! When you enter your parent account and select View progress under that child, you'll also see your exclusive premium parent tools. 
Want to change your plan? Simply cancel your current plan and repeat the steps above to sign up for the one you want.
If you have a Premium Membership already and want access to the newer Level Up or Ultimate benefits, follow these instructions to upgrade from your parent account.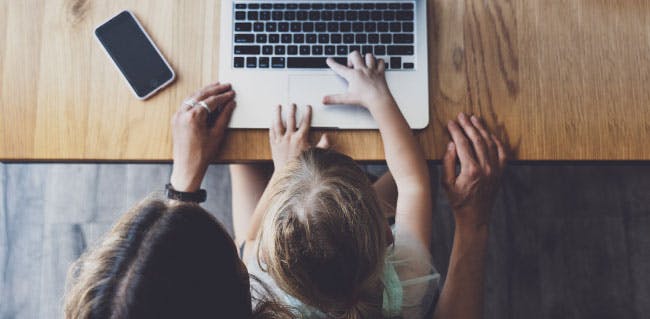 How to use your Premium Membership benefits
Congratulations — whether you chose a Level Up or an Ultimate, you now have access to tons of Premium Membership benefits! 
Here's how to use them.
How to help your child use their membership
The next time your child logs into Prodigy Math Game, all their extra in-game rewards will be waiting for them. 
With any Premium Membership, they can:
Level up 50% faster
Rescue and evolve all 100+ pets
Use extra prize wheel spins each day
Get a special Epic pet to join them on their Prodigy journey
Get new items, gear and an exclusive cloud mount for their characters
Access member-only in-game areas like the Dark Tower and all the mini-adventures in Harmony Island
And more!
And here's how your child can access these rewards:
Cloud mount — Click on your character and switch the toggle to turn your cloud mount on or off. 
Pets — Simply keep rescuing as many pets as you want without having to release any others to make room. 
Exclusive items and gear — Select the backpack in your main menu bar or the Stylist in your Character Card and choose from all your new available options. 
The Dark Tower
Only Premium Members have access to this medieval-style tower that's packed with unique opponents, exciting rewards and dark mysteries.
The higher your child climbs up the 100-story tower, the more challenging their opponents (and math questions!) get. 
To get there, have your child select the map button in their bottom toolbar. The Dark Tower will now be available to select from the map! 
Learn more about how to access the Dark Tower. 
Harmony Island 
In this adventure, math wizards can visit an uncharted land, embark on a mystical journey and build more math skills along the way!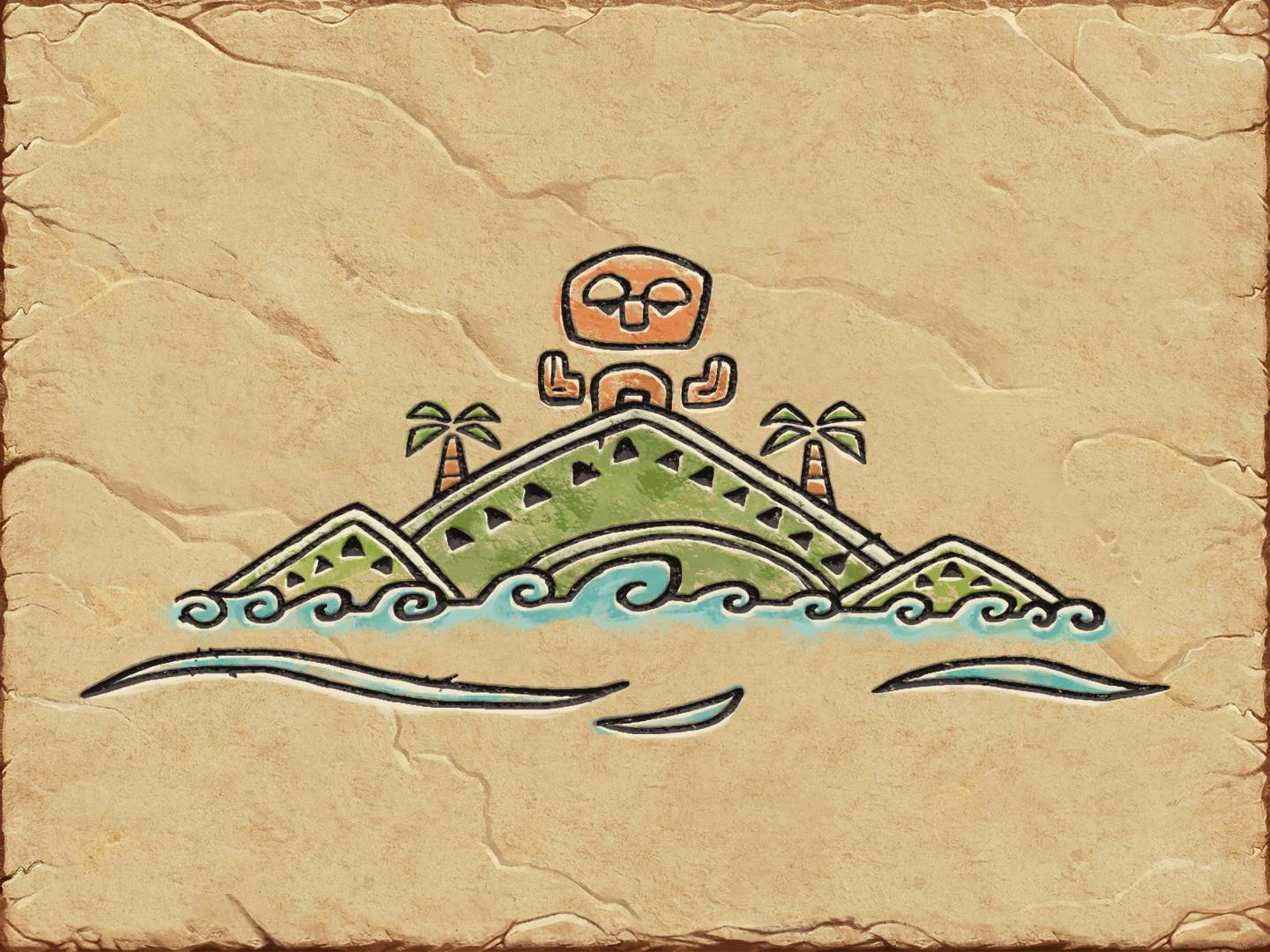 After your child has reached level 20 in Prodigy, they'll unlock Harmony Island on their map. Once they select it, they can enjoy repeatable mini-adventures in the Rune Run, meet a brand new character and power-up like never before. 
As a Premium Member, your child can access all the mini-adventures Harmony Island has to offer!
How to use your parent membership benefits
Being the parent of an amazing Prodigy wizard like yours has never been more rewarding!
Use your parent features to stay up-to-date on your child's learning progress and support them where they need it most.
Remember: each Premium Membership purchase applies to one child only. Even if you have more than one child attached to your account, you'll only get premium parent features for the child who has a membership. 
Ready to get started? 
First, log into your parent account and select View progress under your child's name.
When you enter your parent dashboard, you'll see new Premium Membership tools on the left side of your screen.
Here's a preview of our most popular ones.
Goals and Rewards
Motivate your child to answer more math questions and earn exclusive in-game Rewards.
In your parent dashboard, you'll see a Goal Overview module. From there, you can choose the number of math questions you want your child to answer when they play Prodigy Math Game.
Once your child reaches their Goal, you'll be prompted to send a Reward your child will get in the game.
Stay up-to-date on your child's learning and skill levels while they play Prodigy Math Game.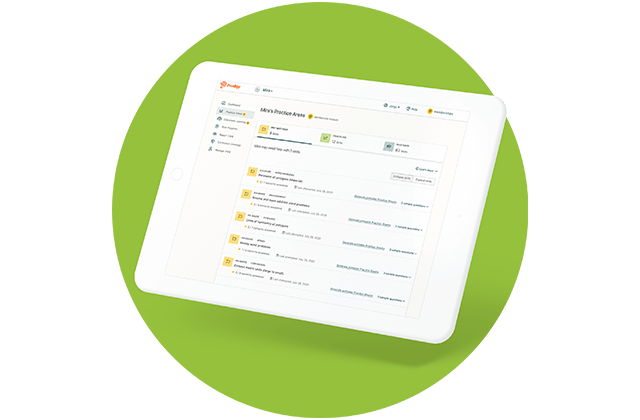 When you select the Practice Areas feature, you'll find three categories at the top of your page. This toolbar shows the exact number of skills your child may need help in, is practicing and has mastered. 
Click on each of the categories and scroll down to see the specific skills that apply to them. From there, you can view sample questions and video lessons for each skill.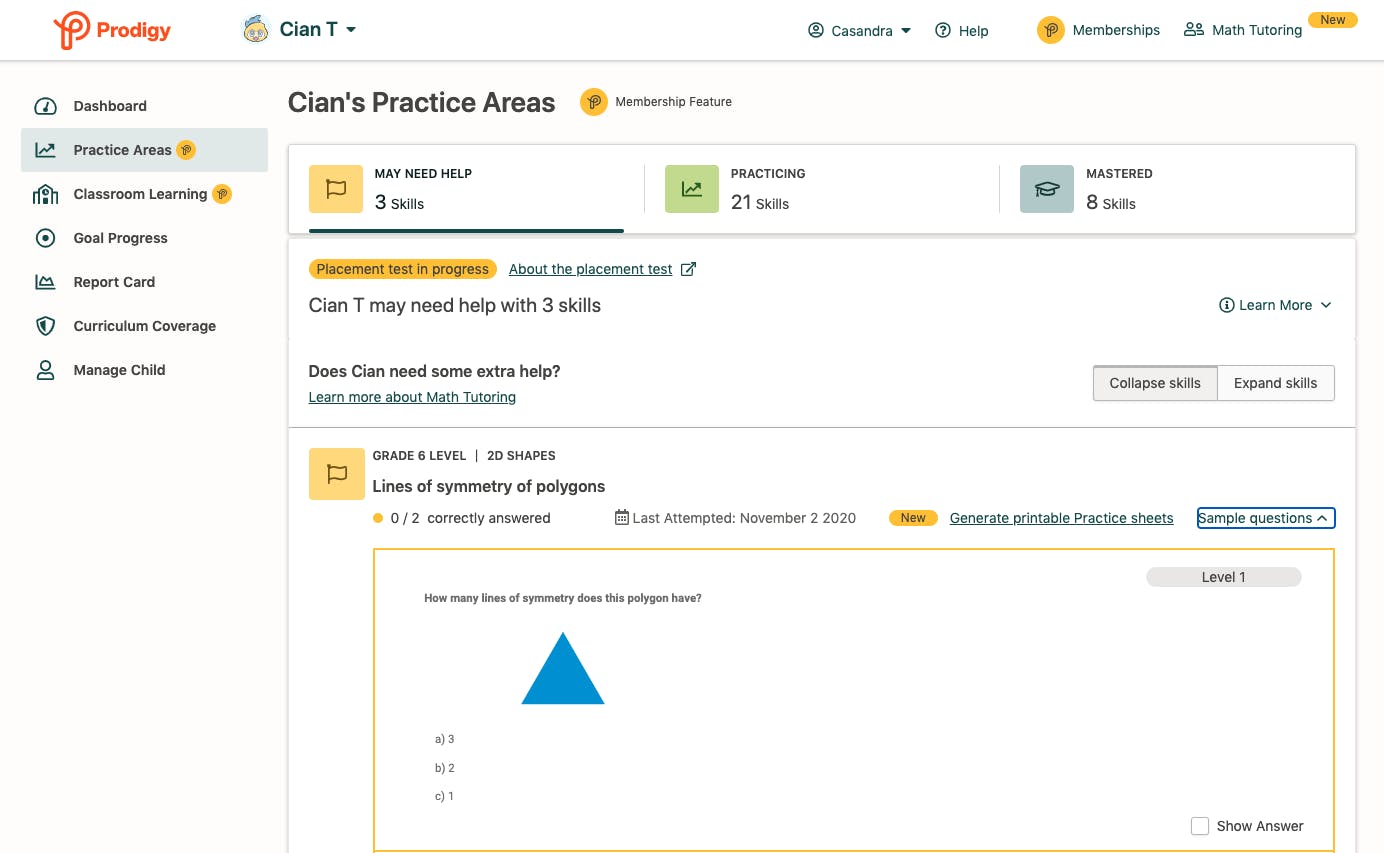 Practice Sheets 
Bring fun math learning off the screen with worksheets tailored to your child's exact needs!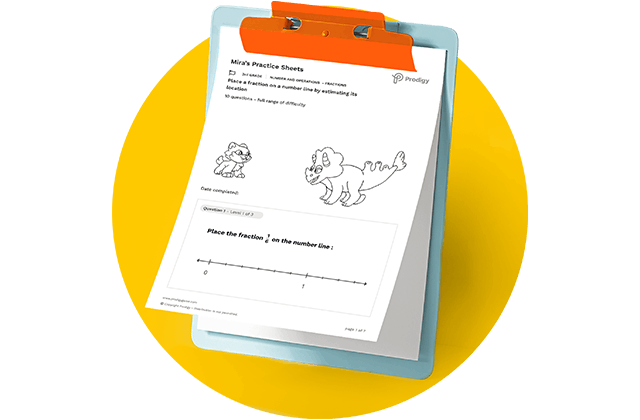 As a bonus, the May need help category of your Practice Areas feature also allows you to generate customized worksheets for your child. This way, you can give them extra practice on the concepts they struggle with, even when they're not playing Prodigy. 
Under each skill, select Practice Sheets and then Generate Practice Sheets. Then download and print as many worksheets as you'd like!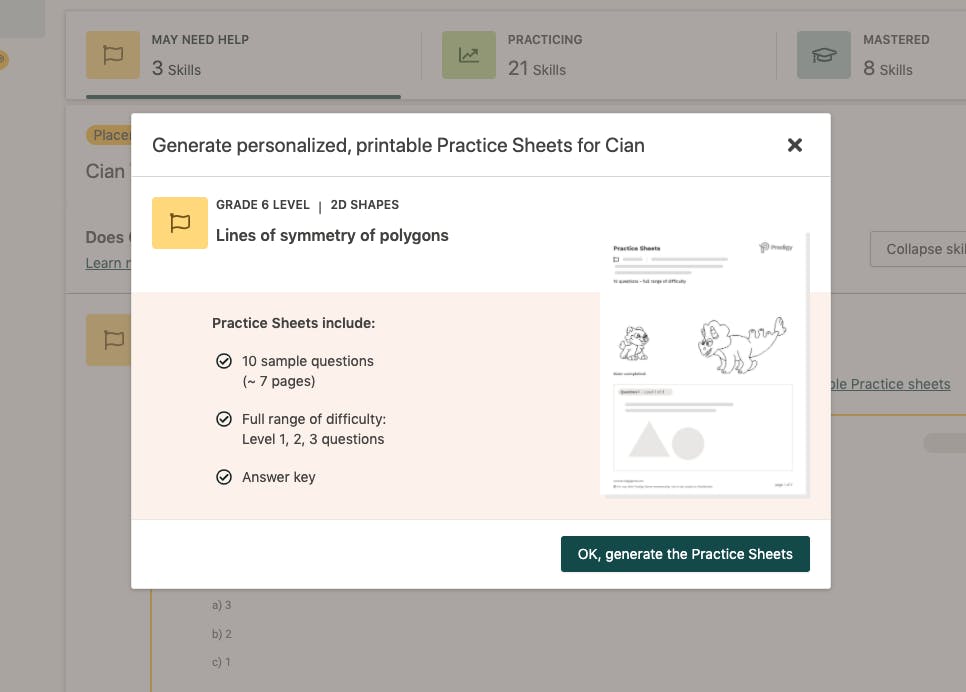 Psst: keep crayons or colored pencils close by so your child can color in the fun Prodigy characters on each page. 
Each of these features are included in all Premium Memberships. You'll access all this plus tons more parent tools and features, including:
Customized Video Lessons to guide them through skills they need practice with
The ability to Cheer Them On with encouraging messages they'll receive in the game
Use all your Premium Membership features to help your child love learning!
Now that you know what to look out for, you can feel confident knowing you're getting the maximum value out of your child's Premium Membership. 
With more ways to make learning fun and more tools to support them, there's no telling how far they can go!
Choose a Premium Membership now!