Welcome! So, you're interested in arguably the most engaging math platform in the world: Prodigy Math.
Soon, you'll start hearing your child rave about leveling up, casting spells, defeating monsters, catching pets, earning badges... and it may sound somewhat confusing.
But have no fear. It's all part of the curriculum-aligned, fantasy-inspired adventure that's boosting children's confidence and improving math skills!
As a Prodigy parent, you gain access to exciting and powerful perks which help you motivate and support your child's learning journey — with ease.
Here's everything parents need to know about Prodigy Math!
What's Prodigy Math and why should you encourage your child to play?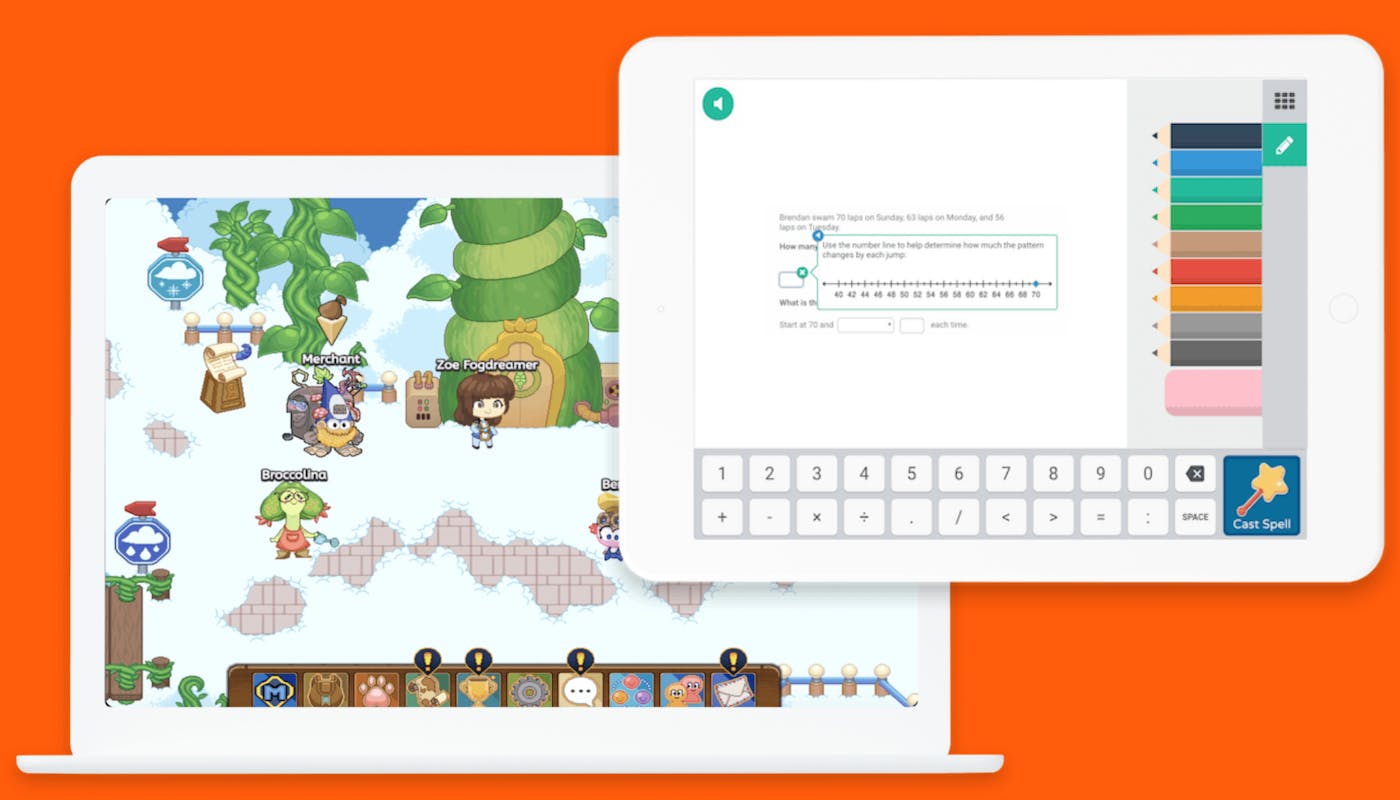 With 1,500+ curriculum-aligned math skills for 1st to 8th grade, Prodigy Math is so much more than a game.
Prodigy Math is an engaging game-based learning platform that's dedicated to improving students' confidence and achievements in math. Parents like you can use Prodigy to make math fun for their kids and to support their learning!
How does Prodigy Math work?
Prodigy Math uses its game-based environment to make practicing math as fun and engaging as possible for kids.
Here's how it works:
1. Your child joins Prodigy Math and begins their adventure
Once your child signs up to Prodigy Math, they'll create their very own avatar that represents them.
They'll then enter Prodigy Island – a fantasy world filled with magical creatures called pets.
When your child joins Prodigy, they will learn that these pets are under the wicked spell of the Puppet Master. It's the player's job to stop the Puppet Master and help free the pets from his spell.
Prodigy Island is filled with different worlds for your child to explore. Each world has its own quests, characters and pets to rescue and collect.
2. They encounter virtual pets to battle and rescue
As your child is exploring the different worlds, they'll encounter pets they must battle.
Prodigy Island is filled with over 100 different pets, with new ones being added. Each pet belongs to a specific element and can get stronger by earning experience points in battles against other pets and foes.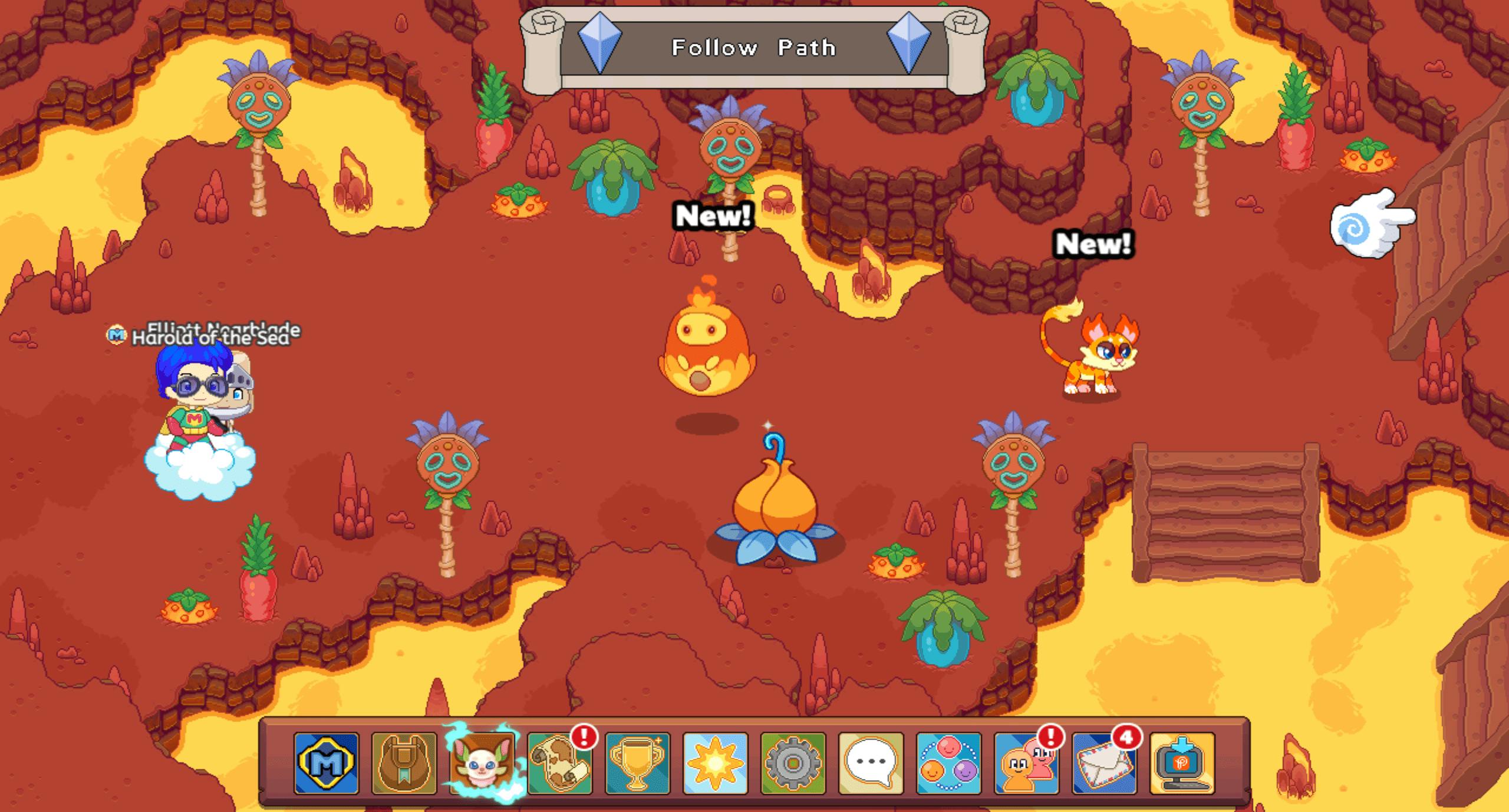 3. They answer math questions to advance
In order to cast a spell or use their pet in battle, your child is given a math question they must answer correctly for their move to succeed.
This is where the magic really kicks in.
Powered by our adaptive algorithm, each math question is tailored to your child's curriculum and their individual skill level. If your child is using Prodigy Math in school, the content will also reflect what they're currently learning there too. Who knew homework could be so fun and rewarding!?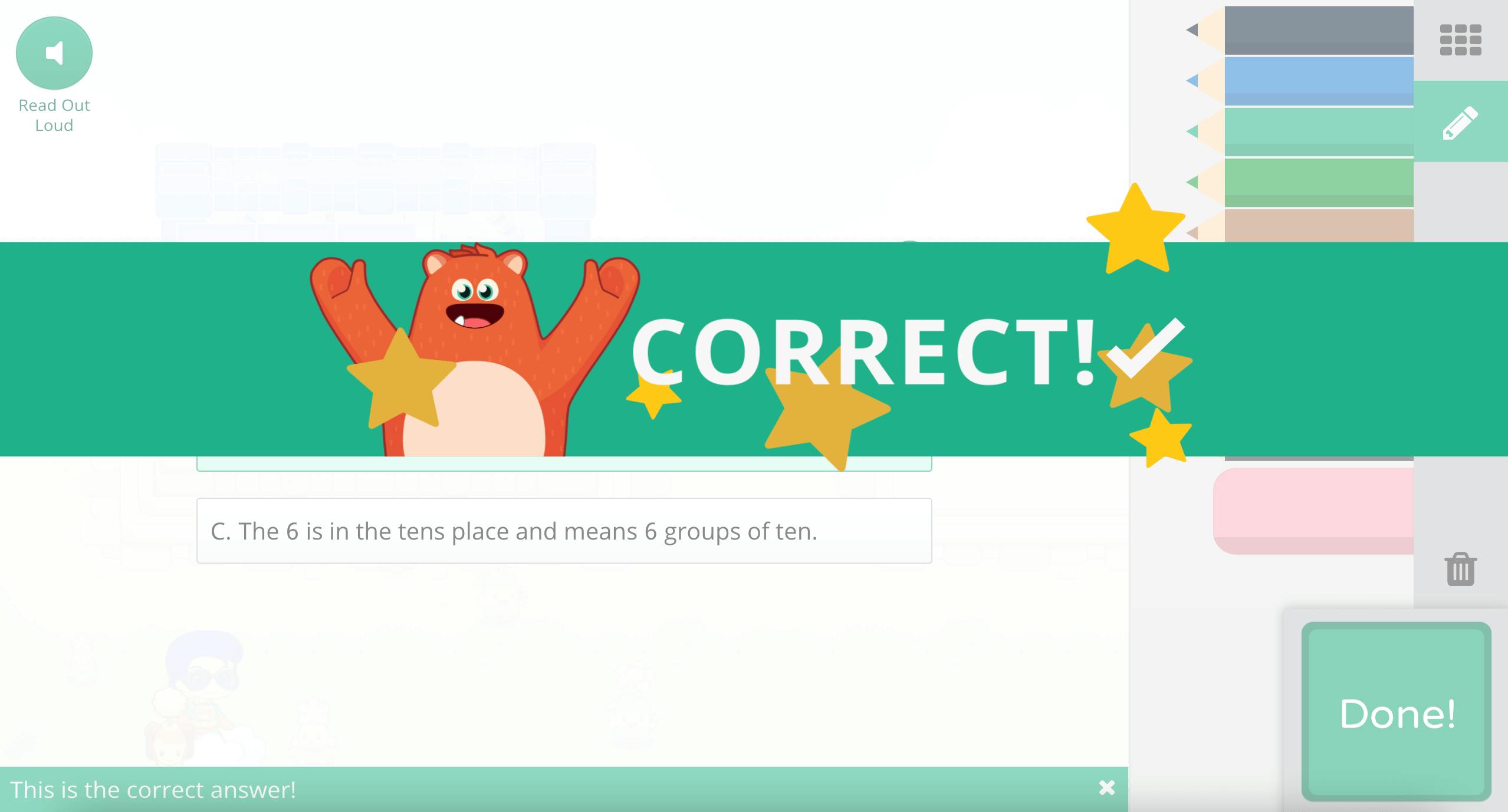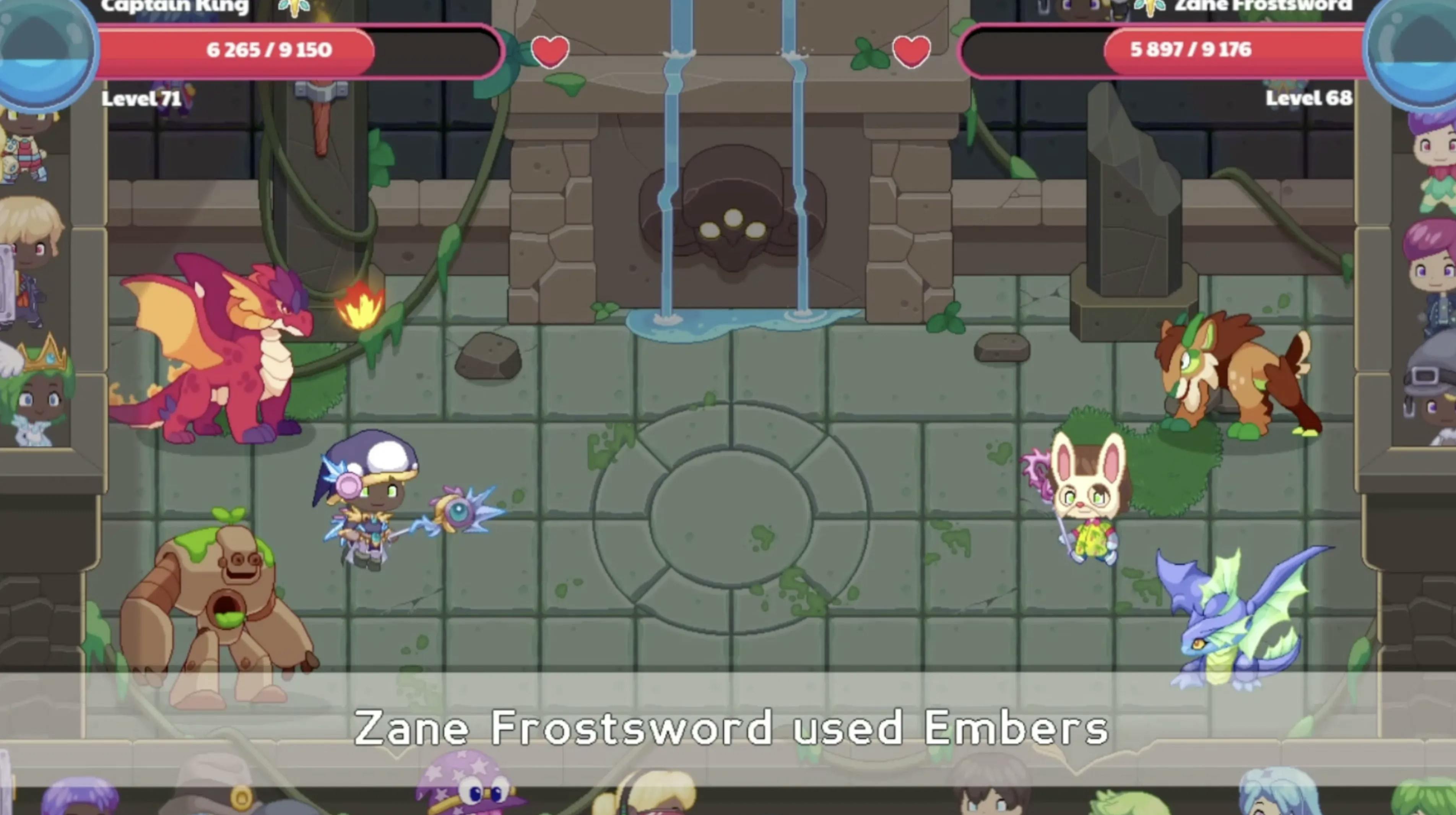 4. They progress in math
Once they've completed their math battle, your child's character and their pets will receive experience points which will level them up over time. As they level up, they'll unlock new areas to explore, spells to cast and much more!
There's also plenty of quests, tasks, and seasonal festivals to keep your child engaged in math battles all year round. Completing these events will give them rewards like new outfits, furniture for their virtual home, and even buddies (small animals) that will walk alongside them on their adventures.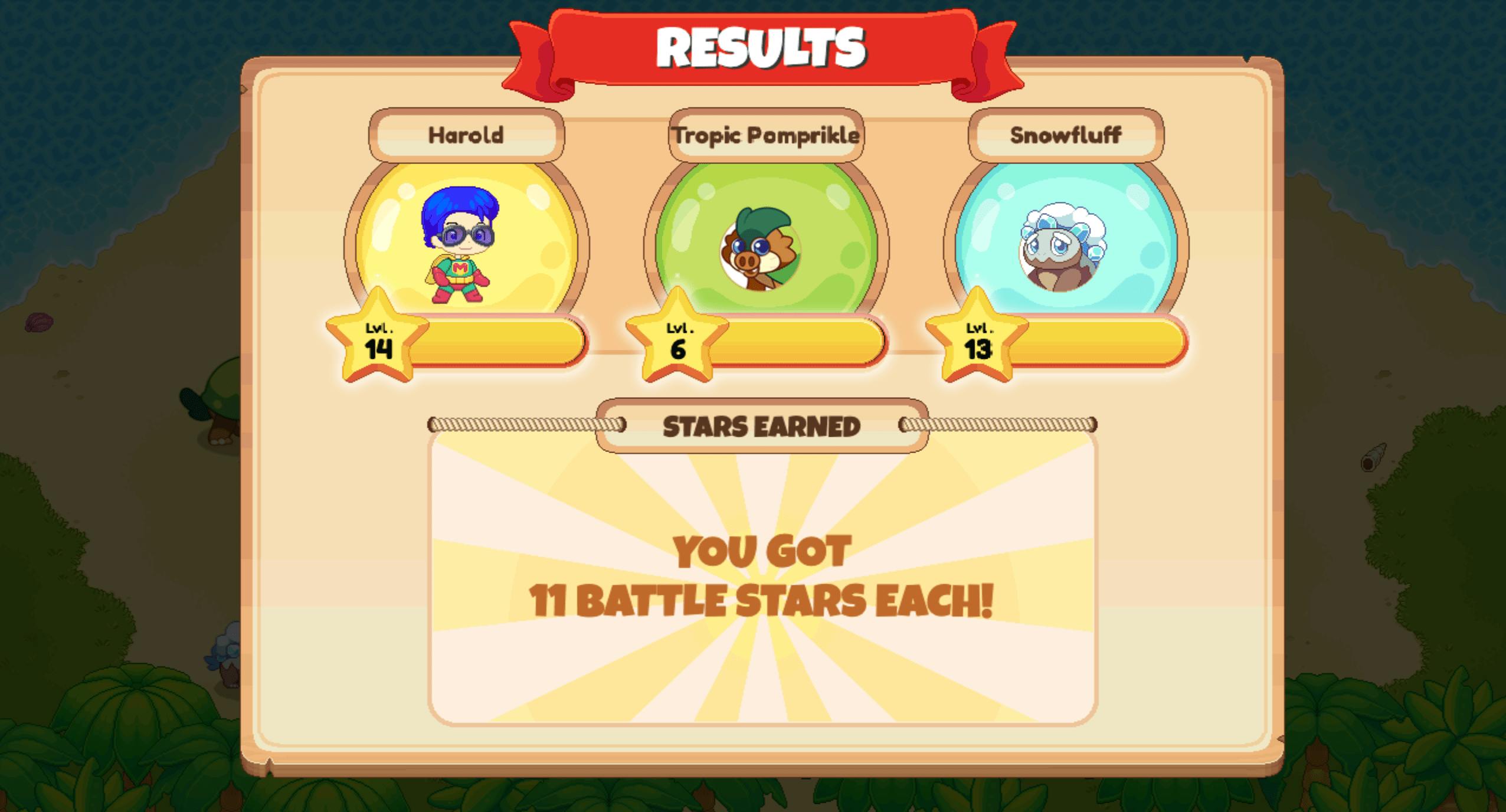 How you can use Prodigy Math to help your child learn math
The learning doesn't stop there. Did you know that parent's can also get involved in Prodigy Math?
The best bit? You don't need to be a pro in math to help them thrive.
Here's how it works. 👇
When you create a parent account in Prodigy, you get your own dashboard. This dashboard lets you know how your child is doing and gives you ways to support your child in math (without needing to do any yourself!).
Your free parent account lets you:
Create an account
What are Memberships in Prodigy Math?
If your child is already using Prodigy Math, you may have heard them mention a Membership.
Whether they get a Membership or not, all educational content in the game is free for your child to access. That's because our mission to help every child love learning.
So to help make sure we can keep our games available to all children, we offer Memberships to parents that provide even more game content for their child to explore.
Giving your a child a Membership is a great choice for an educational gift or as a way to incentivize them to do extra math. And unlike textbooks or pricey video games, Prodigy Memberships are affordable, educational AND fun!
Plus, if your child has a Membership, you'll also get extra tools in their parent dashboard to help them learn math. You can set goals, give rewards and get educational resources to help your child offline. This can really help if you want more ways to support your child's math education.
There are two types of Prodigy Math Memberships available:
Level Up Membership ($9.95 USD per month)
Ultimate Membership ($14.95 USD per month)
What do kids get with a Prodigy Math Membership?
Getting a Membership is a really exciting time for many Prodigy fans. This is because it unlocks so many extra gameplay features that makes Prodigy Math even more engaging to play – all while they practice more math questions.
When your child gets a Level Up Membership, they'll get to:
Evolve their Pets – watch as they practice math to make their pets evolve into even stronger ones.
Collect exclusive gear – get outfits, wands, potions and much more to customize their Prodigy experience.
Explore member-only worlds – discover new areas with extra gameplay and more reasons to practice math.
Find Mythical Epics every month – get a new quest each month to find, battle and collect powerful pets called Mythical Epics.
When your child gets an Ultimate Membership, they'll get everything in the Level Up Membership. They'll also get:
1 Exclusive Pet per season – get some of most spectacular pets in Prodigy Math every season.
1 Exclusive Item per season – get exclusive items like outfits, wands, potions, and even furniture for their virtual home.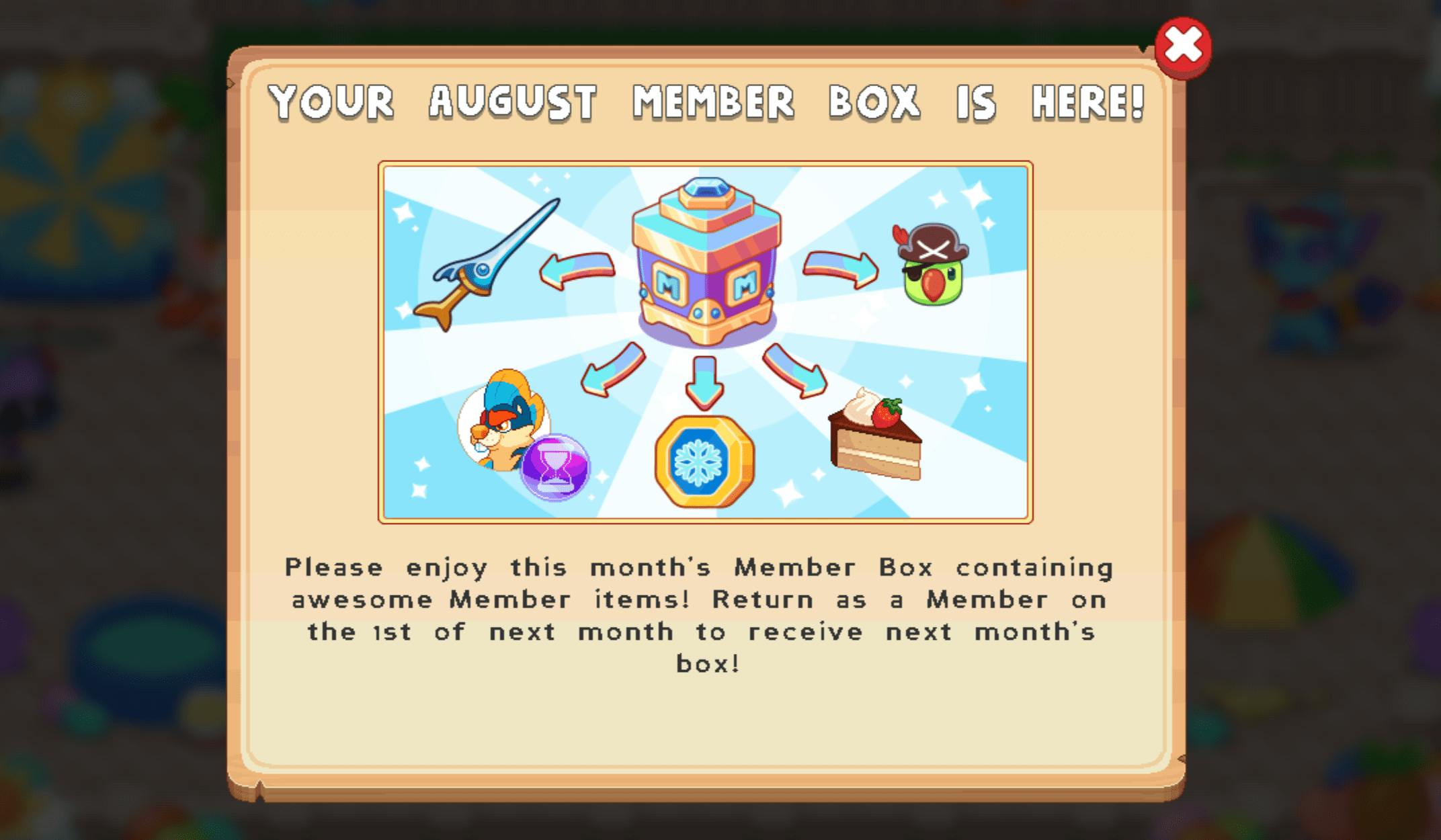 Choose your Membership here
What do parents get with a Prodigy Math Membership?
A Membership isn't just for kids, it's for parents like you too.
When their child gets a Membership, parents automatically unlock extra tools on their dashboard.
If your child has a Level Up Membership, you'll get to:
A Level Up Membership also lets you do many more things, like tracking how they're doing in their curriculum and even changing their grade level!
If your child has an Ultimate Membership, you'll get everything in the Level Up package. You'll also get to:
Use Focus Mode – let your child answer up to double the amount of math questions as they play a mini-game.
Set Challenging Goals – set ambitious goals where they'll need to answer up to 120 math questions correctly.
Choose your child's Reward – choose from over their 40 different in-game rewards to recognize their achievement.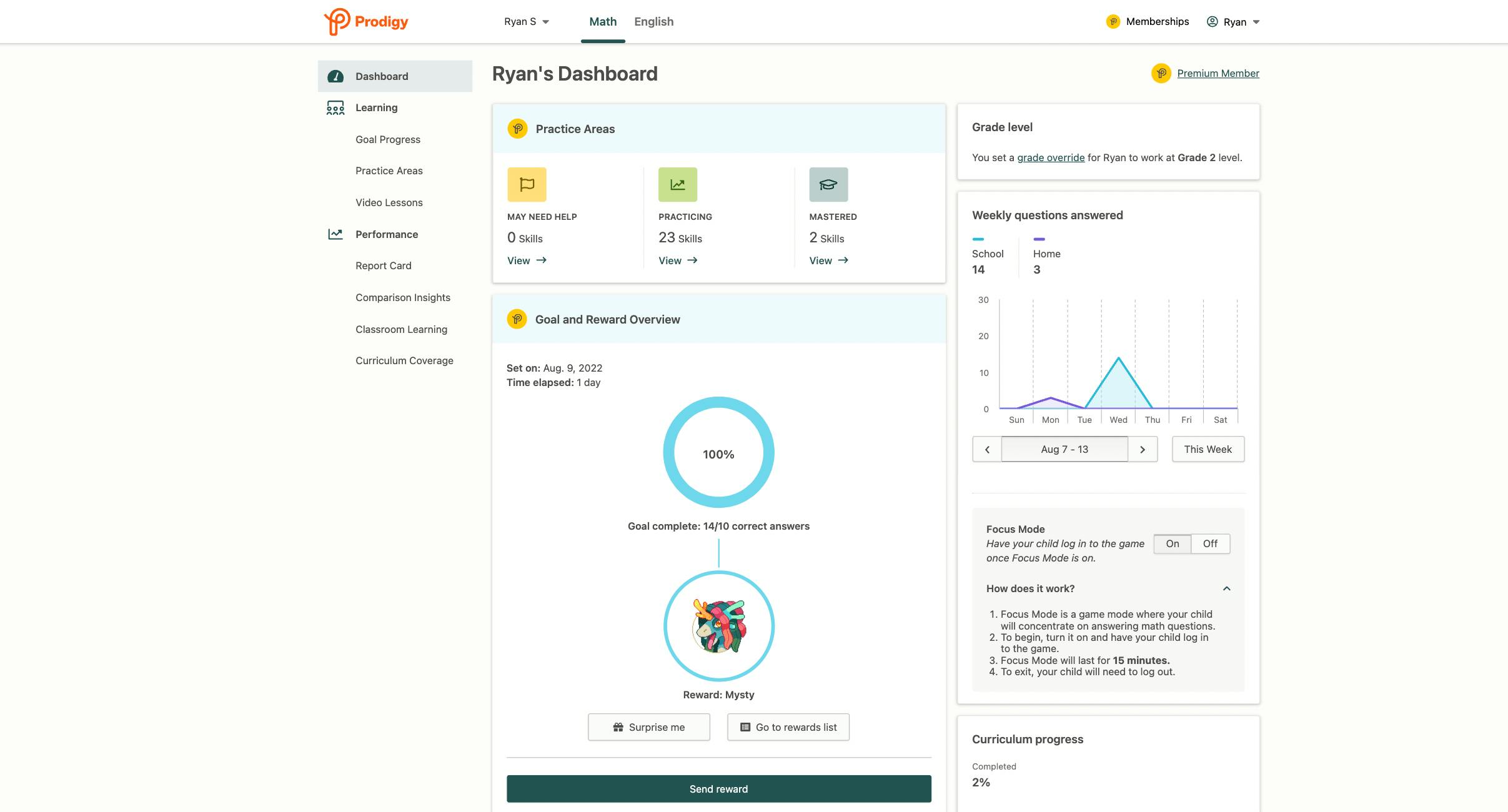 Is Prodigy Math good at helping kids learn math?
We definitely think so! Game-based learning is an incredibly powerful tool that many educators believe could change education forever.
But we're not the only ones who think our math game has what it takes to help children love learning.
Research has shown a positive correlation between Prodigy Math use and increased math scores as well as improved math confidence.
And here are some other findings about Prodigy Math usage:
Compared against three other math apps in one study, Prodigy Math ranked #1 for supporting learning.
Schools that actively used Prodigy Math had 11.6% more students meet standards than those which didn't.
A high-usage group of economically disadvantaged students in 3rd grade achieved 15% higher median standardized test scores than the low-usage group.
According to a premier center for education research, students' love for Prodigy Math Game is strongly and positively linked to independent learning outcomes.
One group of schools saw an average 12.39-point improvement on standardized test scores — double the improvement seen in those who did not use Prodigy Math Game.
And it's not researchers who have found Prodigy Math useful, parents and teachers agree too: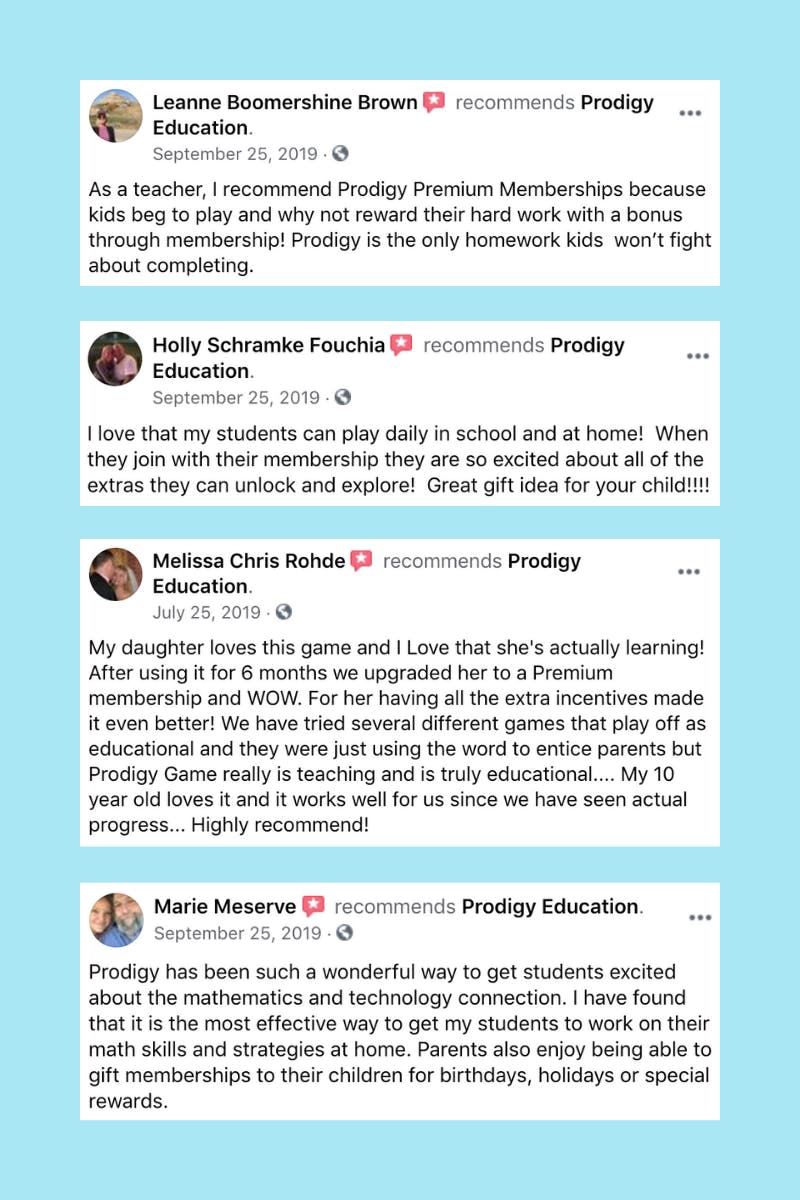 Learn more about Prodigy Math:
A new adventure awaits!
Prodigy Math now has a new buddy, Prodigy English! In this sandbox game, kids gather resources and craft them to create their very own world – all while they practice standards-aligned reading and language skills.
See the game