7 Personalized Learning Strategies To Implement In Class & Examples
All Posts

Written by Justin Raudys

Teachers
Personalize your students' math learning with Prodigy's adaptive algorithm.
Create a free teacher account
Category
School Leadership

Teaching Strategies
It happens all too often: the bell rings to signal the end of class, but some children are left with doubts and questions — while others are bored because the last hour was spent on material they already understood.
Students have different learning styles and one-size-fits all approaches to student learning are falling short. This reality is fuelling a surge in personalized learning and adaptive learning technology in modern K-12 education.
Teachers can't always stop the entire class just to help one or two students who have fallen behind. But they also can't ignore students who learn at a different pace. Differentiation is sometimes just too difficult to manage for group instruction.
Teachers need flexible learning plans, and that's where implementing personalized learning strategies in the classroom can really make a difference.
In this article, we're going to answers questions including:
What is personalized learning?
How does a personalized learning program benefit teachers and students?
How can I start using a personalized learning program in my school?
What is personalized learning?
Personalized learning is an educational approach that tailors learning around each individual student's needs, interests and abilities. Each student is given differentiated instruction based on their personal learning characteristics.
When schools implement a personalized learning program, the method and speed of learning can vary for each student. However, the end goal and academic standards don't differ.
Each student must reach a certain mastery level of the topic by the end of the unit or school year.
Why does this type of customized learning model work?
The learning process is non-linear, generally speaking. Teachers can't expect all students In their classroom to learn in the exact same way or at the exact same pace.
Customizing the learning experience and tailoring that to student needs means each individual gets the right kind of education based on how they learn and what interests them.
But what are the results of such a program?
The benefits of using a personalized education program
1. Students learn skills that go beyond academia and will help them in the future
Personalized learning normally involves students in deciding their own learning process, as we'll discuss below. This teaches the students vital skills that will serve them throughout their lives.For example:
Sharing in goal-setting helps students develop motivation and reliability
Engaging in self-assessment helps students develop self-reflective abilities
Determining their best learning activities helps students develop self-advocacy skills
2. Students in a personalized learning environment improve their knowledge significantly
In one study by the Gates Foundation, using personalized learning to supplement math instruction substantially improved students' test scores. The average scores of students in the study went from far below the national average to exceeding the national average, with researchers observing that:
students attending [schools using personalized learning] made gains in math and reading over the last two years that aresignificantly greater than a virtual control group made up of similar students selected from comparable schools.
While the results are not directly attributable to personalized learning practices, they were "widespread," with two-thirds of schools involved in the study experiencing statistically positive results on student performance based on the use of personalized learning.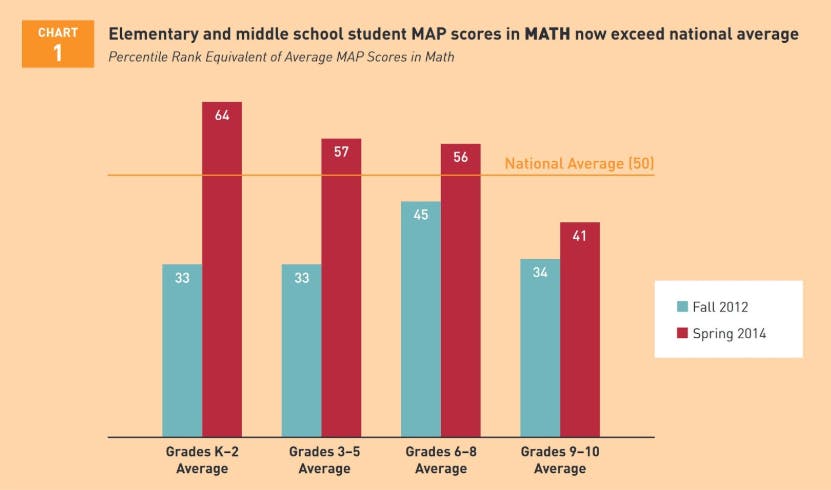 3. Students with specific weaknesses are able to learn without the stigma of "special-ed"
In the Belmont-Cragin Elementary School in Chicago, personalized learning allows all students to get the information they need, and fill in necessary gaps.
For example, one teacher may notice that some students understand a literacy place at their grade level in Spanish, but struggle in English. Those kids are able to sit with the special-education teacher and have personalized literacy lessons without receiving a special-ed status.
This helps all students maintain the same level, with each individual being treated according to his or her individual strengths and weaknesses.
In June 2021, we published a success story about a charter school that's also in Chicago's Belmont-Cragin neighborhood. Check it out: How Personalized Innovation Meets Adaptive Math Practice with Prodigy and CICS West Belden.
4. Teachers are able to focus their time more effectively
Since many personalized learning programs include solo or collaborative activities, teachers are free to address smaller groups of students for more targeted teaching.
Let's talk about seven practical strategies that will help you start a personalized learning program in your school.
7 Strategies to implement personalized learning in your school
1. Train teachers how to assess students and customize their experience accordingly
The first step in creating a personalized learning program is educating your teachers. When teachers fully understand the process, methods, assessments, tech, and goals involved, then personalized learning can run smoothly.
However, when teachers are not trained thoroughly, your customized learning program won't function properly.
So, before you start, get together with your teachers to discuss ideas, study personalized learning methods, and set up steps to implement this kind of program together.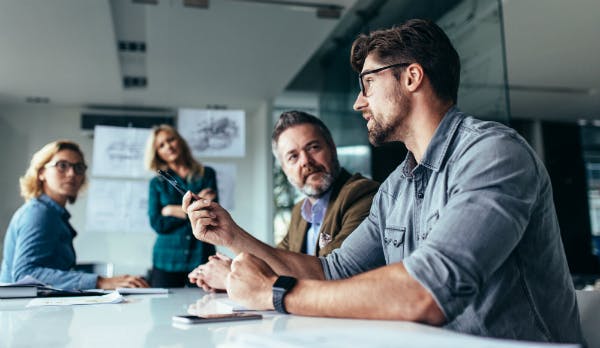 Then, send teachers on specific training to make personalized learning part of their every day work life.
This is what the Verona Area School District in Verona, Wisconsin did. It all started with courses for teachers and school admins on the subject of personalized learning.
Teachers then went back to their schools and continued conversations, and subsequently practiced with personalized learning workshops. As a result, teachers were better prepared to implement and execute a personalized learning plan for students.
It's essential that teachers understand how to assess the interests, strengths, and weaknesses of each student. Then, they are able to place them correctly in their own personalized learning process.
2. Use Ed-Tech to create a personalized learning environment
Using technology to connect with and engage students is an excellent way to provide personalized learning.
In fact, technology's role can be critical. As educator Mary Ann Wolf observes:
Personalized learning requires not only a shift in the design of schooling, but also a leveraging of modern technologies. Personalized learning is enabled by e-learning systems which help dynamically track and manage the learning needs of all students... everywhere at anytime, but which are not available within the four walls of the traditional classroom.
For example, using game-based learning systems allows students to learn at their own individual pace, and have fun while doing it! In one study, schools using a math game in the classroom saw an 11.6% improvement on standardized test scores.
One example is Prodigy Math — an adaptive, curriculum-aligned math game used by more than a million teachers and 100 million students around the world. Prodigy offers content from every major math topic and covers 1st to 8th Grade.
Learn more about Prodigy
Other types of commonly-used tech can also be useful in a personalized classroom. For example, some schools encourage students to use Google Docs for easy collaboration. This also allows teachers to monitor the works-in-progress of their students.
3. Allow students to have a part in their learning experience
Students who are allowed to have a say in their own learning experience develop essential skills such as self-advocacy.
When given the chance to take part in goal setting within the classroom, students are also more motivated to reach those goals.
For example, the Middletown, NY, school district implemented a personalized learning program that helped students to focus on their goals. Even younger grades were involved in setting goals and, goal artifacts around the classroom helped encourage them to stick with the goals they had set.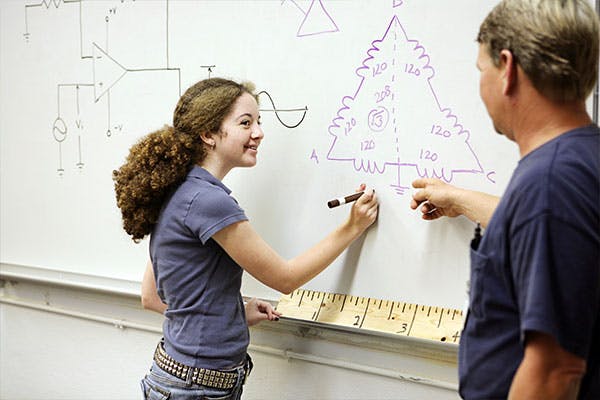 As a result, this school district saw an increase in students reaching their NWEA MAP growth targets.
After four years using a personalized learning program, the percentage of students reaching growth targets in reading went from 44% to 65%. In math, the percentage went up to 67%.
Personalizing content delivery and interaction also helps students improve by giving them control over their own learning environment.
For example, give students the choice between reading a short story or listening to an audio version while reading. Allow students to pick whether they'll take notes online, on paper, or record their notes verbally.
Allowing this kind of customized learning gives students the ability to choose the process that best fits their needs.
4. Give students multiple opportunities to show their knowledge
While standard test results and essays should never be overlooked, giving students other ways to show their understanding of topics helps them take responsibility for their education.
For example, one teacher from the Middletown School District, mentioned earlier, said:
[Students] use a Google form, and the forms are sent to me automatically so I am able to instantaneously see how they are self-assessing. It gives them a sense of accountability and it also lets me be aware of how they think they did… I use their self-assessment to help guide my instruction and to help group them for math and ELA.
Constant assessment of students as they move through course material gives teachers a unique insight into the knowledge level of each student. Knowing that a student is struggling with a topic today gives teachers the ability to help them understand on a 1:1 basis tomorrow.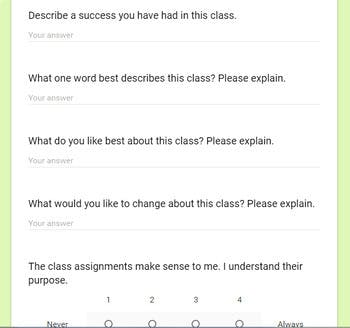 Teachers can use Google Forms to check the pulse of student engagement in their class.
Otherwise, kids who are struggling go unnoticed until the end of a unit, and the issue becomes harder to correct.
To personalize a lesson even further, teachers can give students the opportunity to show what they've learned in a practical setting. For example, a math teacher can have his or her students cook a simple meal, using math in a practical way to measure the right amount of each ingredient.
5. Build personalized learning playlists
When teachers use playlists for self-guided learning activities, students are enabled to choose the types of learning activities that work best for them. This, in turn, helps each individual student to do their best work every day.
So, how does a personalized learning playlist work?
First, teachers set a rotation of learning activities related to the topic. These could be individual learning activities, digital content, group collaboration, or peer-to-peer activities.
The choice of activity can be completely up to the student, giving them the freedom to pick whichever type of learning activity works best for them.
To make sure every student is doing the right amount of work, assign a point value to each activity and set a minimum point requirement. That way, students accomplish all the necessary learning, but are allowed to do so in their own way and at their own pace.
Lastly, teachers can set learning checkpoints where students are required to demonstrate their mastery over a certain subject before moving on to the next step.
Allowing students to interact as peers or even complete assignments solo gives teachers valuable time to spend with students who need extra instruction.
6. Make the classroom flexible
Flexible seating arrangements have become more popular in recent years, and for good reason. After rearranging their classrooms for a more flexible seating arrangement, teachers noted benefits such as:
Decrease in discipline issues
Improvements in attendance and grades
A more positive atmosphere in the classroom
More comfort for students, leading to better focus (and surprisingly, fewer sleepers in class!)
Another way personalized learning is seen in a flexible classroom is through rotating stations. Having specific stations that cater to your personalized learning playlists allows students to focus on the right tasks in the right place. This encourages collaboration and makes it easier for teachers to work with smaller groups for targeted instruction.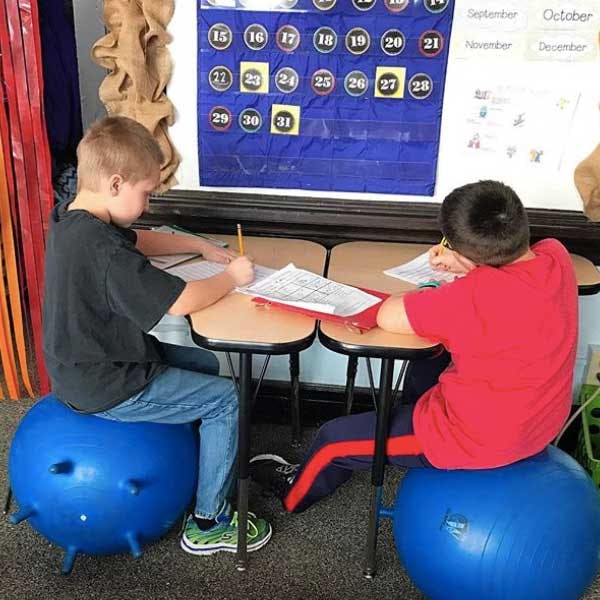 Kayla Delzer, a passionate advocate of flexible seating, argues that changing the physical space of a classroom directly maps to an impact on student behavior and learning outcomes, arguing:
Our classroom environments should be conducive to open collaboration, communication, creativity, and critical thinking. This simply cannot be done when kids are sitting in rows of desks all day.
7. Flip instruction so students can learn at their own pace
Flipped instruction is a new trend that has been gaining speed since the early 2000s. The idea behind this method involves inverting the normal learning process: instead of having lectures at school and activities at home, students watch recorded lectures at home and engage in activities together during class time.
This allows students to watch video lectures at their own pace, pausing or rewinding whenever they feel necessary. Students can also interact and ask questions via online chats with their classmates and teachers.

The University of Washington's depiction of the Flipped Classroom
What are the results of flipped instruction?
One study saw significant results in the students when using flipped instruction. Before the flip, more than 50% of freshmen failed English, and 44% of freshmen failed math. However, after implementing flipped instruction, only 19% of freshmen failed English and 13% failed math.
Like other instructional leadership strategies, it might take some getting used to — but it's obvious that flipped learning allows students to personalize their learning experience, giving them the ability to learn in a way that is best for them as individuals.
Personalized learning gives students ownership of their learning
Each individual child in your school learns at a different pace. Each one has needs and interests that are specific to their unique learning style.
Implementing a customized learning program gives all of them the ability to learn at their own pace, and in the way that's best for them.
So, are you ready to make this a reality in your school?
Check out Prodigy Education and see how our adaptive, digital game-based learning platform can help you engage and motivate students as you differentiate content.
Visit the teachers page