How to Use Prodigy's Placement Test to Boost Student Learning
All Posts

One of the most rewarding parts of teaching is supporting each student on their individual learning journey — but often, figuring out where that journey starts can be tricky.
Remote learning makes benchmarking student progress even more complicated. Luckily, Prodigy's Placement Test is an easy and effective way to get:
An in-depth look at student learning
Insights to guide your lesson planning and intervention
New results twice a year that show you what skills students are mastering, and where they still need support
Here's how it works!
What is Prodigy's Placement Test?
The first time your students log in to Prodigy, they'll enter a world filled with epic quests and exciting adventures! They'll also start completing the Placement Test automatically — without even realizing they're being evaluated. 
The Placement Test starts gathering insights as soon as students start their first math battle, and after that, it automatically runs every January and August. Designed by Prodigy's team of certified teachers and engineers, the Placement Test:
Builds a foundation for adaptive student learning
Gives you actionable insights to use in your classroom every day
Provides a twice-yearly benchmark for student progress, so you can easily keep learning on track 
The Placement Test determines the content students see in-game and places students at the grade level that's right for them. It's the baseline that all their other math work in Prodigy builds on. 
Sign up now
How to assign the Placement Test in Prodigy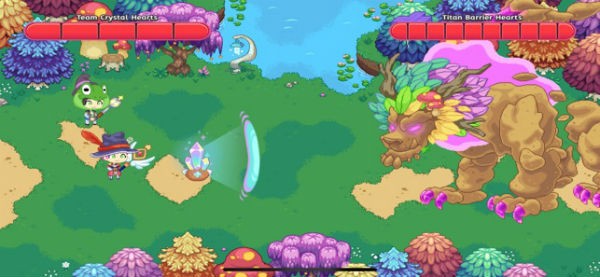 We've made assigning the Placement Test on Prodigy super easy — you don't have to do a thing! The Placement Test starts running automatically the first time students log on to Prodigy, then again in January and August. 
All you have to do is give them time to play and learn. 
Need a hand getting your free teacher account set up? Read this.
How long is the Placement Test in Prodigy?
The Placement Test typically takes three or four sessions to complete, but every student is unique and finishes their Placement Test at different times. Our Prodigy teachers recommend scheduling three or four 15-minute sessions until the Placement Test is complete! 
While you're waiting for the whole class to finish, other students will receive personalized questions tailored to their learning needs. As students play, Prodigy's adaptive algorithm uses the Placement Test results to identify questions and concepts in their zone of proximal development, keeping them engaged and excited to keep learning. 
If you're not seeing the results of the Placement Test in your teacher dashboard, there might be a few reasons why:
There's a grade override in place preventing the Placement Test from running 
Students aren't connected to your teacher account, or they're logged in to a different account.
You have an active Assignment, Plan or Test Prep. Students will complete any assessments first, and continue to work through the Placement Test once the assessment is complete.
See your Placement Test results and apply them
Once all your students have completed the Placement Test, you'll have easy-to-understand insights into what your students have mastered and where they need more practice.
The Placement Test creates a unique report that shows you which students are working at or above grade level, below grade level or well below grade level.
How do I interpret Placement Test results in Prodigy?
1. Log in to your free Prodigy teacher account and select a classroom.
2. Click Reports in the lefthand menu and select View report under the Placement Test
3. Use the chart to see which students have completed the Placement Test and their results. You'll see a strand-by-strand breakdown of student achievement, with each strand relating to your chosen state curriculum.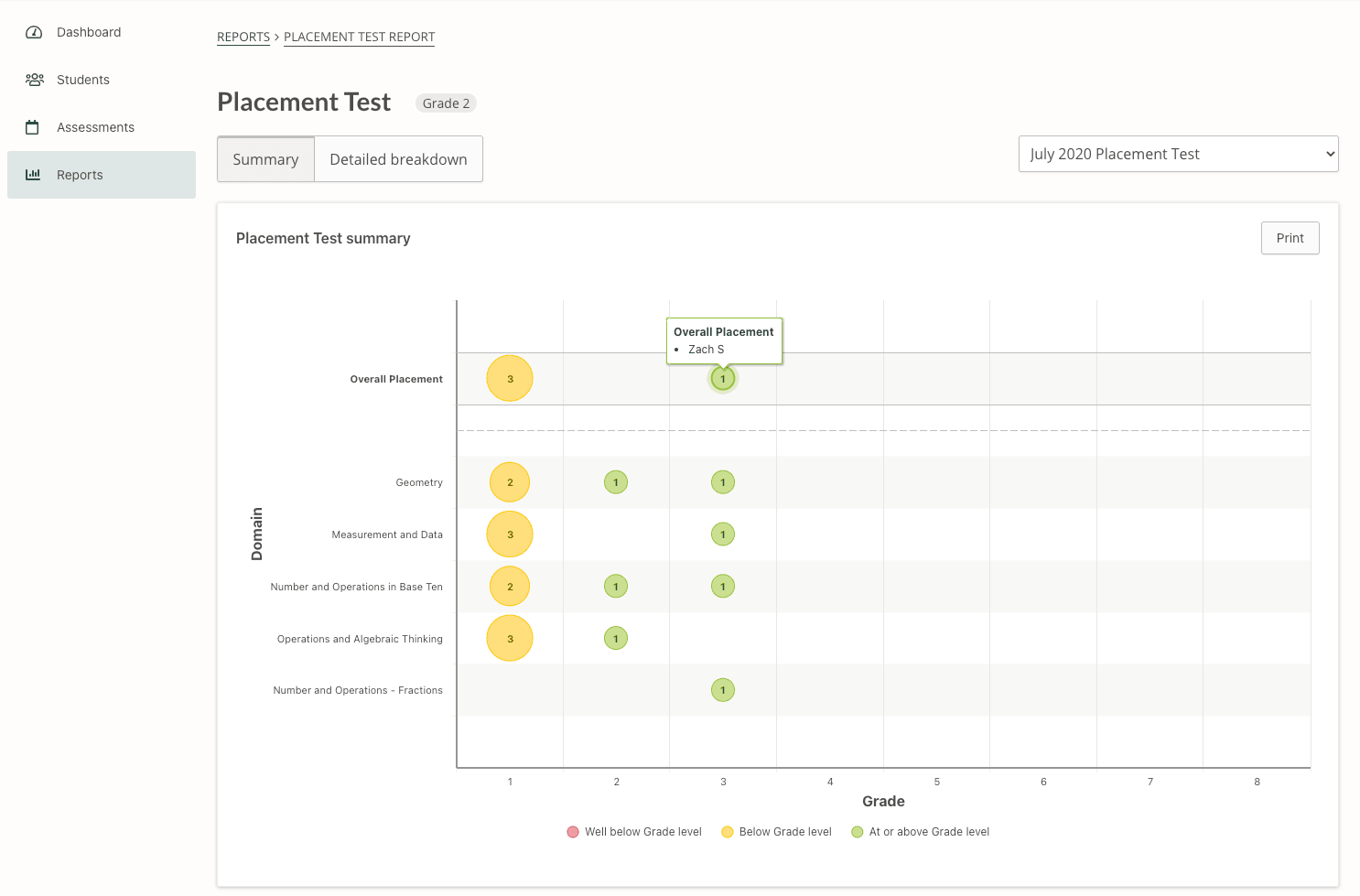 4. To see more information, select the Detailed breakdown tab at the top. Choose a student's name from the drop-down menu to see a question-by-question breakdown of their current progress.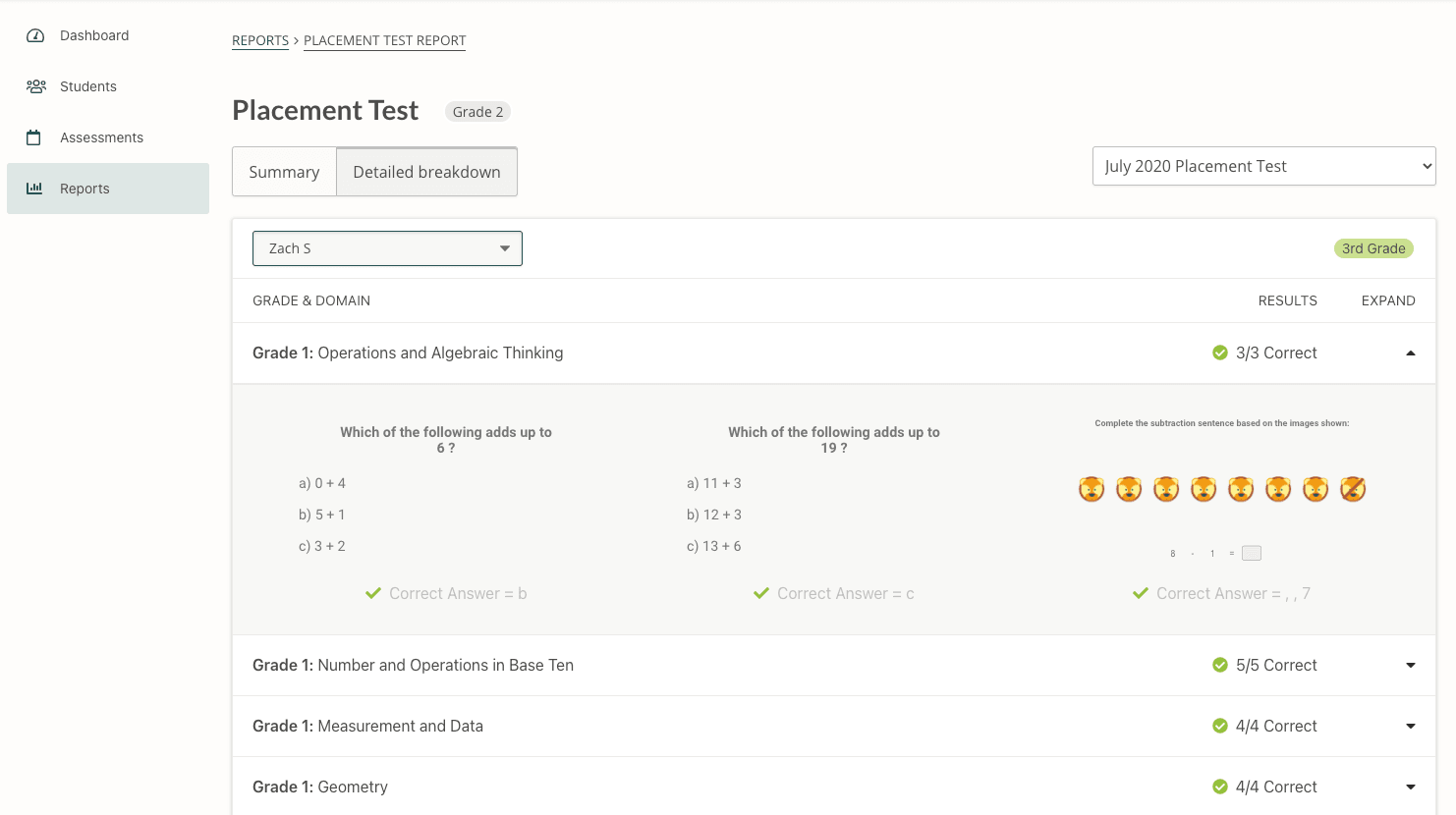 The Placement Test report gives you a deep, comprehensive snapshot of student learning. Use it to:
Plan lessons
Set up fun station rotation activities
Deliver targeted intervention or small group instruction
Differentiate math content in Prodigy or in the classroom
Engage and reward students to get them excited about math
Set assessments that align Prodigy questions with your lesson plans all year long
And so much more!
How Prodigy's adaptive algorithm keeps students learning after the Placement Test
At Prodigy, we believe every student is on a unique learning journey — and we're here to help you teach each student effectively. 
Once the Placement Test is complete, Prodigy's adaptive algorithm moves students forward at the right pace and circles back to review concepts they've already mastered. Whether students are building foundational skills or excelling beyond grade-level standards, they're always learning at a pace that's right for them. 
Sign up for your free teacher account today or log in to see your students' Placement Test results and discover new insights that support your teaching!
Log in or sign up now