Prodigy's Research-Based Design Product Certification through Digital Promise
All Posts

World-class educational games can be immensely captivating for students and lead them to embark on meaningful learning adventures. Prodigy Math aims to do just that by providing standards-aligned content that is personalized for students based on their academic needs through an adaptive algorithm.
There is a lot of academic research that outlines how game-based learning can lead to improved learning outcomes, including a study led by Dr. Douglas B. Clark (2016) and another study led by Dr. Umit Tokac (2019). So how has academic research informed the design of Prodigy Math?
Prodigy's Research-Based Design Certification through Digital Promise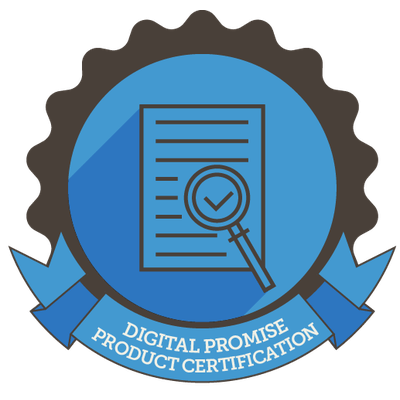 Prodigy Education is proud to share our Research-Based Design Product Certification through Digital Promise! This industry-leading certification is the result of a thorough review of Prodigy Math by experts through Digital Promise and provides proof that Prodigy Education uses highly rigorous research to underpin the design of Prodigy Math.
The Research-Based Design Product Certification is only granted by Digital Promise after a panel of experts has thoroughly reviewed the academic research underpinning the logic model of an educational technology product.
What is a "logic model" and why is it important?
A logic model shows how a product's developer expects to achieve desired outcomes for users. For example, at Prodigy Education, we seek to drive positive outcomes for students, teachers, and parents through the use of Prodigy Math as outlined in our logic model below.

It's not enough to say that's what we plan to do through a logic model, though. Digital Promise's Research-Based Design Product Certification is only granted to organizations who can show that the outcomes they intend to produce are rooted in rigorous academic research, just like the studies led by Dr. Clark (2016) and Dr. Tokac (2019).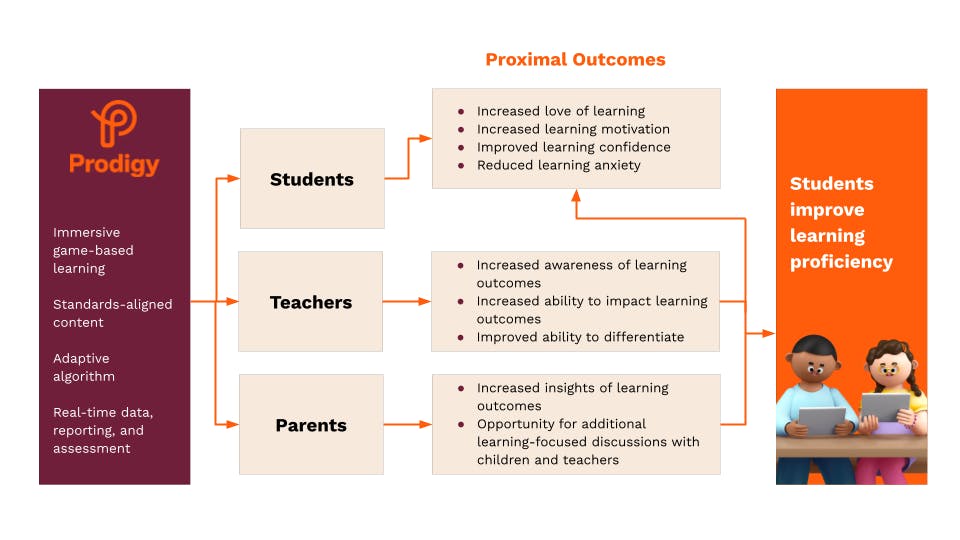 Prodigy's logic model
What research underpins the design of Prodigy Math?
In our logic model, four key pillars are outlined on the far left:
Immersive, game-based learning
Standards-aligned content
Adaptive algorithm
Real-time data, reporting, and assessment
Each of these pillars feed into Prodigy Math and each plays a very special role in contributing to the outcomes we hope our users experience. Since these pillars are so critical, we have "literature reviews" (a comprehensive overview of academic research) embedded at the bottom of a blog post for each one. You can view the blog posts here:
How else does Prodigy Education lean on academic research to inform product design and desired outcomes?
At Prodigy Education, we're always learning and evolving. We continuously seek to understand both current and historical research to help inform the design of our products and services. 
That's why we've developed our philosophy of education, "Motivation First!," to further break down why we believe motivation is so foundational to academic and attitudinal outcomes.
How we deliver learning content to students (also known as our "pedagogical approaches") is another area where we look to academic research to inform our work. We want to put the learner's needs at the center of everything we do so that they have the best possible experience and opportunity for success.
We will continue to keep a close eye on new and exciting research that can help provide direction for us and inform the development of our products and services. We will also continue to contribute rigorous research on Prodigy Education's products and services to help share our learnings and best practices with the world!
Want high-quality math practice for your child or students? To help every student in the world love learning, all of Prodigy's in-game educational content is available at no cost. Sign up for your free teacher or parent account today to motivate and track their learning!
Sign up now