Starlight Festival Is Back in Town (February 25 to March 23, 2021)
All Posts
Written by Maria Kampen
Parents
Use Prodigy's parent account to set learning goals and give in-game rewards.
Create your free account
Category
Parent Resources

Prodigy School

Update
Attention Prodigy players of all ages: from February 25 to March 23, 2021, Starlight Festival is back! ✨
The Starlight Festival is a special event available for at-home players that indulges their love for adventure and asks them to help Mama Star gather star shards for her collection. But hurry — it's only here for a limited time!
Once a day, a fallen star will drop in Lamplight Town. If a player finds one and wins the battle for the fallen star by correctly completing math challenges, they'll be rewarded with exclusive star shards for their collection.
Watch the 40-second video to see all the exciting things Starlight Festival holds for your child!
Your child won't want to miss all the daily challenges, new rewards and out-of-this-world items Starlight Festival brings.
But the best part? They have an exclusive chance to collect all these starter pets from Mama Star's shop!

Charfoals are many wizards' favorite pets to cuddle during the winter. Warm and cozy!

Wotts sleep upright during storms to collect energy. Electrifying!

Snowfluffs like to chill out. They often get mistaken for snowballs when they dig deep into the snow to rest.

Mischievous and full of energy, Sproots are often found playing in small bushes or the hollows of large trees.

Mermina are splashy creatures born with three small horns on their heads. Two of them begin to wiggle and fall out when they get older.
Help your child succeed with Prodigy
When players are busy with new pets and exciting challenges, they're also developing critical math skills that will help them succeed academically.
Every battle challenges students to answer skill-building math questions that align with classroom content, and the Starlight Festival encourages them to answer even more.
Set Goals for your children and give Rewards to motivate and encourage them to answer even more math questions. Log in or sign up for your parent account today to get started!
Still have questions? Learn more about:
Happy Starlight Festival! ✨
Want to motivate your child to learn more math?
Our Premium Membership packages can help you encourage your child to practice — and love to learn — math!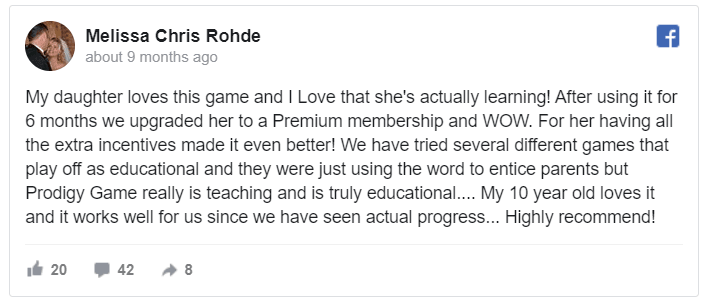 Learn more about Premium plans!