Celebrate Teacher Appreciation Week with 48 Little Ways Teachers Make a Big Difference
All Posts

When we celebrated Teacher Appreciation Week last year, we had no idea what twists and turns were in store for teachers and students. 
Whether it was making the best of hybrid learning, enforcing safety protocols at school or connecting with hard-to-reach students, we saw you go above and beyond in difficult circumstances.
Teachers like you are the backbone of the education system and have impacted countless lives. But it's not always about the big, grand gestures — it's about all the little things teachers do that add up to something amazing. 
We want to make Teacher Appreciation Week 2022 an opportunity to say thank you to teachers for all you do, big and small.
When is teacher appreciation week?
Teacher appreciation week is the first full week of May — because just one day of celebrating teachers just isn't enough!
In person and online, it's a way to say thank you for all the hard work teachers do during the school year — everything from teaching students about long division to organizing classroom supplies.
48 Ways teachers make a difference in and out of the classroom
There are so many little things teachers do that make a big difference for their students and communities. At Prodigy, we want to say thank you for all the time you spend:
Laminating projects
Wiping glue off of tables
Documenting everything
Calming anxious parents
Sharpening all the pencils
Bandaging scraped knees
Listening to student stories
Troubleshooting technology
Creating classroom handouts
Preparing for standardized testing
Daily behavior reports for students
One on one sessions with students
Keeping the peace in the classroom
Changing out bulletin board displays
Doing yard duty in the worst weather
Zipping zippers and buttoning buttons
Building lessons around student interests 
Giving up your breaks to go the extra mile
Piles (and piles, and more piles) of grading
Fixing the copier, even when you're in a rush
Constantly learning and developing new skills
Having silly brain breaks in the middle of class
Caring about students when you're off the clock
Stepping up and being a role model for students
Labeling everything from coat hooks to craft bins
Sanitizing every single surface in your classroom
Cheering students on as they tackle difficult tasks
Browsing the library for books your students will love
Reaching ELL students and families in creative ways
Supporting fellow teachers through their highs and lows
Keeping students safe with masks and social distancing
Decorating classroom doors for every event and season
Staying up late to make amazing classroom decorations
Counseling students and families through hard problems
Finding new and exciting classroom activities on Pinterest
Updating class websites and learning management systems
Differentiating for all the learning needs in a diverse classroom
Searching high and low for the best worksheets and resources
Holding impromptu parent-teacher conferences over the phone
Ensuring the well-being of every single student in your classroom
Tying shoelaces — and teaching students how to do it themselves
Sourcing fun printables that make lessons more engaging for students
Tidying the classroom (or gamifying cleaning so your students clean up for you)
Creating education solutions that prioritize accessibility and equity for every student
Constantly organizing your classroom and making sure everything is in the right place
Starting the school year early to make going back to school even more exciting for students
Attending endless meetings — parent-teacher conferences, PD days, staff meetings and more
Encouraging students, cheering them on and staying in touch long after they've left your classroom
On behalf of Prodigy, a big thank you to every teacher working tirelessly to support their students.
Thank you from Prodigy's Teachers
Inside and out, Prodigy wouldn't be what it is today without teachers like you. 
And whether it's filming video lessons or adding new math skills, our in-house teachers make sure Prodigy is effective for you and fun for your students. 
Here's what they wanted to say to you:
"Teachers, you are true superheroes! Thank you for the endless effort you put in to make your students feel special. Know that you are deeply appreciated for all of the seen and unseen work that you do." Josh Prieur, Ed.D, Director of Education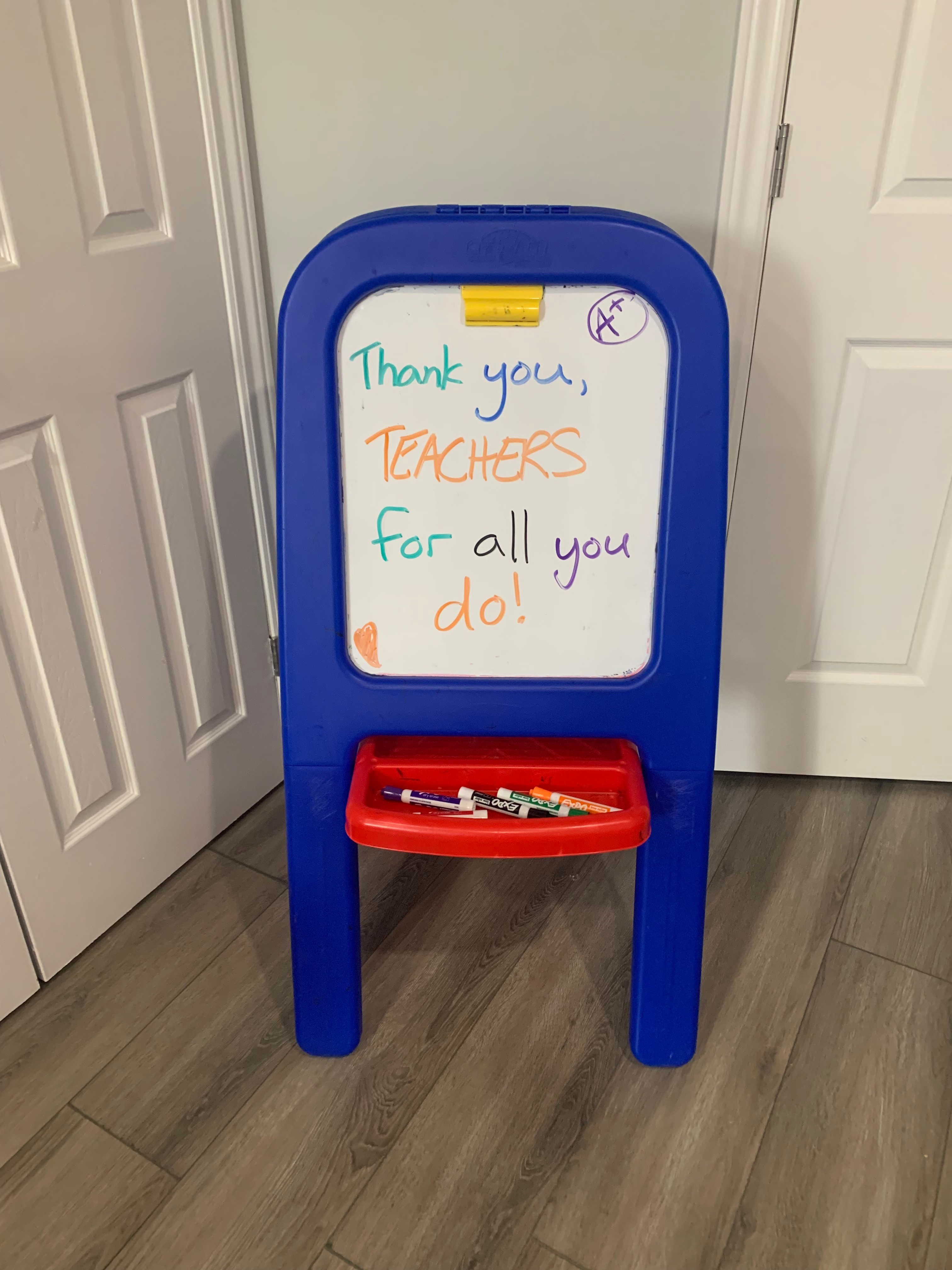 From Josh Prieur, Ed.D, Director of Education
Dear Teacher,
Thank you for everything that you do! The amount of care and effort you put into your teaching is inspiring. Thank you for continuing to support your students through these challenging times! Please remember to take care of yourself too.
Thank you for all the time you spend creating fun learning activities and preparing materials. Thank you for providing your students with a safe and positive learning environment. Thank you for encouraging all of your learners.
You wear many hats throughout the day. Thank you for taking on all those different roles for your students. You are appreciated!
Thank you for guiding your students through another memorable year. Your students will most definitely remember how you made them feel safe and welcomed. They will remember how you believed in them, made learning fun, and how awesome you were.
Thank you for being an amazing teacher. Your students are so lucky to have you!
Sincerely,
Bonita
Education Specialist and Proud Supporter of YOU!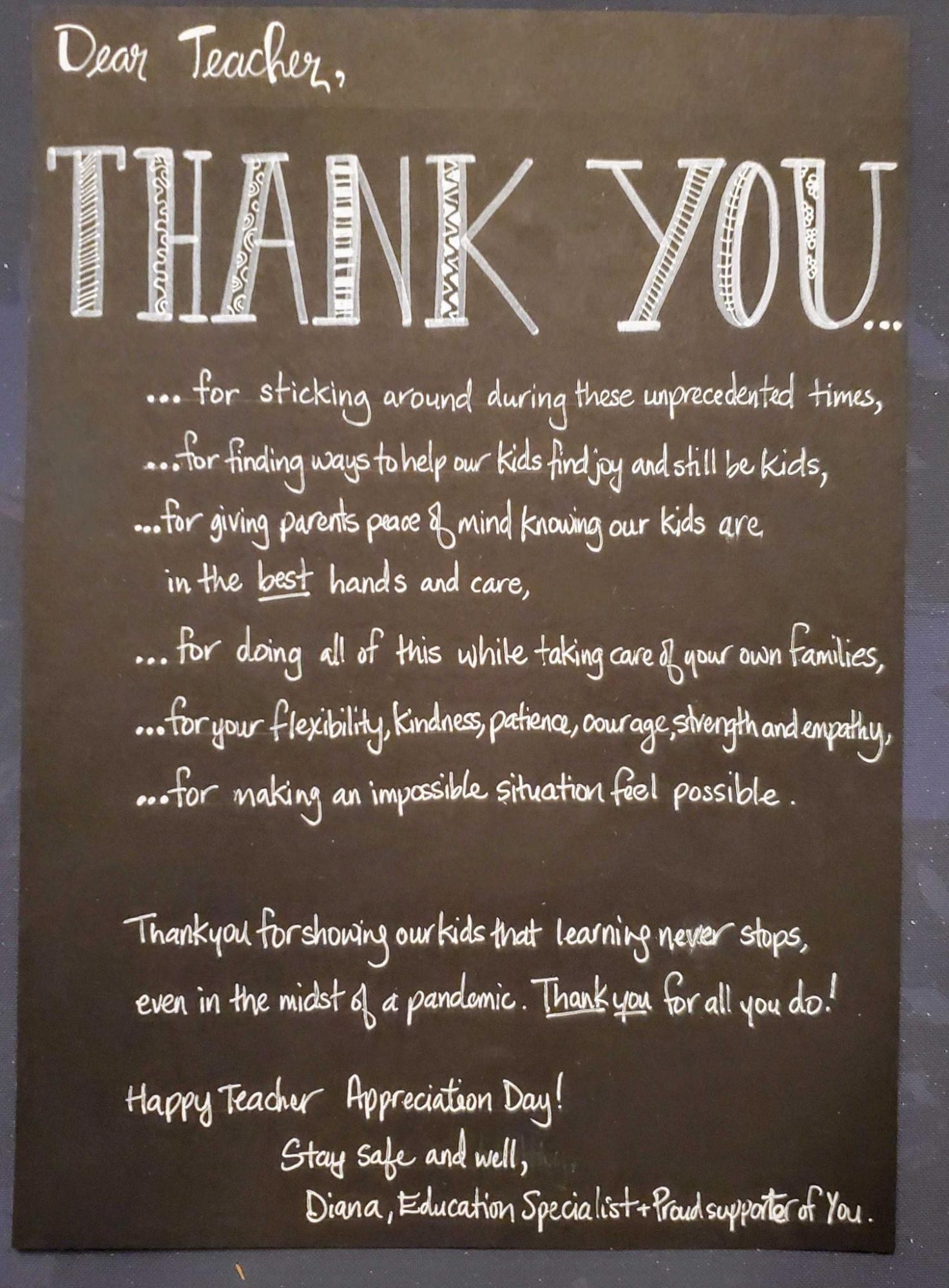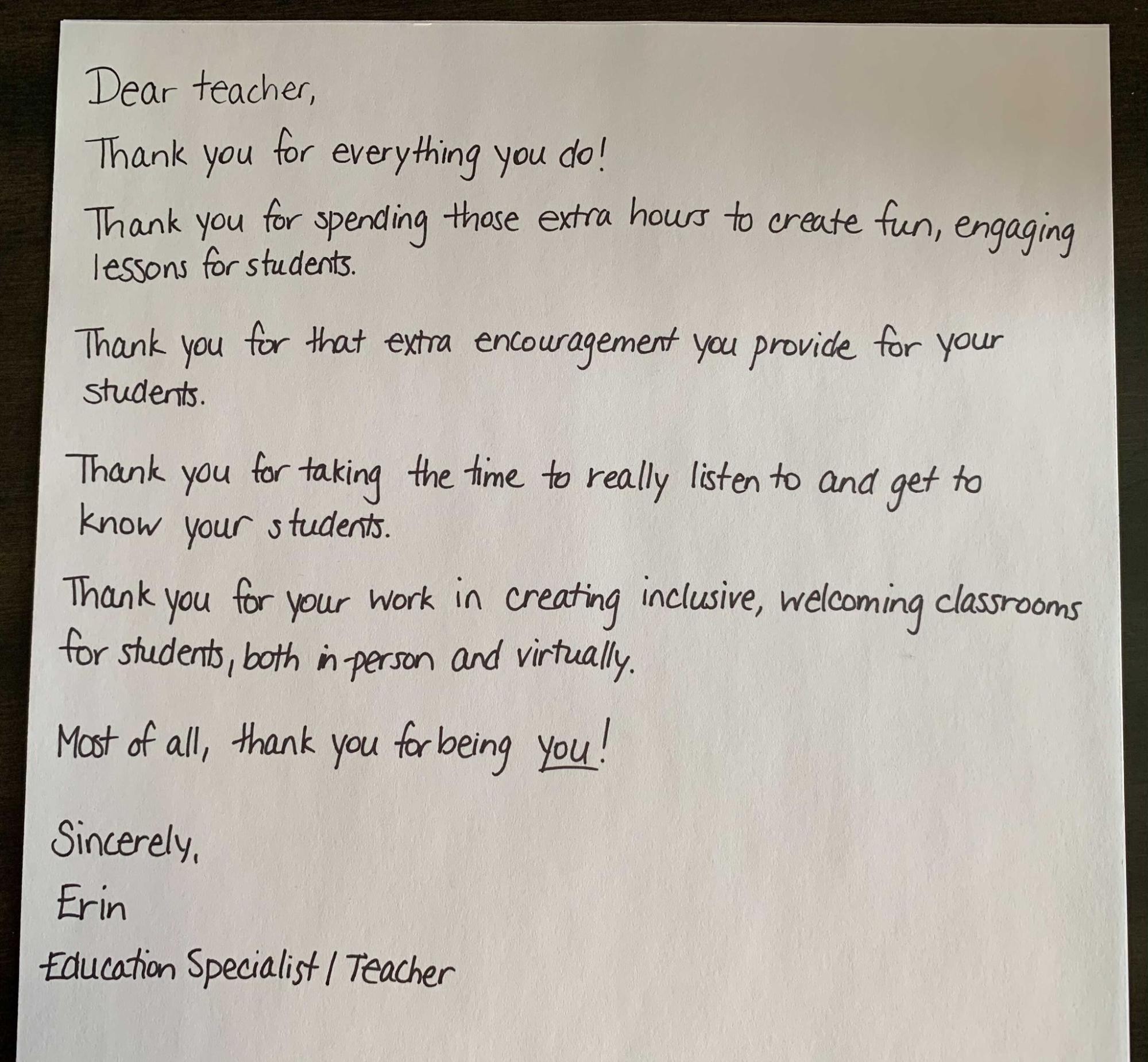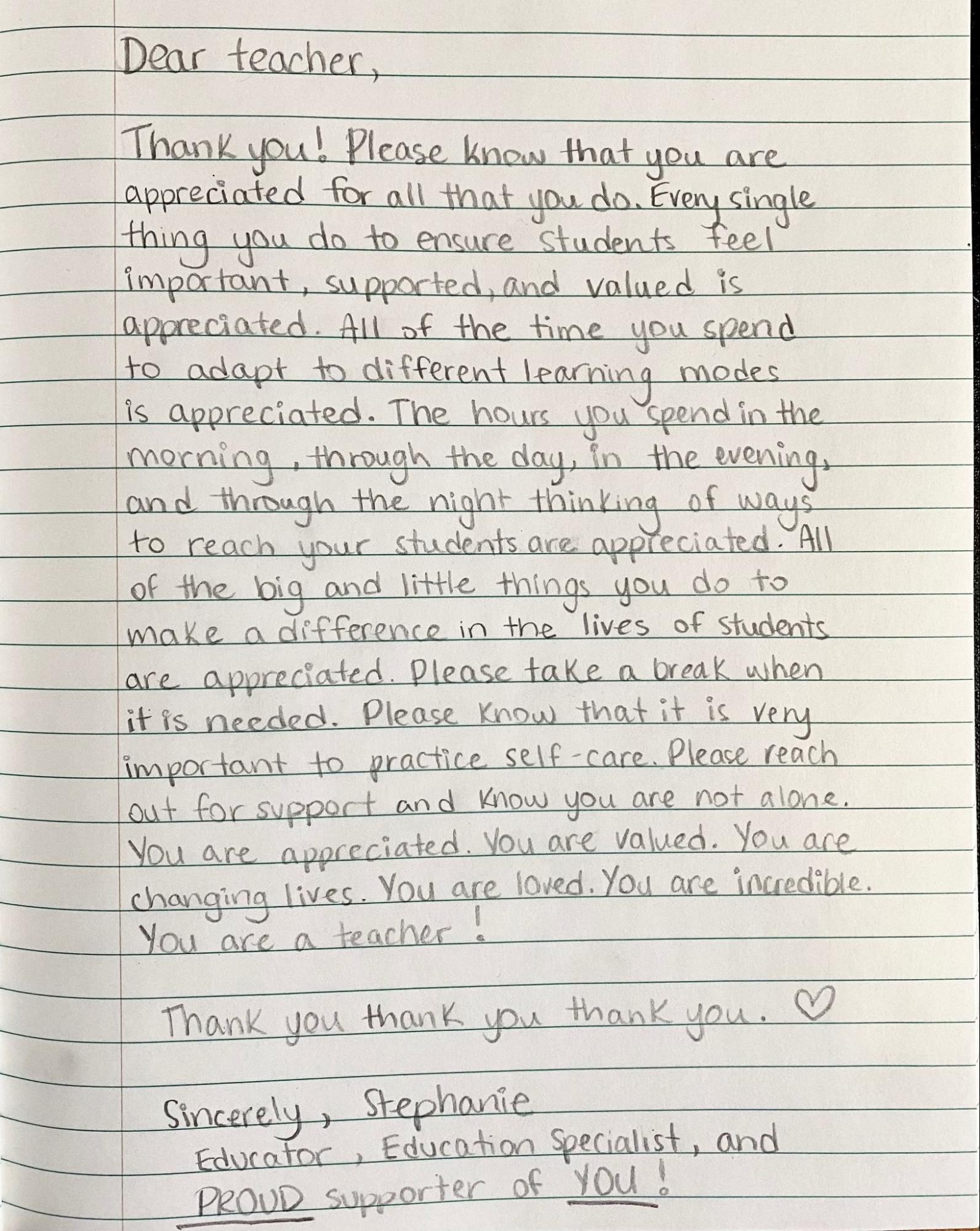 I'm a parent who wants to say thank you to my child's teacher. What can I do?
First of all, we totally agree — teachers deserve to be celebrated!
If you're looking for ways you and your child can celebrate teacher appreciation week, here are some of our favorite suggestions:
Send your teacher a gift card for school supplies or their favorite store
Give your teacher a small present (our holiday teacher gift guide has some great ideas!)
Tell the school principal or school district administrator what a great job your teacher is doing
Make a thank you card or write a letter of appreciation your teacher can keep for years to come
Advocate for support and funding for your school district's teachers with local government officials
Remember, teacher appreciation shouldn't just happen on one day or even one week. It's important to support and encourage teachers year-round as they do the extremely important job of educating the next generation.
P.S. Got a favorite teacher or a fellow educator you appreciate? Send them this blog post to say thank you for all their hard work.
Thanks for every single thing you do, teachers.
— The Prodigy Education Team