The Teacher's Guide to Prodigy: Everything You Need to Know
All Posts

Every teacher knows the feeling — you announce it's time for math, and get nothing but a chorus of groans back. 
It's heartbreaking to hear young students glumly say things like, "I'm just not a math person," or "I never understand any of it." 
At Prodigy, our mission is to help every student in the world love learning, and we've started by creating an engaging, adaptive and game-based math tool that many students and teachers love to play and use.
Prodigy supports teachers and students in creating an equal learning environment. That's why our teacher account tools are free to use, and students' in-game educational content is available regardless of whether or not they have a paid membership.
Turning math into an exciting adventure
When students start on their learning journey with Prodigy, they're also setting off on a literal journey filled with quests, rewards, pets and battles. 
Success depends on answering adaptive math questions correctly, and every question answered means more insights into student learning for you. 
As students play, they'll work in their zone of proximal development so they're challenged but not frustrated by questions that are too hard. They'll master skills to earn badges and stay motivated to keep learning.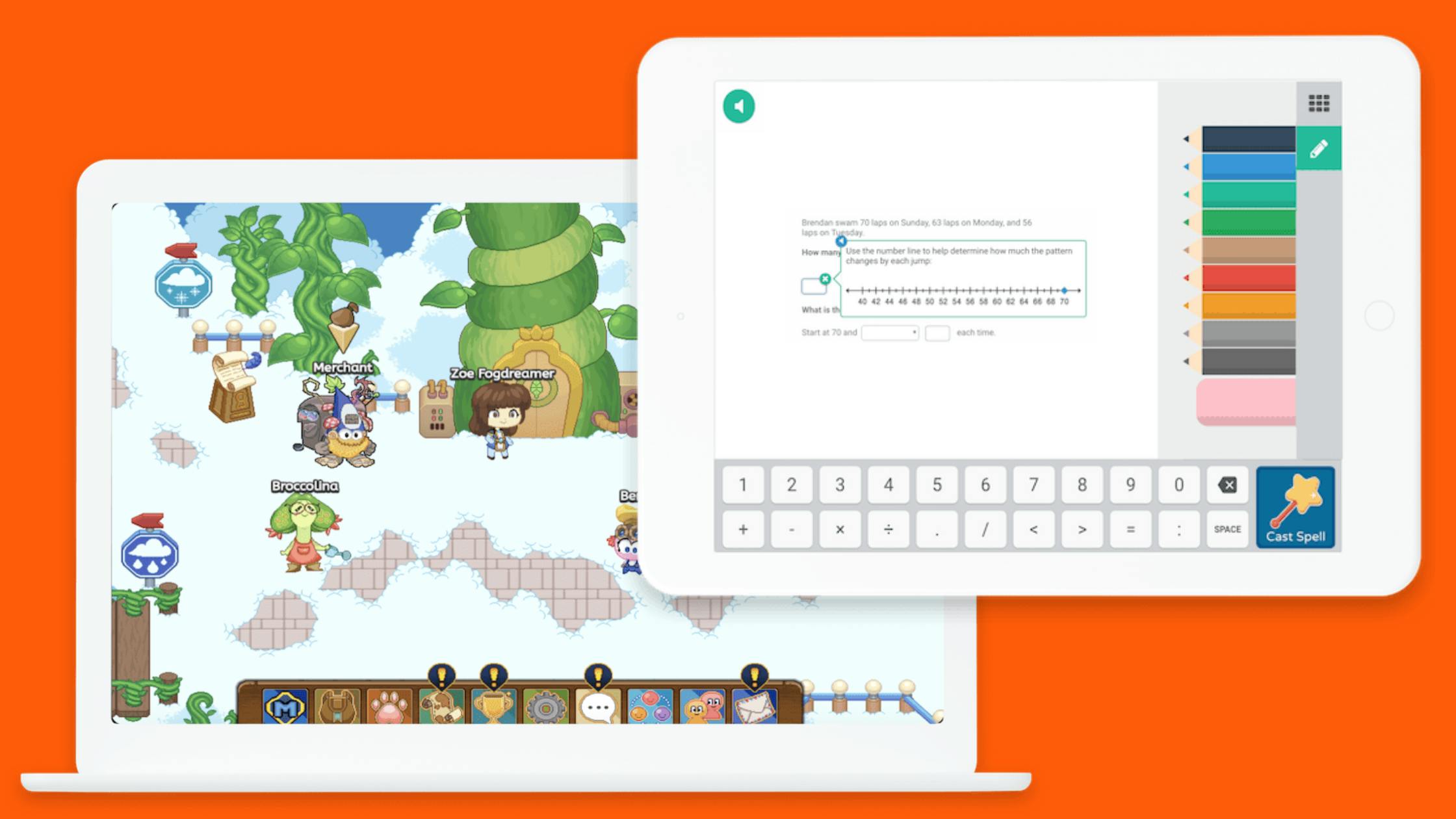 Plus, we'll collect actionable insights as students play that you can use to:
Plan lessons
Re-teach important concepts
Deliver small group instruction
Understand where students are excelling or struggling
And more!
Sign up now
Get a snapshot of student understanding with Prodigy's Placement Test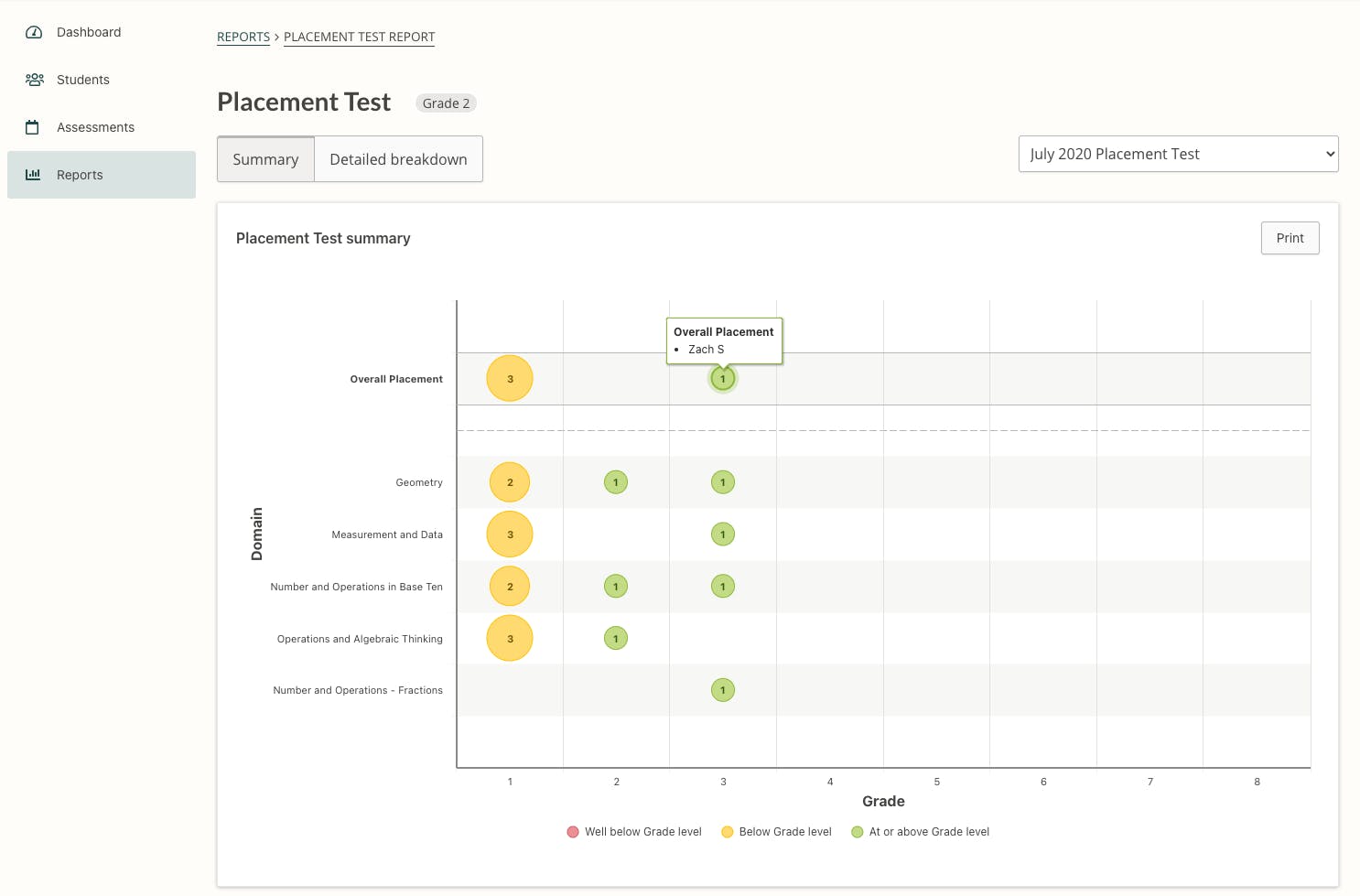 The first time your students log on to Prodigy, they'll automatically start completing the Placement Test — without even realizing they're being evaluated. 
The Placement Test begins gathering insights as soon as students start their first math battle, and automatically runs every January and September. You don't have to do a thing, except encourage students to play! 
Designed by Prodigy's team of certified teachers and engineers, the Placement Test:
Builds a foundation for adaptive student learning
Gives you actionable insights to use in your classroom every day
Provides a benchmark for student progress twice a year, so you can easily keep learning on track 
The Placement Test determines the content students see in-game and places students at the grade level that's right for them. It's the baseline that all their other math work in Prodigy builds on. 
Want to learn more about how the Placement Test works? Check out our in-depth guide!
Deliver classroom-aligned content
You know your students best — and you know what they need. 
The Placement Test is just the first step in making Prodigy work for your students. Your teacher dashboard is full of more ways to align Prodigy with what's happening in your classroom!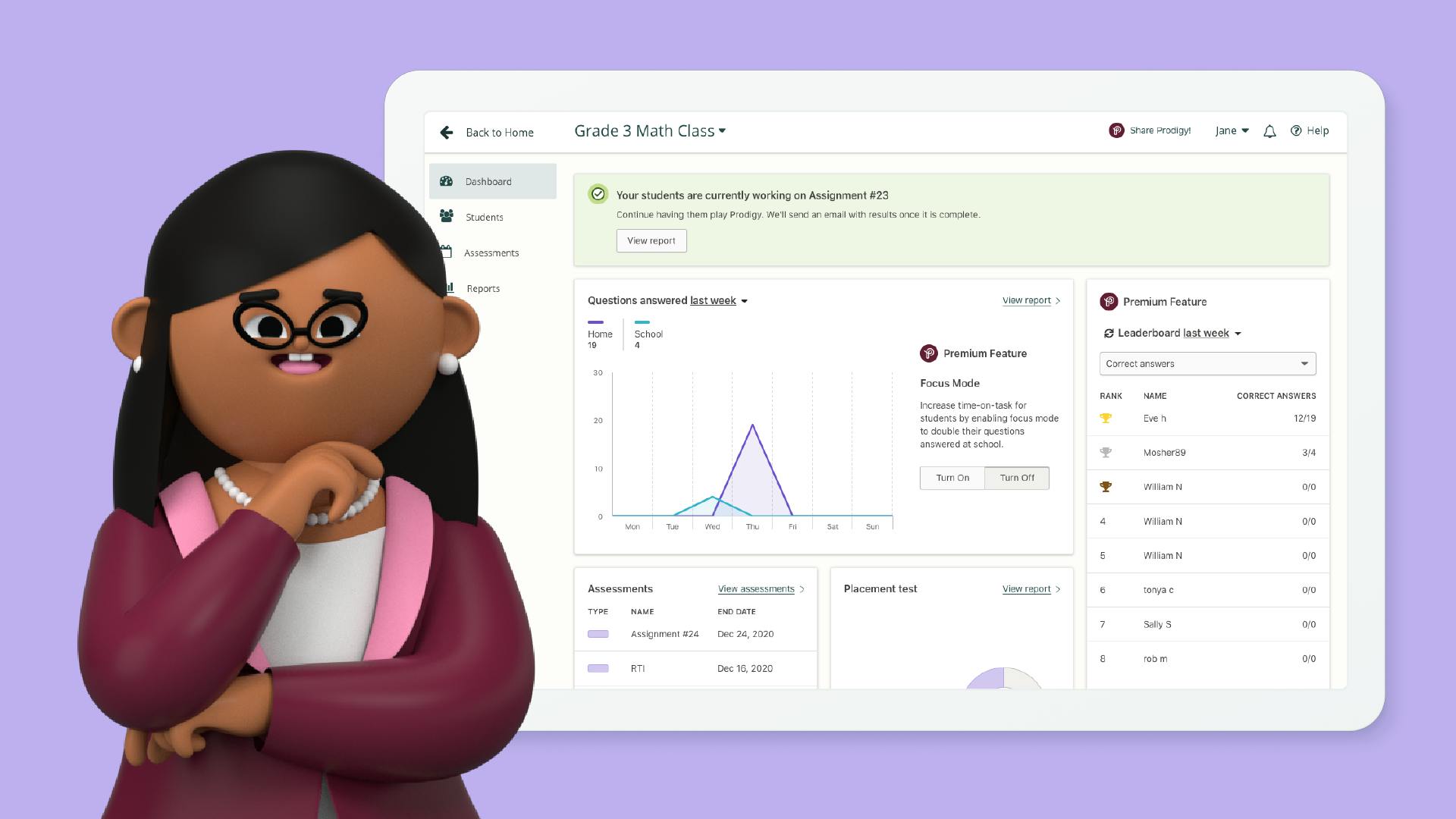 Whether you're teaching a lesson on fractions or getting students ready for an upcoming standardized test, visit your teacher dashboard to deliver curriculum-aligned, effective math practice. 
Keep reading to learn about the three powerful Assessment tools your teacher dashboard comes with to help you use Prodigy for teaching, grading and more.
Let's dive into each one!
Set a Plan for tailored math practice
When you set a Plan, your whole class encounters questions in a selected standard, receiving guided hints as necessary. 
Use Plans to:
Reward students for classroom achievements
Pre-teach foundational concepts before a new lesson
Deliver math practice to help students build the skills you just taught
Get a glimpse into how well your students understood your last lesson
Be confident students are getting the right math practice while they're learning virtually
Once your Plan is complete, use the insights to review concepts one-on-one, as a whole class, or with small group instruction.
Easily differentiate instruction with Assignments
Every student learns at a different pace. And with an Assignment, you can send unique math practice to each student in just a few clicks. 
Assignments quiz students on a fixed number of questions within a given grade and skill. Send it to just one student for extra practice, a small group to re-teach an important concept or to the whole class for an anxiety-free quiz. 
Assignments are the perfect way to make sure every student is getting differentiated math content while they play — whether you're using it to:
Plus, now you can send Assignments as homework for extra practice after school. Just select Assign as homework when you're creating the Assignment and print out or copy and paste the instructions.
Use Test Prep to get ready for your state's standardized test
Standardized tests can be nerve-racking for students and teachers. Our Test Prep tool is designed to help reduce math anxiety in your students and give you peace of mind knowing your whole class is ready for the big day. 
One group of researchers decided to put Prodigy to the test, and partnered with a south-central US school district to see how effective Prodigy was in improving student's math achievement in the 2018/19 school year. 
What did they find?
Researchers found a strong correlation between students' Test Prep scores and their state assessment scores. However, they did acknowledge the need to conduct follow-up assessments to better evaluate Prodigy's efficacy.
Select your state's standardized test and watch as students work through questions that can accurately predict how they'll perform on the test, and spot areas for improvement or review early.
Learn more about using Test Preps to benchmark student achievement.
Keep your finger on the pulse with real-time reports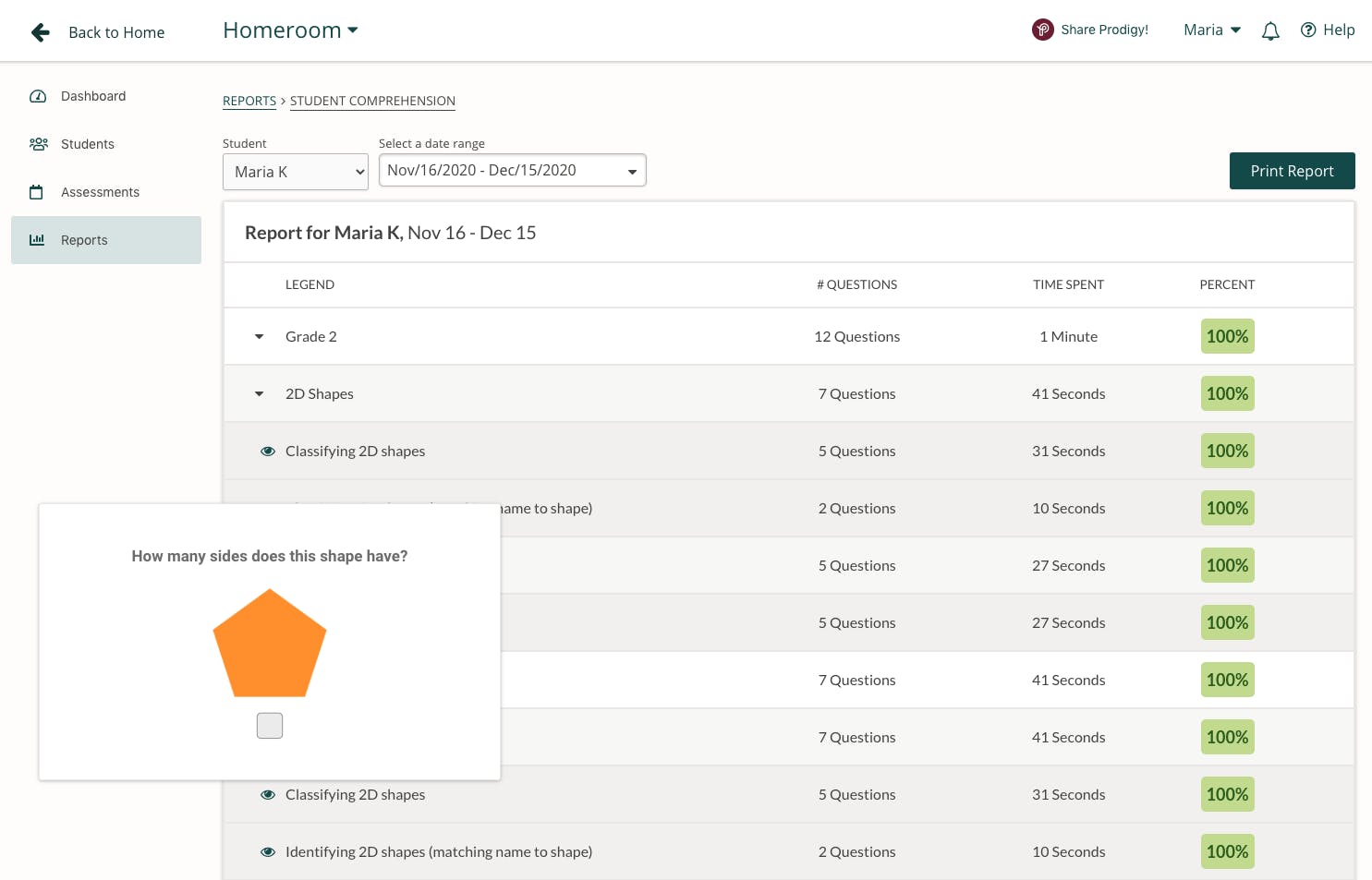 There are lots of things to love about teaching — but the pile of grading waiting for you at the end of the day probably isn't one of them. 
While students play Prodigy Math Game, your teacher dashboard automatically collects real-time results that capture:
What they're working on 
What skills they've mastered
Where they need more support
How many questions they've answered
Every time you set a Plan, Assignment or Test Prep, you'll get a custom report with details on student achievement. 
Haven't set an assessment? No problem! Students will work through adaptive math questions, and you'll be able to see data across eight reports:
Progress report
Student Usage report
Weekly Activity report
Placement Test report
Topic Coverage report
Curriculum Coverage report
Assignment and Plans report
Student Comprehension report
Use the insights for easy-to-understand insights into student learning and achievement.
Share the results with parents or school administrators to celebrate achievements and make plans for future learning!
Prodigy + virtual learning = peace of mind
Some days, keeping students focused and excited about learning takes all your best classroom management strategies — even when you're teaching face-to-face. 
Virtual learning makes it harder to deliver effective skill practice and make sure students are learning at the right pace.
Prodigy Math Game helps keep students engaged and excited to develop key math skills! Whether they're learning in or out of the classroom, Prodigy lets you easily see what students are working on. 
With your teacher account, you'll be able to:
Create Assignments to differentiate content for individual students or groups
Send home letters with login information and invite parents to join Prodigy for free
Check data to find out what students are working on, where they're excelling and where they need more practice
We're all looking forward to the day when we can safely gather in classrooms again. But for now, Prodigy is here to help make virtual learning easier for you!
Fun for students, helpful for you
Join Prodigy today to help all your students build a love of learning — and get instant access to teacher tools that make delivering curriculum-aligned math practice easier than ever.
Sign up now