Educational Software for Elementary Students: 9 Expert Picks
All Posts

As a school leader, it's your duty to ensure your teachers have the best tools to help students succeed. But with all the educational software for elementary students to choose from, where do you start?
We've got you covered!
What educational software for elementary students looks like
A big focus of educational software for elementary students is keeping kids engaged with content. Many studies have shown that gamification can help students focus on learning, while also making class fun!
Gamification software combines elements of video games — such as progression, scores, and competition — with lessons to create an engaging platform on which students can learn.
Much of the educational software available use gamification to enhance the learning process. A study by the World Government Summit on Gamification and the Future of Education showed evidence that the practice can improve engagement and test scores.
One of their examples stated:
"In its first two years, attendance increased [by] 13% (a major accomplishment, as the programme was used on students who had emotional and behavioural issues) and, in the first three years, performance on standardized testing increased by 22%."
Other types of educational software
Gamification isn't the only educational software available. There are plenty of others that adhere to learning types of all kinds, including:
Tutorial software — Teachers can use this to help students learn at their own pace. Tutorials consist of lessons and learning material that students can practice on their own and get feedback on their performance.
Utility software — Teachers can use this software to help them prepare for lessons, tests, or assignments. They can also use this software as a marking book to keep track of students' grades.
Reference software — Students can use this software to help them with research projects. This type of software usually includes things like dictionaries, thesauruses, encyclopedias.
Graphic software — Students can use this tool to make online presentations with the ability to easily upload images or media from computers or the web.
Drill and practice software — Teachers can incorporate this kind of software to help students strengthen their skills. They can continuously test students on skills they've learned in preparation for assignments and tests.
When teachers incorporate educational software for elementary students properly, they can help make it easier to teach and learn throughout the classroom.
The best math software for elementary students
Math can be hard to teach because of all of the different theories and equations that make it up. Without the right software, your teachers can have a hard time tracking which students are struggling with which concepts and which students need more of a challenge.
Math software can help with all of that!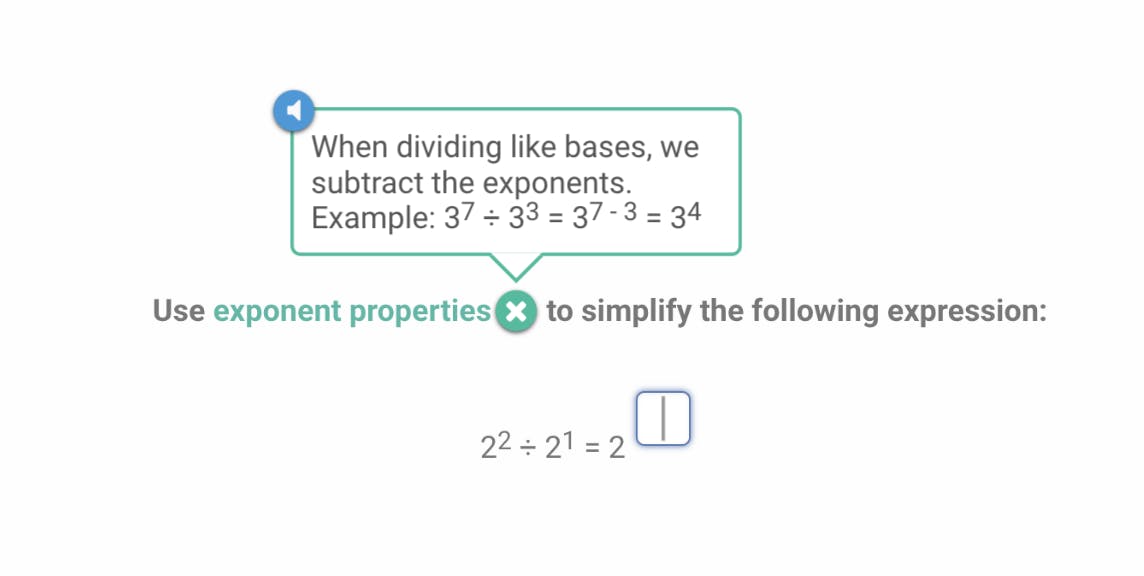 Prodigy is an engaging math resource that's making math engaging for students around the world.
Students from 1st to 8th grade go on a fantasy-based adventure while learning important math concepts. Most of the time they don't realize that they're taking part in lessons; it's all part of the game-based learning experience!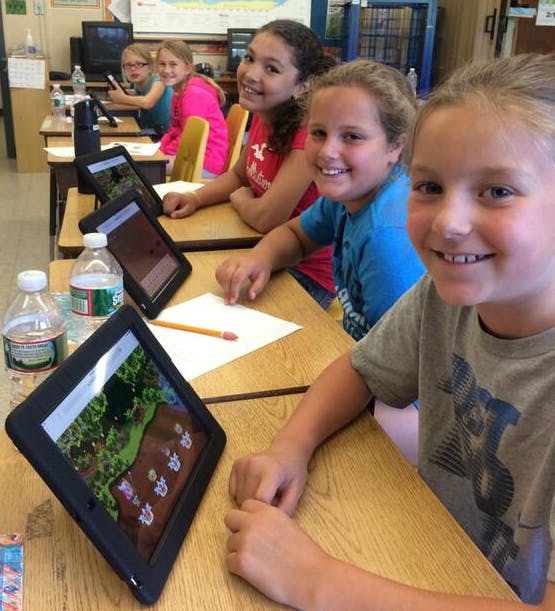 Endless engagement. Adaptive content. Standards-aligned.
Use Prodigy to plan lessons, see real-time data, and prepare students for upcoming tests. The in-depth reports help teachers pinpoint students' problem areas and create a personalized learning experience for everyone!
Get your free teacher account

This K-5 curriculum-aligned software and paper approach to learning builds a deep understanding of math in a way students will love!
Zearn's unique educational software for elementary students combines meticulous curricula with a comprehensive classroom system. Instructional materials create daily math lessons for students to practice and enjoy. The content is both engaging and thought-provoking to help all students love learning math!

Teachers can look at detailed reports to take action on their students' education. The additional support in the software ensures that all students will feel like they're being taken care of.
Zearn has conducted case studies that show evidence that their software can improve math proficiency across all grades. Students in the third and fourth grade both showed double-digit percentage improvements.

Redbird helps students not only learn but build confidence in their math skills!
This personalized learning solution keeps kids engaged by using game-based learning, stimulating projects, and instant feedback. Lessons are extensive and the platform hosts over 15 thousand questions for students to take on.
Redbird is an educational software for elementary students that uses an adaptive motion engine which individualizes learning based on students' understanding of a mathematical concept. More instruction or introduction to new concepts is given based on each students' performance.

Games are unlocked and used to apply what is learned in lessons. Afterward, students are presented with a creative STEM-based project where they can use the skills they learned in real-life situations.
Teachers can view performance through live analytics, allowing them to pinpoint problem areas and further personalize learning.
The best ELA software for elementary students
Alongside math, reading and writing are some of the most heavily tested subjects, especially when it comes to standardized testing. Unfortunately, it can be hard to identify where students are struggling and teachers often have trouble recognizing issues before it's too late.
Educational software for elementary students can help find problems in kids' learning early and create personalized learning experiences for everyone.

This ELA software is designed to engage all students regardless of their reading ability, writing ability, social status, or native language.
StudySync offers a flexible curriculum that allows students to learn online or with printed materials. Every grade level comes equipped with a large selection of texts for students to read, explore, discuss, and learn from.

Reading, writing, speaking, and listening instruction are embedded into all of StudySync's lessons. The software creates a captivating atmosphere with several different types of activities that are imbued with grammar and vocabulary exercises to help students of all skill levels succeed. Discussion is promoted to further education through peer-to-peer interactions and class collaborations.
Within the software, teachers can track how students are handling content and assess performance. They also have the ability to give instant feedback and create custom assignments and tests based on each student's individual learning needs.

Flocabulary helps reinforce any K-12 curriculum and assists students to master content and standards. Lessons are bolstered with comprehensive videos, creative vocab cards, and engaging games.
Building their vocabulary helps students read through content passages, ace quizzes, and improve their creative thinking. Flocabulary keeps students engrossed with lessons, which helps improve their overall understanding of content.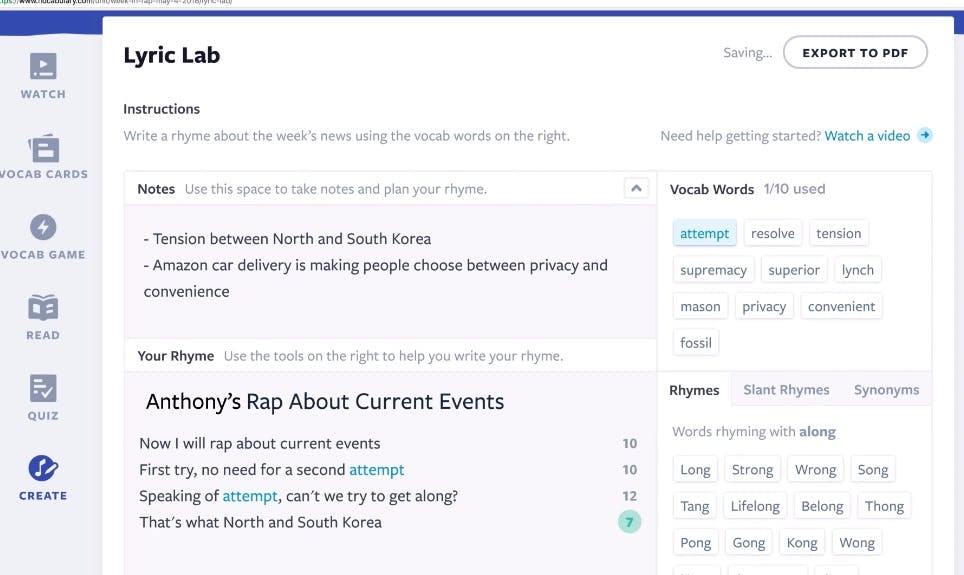 Flocabulary has done research showing that "91% of students agree that after watching a Flocabulary video they have a better understanding of what they're learning."
Flocabulary uses a multimodal approach to learning, which ensures their content engages all students.

Prixton offers a different way for students to engage with reading and writing content. In a creative twist, students have the chance to create their own comic books with their own characters and dialogue.
This immersive platform gets students excited to learn and take control of their education. While Prixton offers a wide variety of templates for students to choose from, they can choose to completely customize a story of their own.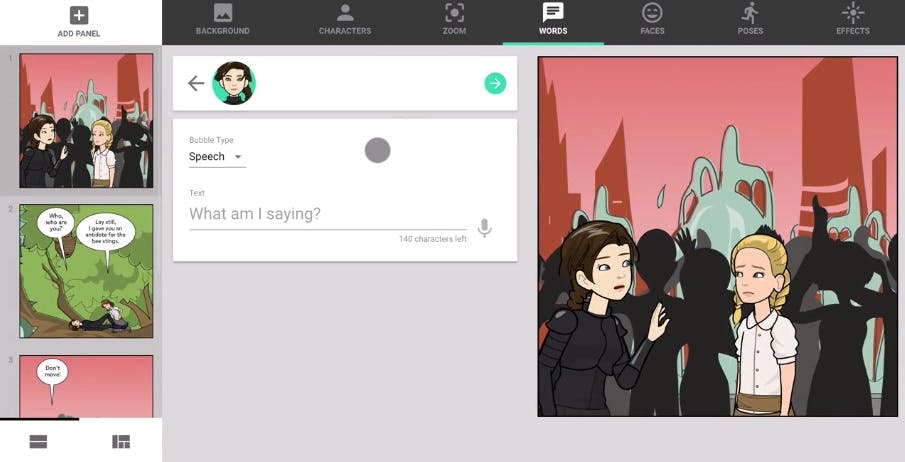 Teachers can choose content packs tailored for specific topics to help enforce lessons and keep students engaged with what they're learning. In the comics, students can apply what they've learned in class by making their own story. Teachers can mark for creativity, grammar, and let students influence and create their own learning experience.
The best science software for elementary students
Science is a broad term that covers many areas of study, especially during elementary school. Sometimes elementary teachers can have a hard time teaching science in a way that keeps students engaged, especially with limited resources.
There are several science-based software programs that can help make every class fun for students and help teachers explain lessons.
Here are some of our favorites: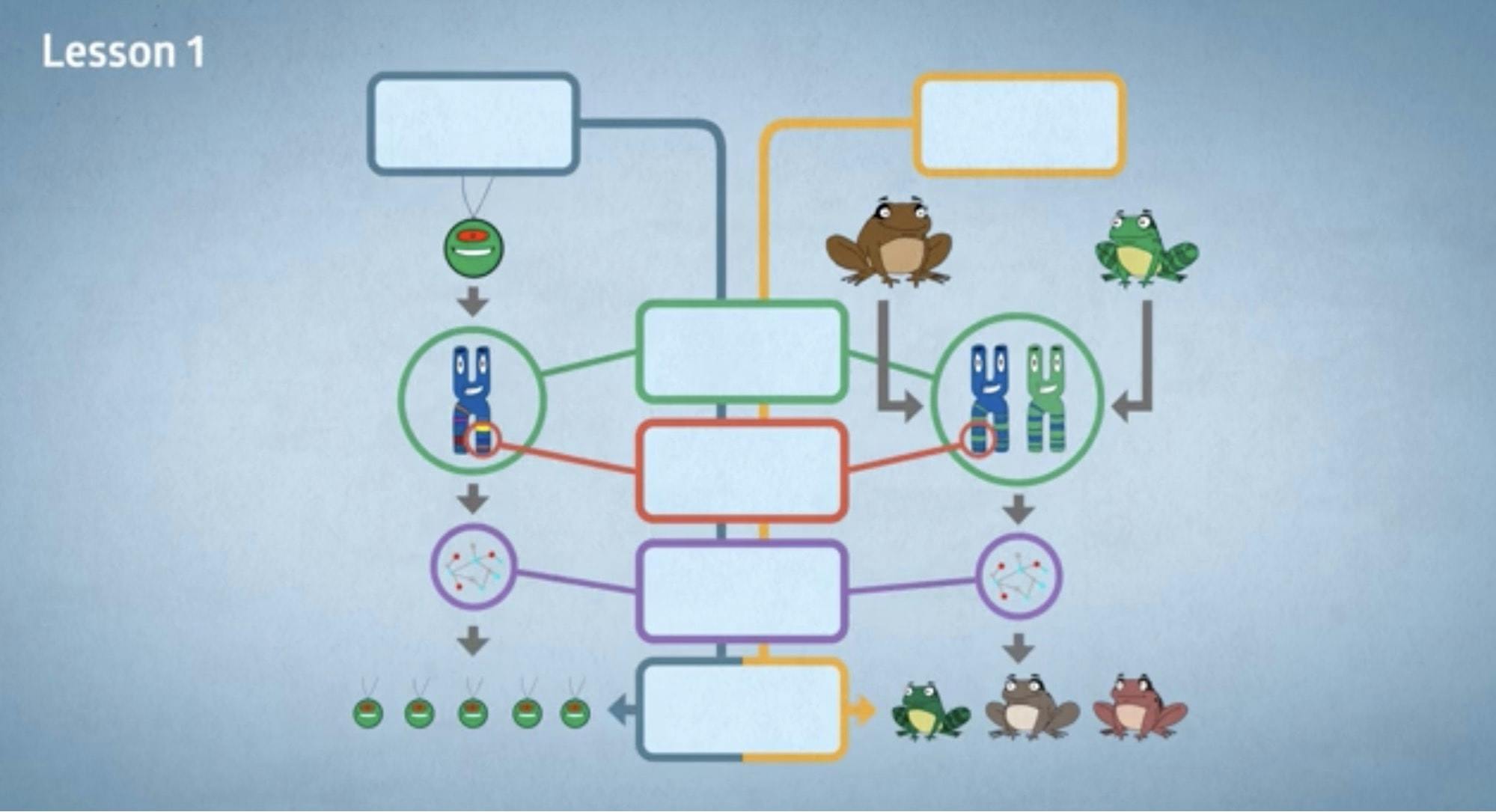 This science software works independently or as a supplement to improve lessons. Mosa Mack Science is for students in grades 4 through 8 and can augment any existing curriculum whether it be textbook based, online, or anything in between.
Units are broken up into three lessons. The first part gets students involved by having them complete a mind-map where they learn about the unit's essential vocabulary. Then, students get to enjoy a short animated mystery that discusses the concepts of the unit. At the end of the video, students are presented with a question to take their learning a step further.

In lesson two, students take on a tactile assignment based on what they learned in the video. Finally, in lesson three, students are given a real-life scenario to apply what they've learned throughout the unit.
Mosa Mack Science works perfectly for classrooms of all sizes, individualized instruction and flipped classrooms!
Koantum is perfect for teachers who want software to supplement their lessons without changing their approach to teaching. Along with engaging activities and lessons for students, teachers have the ability to track progress and assess knowledge through an abundance of innovative online tools.
Students engage with concepts that they've learned through online point-and-click games. Students have access to these games from any device at school or at home like tablets, iPads, and other computers. Koantum's lessons are compatible with several national and state standards.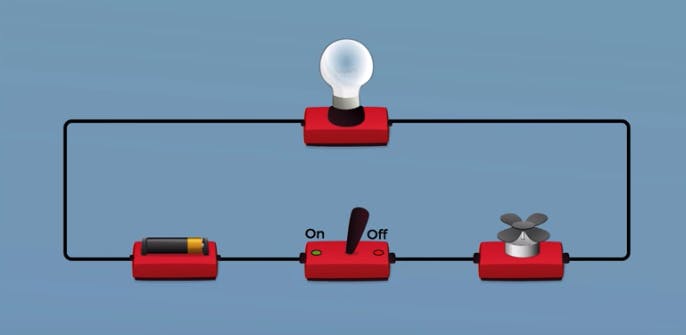 The science software comes with fully developed lesson plans to help teachers explain important concepts. Teachers and parents can monitor their students' progress with comprehensive reports that show exactly what they've been doing within Koantum.

This K-5 science curriculum software inspires students to love science!
Every lesson is linked to an online video that immediately engages students. The video poses a thought-provoking question to help get them ready for the activity to solve the mystery.
Prior to each lesson, teachers are given a list of simple supplies needed for the hands-on activity at the end of each lesson. Mystery Science combines online tools with hands-on activities to make sure students are getting the most out of lessons.

The software covers many topics including weather, plants and animals, lights and sounds, energy, space, and more!
How to get the most out of your educational software
Educational software can be a great investment for classrooms but without proper use, the software becomes a waste. Here are some tips to make sure your teachers get the most out of their educational software for elementary students:
Research the product
Researching educational software is a huge step in finding the right one for your school. Investigate where your school struggles and find software that can help improve those specific areas.
Look at what various educational software companies offer. Do they offer live tracking, customization, reports, and curriculum-aligned content?
Check their case studies or white papers to see if their software has shown evidence to improve student learning.

If any of your questions aren't answered, don't be afraid to reach out to their customer support team — they'll be happy to assist you!
Educate your teachers
One of the biggest pitfalls of educational software is when teachers are not equipped to employ all the features effectively. This can cause teachers to ignore the software and continue teaching in traditional ways.
Many educational software companies offer an abundance of resources to help train educators. Look for knowledge base articles, a support email or phone numbers, and tutorial videos to get teachers trained.
Take advantage of statistics
Statistics in educational software are some of the most valuable tools available. They show you exactly how students are doing in class and how the software is being used throughout the school.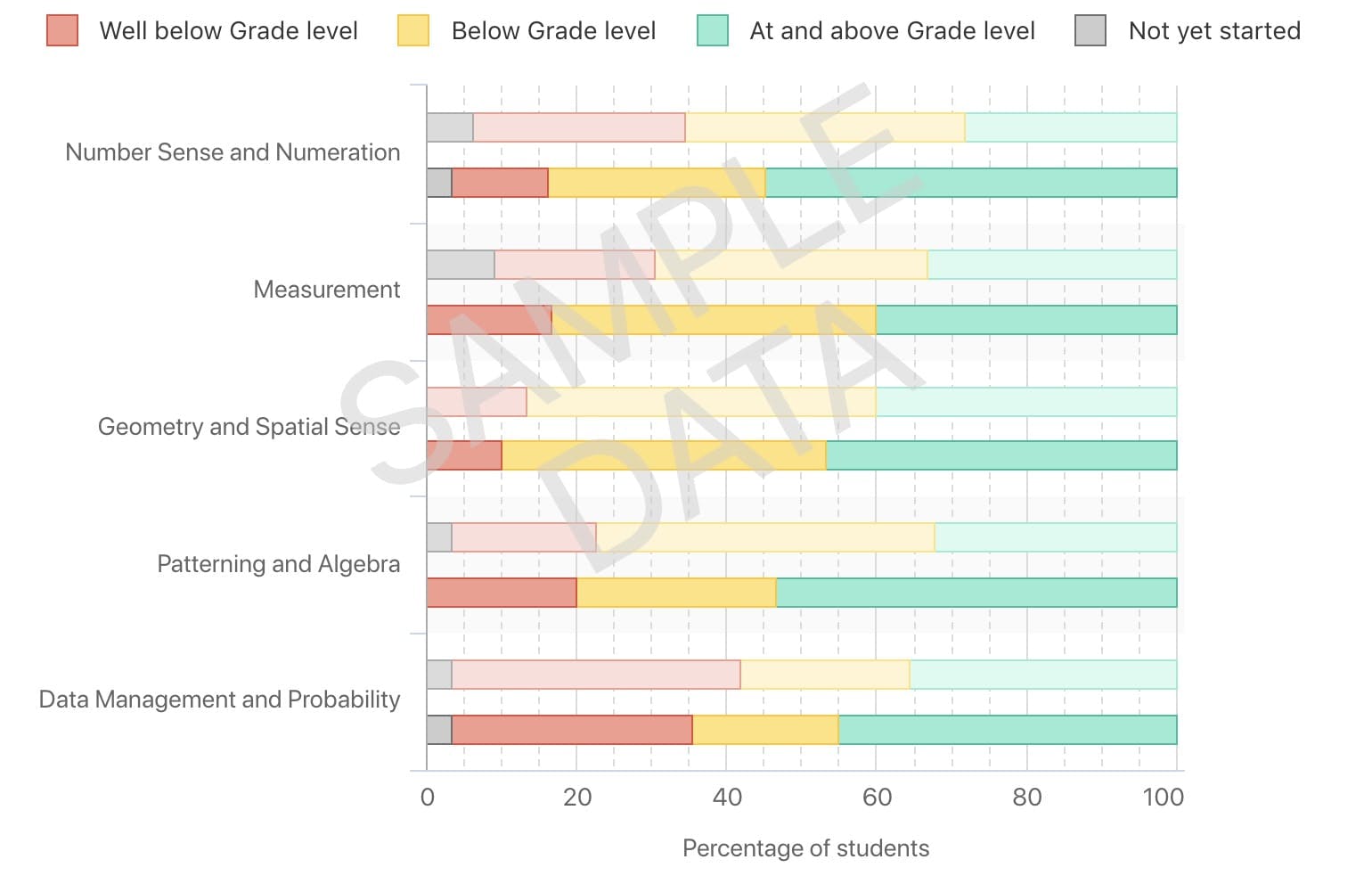 This information is far too valuable to let go to waste!
Use the statistics to see how lessons can be improved. Look to see where students are lagging behind and create plans to help them succeed.
Conclusion: free educational software for elementary students
Using educational software for elementary students is a great way to:
Raise test scores
Increase engagement
Close knowledge gaps
Improve student academic achievement
Many companies offer educational software, so it can be hard to find the best one for your school. Make sure you know what your school's needs are and research which company's software can best serve you, your teachers, and their students.
Some things to keep in mind are:
Analytics — Does the software offer data to track student progress?
Engagement — How does the software get students excited to learn?
Cost — Is the software free or are some features hidden behind a paywall?
Customization — Can teachers update the software to make a personalized learning experience for every student?
We've done some of the work for you, compiling a list of the best educational software for elementary students. Now it's up to you to decide which one your school can benefit from most!
Teachers can use Prodigy Math Game to:
Align in-game adventures with classroom lessons
Collect insights into student progress and learning gaps
Send differentiated content and Assessments in just a few clicks
Sign up for your free teacher account today!