The NEW Arena — Prodigy's Biggest Revamp Ever!
All Posts

Parents
Set a monthly learning goal and in-game reward with your free parent account.
Create your free account
Category
Update

Teacher Resources

Parent Resources
Parents, teachers, math wizards: we're thrilled to announce a HUGE Prodigy Math Game update. 
The Prodigy Arena revamp is now open!
Even with fun math activities like Prodigy, kids can still get bored from time to time — especially if they're still learning at home. That's why the in-game Arena was designed to keep kids more engaged with learning than ever!
Keep reading to find out what adventures your child or student will find in the Arena and how it can help them reach their full math potential. 
What is the Arena?
If your child has been enjoying the latest Harmony Island update, things are about to get even more exciting!
Players may have uncovered the secrets of Harmony Island, but the brand new Arena is a huge update to the original. Now there's more to uncover, and many more ways to use the powerful Runes they've collected. 
Prodigy wizards can either go directly to the Arena or teleport from Harmony Island. Once they get there, they'll experience better player vs. player battles and awesome rewards!
Learn more about the Arena's in-game features for players here.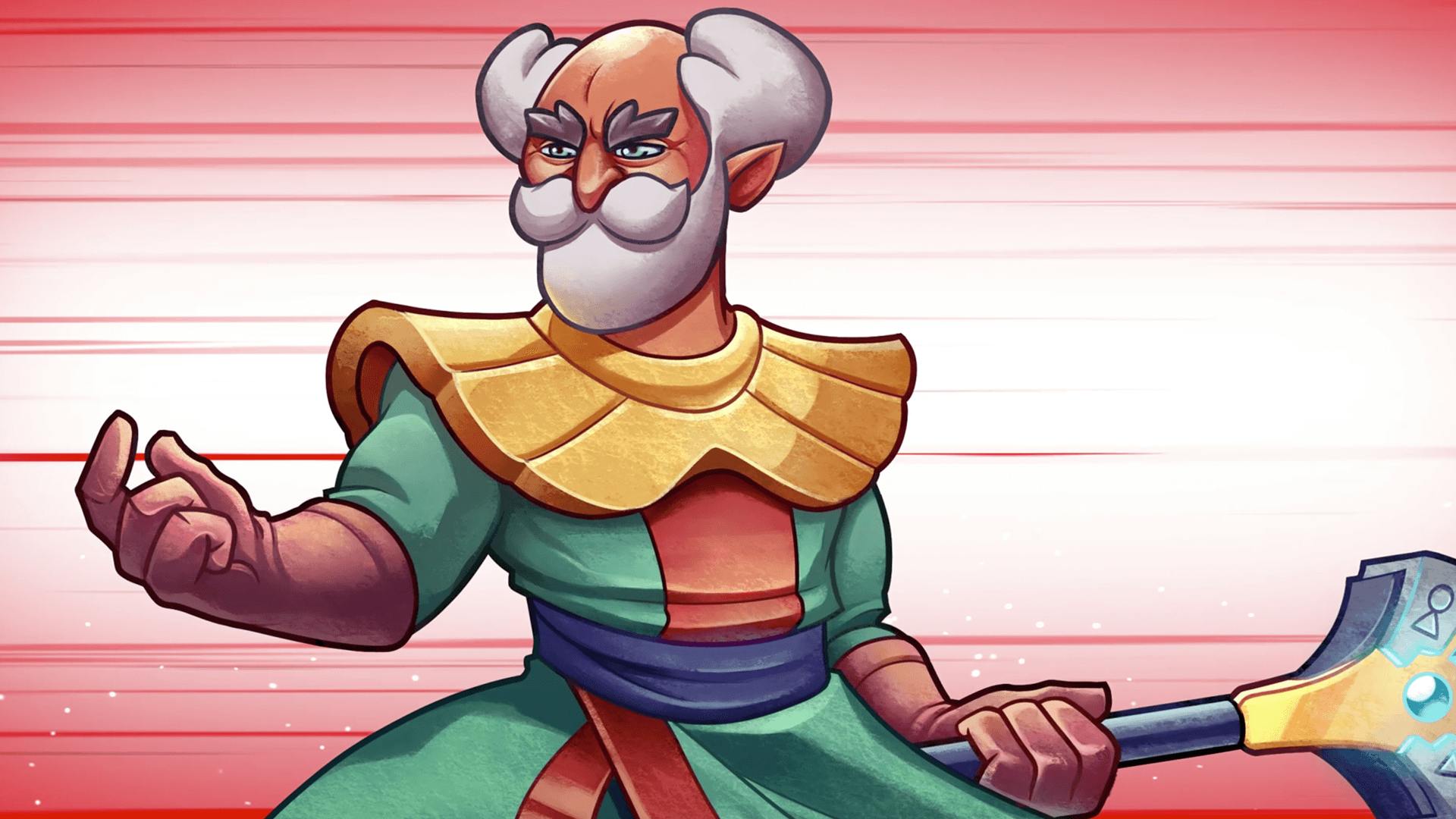 As soon as players enter the Arena, they'll meet The Great Prince-E-Spell — a magical character they've never encountered before. 
Players will soon learn the power of the Runes and the wisdom The Great Prince-E-Spell holds. Here's how he'll train players to become champions just like him: 
Lesson 1: Challenge worthy opponents instantly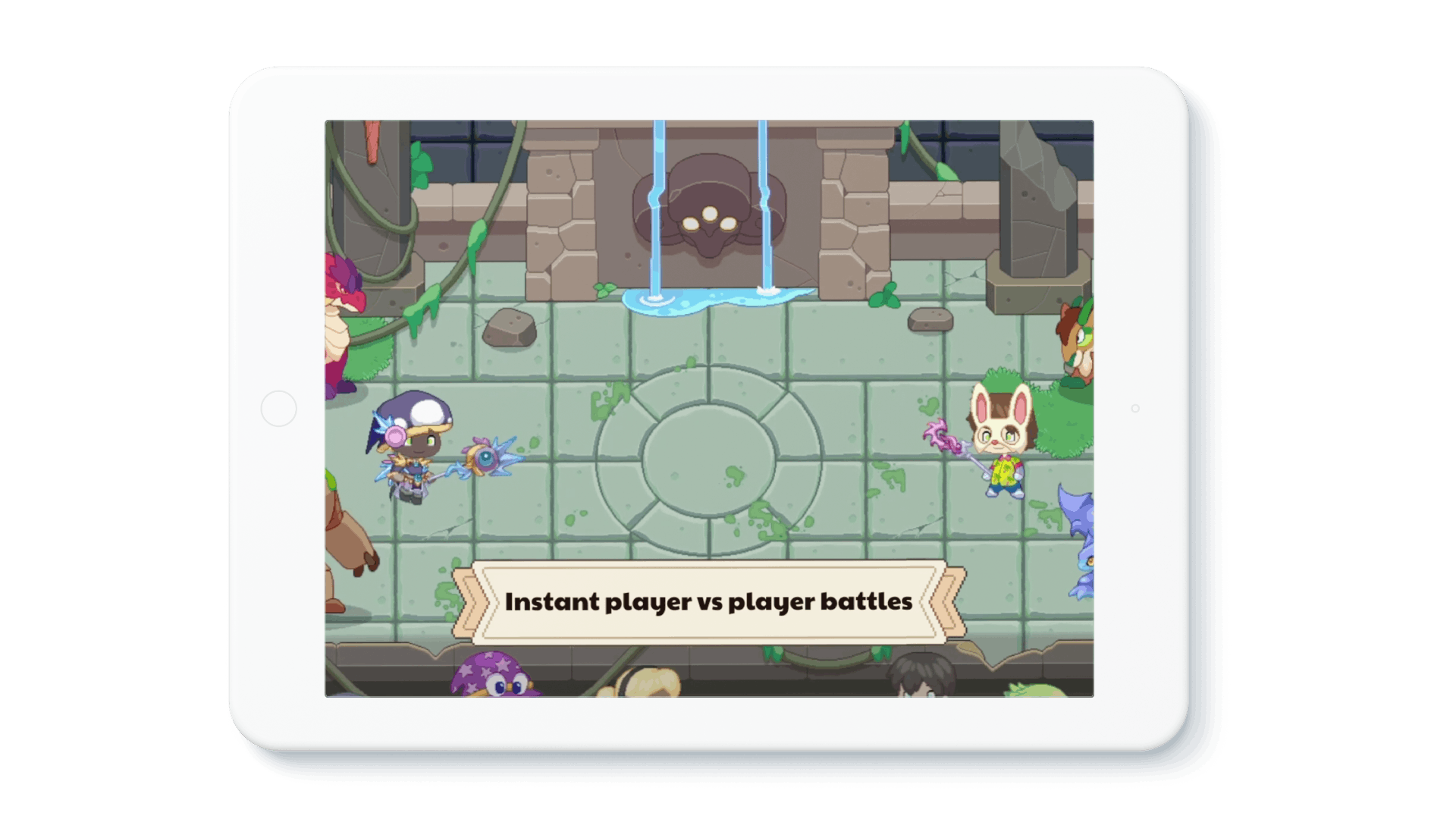 One of the most epic parts of the new Prodigy update is a complete revamp of Prodigy's competitive Player vs. Player (PvP) system that matches kids to other players of similar skill levels. 
And the best part? No more waiting for your opponent! Players can instantly battle others without having to wait for each response. 
Less waiting time means students will be less likely to become bored, impatient or disengage with math practice.
Lesson 2: Climb the ranks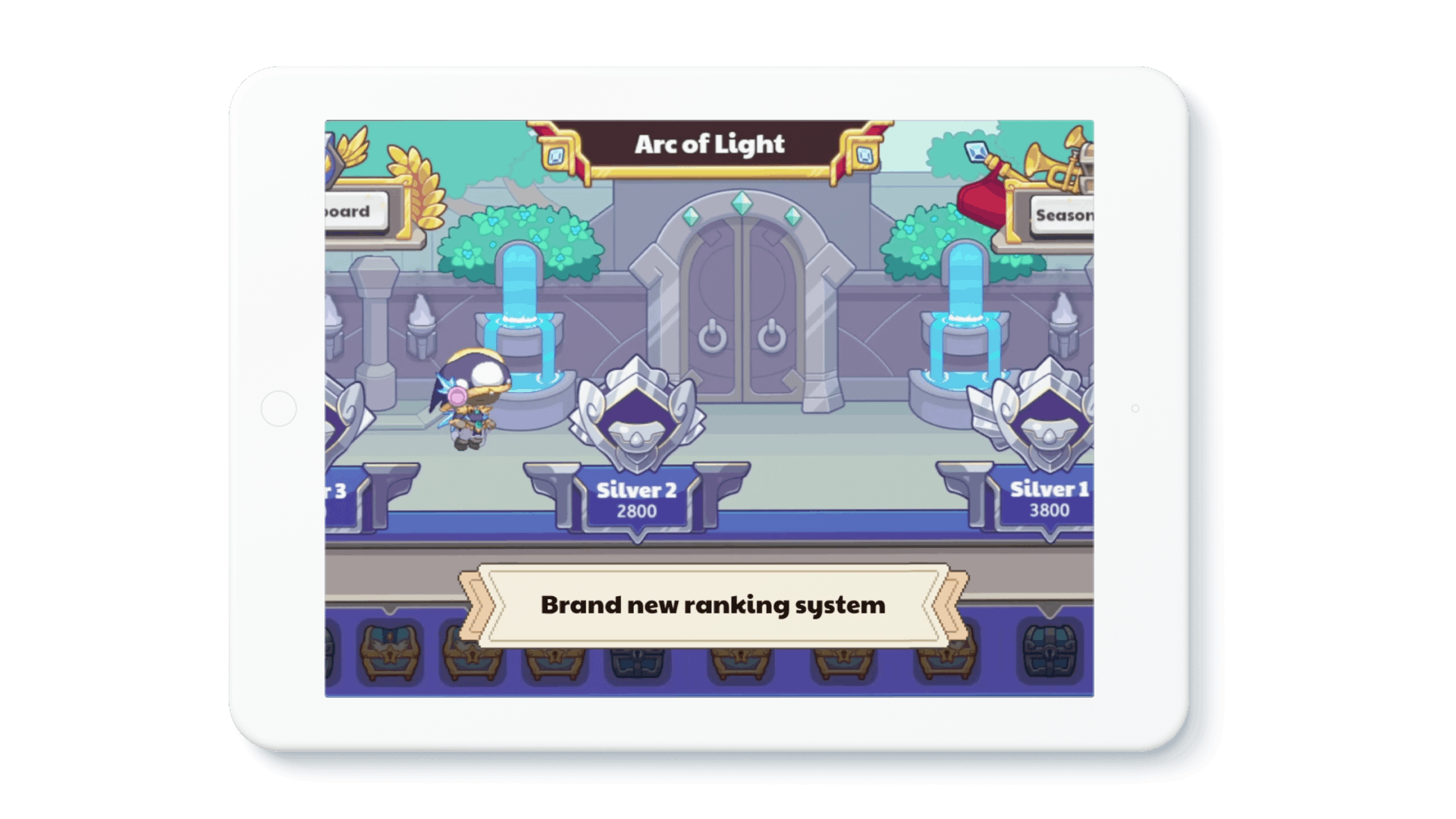 The Arena's brand new ranking system allows players to collect more Runes and power up their team to grow stronger for future battles. As they earn and use Runes, they'll unlock power boosts for their team to gain an edge over their opponents.
This new feature brings fun, friendly competition to the game, motivating players to work hard and achieve more. And as we know, more in-game achievement can lead to more math achievement! 
Lesson 3: Celebrate your victories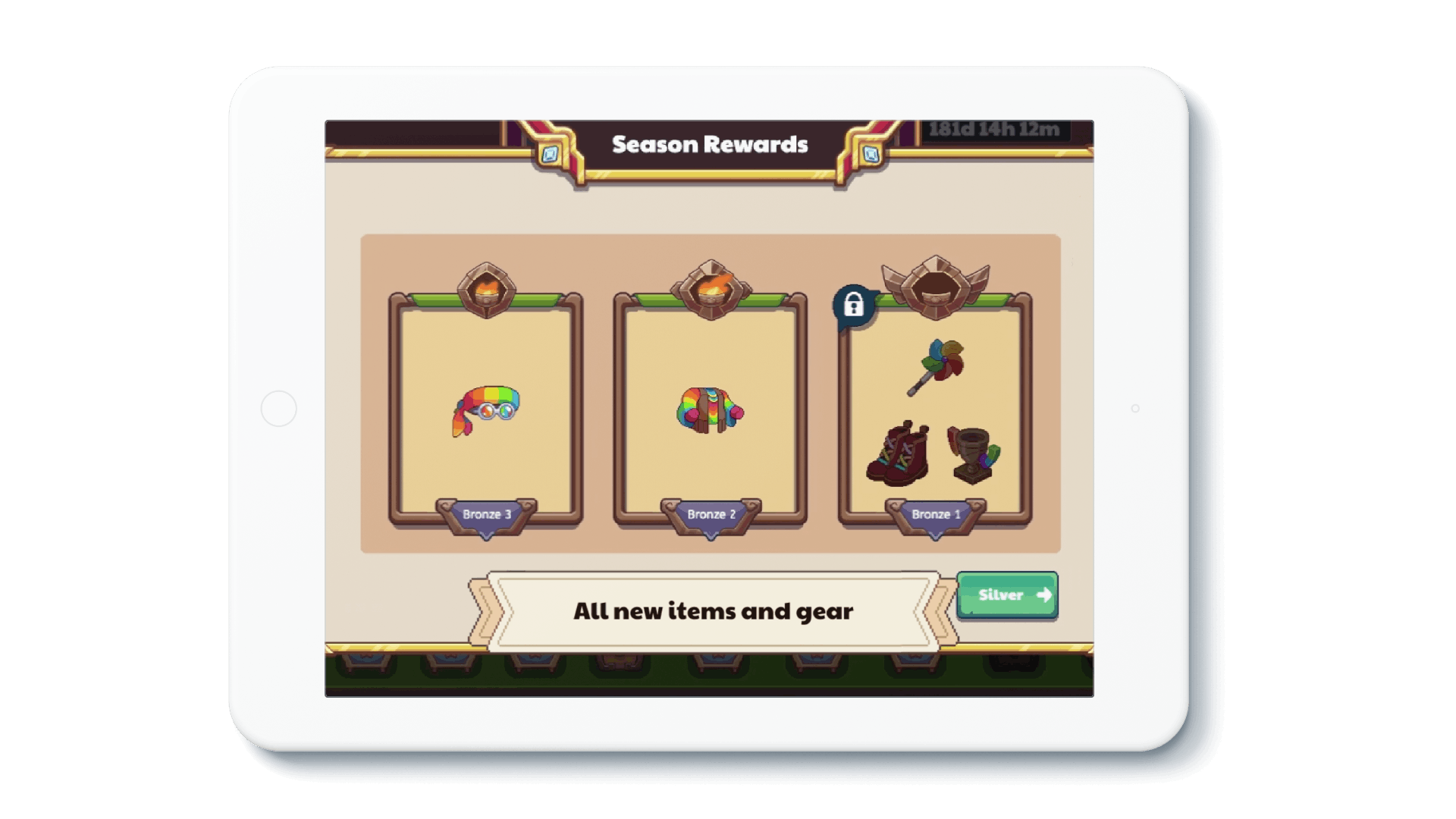 As players uncover the secrets of the Arena, collect Runes, and battle to become champions, they'll also unlock permanent items and rewards that can only be collected through the Arena.  
These unique items make learning extra rewarding and give students motivation to keep building more math skills! 
Parents: Here's what you need to know
The new and improved Arena brings tons of exciting advantages to players. But there are plenty of reasons for parents like you to be just as happy! 
Here are your top 3 advantages: 
The Arena can: 
Prevent learning burnout  — New, exciting features and rewards keep your child more engaged than ever. This means they won't feel like their Prodigy math practice is becoming too repetitive. There's always more fun to be had! 
Give you extra time in your day — The Arena provides players with fun in-game content they can (and want to) play over and over… and over! It's the perfect at-home activity to keep your child occupied when you want to check some items off your own to-do list. 
Help your child catch up in math — Remote learning has made for a very different school year. But the excitement of the Arena can give your child more incentive to play Prodigy longer and answer more math questions, helping them catch up and prepare to learn more as they return to the classroom.
We can't wait for you to tell your child all about the Arena! Are you as excited as we are yet? 
Once you've shared the news, show your child all the latest Arena updates and Prodigy Math Game content, found exclusively in our brand new Game Portal!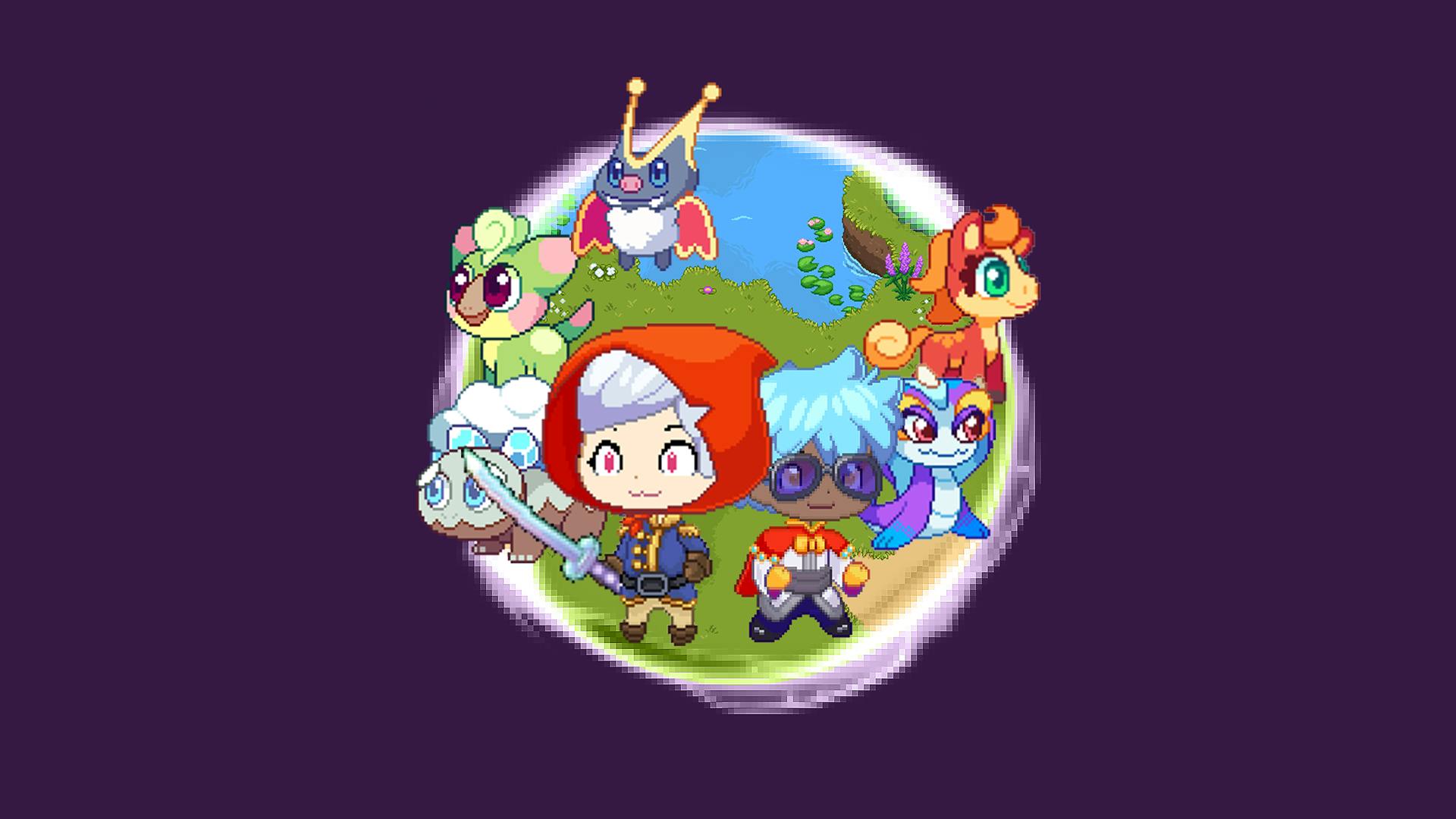 See all updates now!
P.S. Want to motivate your child to practice more math while they battle at the Arena? 
Set a Goal with your parent account, outlining the number of math questions you want your child to answer correctly.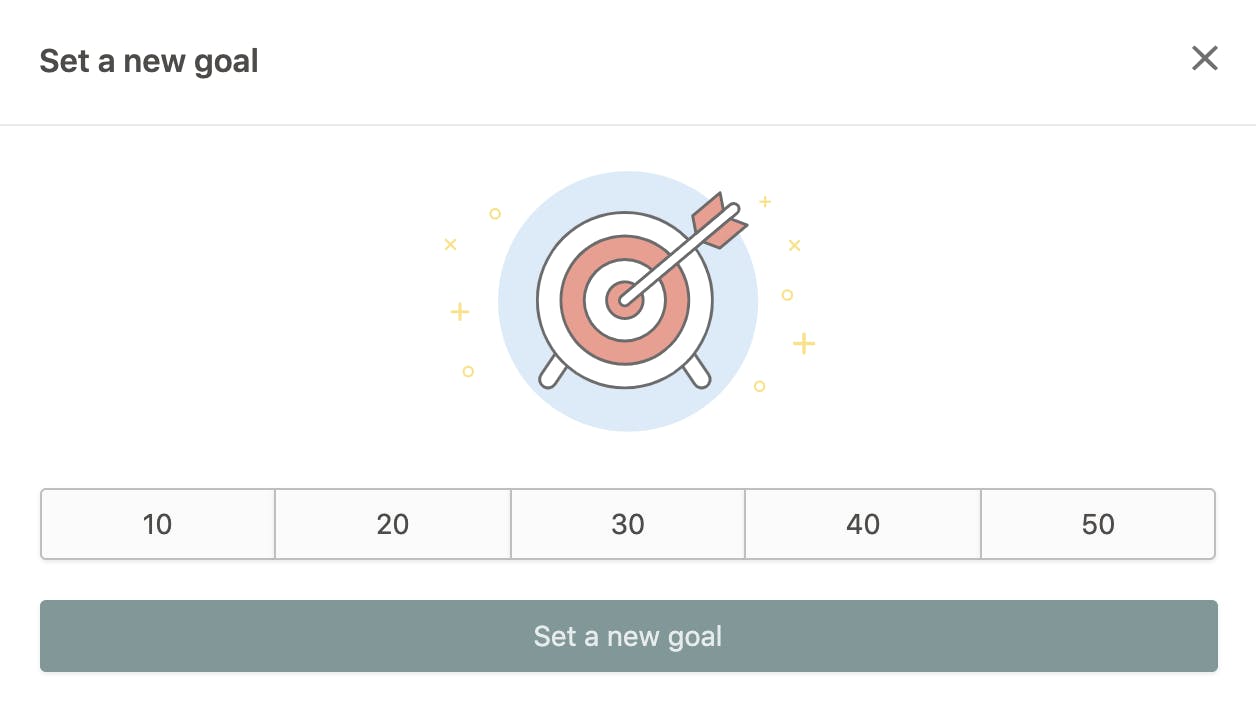 Once they achieve their target, you'll be prompted to send a fun Reward to celebrate their progress. Goals and Rewards are a quick, easy way to incentivize math practice and help your child collect extra in-game goodies!
Set Goal now!
Teachers: here's what you need to know
After a year of remote learning, we know teachers like you are looking for efficient ways to help students catch up and prepare for the next grade level. 
The new Arena is the perfect formula for easy math teaching and fun math learning — it's 100% math-tastic! 
Keeping your students engaged with math is easier than ever with all the new features the Arena has to offer. 
Once you've shared the awesome news with your class, here's what to do next: 
1. Check student progress and understanding
Use your custom teacher reports to track learning progress and see which math concepts your students have been excelling or struggling with in Prodigy.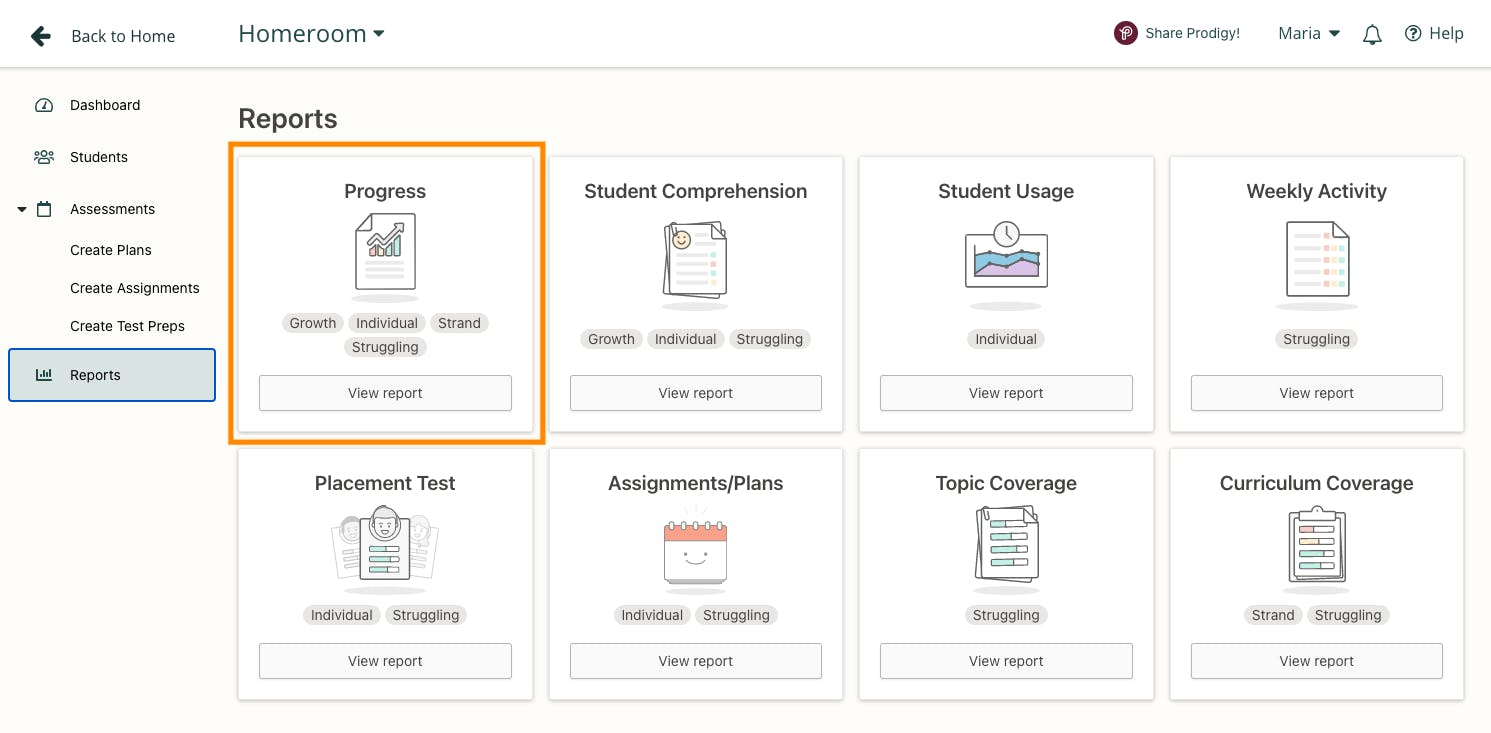 For example, your Progress report shows you:
Month-over-month comparisons
The list of students in each category
A breakdown of performance in each domain
The percentage of students performing at and above, below, or well below grade level
These details will help you understand where students need more instruction or practice going forward. 
2. Differentiate through Assignments
Set specific Assignments for students or groups of students in your class based on the data in your teacher reports.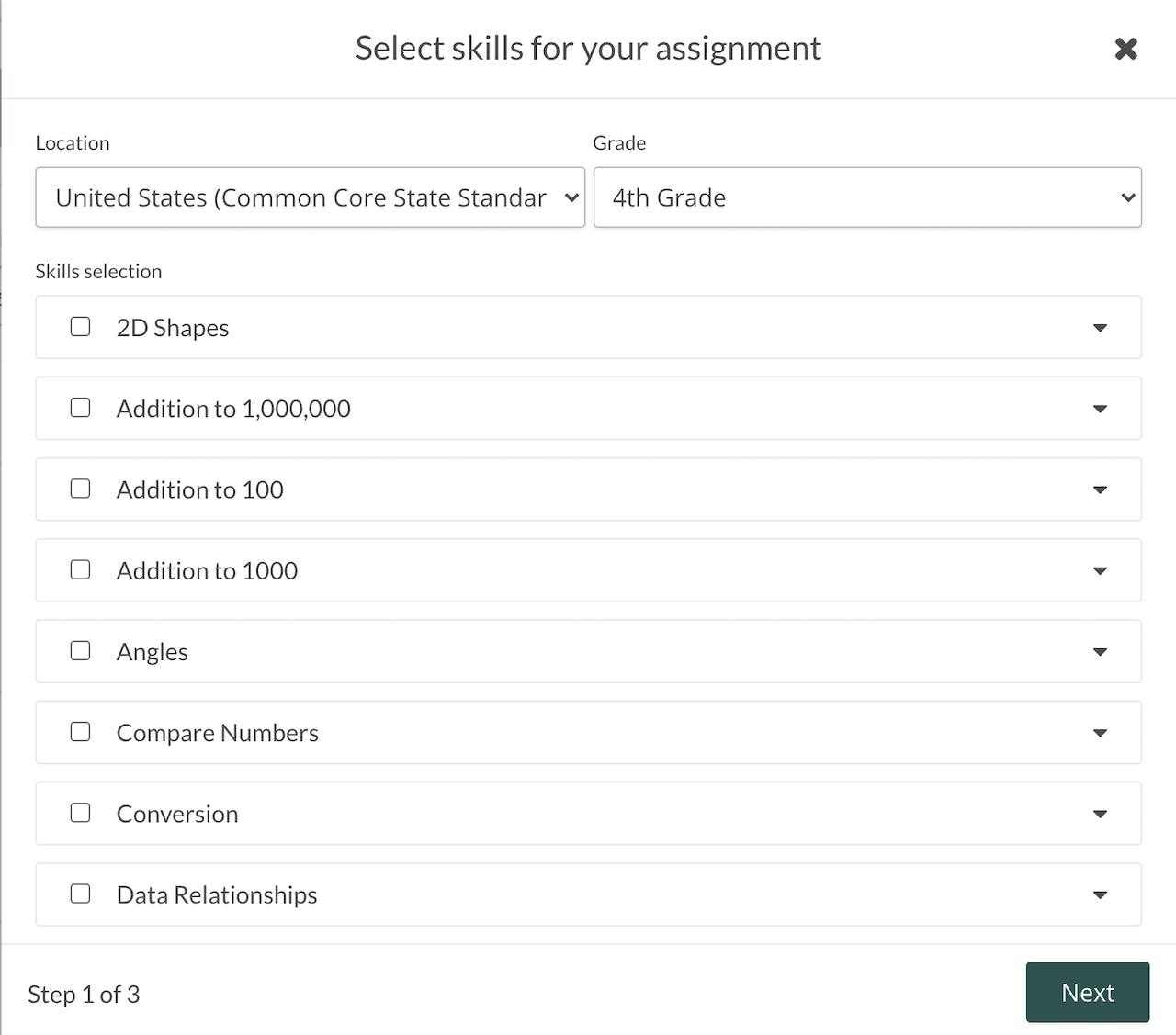 Customizing the math content students encounter in Prodigy will help you:
Once you set your Assignment, students will receive questions based on the exact skills you want them to learn whenever they log in to battle at the Arena! 
Set Assignment now!
3. Assign Prodigy time
Whether your students are learning at home or in class, making time for Prodigy is a fun, easy way to give them independent math practice and reinforce what you've been teaching.
Assign Prodigy for homework or as:
New challenges and more math practice awaits at the Arena.
Ready to begin the journey?
Log in to Prodigy now!