Make learning fun, adaptive and insightful
Engage students, differentiate content and discover learning insights with Prodigy's game-based learning platform for math and English.
Educators, get full access for free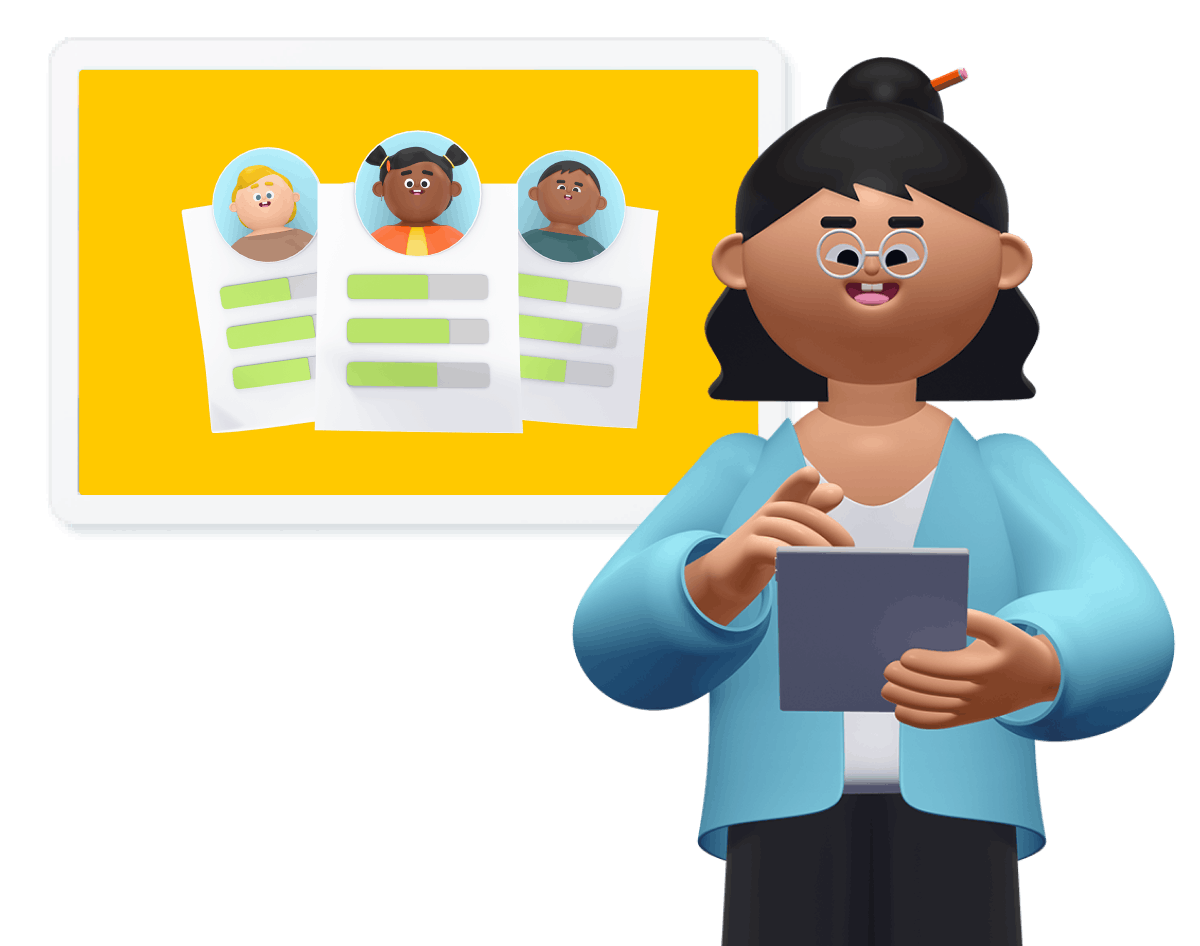 97% of teachers are satisfied with the educational impact of Prodigy Math*
"In less than 12 months... I've got kids that have elevated two to three grade levels. That's huge when you look at those kids who've grown three grade levels with everything that's going on."
5th Grade Teacher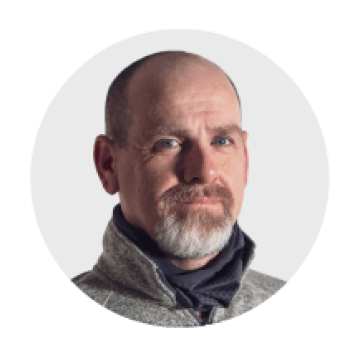 "Having access to Prodigy really helps supplement our math learning and tells me what areas of the curriculum I need to add more focus on. I think all teachers should use Prodigy if possible because it is an amazing learning tool."
6th Grade Teacher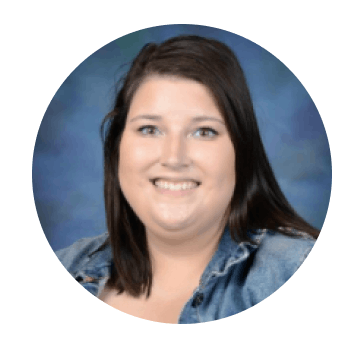 "My son actually begs me to let him play Prodigy."
Parent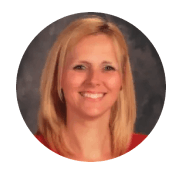 Endless engagement. Adaptive content. Standards-aligned.
Millions of teachers use Prodigy to skyrocket engagement, differentiate instruction and help students enjoy learning!
Engage your students with two unique, game-based worlds where they'll pursue new learning adventures.

Easily differentiate and let our adaptive algorithm highlight areas of progress – all with automatic grading and insights.

Confidently deliver content in math and English that aligns with your classroom and curriculum standards.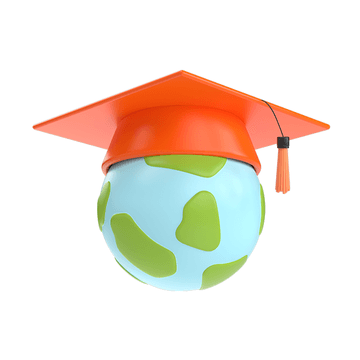 Aligned to your curriculum
With over 1,500 teacher-made skills, Prodigy Math covers content from 1st to 8th grade. Prodigy English supports learning from 1st to 6th grade, with more skills on the way!
How Prodigy works



Boost engagement in your classroom with two captivating learning games.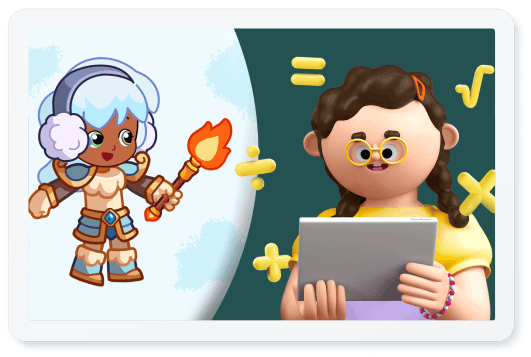 Students play Prodigy games
In Prodigy Math, students are wizards engaged in epic math battles. In Prodigy English, students collect and harvest resources to build their very own world.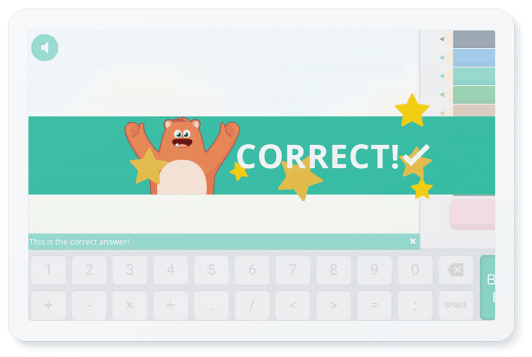 Students answer in-game questions
As they battle or build, students answer questions to progress. All question content is teacher-made and is delivered through our adaptive algorithm.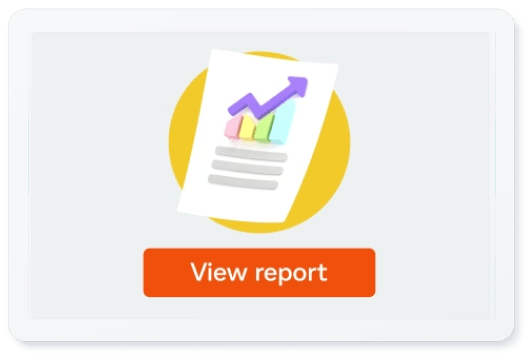 Teachers motivate & track learning
As they play, student data appears in your teacher dashboard, which will help empower you to better understand your students' needs and deliver assessments.
Level up learning with your free teacher portal
Use your teacher portal and its free features to deliver better student outcomes.
What teachers have to say about Prodigy

Frequently Asked Questions
How is Prodigy free for teachers?
Prodigy is a completely free resource for teachers, designed to support learning and ease classroom budget constraints. Over 800,000 teachers use Prodigy annually at no cost, including access to thousands of standards-aligned questions in math and English.
Offering free in-game educational content enjoyed by millions of students, Prodigy is sustained by optional parent memberships that provide additional gameplay features and promote family engagement. 
Why should I choose Prodigy?
There are lots of options when it comes to online tools for your classroom. But would your students love using them as much as they'll love Prodigy?
Prodigy doesn't just give your students a way to practice math and English. It turns classes into exciting worlds filled with quests, creativity and rewards.
While students play, our adaptive algorithm delivers questions that keep them engaged without getting frustrated. Whether they're playing at home or at school, Prodigy can help your students discover a passion for learning.
How does Prodigy support my everyday classroom instruction?
We're here to make your job as a teacher easier. That means:
Allowing you to customize the content your students receive in-game
Engaging students so they're excited to learn and spend more time on task
Providing you with the real-time data you need to make important teaching decisions
We always recommend taking advantage of all the tools Prodigy's platform has to offer. But we also know that #TeacherLife is busy. No matter how you use Prodigy, you can rest assured that students are always answering adaptive, standards-aligned questions.  
Plus, Prodigy teachers can get extra time-saving tips in our teacher community on Facebook.
How does Prodigy protect student privacy?
At Prodigy, protecting the privacy of students and teachers is paramount. That's why we've partnered with an independent privacy expert (iKeepSafe) to ensure full compliance with all federal privacy legislation – like FERPA and COPPA – as well as state-level legislation. 
When students play Prodigy Math and Prodigy English, no personal information or inappropriate language can be shared with or seen by other users. 
Is Prodigy aligned to my school, state or national standards?
Yes, Prodigy aligns with school, state, and national standards. 
Prodigy Math offers comprehensive coverage for a wide range of curricula in the US, including Common Core, TEKS (Texas), SOL (Virginia), and many more state-specific standards. It also provides coverage for curricula in Canada, Australia, India, and the UK. 
Prodigy English currently aligns with Common Core standards for grades 1-6, with more coverage on the way.
For a full breakdown of all the standards and skills Prodigy covers, see our math curriculum coverage and English curriculum coverage pages.
What do students see when playing Prodigy?
What students see will depend on whether they are playing Prodigy Math or Prodigy English.
In Prodigy Math, students customize their character's appearance and engage in an immersive storyline with math battles against Prodigy creatures. The math question interface offers video lessons, hint bubbles, and text-to-speech support, along with tools like digital manipulatives. Correct answers progress the game, while incorrect answers result in a missed move. The engaging battle aspect of the game motivates students and builds their math confidence as they answer standards-aligned questions.
In Prodigy English, students immerse themselves in building an online village while mastering curriculum-aligned reading, writing, and language skills. As they explore and collect supplies, students answer standards-aligned questions to earn energy, which is essential for improving their village and progressing in this sandbox-style game.
Can I select content based on what I'm teaching in class?
Yes, you can select content in Prodigy based on what you're teaching in class. The platform allows you to align the in-game questions with your current curriculum, ensuring that students practice and reinforce the concepts you're covering in class.
What are Prodigy's Memberships?
Prodigy's Memberships are paid subscriptions that unlock extra in-game features and benefits for students. These engaging and fun incentives can help boost the time spent learning and answering math and English questions. Members can also become more motivated to spend extra time playing Prodigy and level up their math skills. The more students play, the more insight teachers can get into their progress and learning.
Parents also benefit from a Membership too. If a student already has one, their parent or guardian will automatically be able to get the following features in their parent account:
Printable Practice Sheets
The ability to Cheer Them On in-game when learning
Gain access to a variety of Video Lessons to support their education
Set learning goals and send exclusive in-game rewards to motivate your child
See how many questions they answer, the grade level they are performing at and the areas where they need more practice via the Practice Areas
Get extra insights to support their child's learning even more with access to a Curriculum Progress report and monthly Report Card to track their performance
Our mission is to help every student in the world love learning. Memberships not only support your child's development. They allow us to continue providing all of the educational content in our games to students and schools for free.
Note: Prodigy Memberships purchased through the Prodigy iOS app can only be canceled by following Apple's auto-renewal subscription cancellation procedure. For more information about memberships purchased through the iOS app, see our helpdesk article.