20+ Fun Bulletin Board Ideas for Back-To-School from Creative Teachers
All Posts

Written by Maria Kampen
Teachers
Help inspire your students to love learning with Prodigy's online learning platform.
See how it works
Back to school is a busy time: creating seating charts, setting out classroom rules, welcoming new students, organizing parent-teacher conferences, and getting students adjusted to a new grade. 
One thing you shouldn't have to worry about? Coming up with unique bulletin board ideas for the beginning of the school year and beyond.
Colorful classroom bulletin boards are a great way to get students excited to learn new concepts, show off their work or celebrate a holiday. That's why we've put together a list of ideas you can use in your classroom, plus tips for bringing your best bulletin board ideas to life!
At the end of our original list, we've also added a few social distancing-friendly bulletin board ideas to encourage a safe and healthy school year.
20+ Bulletin board ideas
1. All about me
Kick off the first day of school with a get-to-know-you session and an art lesson! Have students draw a self-portrait and attach some basic facts that introduce them to the whole class.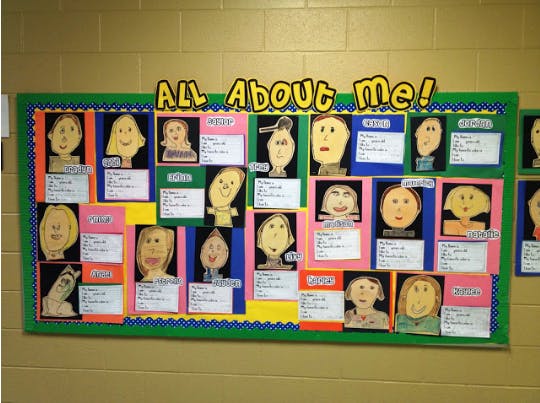 2. Keeping it cool
Welcome students to a new classroom with a fun bulletin board or door display that reminds them of summer and gets them excited to start learning.
3. Set goals
Create bulletin boards with an uplifting message to promote a growth mindset in your classroom. 
4. Stay positive
With the power of positivity behind them, there's no limit to what your students can accomplish!
5. Make expectations clear
Classroom rules are an essential classroom management strategy and can help promote a safe and positive learning environment. Coming up with the rules might be a little boring, but that doesn't mean they can't look cool!
6. Don't forget to celebrate
There's nothing worse than forgetting a student's birthday. Make sure everyone's special day is celebrated in your classroom with these birthday bulletin board ideas!
7. Prodigy Wizard of the Month
There are so many great ways to celebrate student achievement in the classroom, but we've got a soft spot for Prodigy-themed bulletin boards — and this one is particularly impressive!
Patricia G., a technology instructor at Eastwood Elementary School, created this bulletin board to reward students who answered the most questions in-game every month with a place of honor.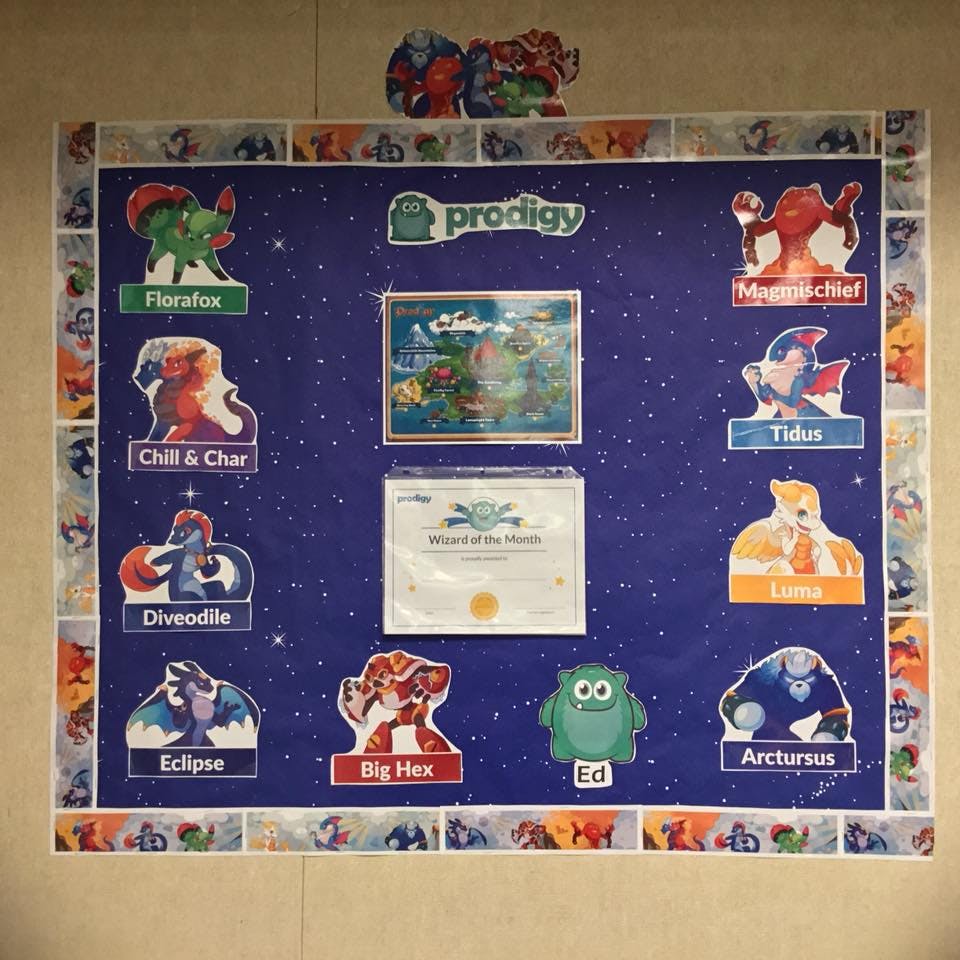 (Pssst, the image above is how we used to look but a lot of things changed in August 2020. We've got a new name, a new Ed, a new look and more. This one-and-a-half-minute video sums this new chapter up perfectly:
8. Prodigy brag tags
Katie G., a 4th-grade math teacher at Cardinal Local Schools, created this bulletin board to show off her student's progress through Prodigy! 
When students level up (every 10 levels), they get a new brag tag. Plus, each student has their name and their in-game name listed so classmates can play together.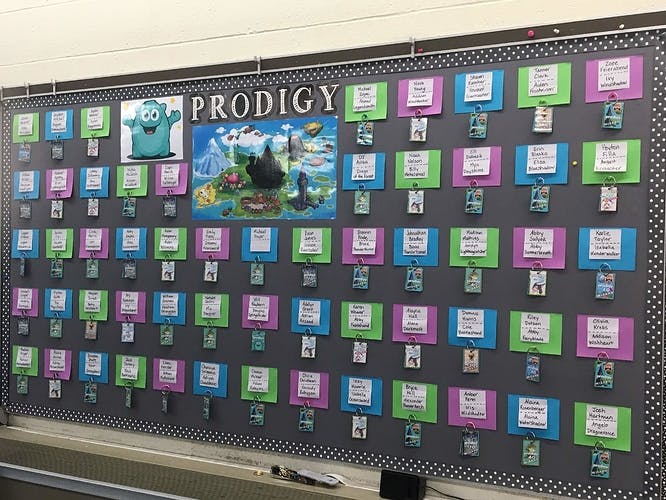 9. Fall into the new school year
Leaves, pumpkins, thanksgiving, changing colors — fall is a back-to-school bulletin board staple.
10. Winter is coming
For many students, winter can be cold, dark and lonesome. Remind students of all the good things this snowy season brings with some cheerful winter bulletin board ideas.
11. Celebrate spring
Get students excited about melting snow, fresh flowers and April showers. Spring bulletin board ideas are sure to add a pop of color to your classroom.
12. Countdown to summer
Summer is just around the corner. Students (and teachers!) can't wait for the end of the school year, so start counting down the days with these summer bulletin board ideas.
13. Ho-ho-holidays
Whether it's a quote from a popular holiday movie or an over-the-top Christmas tree, these Christmas bulletin board ideas will get students in the holiday mood.
14. Stay thankful for thanksgiving
Remind students they're #blessed with these thanksgiving bulletin board ideas — turkey dinner not included.
15. Get spooky
These Halloween bulletin board ideas are a great way to bring just the right amount of scary into your classroom this October.
16. Make it educational
Use these math bulletin board ideas to entertain and educate your students as you start a big math unit.
17. Start experimenting
Have a classroom full of mad scientists? Recap recent units or give students a chance to display their own scientific conclusions with these science bulletin board ideas!
18. Promote a love of literacy
Build a classroom full of avid readers and writers with literature-themed bulletin boards. Encourage students to read more books at their skill level, or display students writing projects for the whole class to see.
19. Blast from the past
Celebrate important historical moments or themed history months with bulletin board ideas to get students engaged and thinking about historical events.
20. Get creative
Use your bulletin board as a way to display student artwork or to get students inspired when they're creating their next masterpiece.
21. Stay safe and healthy
If you're back in the classroom, use a friendly bulletin board and encourage students to follow your school's health guidelines and stop the spread of COVID-19.
Love these bulletin board ideas?
Pin it and save it as inspiration for later! While you're at it, follow us on Pinterest for even more great teacher tips and classroom ideas.
Tips for making the perfect bulletin board
Are you wondering how to pull off all your amazing bulletin board ideas? Here are some of our tried-and-true teacher tips for an easy classroom bulletin board:
Start with a solid foundation
If you're using paper for your bulletin board, pin it on the board the day before you staple it. This will help it hang flat and make it easier for you to decorate.
Using fabric as a bulletin board background is also an option. Unlike paper, fabric doesn't rip or tear easily and automatically lays flat. Since it's more durable, you can redo your bulletin board more often before you need to replace the background.
Bulletin board border ideas
Sure, you could use just one border — but why not use two? Doubling up borders adds extra texture and color. Try using three borders for even more texture and visual interest.
If you have extra border material, don't cut it off — you (or another teacher) might want to reuse it in the future. Fold any extra under so it's ready to go next time you need it.
Pull it together
You've got a border, a background, and a theme. But how do you get straight lines and picture-perfect angles?
Before you staple everything on, save yourself some trouble and pin it to the board with thumbtacks or sticky tack. You'll be able to see what it looks like and fix any mistakes before committing to placement.
Think outside the bulletin board
Are there any other blank spots in your classroom? Spots like the front of back or doors make perfect canvases for your next best bulletin board idea.
Get your students involved
Hang student artwork on the walls for visitors and students alike to admire. For an even bigger impact, make sure it's work students put a lot of effort into, such as: 
A writing assignment 
A science experiment 
An art project
You'll motivate students and have a cheerful, colorful classroom! 
Don't stress
Remember the KISS method:Keep It Simple, Silly. 
Teaching is hard work, and should always take priority over classroom decorations. Students aren't going to care if letters aren't perfectly laser cut or if pictures hang slightly to the side. Focus on supporting them in their learning and make sure they're developing necessary skills. The rest is just an added bonus!
The best bulletin board ideas
Have fun with your classroom bulletin boards — don't let them become a source of stress. Use the examples above to create a bulletin board that suits your classroom and your learning goals. 
Students are ultimately at school to learn, and bulletin boards can motivate, inspire or educate them as they work to meet their goals. 
So get out your craft supplies, and good luck!
Prodigy Math is an adaptive math platform that's used by over 100 million teachers, parents and students. Make math fun and engaging at school or at home. Learn more about how to use Prodigy in your classroom.
Get started now!