[Free Download!] Weekly Activities to Help Your Child Learn This Summer
All Posts

Written by Laney Kennedy
Did you know?
Prodigy's online games can help your child grow their math and English skills, all while they have fun!
See how it works
This summer, you and your family might be spending more time at home than usual.
That's why at Prodigy, we're here to support you, week-to-week, to help prepare your child for the new school year. 
Download and print our helpful resources below, created by our very own Prodigy teachers!
Prodigy's Calendar of Activities
Our Prodigy teachers work hard to create in-game math questions. But as teachers and parents, they want to help moms and dads, too.
We created a learn from home schedule, arming you with new activities every week to keep your child engaged and help them learn — all while having fun!  
Every day, you're given one activity from each of the following categories: 
Numeracy
Literacy
Physical 
Social and emotional 
This provides plenty of variety in different subjects for your child to practice, ensuring they're building important skills without getting bored.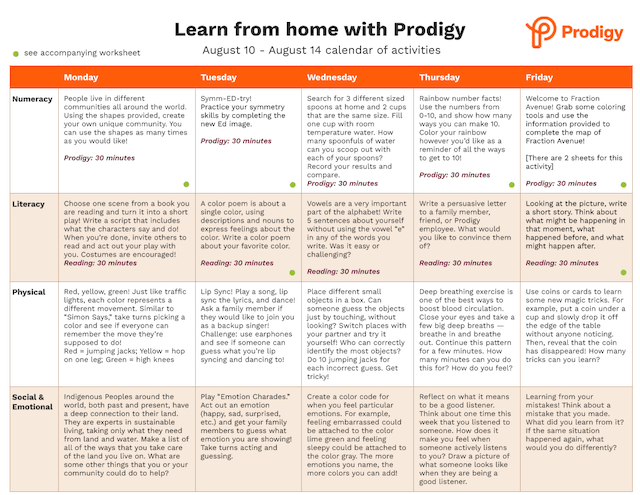 Download Prodigy's weekly calendar of activities like the one above!
Download the calendar now to use with your child this week!
Prodigy Summer BINGO
Our BINGO card and accompanying worksheets are filled with fun activities for your child to try all summer.
Plus, as they work through the Prodigy Summer Question Quest, they can check off BINGO squares for that number of questions. It's a great way to track progress and motivate them even more.
See if your child can complete the BINGO activities by the end of the summer!
P.S. Follow #ProdigySummerQuestionQuest on social media for regular updates on our progress!
More reasons to play (and learn!) with a Premium Membership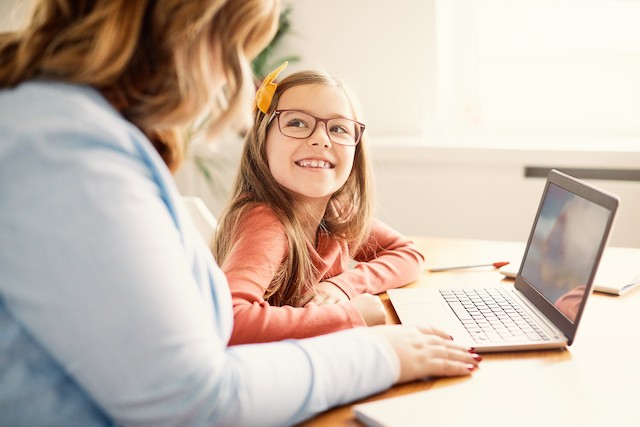 A Premium Membership unlocks extra features and fun rewards that gives your child even more reasons to play Prodigy and practice more math skills!
And when you give your child a Premium Membership, they'll also get a free online 1:1 tutoring session with a certified Prodigy Math Tutor.
Give your child a Premium Membership
Want more helpful advice and support? Join our Prodigy Parent Community!
While your child learns from home, our Facebook community can support you with:
The latest Prodigy tips and tricks (shared weekly!)
Information on in-game features as soon as they're available
Useful tips on how to help your child learn from home
Plus, you'll be joined by like-minded parents who are dedicated to helping their kids grow, just like you. 👪
Are you a teacher using Prodigy? 👨‍🏫👩‍🏫 We've included Prodigy play every day to keep your students practicing. If you haven't yet, use the Assessments tool to create a Plan, Assignment or Test prep to keep them practicing curriculum-aligned math while they learn from home!
Create alignment now!