10 Educational Goal Examples to Keep Kids Motivated
All Posts
As your child progresses through school, they'll be expected to reach certain milestones. Setting educational goals at home is a great way to help them achieve academic success. 
The right goals can help your child stay motivated while also teaching valuable life skills. And it's always a great time to sit down as a family for a chat about your child's dreams and how you plan to work towards them.
As you and your child work through their educational goals, set them up for success with the list of goal-setting examples below. It's time to make some plans! 
Looking to set broader goals about anything and everything? Let our family goal examples and free downloadable template help you keep your family on track!
What are educational goals?
Educational goals are a set of learning achievements your child plans to accomplish in the school year. 
Our tip — set some educational goals for yourself while you help your child with theirs. This will help your child see that learning is a lifelong pursuit, and it's a great example to set for your family!
Benefits of educational goals
There are many benefits to setting educational goals. Of course, they can help your child improve their performance in school. But as they plan and work towards a goal, they're also practicing many valuable skills they'll use throughout their lives. 
Here are just a few benefits of setting educational goals:
Provides a confidence boost
Encourages practical problem solving
Can increase grades and academic performance
Helps improve critical thinking and analytical skills
Can help students improve time-management skills
Provides good practice in setting future career and life goals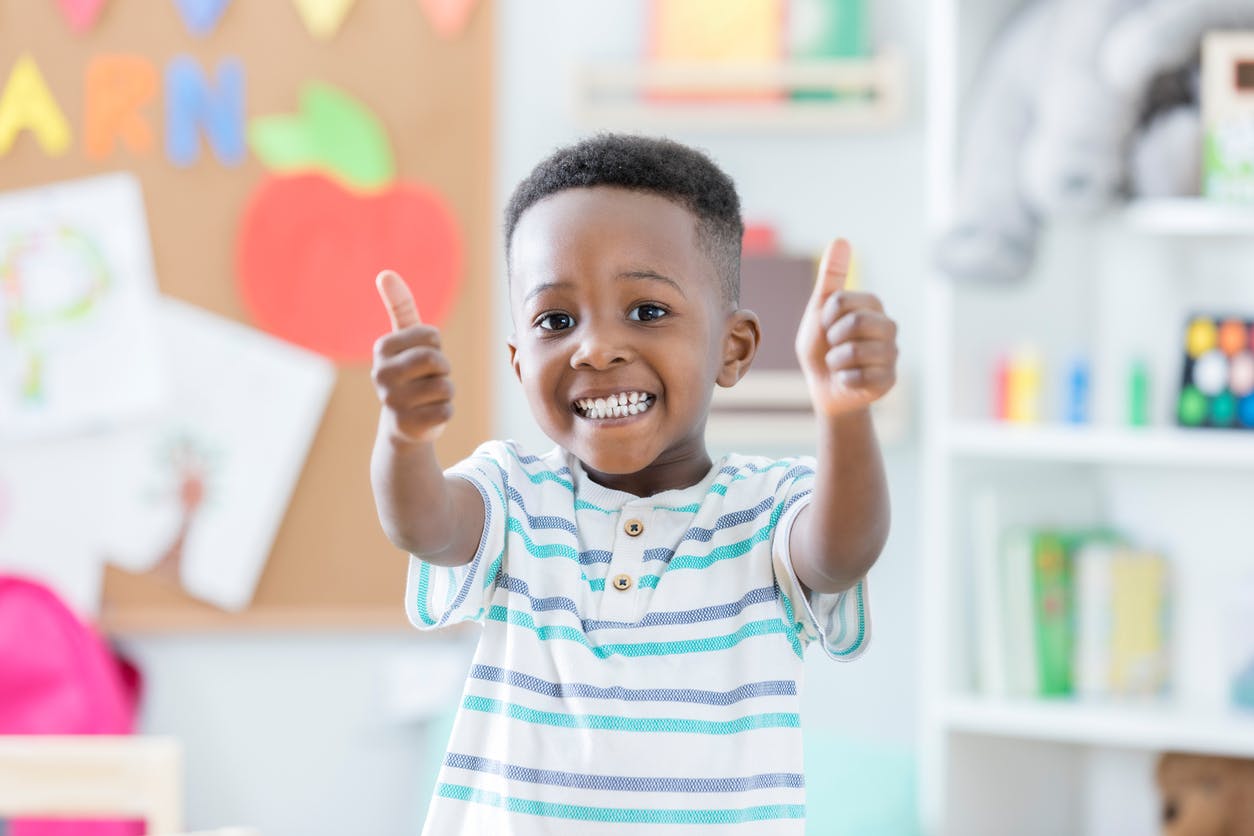 Setting SMART goals
Not all goals are created equal. The SMART formula for setting goals is a great way to ensure your educational goals stay on track, keeping your child motivated and accomplishing more. 
How do you set SMART goals? Let's break down the acronym.
S — Specific
Vague goals are less likely to encourage change, so help your child get as specific as possible with their plans. Instead of setting a goal to study more, plan to study for an extra 30 minutes after dinner every day. 
Help them set more specific educational goals by asking the "w" questions:
Who will help you?
What do you want to achieve?
Where is this going to happen?
When will your goal be achieved?
Why are you choosing this goal?
These questions won't all be relevant to every goal, but it's a good idea to dig into the details with your child so they can always set specific goals.
M — Measurable
How will your child know they've reached their goal? Choose goals that are easily measured. 
Aim for a specific test score or GPA, rather than trying to simply increase your grades. Or instead of only saying you'll read more, decide on a set amount of pages or chapters you'll read every evening before bed. 
As your child consistently reaches these milestones, they're also establishing better habits. And that's amazing! Don't forget to take time to celebrate their accomplishments as they tackle their learning objectives.
A — Achievable
We want our children to reach for the stars, but it's best to keep their educational goals within reach. That doesn't mean your child can't have big dreams. But these larger goals should be broken down into smaller, bite-sized objectives.
One of the best ways to stay motivated is to see and feel the results of your hard work. Make sure your child continues making progress. Help them choose realistic, short-term goals as they work toward bigger plans.
R — Relevant
Help your child set goals that line up with what they actually need to be working on. Find out where they're struggling or what they'd like to improve on, and keep those in mind while crafting goals.
For younger students, be sure they're covering all the foundational knowledge needed to progress to the next level. For older students, help them plan for college admissions or their new career. Keep their goals in line with those bigger life plans, to help them stay motivated and moving forward.
T — Time-Bound
Choosing a deadline is an important part of every SMART goal. Don't leave goals open-ended. Decide exactly what needs to be worked on, and when it's going to be accomplished.
Even if a deadline is self-imposed, it can help keep your child on track. If they have a large research project to complete, break it into smaller steps. Set personal deadlines several days before the actual deadline, in case they run into any delays.
If your child is always struggling to finish a task on time, this is a chance to review the goal and re-evaluate their methods for achieving it. Does this goal need to be broken down in smaller, more manageable objectives? Does their goal line up with their larger plans? Placing a timeline on a goal makes it much simpler to analyze and track progress.
If you follow this formula, your child is more likely to reach their educational goals. Up next — examples of SMART educational goals they can personalize and use to keep their learning on track.
Top 10 educational goal examples to try
Need some inspiration for SMART learning goals for your child? Here are 10 examples of educational goals you can modify to fit your child's plans and desires. 
1. Improve reading comprehension 
SMART goal example: "To improve my reading comprehension skills, my parents and I will spend 20 minutes reading together every day this month."
Many early readers struggle with reading comprehension. Reading is a new skill, and often students put so much focus on deciphering the words that they lose the meaning. 
Spending time reading together can help your child slow down and focus on the story. You can help point out the major plot points and characters while asking questions about what they believe may happen next. Bonus — this is a great way to spend more quality time together!
2. Practice (and master) multiplication facts 
SMART goal example: "Until my next math test, I will practice recalling multiplication facts for an extra 10 minutes every day."
A quick recall of multiplication facts can help your child as they move into more complicated math. Just a few extra minutes drilling these math facts each day can help improve confidence before moving into division work. Tip: make the subject a little more exciting with fun multiplication games!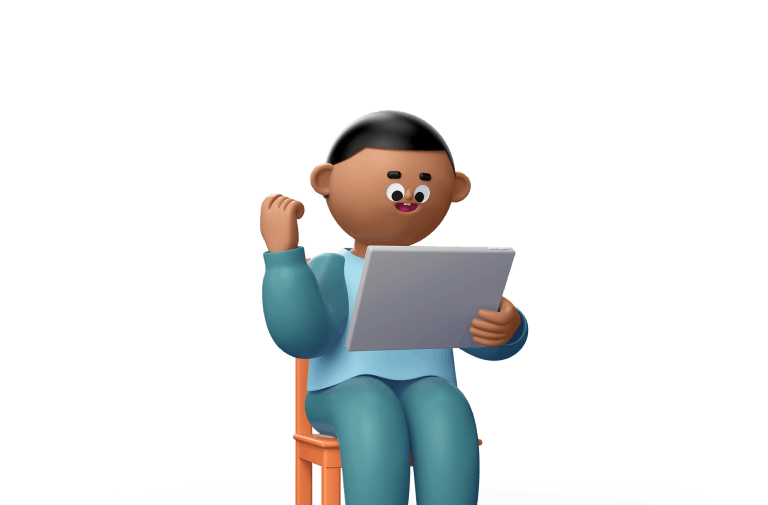 Set goals and rewards in just a few clicks
With Prodigy Math, parents can pick goals for their child and give them in-game rewards – all while they have fun building their math skills in our adaptive math game.
See how it works
3. Raise overall GPA
SMART goal example: "I will study for 30 minutes each day and take on extra assignments to raise my GPA by half a point by the end of the school year."
If your child is preparing for the next grade level, high school, or even college, they'll have a better chance of succeeding with a boosted GPA. This is a great goal, but they'll likely need your help to break this down into smaller segments.
What can they improve upon to help them reach this goal? How much extra time do they need to study to raise their grades? Ask them some questions to help them detail the steps they need to reach this goal.
4. Improve time management
SMART goal example: "I will finish my homework 30 minutes earlier, so I have more free time every evening."
This is a great time-management goal! To help them achieve this, encourage them to lay out a schedule for the week based on their upcoming assignments. Then they can block off their time to help them focus on each task.
Do they find themselves getting distracted? Help them identify what's in the way and remind them that the better they focus, the quicker they can wrap things up. 
5. Make time for artistic pursuits
SMART goal example: "I will set aside two hours every weekend this year to work on my own creative projects."
Like the goal above, this is a time management goal with a strong motivator. It's important to make time for your passions. Help them organize their time so they are completing their homework ahead of schedule, leaving more of their weekend for writing, painting or music.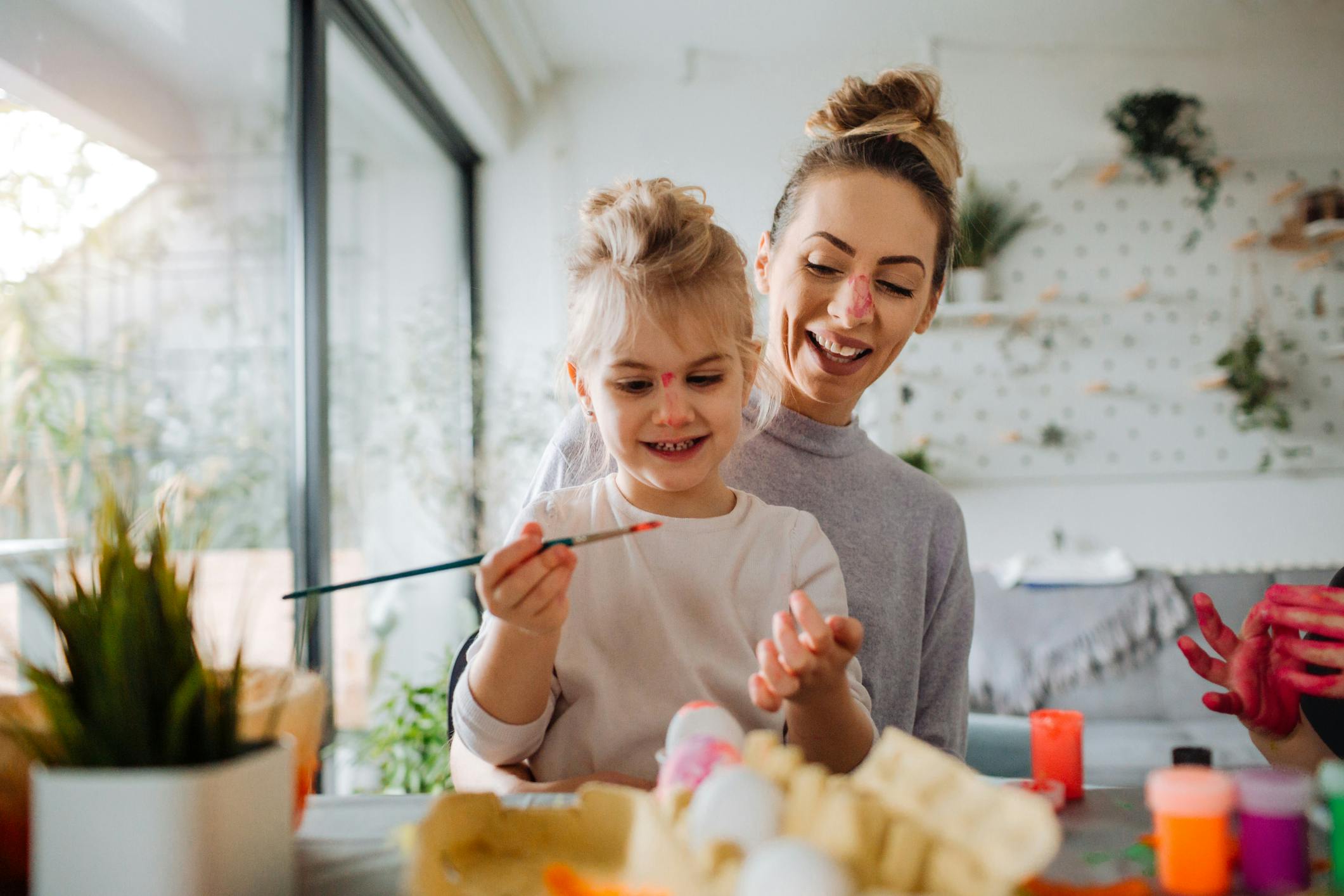 6. Improve public speaking skills
SMART goal example:  "I will work to speak with confidence while presenting my book report at the end of the month."
Public speaking is something many students (and adults) struggle with. But it's an incredibly helpful skill to take into the world. To help your child build their confidence, talk through their concerns and work on a practice plan together.
This is another big goal that may require several steps before reaching it. But with a set timeline and a plan, they can tackle their classroom report with confidence.
7. Sign up for extracurricular activities
SMART goal example: "I will look online for an enjoyable extracurricular activity and sign up before classes start next semester."
Extracurricular courses and activities are great for building a resume or college application down the line, but choosing one can be tricky. Help your child explore their options (and try a couple out) to find something they'll enjoy. Their plate is full enough without adding a new chore to their week.
8. Socialize with peers
SMART goal example: "I will talk with someone new during recess every week this month."
Some kids struggle with making new friends. But social emotional skills are something they can practice along with their studies — and they're just as important!
This goal is a simple way to encourage your child to step outside their comfort zone. Will it result in new best friends right away? Maybe not. But by taking a chance, they'll learn how to talk with new people, and may even help another child feel welcome.
9. Avoid procrastination
SMART goal example: Instead of waiting until the last minute, I will complete all my assignments this school year at least one day early.
Oh, procrastination — this is one difficult habit to break. But with the right goal, you can help your child establish better habits early.
Encourage them to set personal deadlines for assignments that leave plenty of time for work to be completed. Help them break down long-term projects and place mini deadlines on their calendar. Then give them gentle reminders to stick with it.
With enough practice, they can find the motivation to work ahead of deadlines — no longer needing that clock ticking behind them to get it done.  
10. Raise test scores
SMART goal example: I will spend an extra 40 minutes, three times a week, reviewing and practicing my math work to improve my math test scores by 10%. 
If your child is scoring low on their tests, help them set aside some extra time to review and practice. An attainable goal will tell them exactly how to schedule their time without feeling overwhelmed.
This extra study time doesn't have to mean more time completing boring worksheets at the kitchen table. 
Try to find new and interesting ways to incorporate learning practice and help new ideas stick, like using Prodigy Math or Prodigy English! In these online games, students will complete fun quests and activities, while answering curriculum-aligned questions tailored to their progress and grade level. When learning is fun, it's easy to find more time for it!
Make learning fun for my child
5 Tips for achieving educational goals
Setting goals often feels a lot easier than checking them off. But it doesn't have to!
Here are a few ways to help your child stay on track and reach their goals. 💪
1. Keep goals SMART
Double-check their goals against the SMART formula above. Are they specific, measurable, attainable, relevant and time-bound? If not, rework them.
2. Break down large goals into several smaller ones
If your child can't achieve their goal in a week, they need to plan for the longer term. Help them figure out which steps to take to work up to their bigger goal.
3. Celebrate the wins
Whether big or small, take time to celebrate your child's accomplishments. It's difficult to break bad habits and establish new ones. Make goals positive and keep the momentum going with ice cream breaks and impromptu dance parties!
4. Learn from falling short
If your child sets a goal but doesn't achieve it, that's okay. We're not always going to succeed, and that's its own valuable life lesson. Take this time to review the goal and their attempt at achieving it, then try again with a new plan.
5. Don't be afraid to shift plans or goals
If you help your child develop a plan, encourage them to stick with it. But if it's clearly not working or is stressing them out, don't keep pushing. Take a step back and re-evaluate. Examine their wants and needs and set a new path to success.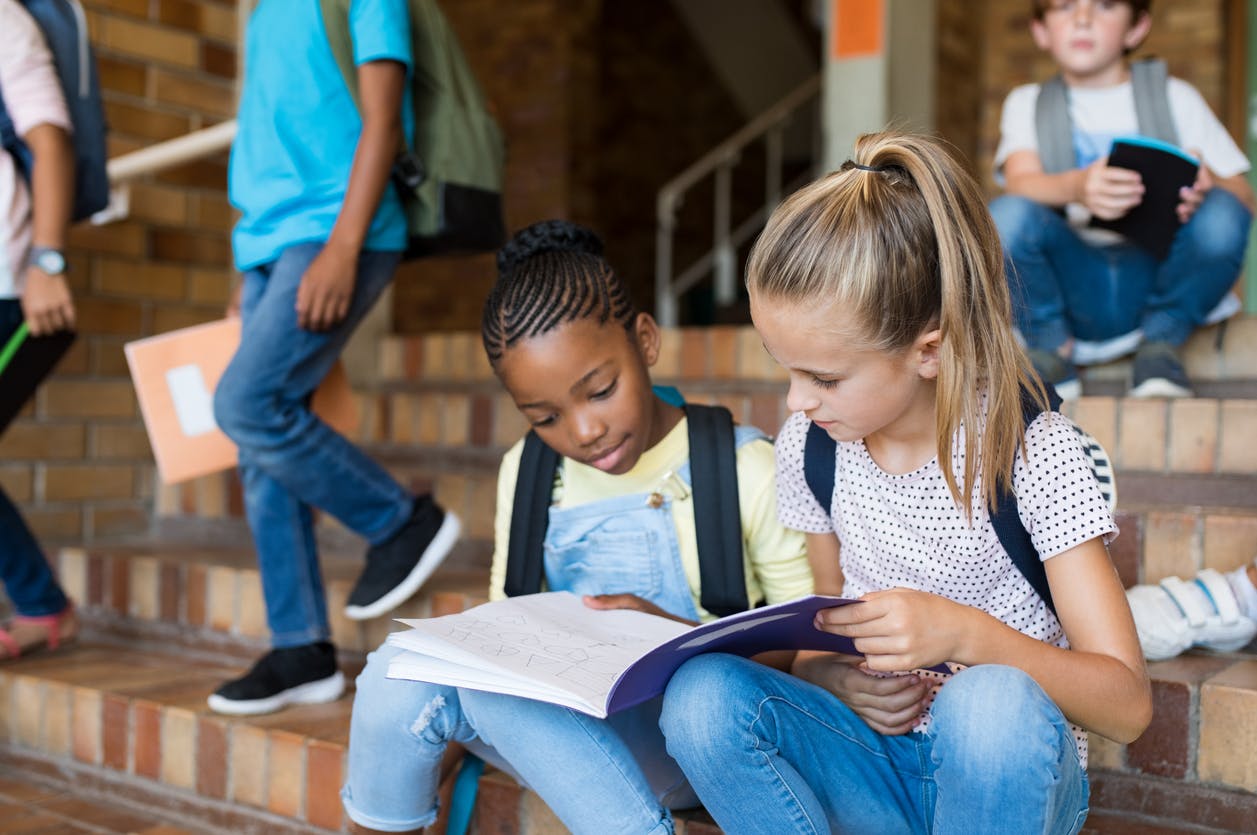 Start achieving educational goals with Prodigy!
If your child is lacking the motivation to set educational goals, bring back the fun with Prodigy! With Prodigy's Math and English games, you can set learning goals with your child they'll be excited to keep. Play 20 more minutes of my video game every day? Yes, please!
The best part? That 20 minutes could help them boost their math and language art skills, so they can stay on track and ready for those end-of-year tests. They're accomplishing their goals, and you can celebrate their educational wins. 
Learn more about how Prodigy helps your child reach their learning goals.
Learn more about Prodigy