8 Fun Ways to Engage and Reward Students with Prodigy
All Posts

As a teacher, you're always thinking of new ways to motivate students in the classroom. After all, when students are engaged and excited about what they're learning, that's when the magic happens!
Prodigy Math Game makes math learning fun by turning it into an adventure filled with exciting pets, epic quests and amazing in-game rewards.
We've put together a list of next-level tips and tricks to show you how Prodigy can engage students and reward them for good behavior or classroom achievement.
How to use Prodigy to engage and reward your students
Students love to practice math with Prodigy Math Game! There are many ways you can use it to engage and reward students — and who better to ask than teachers from around the world who use our digital game-based learning platform in their classrooms daily!
1. Motivate students with a Classroom Challenge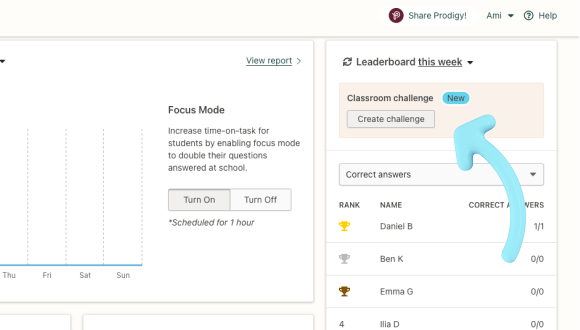 Bring some friendly competition to your classroom with Prodigy's teacher app feature, Classroom Challenge! 
A Classroom Challenge is a quick and easy way for you to motivate math practice. Set a challenge for anywhere from one to seven days and reward the top students on the Leaderboard with a downloadable certificate.
A Classroom Challenge doesn't just help increase your students' engagement and motivation. It also gives you the opportunity to:
Easily set flexible competitions in your classroom
Encourage students to complete Assessments faster 
Track what questions students are answering as they play
How to create a Classroom Challenge in seconds
Log in to your free Prodigy teacher account.
Select Classrooms from the navigation bar. 
Each classroom has its own dashboard with a Leaderboard. Under the Leaderboard, select Create Challenge.
Select the number of days you want your challenge to run. 
Use your Leaderboard to monitor progress for the duration of the Challenge. Filter student results by Questions answered at school, Questions answered at home and Correct answers for multiple insights!
Once the Challenge is complete, reward your top three winners with a downloadable certificate from your teacher dashboard.
Create a Challenge now
2. Prodigy competitions
"Currently, we have battles going between 4th and 5th grade classes. The teachers are keeping track of who wins the battles and are keeping score. The students are engaged and enjoy battling students in other classes." — Dianne Austin, 4th grade teacher, California
There's nothing like some healthy competition to encourage students to answer even more math questions.
Using the leaderboard on your teacher dashboard, reward players who answer the most questions per week with a special classroom privilege or small treat.
"Our school encourages students to play Prodigy at home with a school-wide competition. The class with the most questions answered gets a popcorn party!" — Melissa Muller, 2nd grade teacher, Texas
Encourage students to play at home and at school, and use your Weekly Activity report to see how many questions students answered and what skills they practiced. To find the Weekly Activity report:
Log in to your teacher dashboard at www.prodigygame.com
Select the classroom you want to view results for
Click Reports on the left-hand side of your teacher dashboard
Select the Weekly Activity report
You'll be able to see what students worked on in a given week and understand individual student achievement on each skill.  You can keep the competition in the classroom, or invite the whole school to join and reward the class that answers the most questions! Either way, you're sure to get all your students excited about using Prodigy to practice math skills.
3. Battle your students
"My Students LOVE to battle against me. However, once I lose a battle to someone I change locations and they have to find me again." — Katelyn Kutz, 5th grade teacher, Alabama
Students shouldn't get to have all the Prodigy fun! Sign up for your own student account, make an avatar and challenge your students to a wizard battle.
Just tell your students which world to select when they log in, then hide yourself somewhere on the map.
When your students find you, they can challenge you to a battle! Plus, they'll battle monsters they meet along the way and answer even more math questions.
"I have started doing 'pop-up battles' while I'm at home in the evening. I'll message my parents to tell them when I'll be on and where I'll be and encourage the students to find me and battle. I'll position myself so they need to battle a few monsters on the way to make it more challenging." — Zach Keeton, 3rd grade teacher, Ohio
While students are competing, make sure the questions they answer are aligned to your classroom. Use the Assessments tool in your teacher dashboard to set a Plan. Students will work through selected skills as they compete, dropping down to pre-requisites when necessary.
Create an assessment
4. Prodigy club
"We were having a real issue with children now getting into school on time recently. I now offer 20 minutes before school where the children can come into class to play Prodigy. As many don't have access to technology at home, this has been extremely successful." — Katy Piper, 5th grade teacher, China
Got students who really, really love Prodigy? Set up a Prodigy club where students can get together before school, during recess or after school to play Prodigy, swap tips and battle each other.
It's good for math skills, but it's also a great opportunity for students to demonstrate leadership and organization skills. Encourage students to organize it themselves and stick along for the ride!
We're using Prodigy first thing in the morning to encourage our children to be in on time — the earlier they get to school, the more time they have on it. We also run lunchtime clubs and have teacher accounts so the children can battle us." — Sophie Simmons, Year 4 teacher, United Kingdom
Use your Assessments tool and create a:
Test Prep to prepare students for state testing  
Plan to prepares your students for new math concepts
Assignment to assess student understanding of what they've already learned
5. Reward appropriate or on-task behavior
"If students earn behavior awards, Prodigy is often their go-to choice!" — Candice Sullivan, 4th grade teacher, Missouri
When your students get fidgety, it can be tricky to keep the classroom running smoothly. Just remember — if all your best classroom management strategies fail you, you can try offer your students a reward for completing a task.
Reward your students with Prodigy time when they:
Behave well for a substitute teacher
Demonstrate kindness to their classmates
Line up quietly and quickly for the whole day
Quickly transition from one subject to another
Or anything else you can think of — Prodigy can be a reward for any reason!
"The kids absolutely love Prodigy, so a lot of times it's a reward. They think it's solely a reward, but I know I'm collecting invaluable data that I can use to shape my instruction!" — Joshua Krause, 4th grade teacher, Connecticut
It's a win-win. Your students get to enjoy more Prodigy time and answer more questions, and you can use the data to make important decisions about your lesson plan.
After students have finished up their reward, use the Topic Coverage report to see student progress and trouble spots on a per-topic basis.
Did a handful of students struggle with fractions? Send an Assignment to individual students for extra practice and discover exactly where their trouble spots are.
Create an assessment
6. Student achievement
"A student who has attention issues gets Prodigy time as a reward when he gets his work done — and if he does this multiple times, he gets to pick a friend to play with him." — Lesley Pike, 2nd and 3rd grade teacher, Canada
Did your students ace their last test? Was every single scrap of homework completed for a whole week? Reward them with Prodigy time to keep them excited to learn.
"Prodigy is a reward and motivates students. The more they do and the more they are able to show, the better their chance of making it on Prodigy to get that extra practice." — Kyle Ridge, 4th grade teacher, Washington
While they're enjoying their reward, use your Assessments tool to set an Assignment and measure their progress on key skills. It's the best of both worlds: while they're being rewarded for their hard work, you're seeing how much they've mastered essential skills.
7. Free time
"Not only do I use Prodigy during my classroom math stations, I give it as an option during down time or indoor recess. The kids love to battle each other and figure out new tricks!" — Rainah Pray, 2nd grade teacher, Missouri
The results are in, and it's official: Prodigy is the number one most requested free time activity in grade school classrooms across the country!
Just kidding. We haven't done that study — yet. But with over 150 million registered students, Prodigy Math Game is certainly a popular choice for rainy days, Friday afternoons and students who finish work early.
"When students have extra time during math block or at the end of the day, they can play Prodigy as a reward for getting their work done. For some, this option motivates them to stay on task and complete the work they have been given so they can play the game with their friends." — Meghan Fleenor, 3rd grade teacher, Indiana
Prodigy is the ideal free time activity: students think they're playing a super fun online game, and you can set a Plan, Assignment or Test Prep that helps them master key skills or prepare for upcoming state tests.
Create an assessment
8. Show off student progress
"Outside of my classroom, we have a large Prodigy brag board. Students each have a badge with their name on it. They can level up and change their badges based on their wizard level. This way students can feel confident about their growth and show the rest of the school what fun they're up to while using Prodigy." — Dana Starkey, 5th and 6th grade teacher, Pennsylvania
Celebrate your students' achievements in Prodigy! Reward students for leveling up, answering a record-breaking number of questions, or winning the most battles with an epic Prodigy display.
Final thoughts about using Prodigy to engage and reward students
Prodigy is great for all levels of learners — whether advanced, pacing or in need of support. Make sure you're keeping every student engaged by giving rewards equitably, and not just to students that zoom through their work or understand new math concepts the fastest.
Ready to get started? Use your Assessment tool to create a Plan, Assignment or Test Prep now, so you can align Prodigy with what they're learning in the classroom.
Don't have a a teacher account yet? No problem! You can create a free account and join over one million teachers who are also using Prodigy to transform math learning into an awesome, standards-aligned adventure for their students.
Sign up now