28 Examples of Family Goals & How to Achieve Them
All Posts

As an adult, your day-to-day is all about setting new goals — with plenty of tasks and checklists in between them. But as a parent, keeping your family happy, healthy and safe is probably the most important one.
That's why family goals are essential for making sure your family has everything they need to thrive. And you don't even need matching outfits or professional photos to be #FamilyGoals (though those are pretty cute). Striving for achievable goals that can benefit your whole household — together — are just as important. 
Goals are better when done together! Keep reading to find 28 ideas and examples of family goals your whole family can benefit from. 
Free family goal builder & tracker
This year, make it your quest to set and achieve new goals together.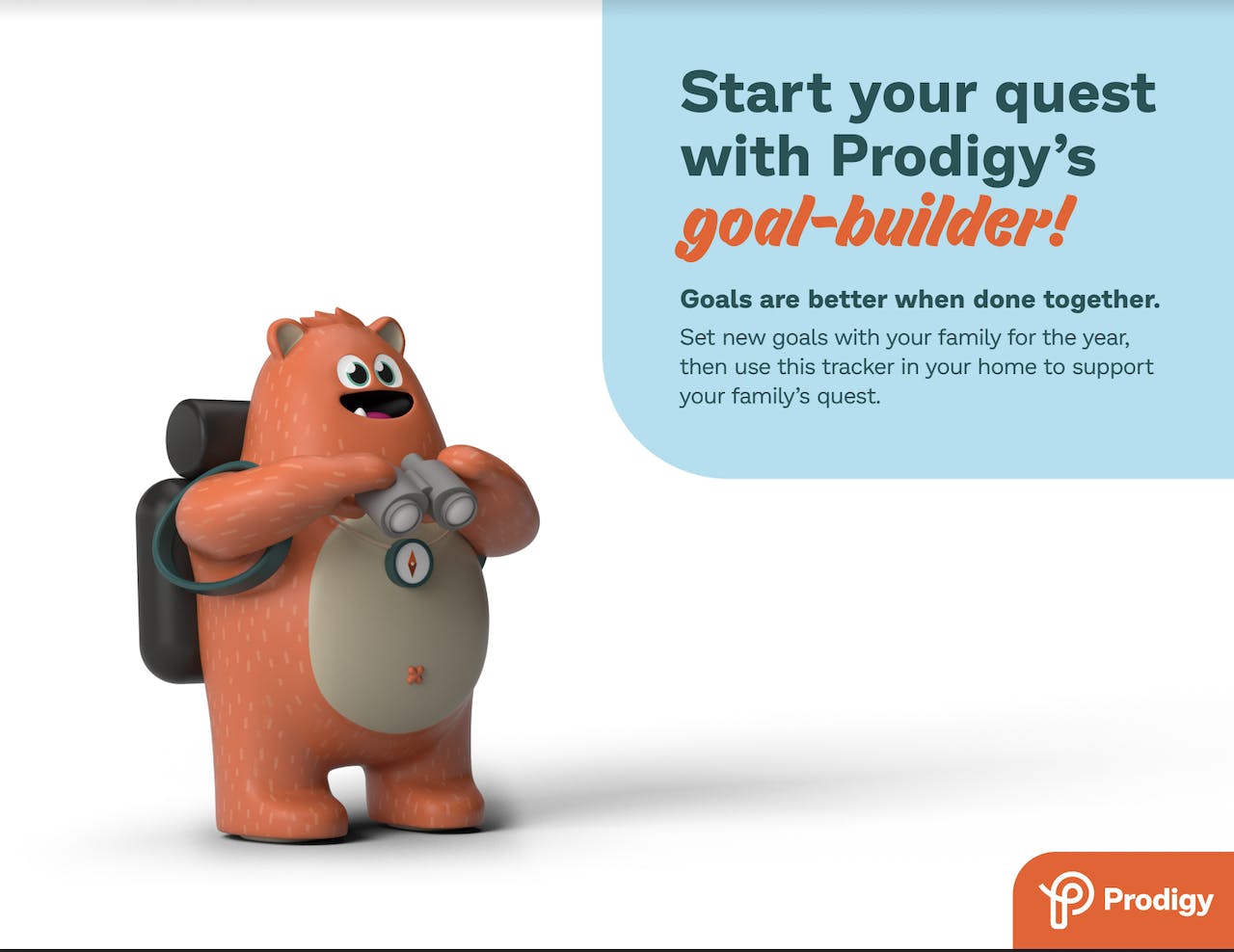 Download and print our FREE 2022 goal planning template to build your family goals, outline your progress and track success!
Download now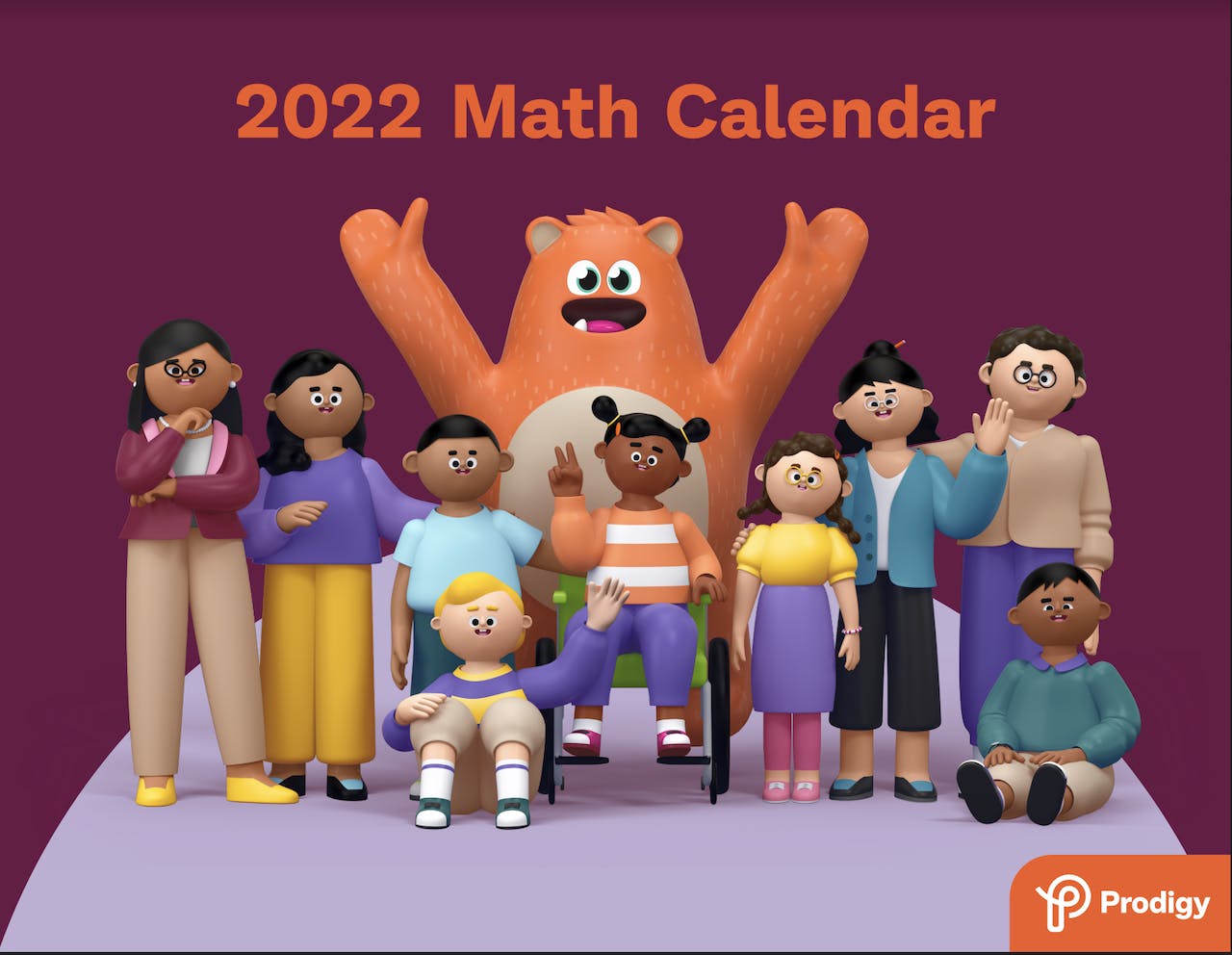 28 Family goal ideas & examples to try
Health, education, finances — whatever you want to focus on, we have you covered. Use our list to find the perfect family goal for your household today.
Family health & wellness goals
1. Get active!
Physical activity is excellent for childrens' health, development and mental wellness. And there are plenty of options for those who aren't interested in traditional sports or gym class activities. 
Short term goal example: Choose a new physical activity to do together once a week, like a dance party in the living room or an obstacle course in the backyard. 
Long term goal example: Choose a recurring activity to do as a family, like signing up for a kickboxing class or making an "activity jar" and choosing a different one each week. 
2. Improve your nutrition 
Healthy eating will give your whole family more energy and plenty of health benefits. But it's also a great way to teach kids the value of nutritious foods and all those good vitamins and minerals they contain. 
Short term goal example: Have your family choose one ingredient each week to create a healthy meal with. Talk about the health benefits of your featured ingredient while you enjoy it. 
Long term goal example: Make a healthy family cookbook. Discover new healthy recipes together with everyone's favorite foods. Write down the steps to make your favorite dishes until you have a full cookbook you can keep forever. 
3. Commit to mental wellness
Mental health is more than just dealing with stress or sadness. It's also about tuning into how you're feeling (whether good or bad) and choosing activities that benefit your mental well-being.
Short term goal example: Talk about your feelings together over dinner. Choose a prompt to help everyone get started, like naming the "rose and thorn" of your day. 
Long term goal example: Add mental wellness activities into your schedule, like signing up for a yoga or meditation class together. 
4. Get more sleep
Sometimes bedtime is a breeze. Others, it's a struggle. Work on improving your sleeping schedules to help the whole house feel more rested.
Short term goal example: Commit to a bedtime that's 30 minutes earlier than usual, once a week. 
Long term goal example: Create a new family nighttime routine. Try turning off your screens and choosing a relaxing activity to do before heading to bed. 
5. Reduce (or improve) screen time
Technology can be great. And there are plenty of healthy, productive ways to incorporate it into your household (take Prodigy, for example!). But too much screen time can have negative consequences on your health. Finding a balance for the technology children use is key.
Short term goal example: Have a "no screens" evening once a week. Spend a few hours where each family member chooses their own off-screen activities, or choose a fun family activity to do together. 
Long term goal example: Have each family member track their average weekly screen time, then make an effort to reduce unhealthy screen time by the end of the month. 
6. Divide household chores
The best way to avoid the housework getting out of hand? Find ways for everyone to pitch in however they can. Kids benefit from the structure, and you'll benefit from the help!
Short term goal example: Have a "spring cleaning" day at the end of the month, where the whole family contributes. Choose a family-friendly playlist to motivate everyone, and don't forget to save time for dance breaks!
Long term goal example: Create a chore chart for each family member, display it somewhere accessible and try to use it for at least six months (we love this one from Thirty Handmade Days).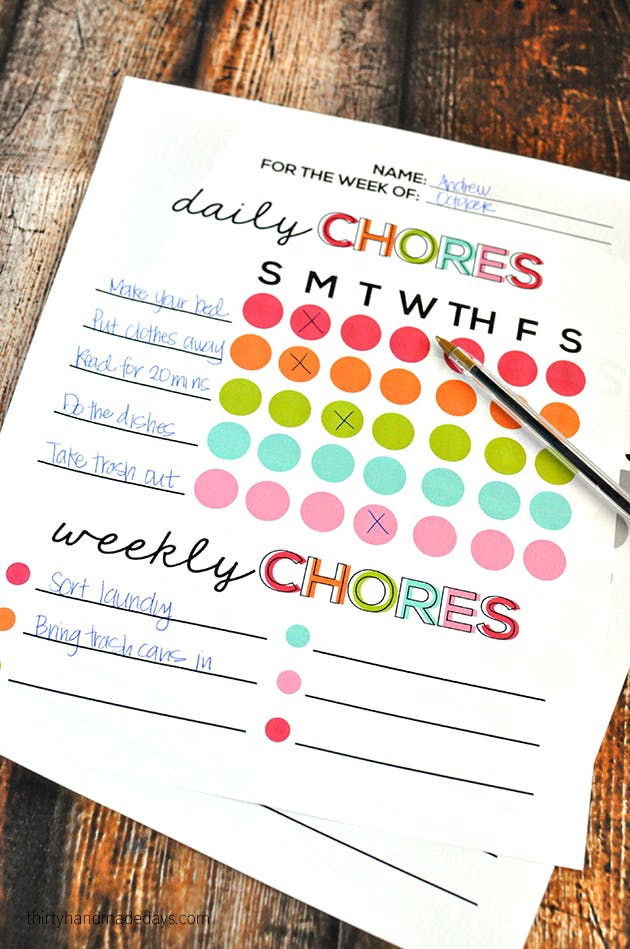 Educational family goals
1. Read more
Whether it's a paperback, a reading app or an engaging English language game, literacy is crucial to kids' academic development. But reading is so beneficial for adults, too. Commit to more reading time and introduce the whole family to the power of a good book. 
Short term goal example: Have a "reading hour" each week, where every family member sits down in a comfortable spot to enjoy the book of their choice. 
Long term goal example: Start a family book club! Take turns choosing a family-friendly book to read (together or separately). Then spend one evening a month discussing everyone's opinions on it. Themed costumes, food and decorations are always a plus!
2. Try new learning activities 
Learning doesn't have to be boring! One way to make sure it never is? Find fun new learning activities for your kids to try.  
Short term goal example: Sign up for a Prodigy account to help your child practice curriculum-aligned math skills through an engaging, fantasy video game! 
Long term goal example: Have monthly family sharing sessions, where one family member teaches the rest of the family about a new topic, or introduces them to a new educational activity. 
3. Learn a new language
Você fala português? Oder Deutsch? Well, there's no time like the present! Learning a new language is so helpful for children's development. Plus, it's a great way to explore new cultures, or maybe even plan for a future family trip! 
Short term goal example: Find an educational video or online activity to introduce you to the basics of a new language.
Long term goal example: Choose one language you want to learn as a family, then sign up for a weekly class.
4. Make homework fun
It's normal for kids to dread homework, but there are plenty of ways to make it feel a lot less daunting. Commit to a fun homework routine the whole family will be grateful for. 
Short term goal example: Add Prodigy to your next homework session! To keep your child engaged and learning the whole time, use the game as a reward at the end, or sprinkle it in for 5-10 minutes at a time throughout. 
Long term goal example: Create a permanent homework space with different "stations" to use whenever your child has homework. Let them rotate between things like worksheets, games and physical activities to prevent boredom and burnout.
5. Take family field trips
Fun family outing? New learning opportunities? The chance to build new skills and interests? ✅✅✅ 
Short term goal example: Have the whole family vote on a new museum, art gallery or exhibit to visit together by the end of the month. 
Long term goal example: Build a list of 10 or more places you'd like to visit as a family. Aim to visit one each month by the end of the year. 
P.S. If leaving the house isn't possible, try a virtual field trip instead!
6. Have family discussions
The classroom doesn't have to be the only place group discussions can happen. When you introduce them at home, your children can gain important critical thinking and social skills. Plus, you'll all get insight into one another's thoughts and perspectives.  
Short term goal example: Host a family debate night. Choose a lighthearted topic, like "which Disney movie is the best of all time?" Then have each family member prepare and present their arguments. 
Long term goal example: Commit to one "discussion night" a week at dinner time for at least a month. Use conversation starters or choose one new topic to talk about every week. 
7. Teach kids how to cook
Cooking is such an important life skill. It's also tons of fun and super rewarding! Get your children familiar with the kitchen to set them up for success in the future. 
Short term goal example: Have a "kids cook night," where your children choose a recipe from a kid-friendly cookbook and make dinner for the family. Stay on standby for any help needed.
Long term goal example: Have your children choose one cookbook to make every recipe from by the end of the year.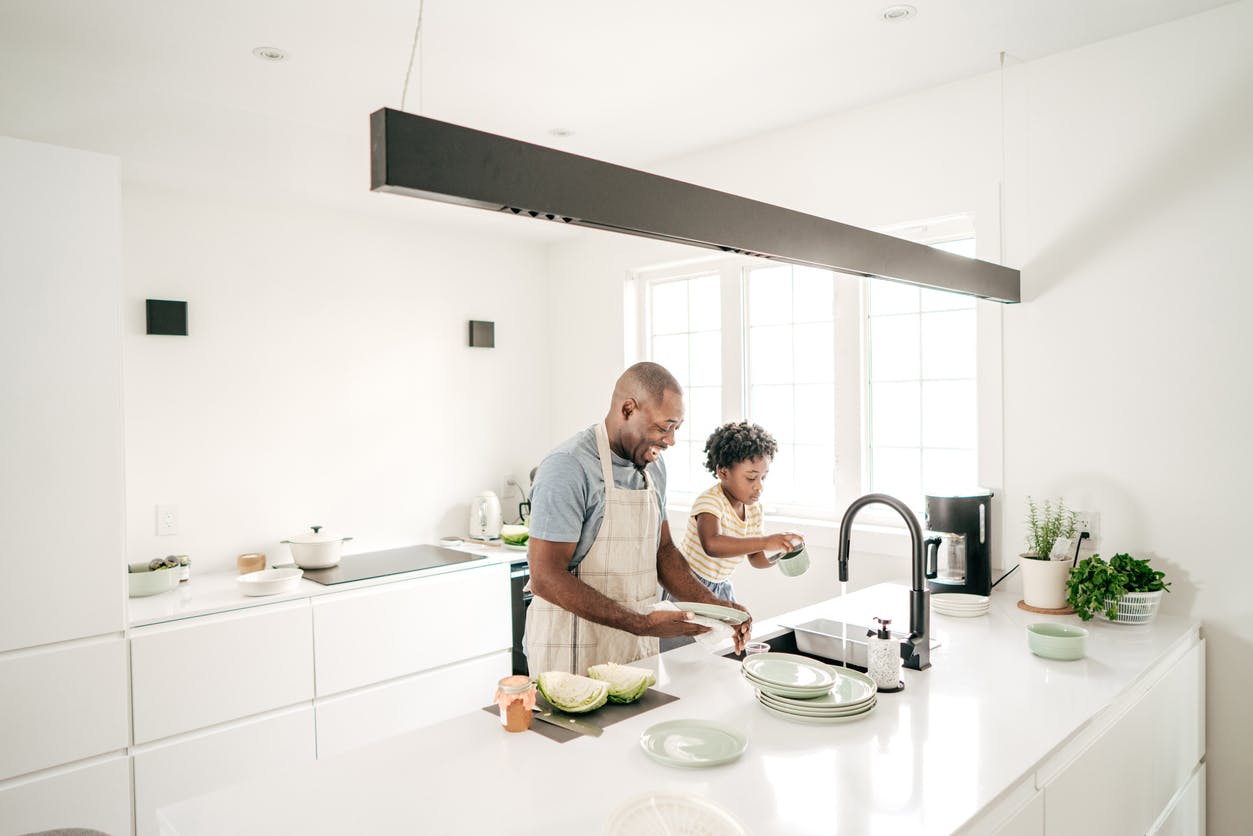 Family relationship goals
1. Show gratitude 
Even a simple "thanks" can make someone's day. So why not make an effort to show more gratitude in your household? Your whole family will thank you — literally. 
Short term goal example: Have a quick gratitude share each day. Before school, at dinner time or at bedtime, set aside five minutes for everyone to share one thing they're thankful for. 
Long term goal example: Create a family gratitude journal, with sections for each family member. Have everyone write about something or someone they're grateful for once a week. Aim to fill the whole journal by the end of the year. 
2. Plan family adventure days
Sometimes, the best thing your family can do is let loose and have a day filled with fun! Make family fun days a goal to ensure you'll prioritize planning them. 
Short term goal example: Let each family member choose one activity they want to do on the weekend. Then set aside a day to do them all together! 
Long term goal example: Plan one new family fun day every month, choosing a different theme each time. 
3. Plan easy family activities
Family activities don't have to be big adventures OR take up tons of time. And you don't need to leave home to have a great time together! 
Short term goal example: Have a family walk around the neighborhood one day a week.
Long term goal example: Choose one unique family activity to do each week for the next month. Try a board game night, outdoor movie or indoor games.
4. Show more love
Everyone has a different primary love language. And until we know someone else's, we can't show them love in the best way possible. Have the whole family learn each other's love languages to help everyone show more love!
Short term goal example: Have each family member take the love languages quiz. Then discuss what each one means and how everyone can show love to each person.
Long term goal example: Show more love all year! Write down everyone's love language results, plus a few of the best ways to make each person feel loved. Check back in each month to see how everyone is feeling and update your lists.
5. Start a family blog
You know how important it is to capture memories of your kids you can look back on forever. So create a family blog (or vlog) to keep track of them. It's a great way to get creative collaboration from everyone!
Short term goal example: Write a blog post or create a video together for your next family holiday, outing or vacation. 
Long term goal example: Take a short (1-5 second) video clip each day for the whole year. Then put all the clips together to look back on your year, all at once. Try the 1 Second Everyday app to make your video a breeze.
6. Choose a family mission
When you hear the words "mission statement," what do you picture? 
Chances are, you thought of a business or organization. But families can benefit from having a mission, too. Aligning on overall goals and values can help both kids and parents inform their future decisions and behaviors. 
Short term goal example: Come up with a list of 5-10 family values everyone agrees on. Then write one family mission statement that aligns with these values. Write it down and display it in your home so everyone remembers!
Long term goal example: Every month, choose one way you can embody a family value. Then set a goal to accomplish it.
7. Work on a home project
DIY projects can be a great way to work together, learn new skills and share a feeling of accomplishment. So choose a home project your whole family can set out to complete as a unit. 
Short term goal example: Create a "cozy corner," where everyone can read or relax whenever they want. Choose what furniture, accessories and decorations you want to put there. Then set  it up together. 
Long term goal example: Build a bookcase or treehouse. Choose how much you want to have done each week, and work your way through until it's complete.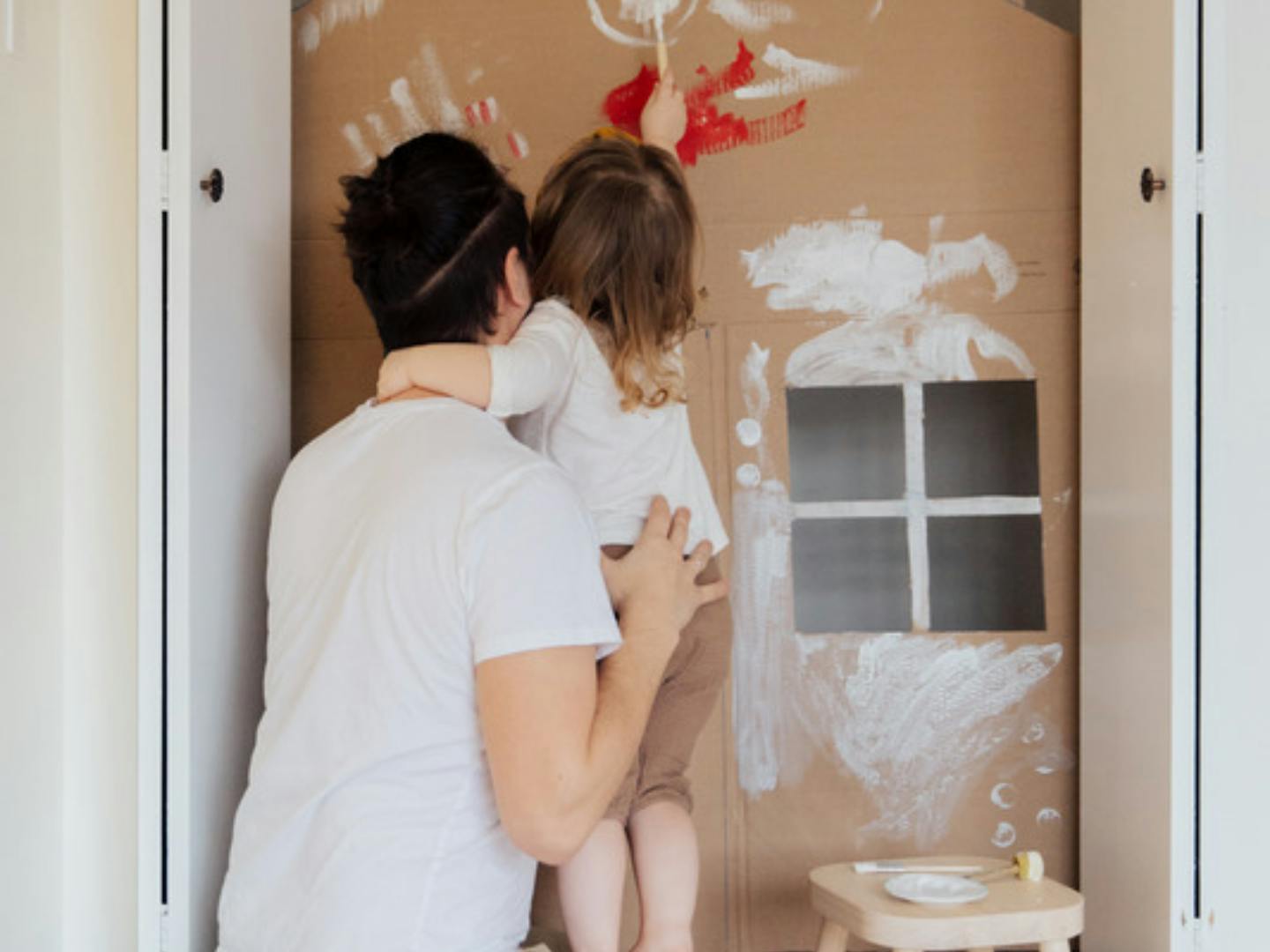 Financial family goals
1. Start a family piggy bank or emergency fund
Give one of the most classic financial management tools a comeback and encourage your family to save their paychecks or allowance money together. Bonus — the right piggy bank can make for some great home decor!
Short term goal example: Have each family member put a small amount of money into the piggy bank, then vote on one treat for everyone to share with your savings at the end of the week or month. 
Long term goal example: Choose a larger treat or family activity for everyone to contribute to. Keep saving money until you reach your target amount. 
2. Budget together
Let your children contribute to and learn from some of the budget decisions your family has to make. This is an easy way to help your kids learn about the value of money and financial responsibility. 
Short term goal example: Before your weekly grocery shopping, outline your budget and let your kids help you create a grocery list that fits into it. 
Long term goal example: Choose one large purchase you want to make this year. Then work together to figure out how you can afford it. Check back in regularly on your progress. 
3. Assign $ rewards to responsibilities
As an adult, you know spending hard-earned money on something nice can be such a rewarding feeling. And the same goes for kids. A little bit of pocket money they earn for themselves can go a long way! 
Short term goal example:  Set up a family job board to assign different rewards to different tasks (we love this one from One Good Thing by Jillee). Choose a wide variety of tasks, letting your kids choose which ones they want to tackle and when. 
Long term goal example: Create a hierarchical task board, where completing smaller tasks can allow kids to aim for larger tasks and earn better rewards.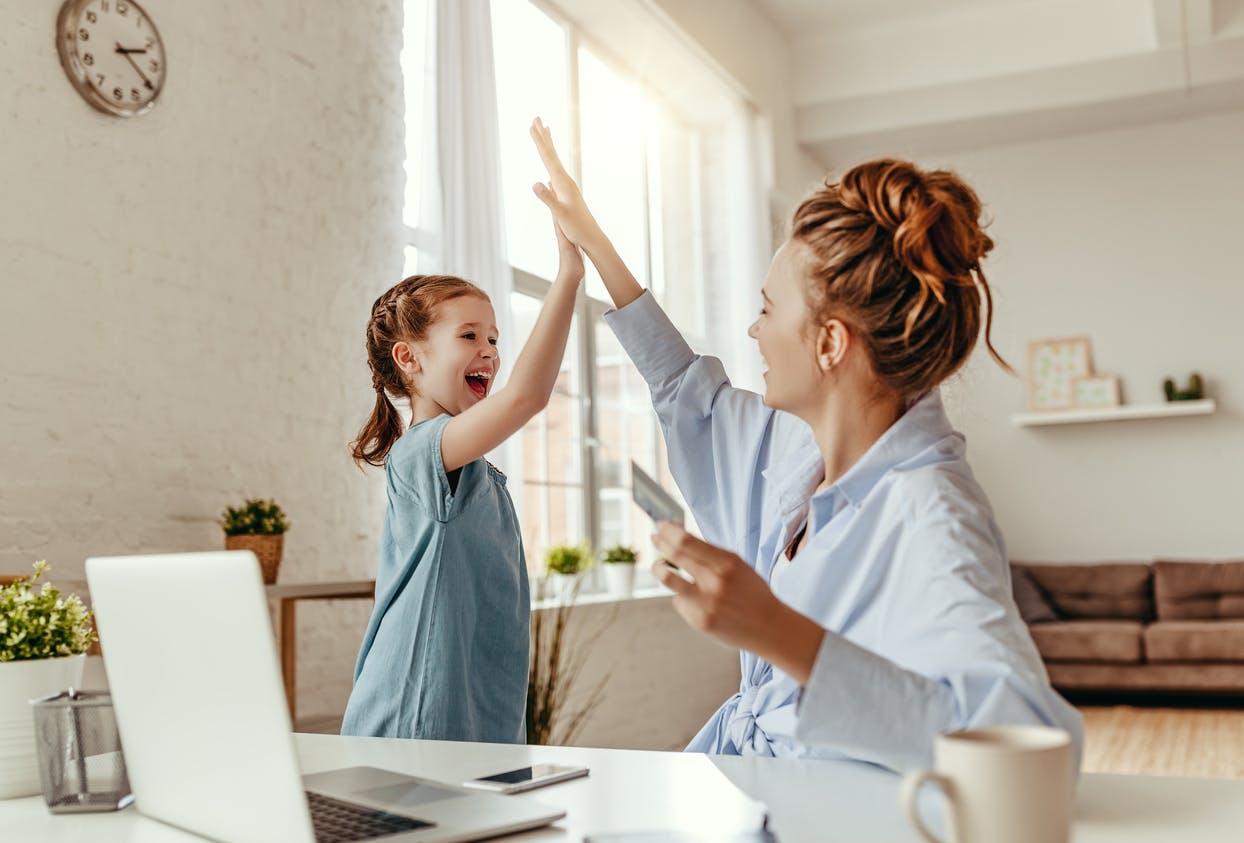 Family goals to help you give back
1. Volunteer as a family 
Teach your children the importance of offering assistance to those in need. Your kids will learn the value of intrinsic rewards, and you'll feel good knowing you're helping your community. 
Volunteering is also a great way to pursue your interests. If your child loves the environment, sign up to clean litter from the street. If they enjoy a good meal, try serving at a local soup kitchen. And if they love furry friends, spend time with animals at your local humane society. 
Short term goal example: Choose one volunteer project for the whole family to do together that month. 
Long term goal example: Complete one volunteer project a month, alternating which family member chooses the project, for the rest of the year. 
2. Complete an eco-friendly project 
Today, it's more important than ever to teach children how to protect our environment. So choose an eco-friendly project that sparks creativity, while also giving back to the earth. 
Short term goal example: Build a birdhouse together, paint it and keep it in your backyard. 
Long term goal example: Plant a family garden and keep it growing for the whole summer. 
3. Donate to non-profit organizations
Clothing, toys, canned goods, money. Whatever you have to donate, there's likely a non-profit organization that would be more than willing to collect it. 
Short term goal example: Choose one organization and collect your money or goods together, then donate a lump sum (you can repeat this goal each month and donate to new places each time!).
Long term goal example: Set aside money each month, then choose an organization you can sponsor and sign up for recurring donations with them. 
4. Write cards with well wishes
A nice thank you or get well card is always lovely to receive from family and friends. But sometimes, it's nice to show love to other members of your community — like healthcare workers, hospital patients or nursing home residents. 
Short term goal example: Write a card to show appreciation to the healthcare workers in your community, then bring it to your local hospital to share with them.
Long term goal example: Write a list of all the locations in your community you'd like to send well wishes to. Bring one card to a different location in your community every holiday until you cover the whole list.  
5. Cook for others
Cooking is the perfect way to bring everyone together — in your family and outside of it.
Kids can get more comfortable in the kitchen, and parents can share their favorite recipes.
Short term goal example: Choose one recipe to cook or bake together, then bring the dish to a community center, a local business or to your neighbor's house. 
Long term goal example: Sign up for a community cooking program like Lasagna Love your family can regularly contribute to.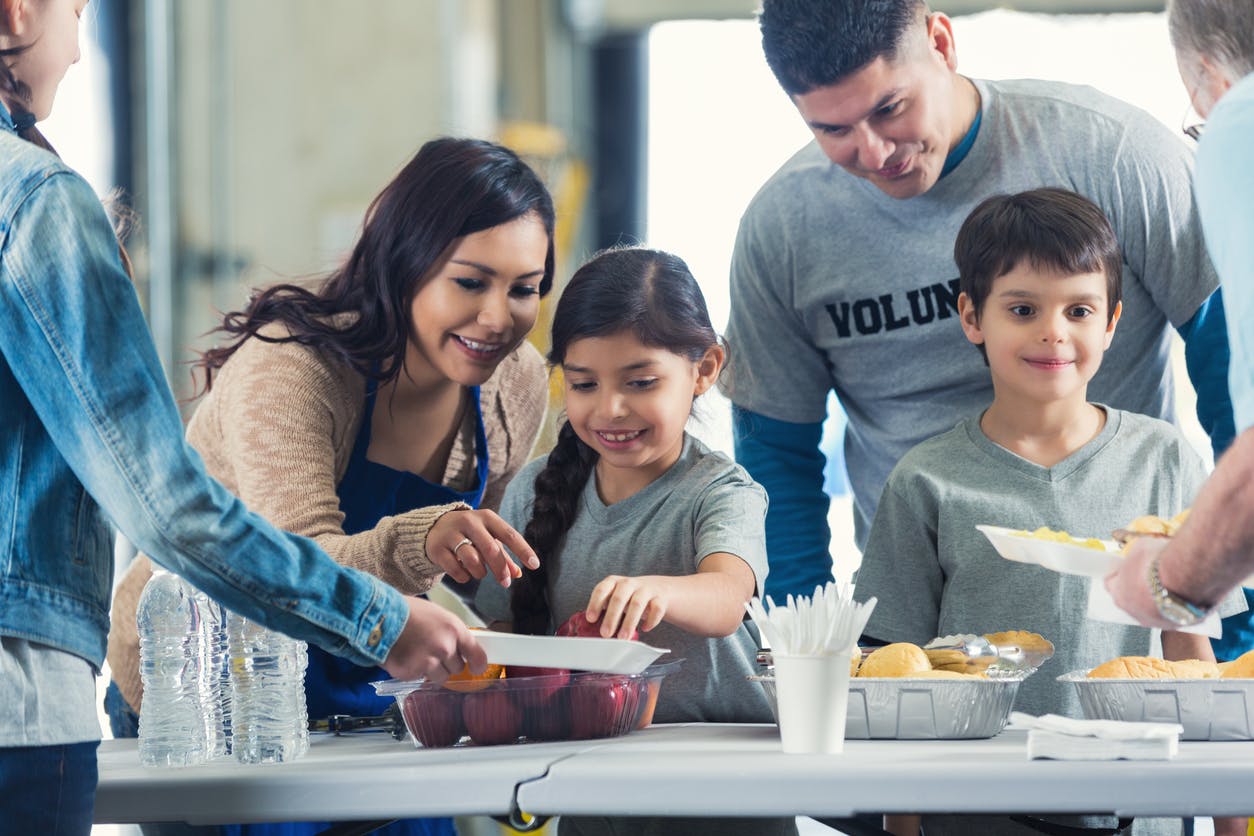 How to set goals as a family
Achieving a list of family goals may feel overwhelming. But there's no need to get ahead of yourself. Take your goal setting one step at a time, and you'll reach them in no time! 
Here's how to set the best goals for your family in five simple steps. 
1. Choose an area of focus
To keep everyone motivated, start with one key area you want to work on that's aspirational but attainable. 
To help you decide, reflect on your family and envision your future selves. Ask your family questions, like:
What could make our family better?
What do we want to achieve together?
What do we want to do more or less of?
Try to meet in the middle. Give everyone in the family as much input and choice as possible in determining your area of focus.
Tip: make this part as fun as possible! Create a vision board, host a fun goal-setting activity, draw pictures — or anything else you can think of!
2. Outline your (SMART) goal
Use your area of focus to narrow down your overall goal. Then write it down, following the SMART goal framework to create a goal that's:
Specific — Answers the who, what, where, when and why questions.
Measurable — How will you measure success? For example, how many times do you want to do a certain task to consider your goal complete? 
Achievable — Reaching for the sky is wonderful. But make sure your goal is something you can actually see yourselves reaching. 
Relevant — Does your goal match your family's needs and values? Is it something you'll actually benefit from? 
Time-bound — How long do you have to achieve your goal?
Tip: Try to avoid setting goals around results. Focus more on effort and actionable steps. 
3. Set a goal path
Create short term goals out of your long term goal!
Write down your end goal. Then create a goal pathway, outlining all the steps needed between where you are now and what you want to achieve. Keep it somewhere everyone in the family can see, like on the fridge or in the living room. 
Tip: Include individual steps for each family member, to make sure everyone is invested in the goal and plays an important role in achieving it. 
4. Check back in regularly 
Choose how often you'll follow up and how you'll mark progress on your goal. A visual progress tracker is especially great for kids, like something they can check off or color in.
At each check in, evaluate whether your goal is on track, if anything can be improved or if the overall goal needs to be adjusted. 
Tip: For long term goals, add incentives for reaching small accomplishments along the way.
5. Celebrate your achievements
Whether you hit your target or not, your family deserves to celebrate their hard work! 
Choose the perfect way to celebrate all of your family's accomplishments, like a pizza and ice cream party or a family trip. 
Quotes about family goals
"Family is not an important thing. It's everything."
— Michael J. Fox
"What can you do to promote world peace? Go home and love your family."
— Mother Teresa
"With every word we utter, with every action we take, we know our kids are watching us. We as parents are their most important role models."
— Michelle Obama
"There is no doubt that it is around the family and the home that all the greatest virtues, the most dominating virtues of human, are created, strengthened, and maintained."
— Winston Churchill
Why are family goals important? 
Family goals aren't just for checking off tasks or having a list of new year's resolutions. They can also help improve your relationships! 
With everyone working together, holding each other accountable and learning from one another, you can establish a sense of trust and closeness within your family dynamic that will serve you for years to come. 
Family goal-setting can also: 
Help you develop new skills
Encourage a growth mindset
Teach kids the value of intrinsic motivation
Model healthy family relationships for your children
Want more resources to help your kids achieve all their educational goals?
Learn more on the Prodigy blog today!
Explore more resources now