How to Use Prodigy Math Game in Your Everyday Teaching Strategies
All Posts

Wizards and duels and pets, oh my! When Prodigy's on the table, you can bet students are champing at the bit to play.
While using Prodigy Math Game, teachers like you have witnessed:
Math anxiety decrease
Math confidence increase
Engagement levels increase
Math skills mastery increase
Test scores and grades increase
In short, students truly experience and form a love for learning math — all thanks to teachers using Prodigy Math Game in class.
If you want to discover how to mix Prodigy Math Game into the most common teaching strategies, keep scrolling!
How to align your class (in under a minute)
Before we dive into six everyday examples on how to integrate Prodigy into the classroom, here's what's possible with Prodigy Math Game.
Whether you want to set Assignments, Plans or a Test Prep, watch this 5-minute video or scroll down for the quick-start steps.
To start, visit the Prodigy website, click Log In in the top right corner and select a classroom.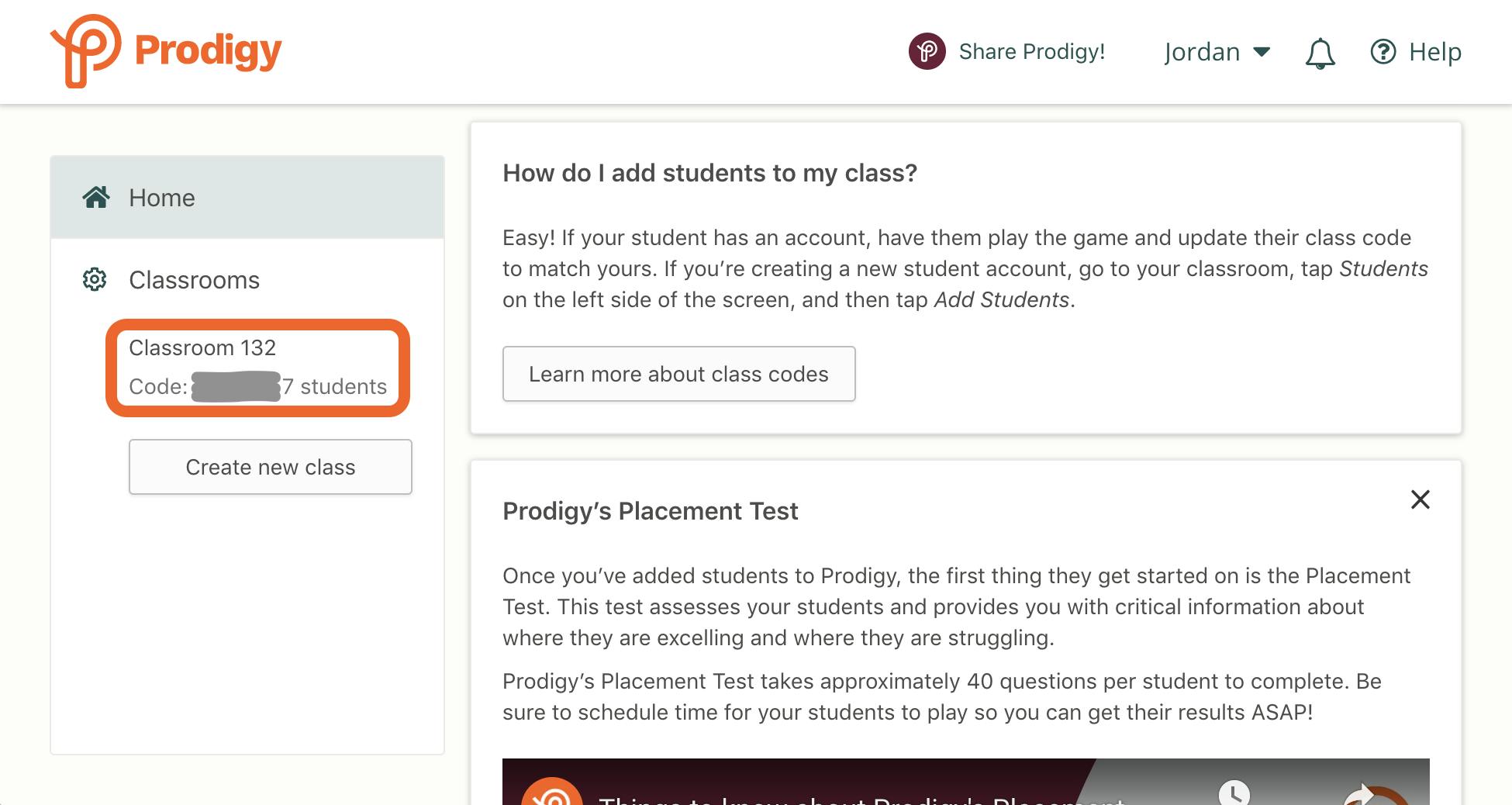 If you have more than one classroom, choose the one you want to create an assessment for.
Go to your Assessments tool and click Create.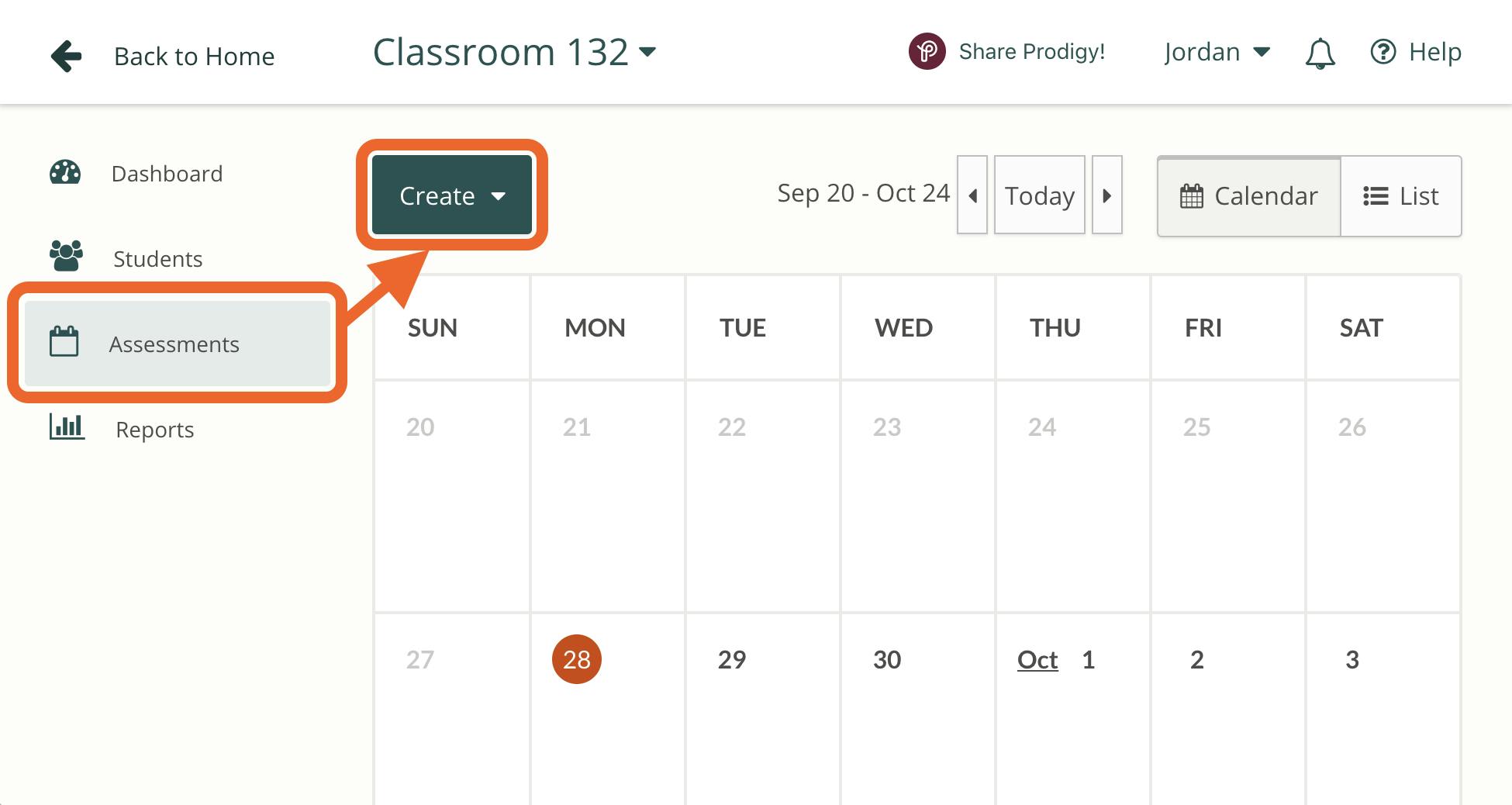 When you click Create, a pop-up window will present you with options to choose your desired assessment type.
Select your assessment type, then click Continue.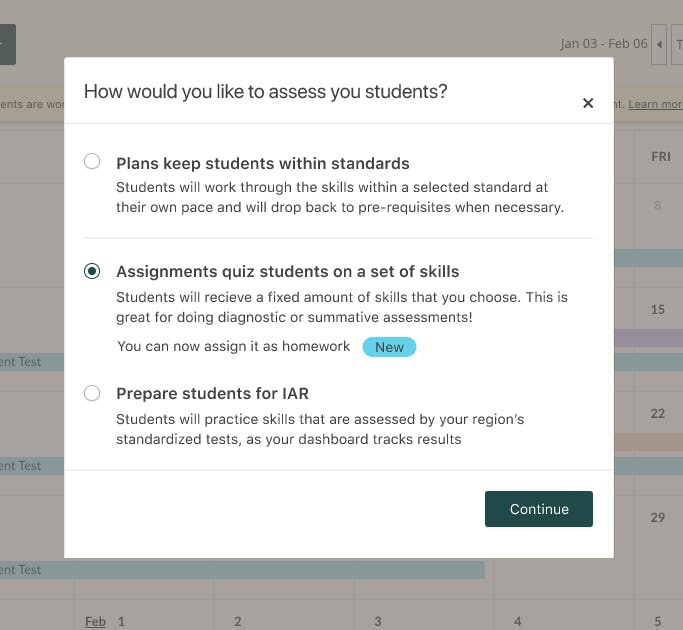 Depending on the type of assessment, you'll have to complete one or two more steps. These steps will involve things like selecting certain skills and setting a date range.
Prodigy + Teaching Strategies = A love of learning
Prodigy Math Game is a fun and effective way to engage students and foster a positive learning environment! Students will have a blast exploring a world filled with adventures, and you'll love the easy differentiation and automatic data.
Here are some ways teachers like you use Prodigy in their classrooms:
1. Homework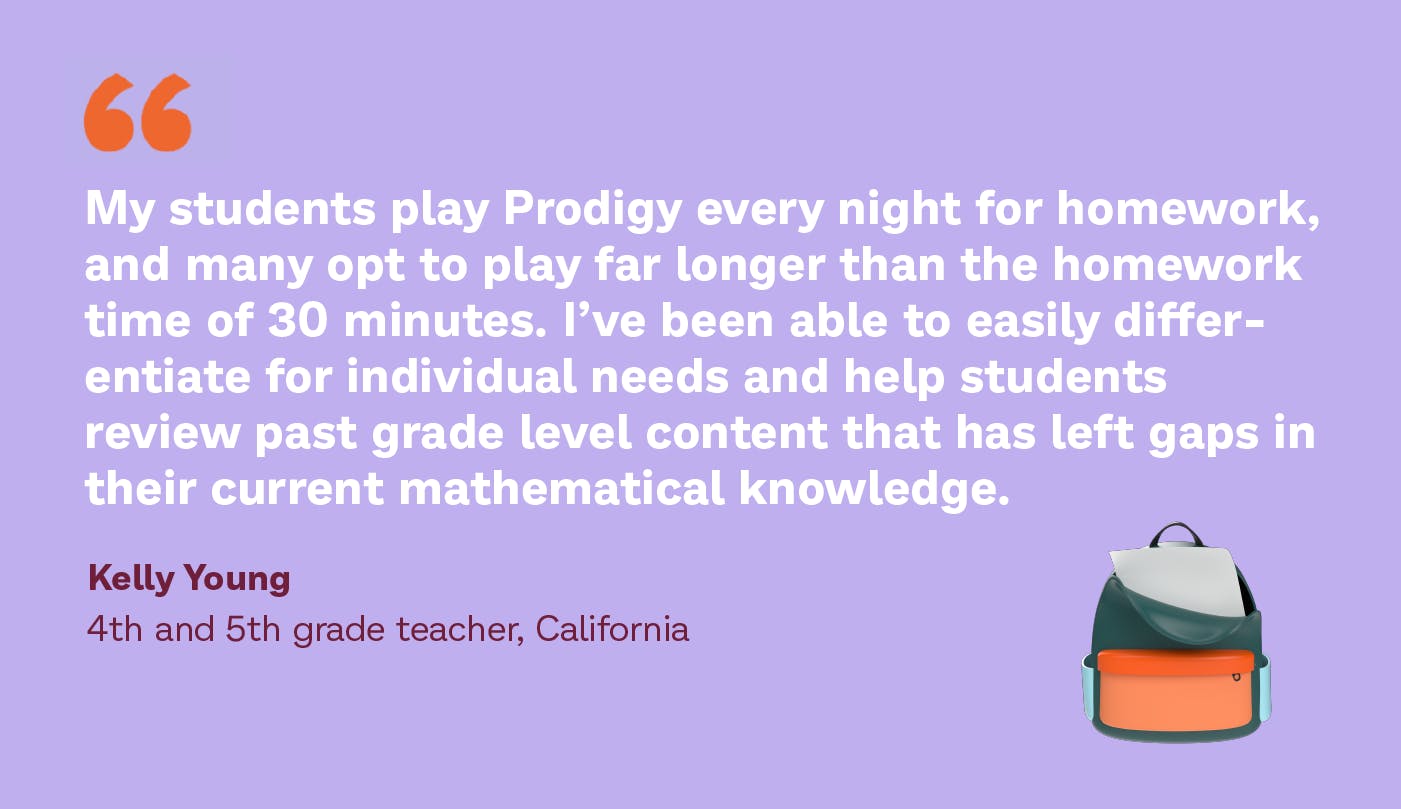 Assigning homework and making sure students have the right math practice is one thing — making sure they actually complete it is another. 
Whether you're teaching in your classroom or from your kitchen table, you can be confident that students will love completing Prodigy homework assignments. 
Plus, our new-and-improved homework feature lets you easily send Assignment instructions to parents with a printable handout or through your learning management system.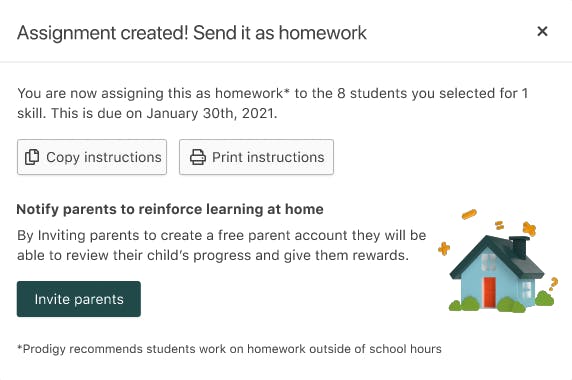 Prodigy's homework feature helps you:
Track student progress with easy-to-read reports — no grading required
Easily motivate students to practice key math skills outside of the classroom
Connect with parents and build a stronger support network for learning
Simply select Assign as homework when you create an Assignment, and we'll generate an easy-to-understand set of instructions to help reinforce learning at home.
Assign Prodigy as homework now
2. Growth mindset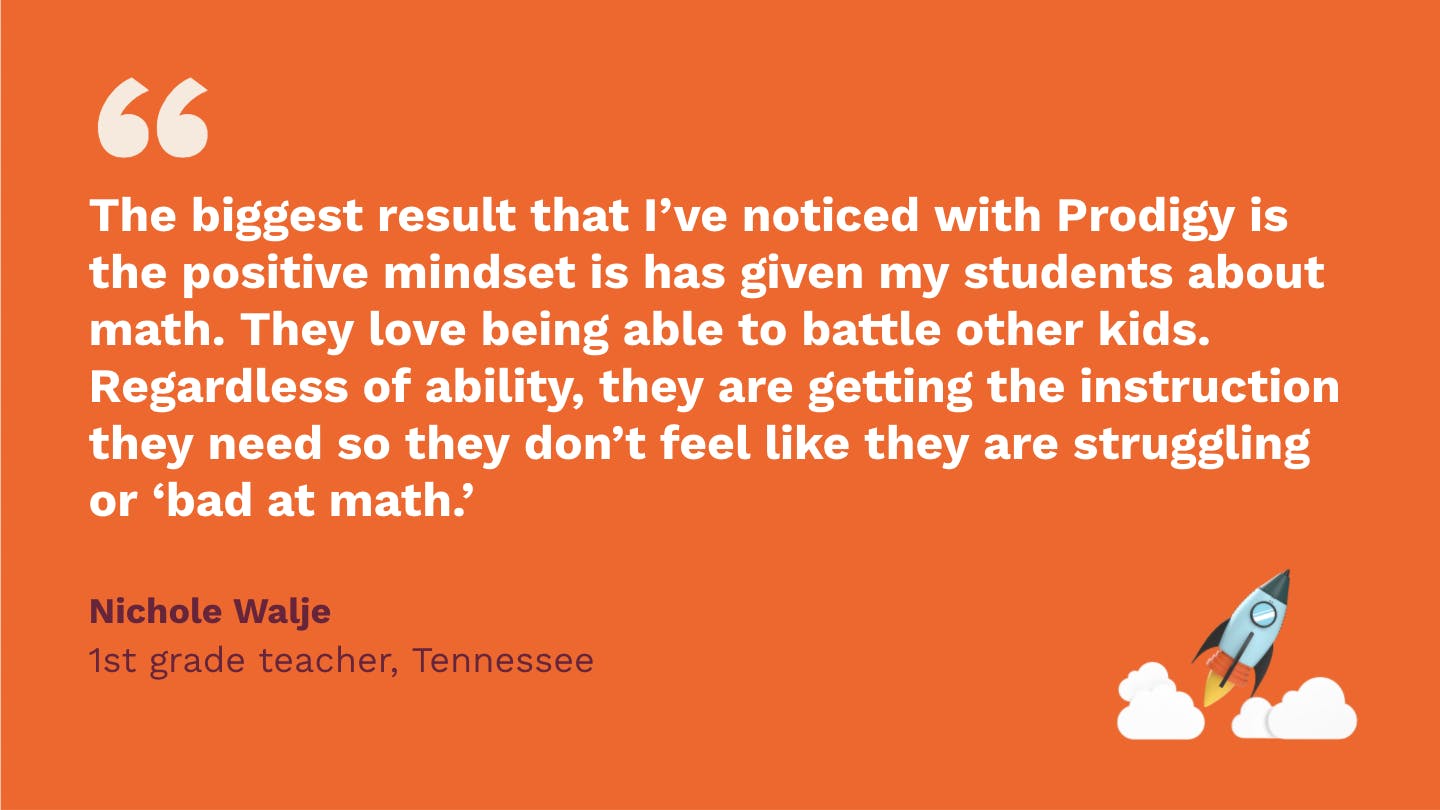 Carol Dweck, a Stanford University psychology professor, found that the way students perceive their abilities fall somewhere between two opposites: a fixed mindset and a growth mindset.
Prodigy Math Game's in-game algorithm takes into account learners' academic strengths and weaknesses while scaffolding and supporting students at their level of learning. This adaptive approach can shift students toward a growth mindset and improve the level and frequency of their achievements.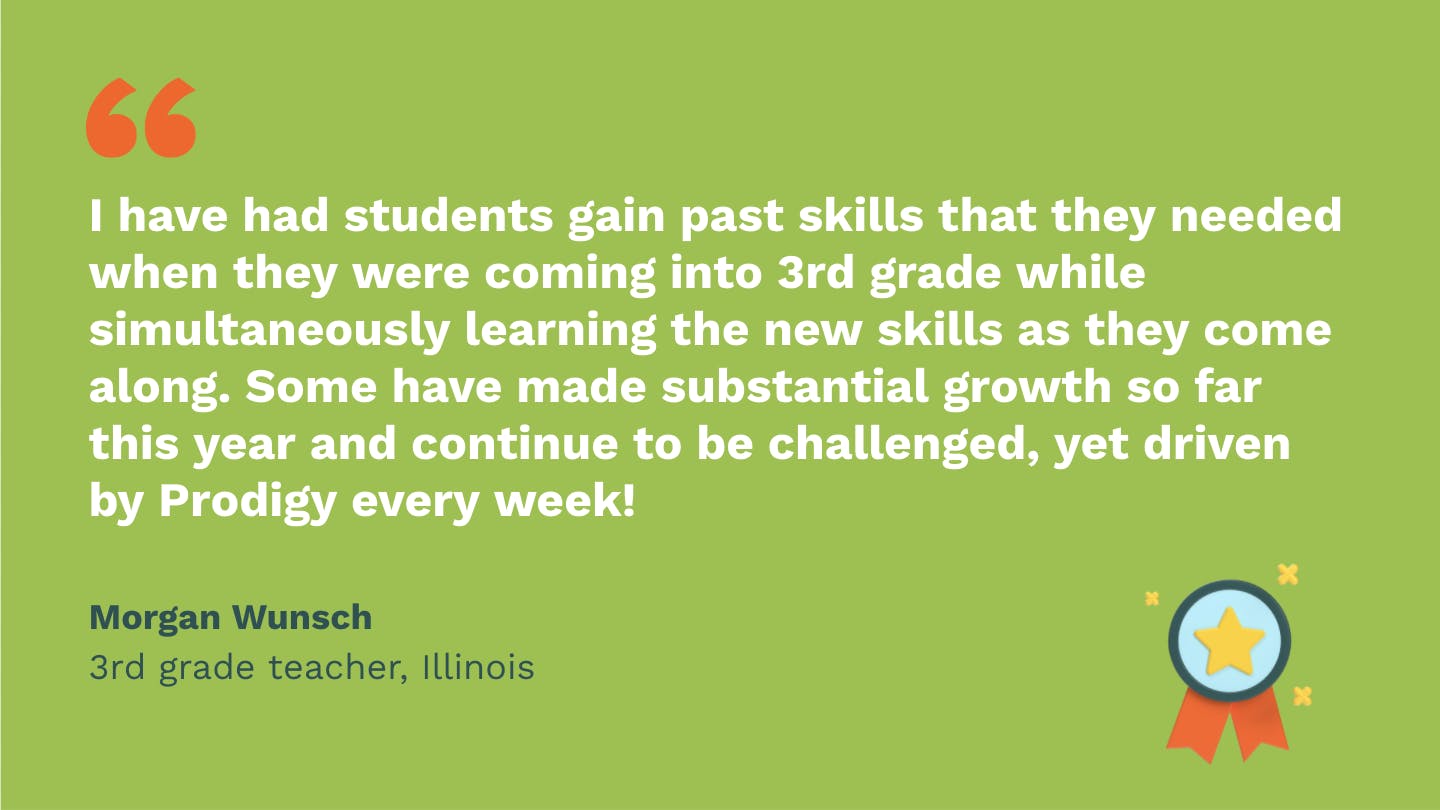 Want to support a growth mindset? Assign Plans when you want students to focus on one expectation. As students work through your plan, the algorithm will deliver questions that hit varying levels of difficulty and adapt to support learners by revisiting prerequisites when necessary.
Create Plan now
3. Blended learning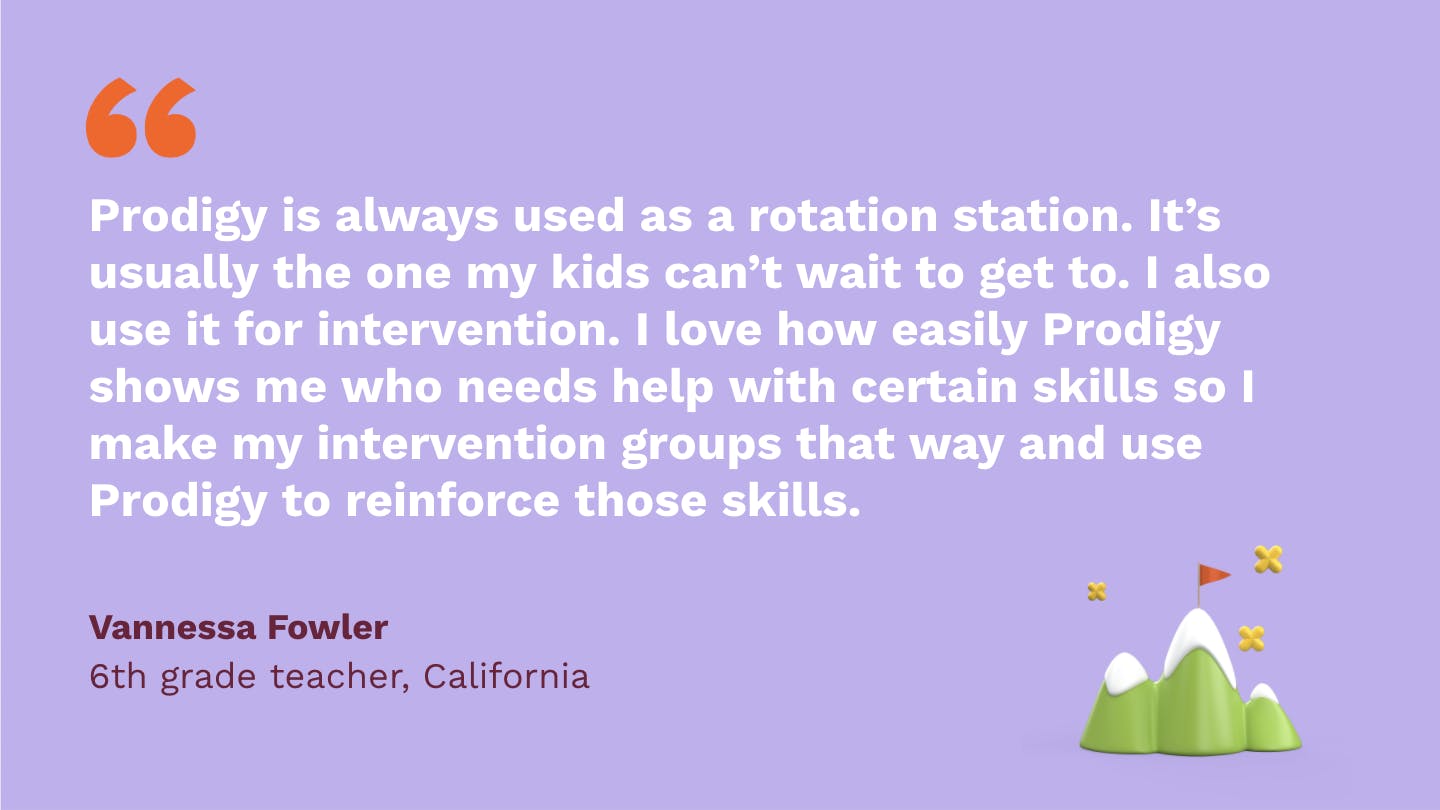 Don't overlook a blended learning approach to satisfy the needs of your diverse learners. Adding Prodigy to your traditional classroom methods keeps math engagement high and lets you focus on each individual student.
Take the rotation model, for example. On top of stations intended for small group instruction, small group work and collaborative projects, you should make game-based learning a rotation station.
Need to support some students while challenging others? Create an Assignment in Prodigy to encourage independent student learning and fill knowledge gaps by delivering foundational or advanced skills.
You can also see students' progress in real-time by selecting your Assignment and clicking on View report. Use this to inform your teaching and champion your students' successes.
Create Assignment now
4. Personalized learning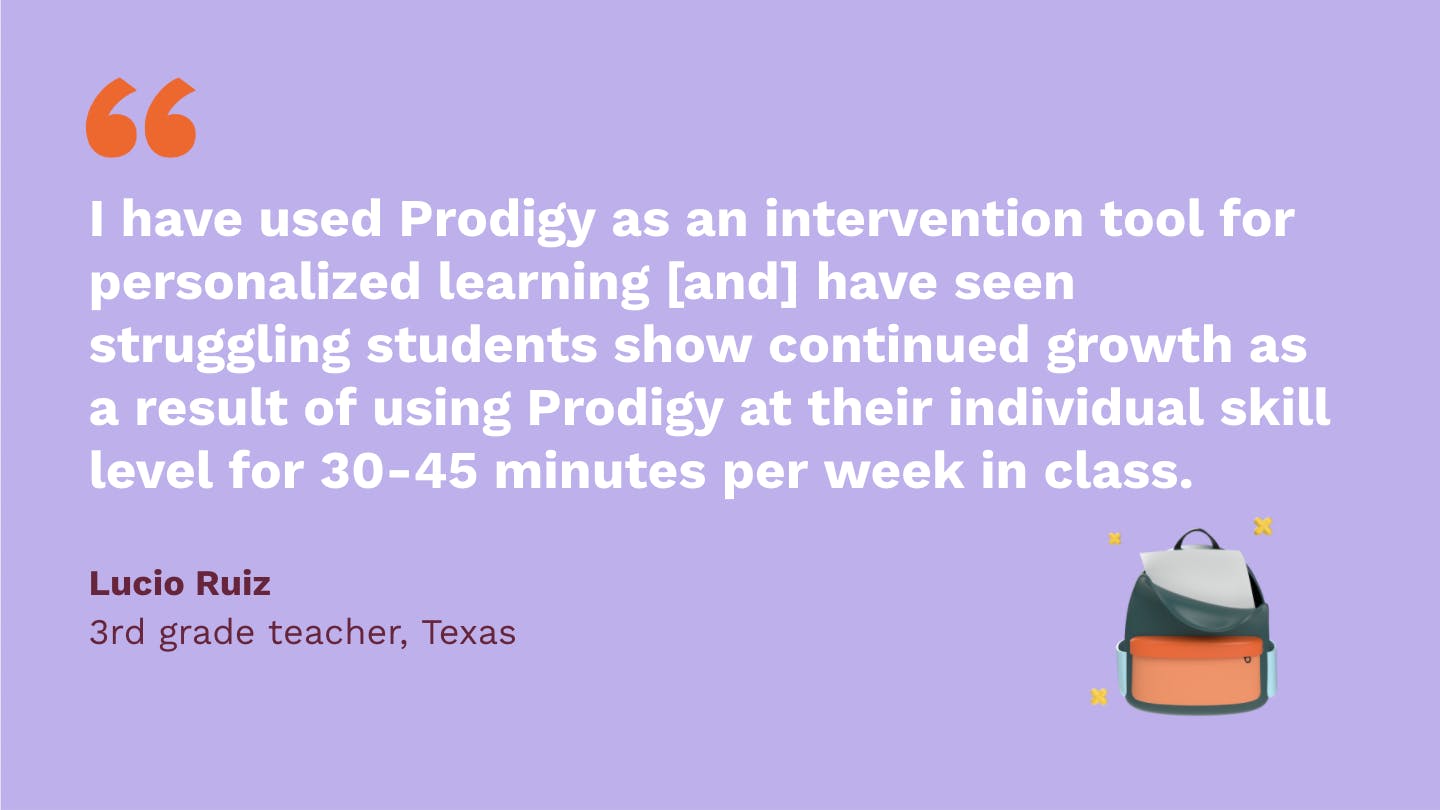 As a teacher, one of your goals is to personalize learning for each student's strengths, needs and abilities. Students need to reach a certain mastery level before moving on to a new skill or grade. Using the right EdTech can make the process easier.
In our increasingly digital age, students have grown up with mobile devices, so not all students learn effectively with pencil-and-paper methods. Personalize your students' learning environment with Prodigy by using it to reinforce in-class lessons or prep for standardized tests.
As educator Mary Ann Wolf observes:
Personalized learning is enabled by e-learning systems which help dynamically track and manage the learning needs of all students… everywhere at any time, but which are not available within the four walls of the traditional classroom.
Assess your class
5. Response to intervention (RTI)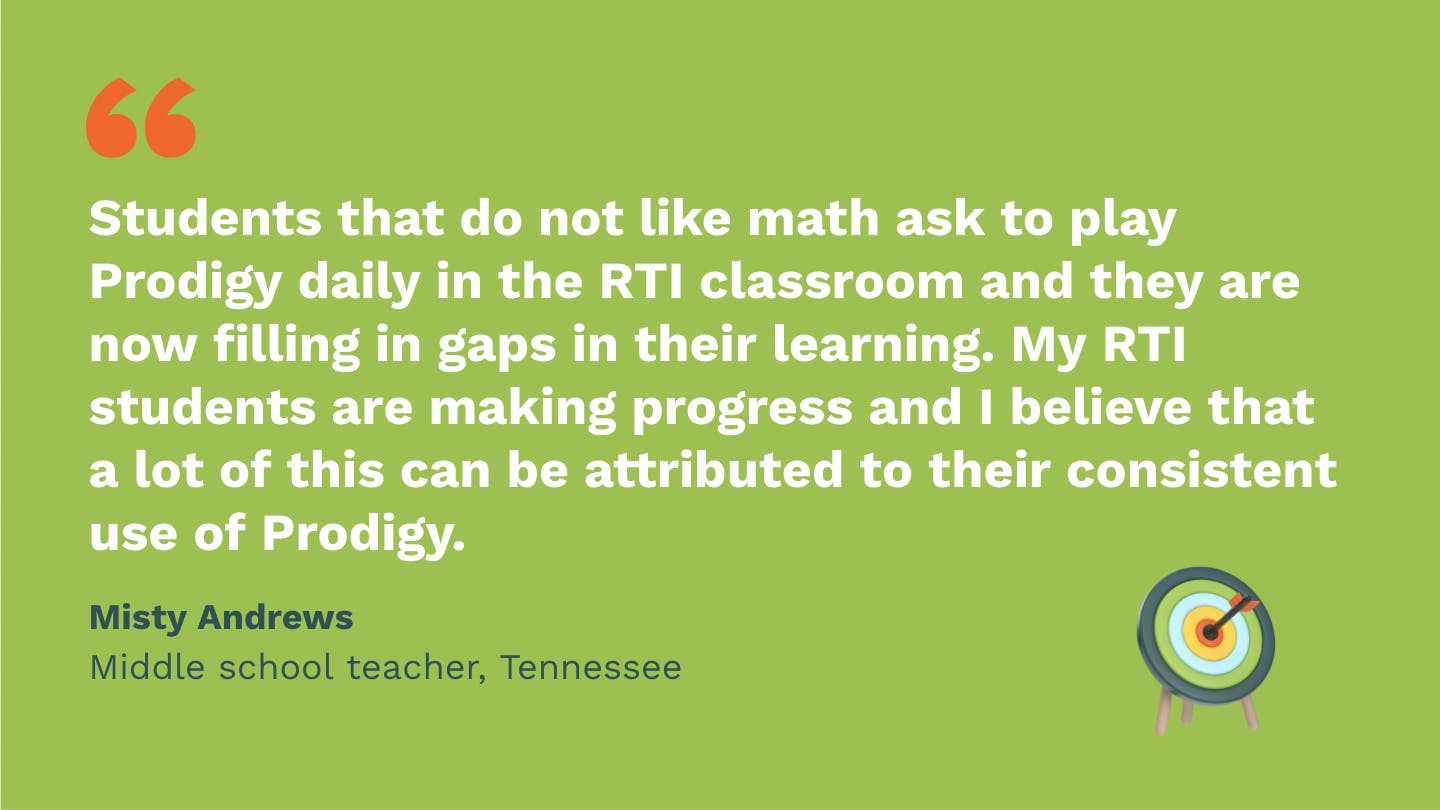 Many teachers like you have students with response to intervention plans. A digital tool like Prodigy engages students and collects and provides data to help teachers easily identify where their students require support or extensions.
Students greatly benefit from targeted and personalized content, so you should use your Assessments tool to set Plans or Assignments and check their progress on a cyclical basis.
Not sure which one to use? Here are a couple of tips:
RTI Tier 1 — Create a Plan. Align in-game content with the skill(s) you're covering in class. Plans are an engaging way to address gaps and misconceptions, while reinforcing content taught in class.
RTI Tier 2 — Create an Assignment. Choose the number of questions per skill, as well as which students must complete it. Assignments are an effective way to engage individual students based on their unique needs.
In either case, check out your Student Comprehension report in the Reports tool.
Create a Plan or Assignment now
6. Differentiated instruction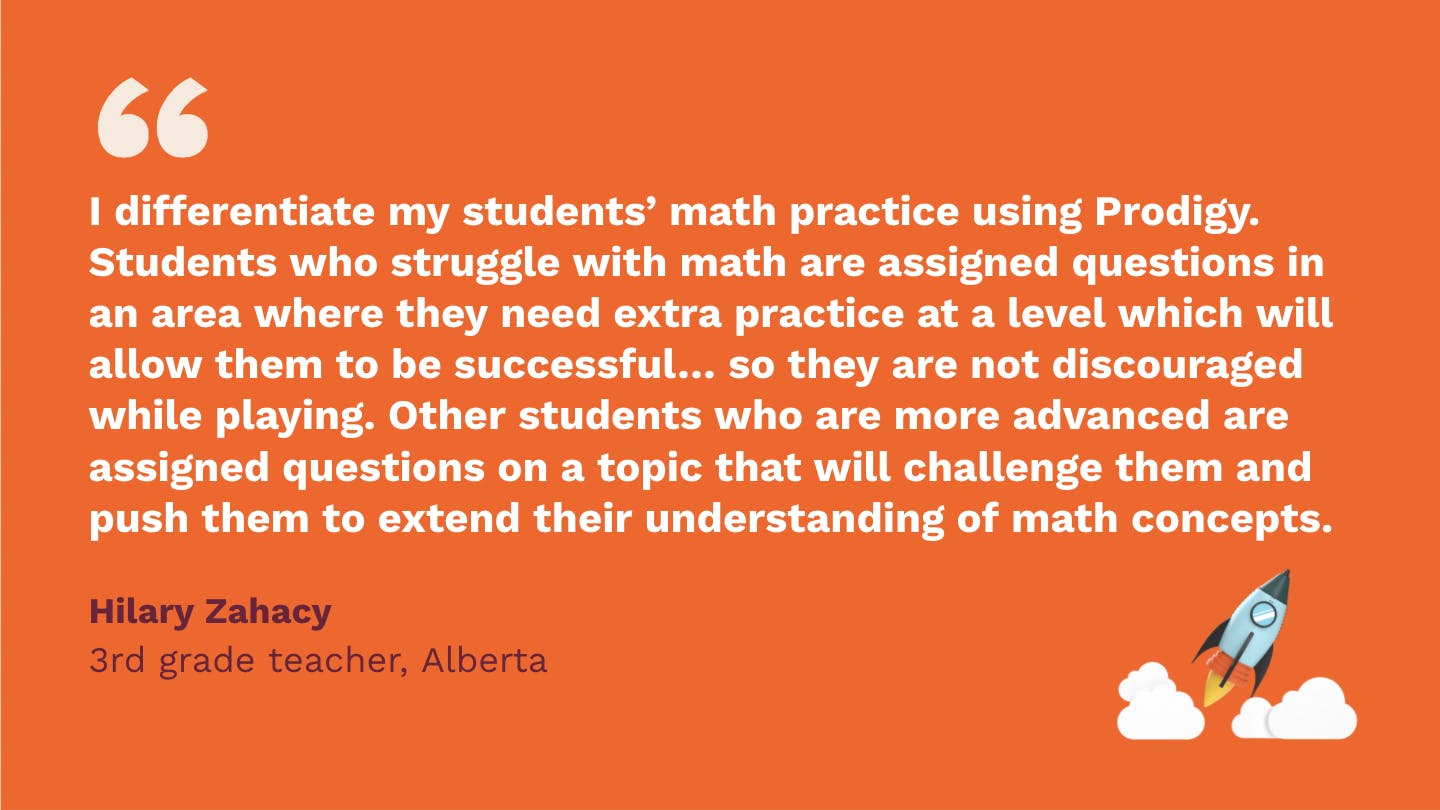 Diverse classrooms pose unique challenges for teachers — can you relate? Differentiated instruction benefits all students, including those with exceptionalities.
Use Prodigy to differentiate instruction by creating an Assignment. Prodigy will adapt math questions to tackle individual students' challenges in the form of problems that use numbers, charts, pictures and words.
You can even modify students' grade levels to ensure the questions they're answering and skills they're mastering are developmentally appropriate.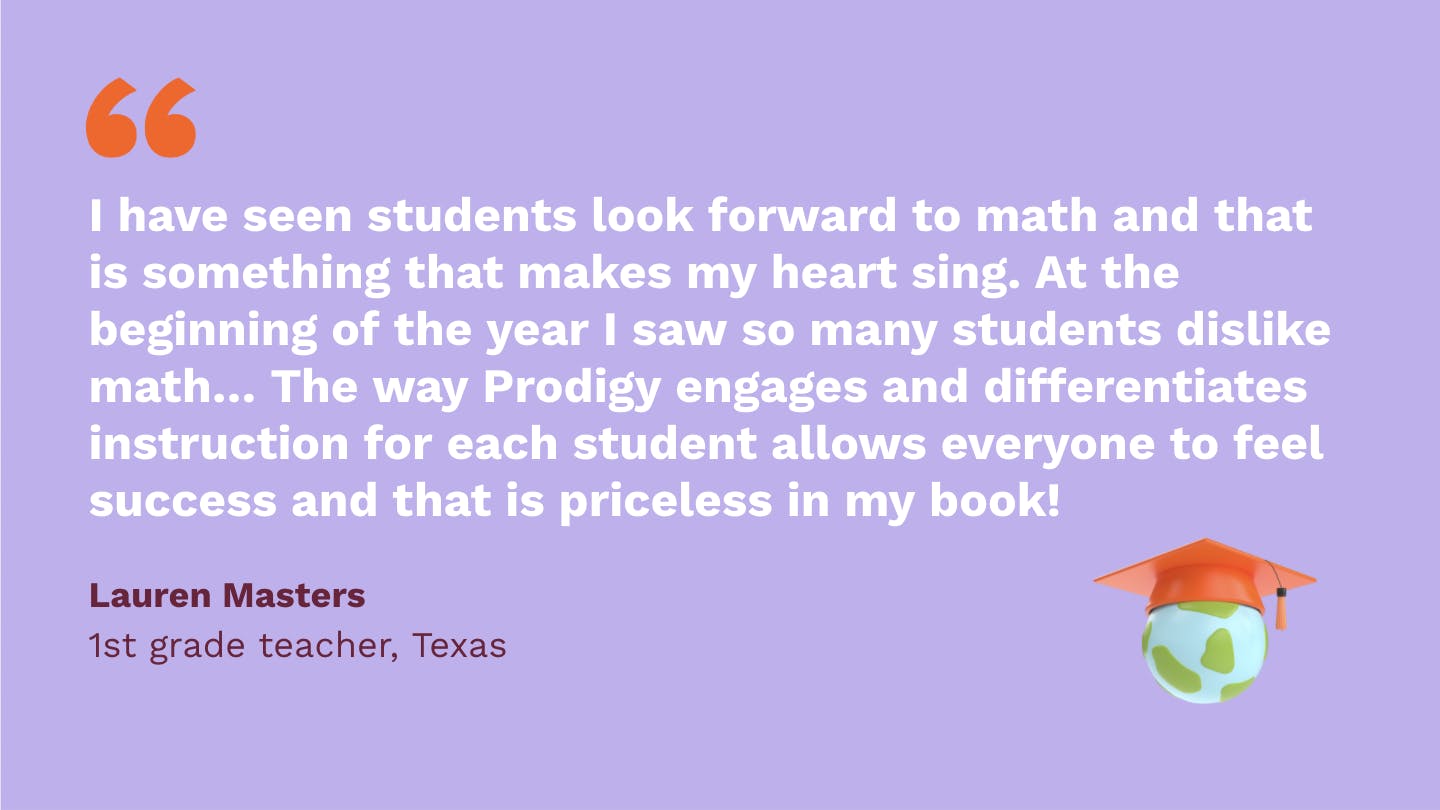 Finally, you know better than anyone that every child learns differently and at their own pace. Make sure you provide students with time to play Prodigy so they complete the differentiated math assignment.
Create Assignment now
No matter your teaching strategy, you'll likely pair them with formative and summative assessments throughout the year.
Summative assessment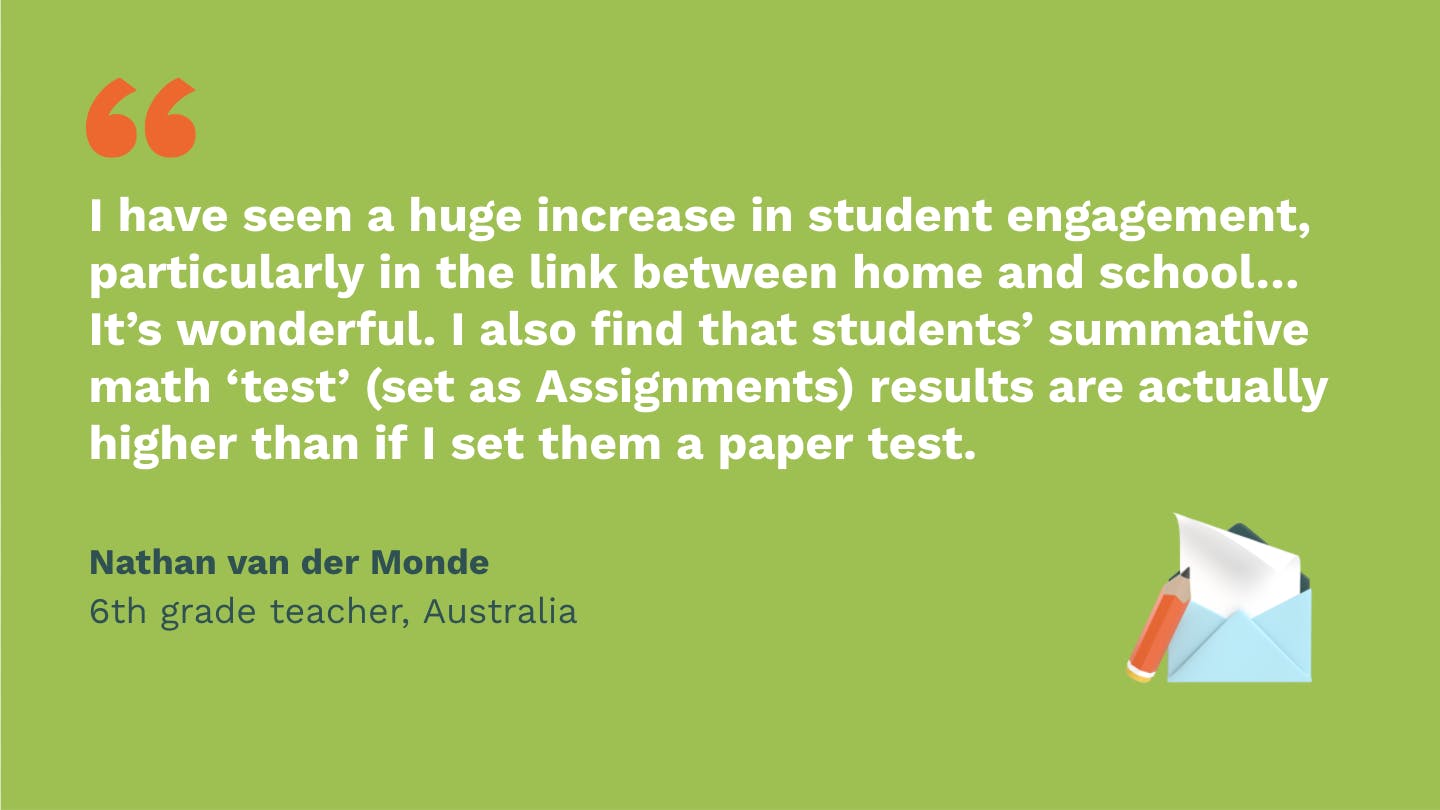 Students can find summative assessment stressful — especially standardized tests. So let's set your students up for success. Gamifying math practice for tests is an engaging way to lower test anxiety and boost test scores.
Use Prodigy Math Game to deliver curriculum-aligned Test Preps to prepare them for standardized testing season. Test Preps will give your students practice for the exact skills that are assessed by your region, as your teacher account tracks their results. Prodigy's teachers and educational content creators have updated all the Test Preps to reflect standards specific to each state's curriculum and include new content.
You can also create Assignments at the end of a unit or chapter to easily assess students' understanding of math concepts they have learned. In the Assignment report, you'll be able to quickly identify common knowledge gaps and use them to guide your in-class instruction!
Formative assessment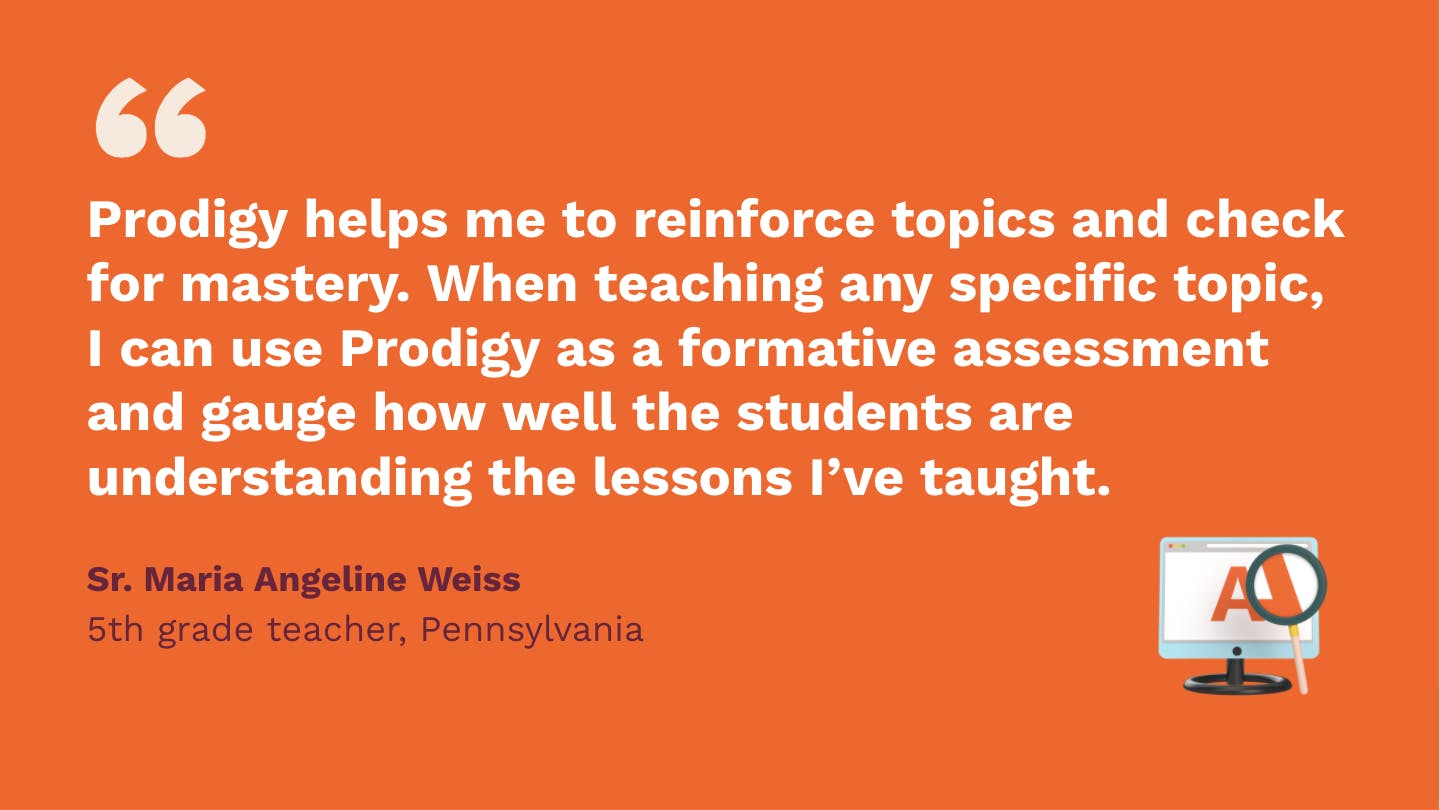 Formative assessments are one of the most effective ways to collect student data and guide instruction to promote student success. It also provides students with opportunities to reflect on their learning. Prodigy makes formative assessments easy to deliver.
Create in-game assignments to target areas where students might require additional support. You can assign formative assessments based on individual student needs, assigning up to 25 questions per standard.
Review the Assignment report in your Assessments calendar to see the exact questions and how each student answered — correctly, incorrectly or unattempted. You'll be able to quickly identify common gaps and adapt your in-class instruction while teaching a given concept.
Ready to assess your students?
You can align your class in less than a minute, so give it a try! It'll keep your students super engaged while practicing curriculum-aligned math. Align → Play → Check Results → Repeat.
Log in or sign up today.
Get my free teacher account!