9 Qualities you must evaluate when adopting math software
All Posts

The subject is hard for an overwhelming number of students, but finding math software to improve and supplement learning shouldn't be as difficult.
Your challenge is evaluating different math platforms based on objective information, finding a solution that addresses your school or district's specific issues. You can smoothen this process by knowing what aspects to investigate in any given platform.
To help, below are nine qualities to assess.
1. DoK range

It's critical to keep content depth in mind when assessing math software, especially while investigating how many questions the average student answers per session.
Many platforms focus on fact fluency; fewer deliver content that meets second and third Depth of Knowledge (DoK) levels. The former acts as a way of building information recall and reproduction abilities. The latter is suited to introducing and reinforcing specific, deeper skills.
And whereas students can answer fact fluency questions in a few seconds, problems that demand strategic thinking can take a minute -- maybe longer.
Base your expectations on the type of content you want students to receive.
2. Teacher control
Teachers should be able to easily choose the kind of content students see.
At the class or student level -- or both -- some platforms allow teachers to:
Deliver assignments to assess understanding of specific skills
Set in-program content to match topics and expectations
Align questions to mirror standardized test questions
Math software doesn't just have to be a tool for basic practice. The right platform can act as a lesson instruction, supplementation and reinforcement resource.
Choose a platform that gives teachers the power to control and customize educational content.
3. Adaptivity and differentiation
Precision varies, but many platforms use algorithms to serve students content if the teacher hasn't scheduled anything. Some automatically adapt to -- and differentiate for -- each student based on trouble spots and knowledge gaps. These platforms may also give hints and explanations to provide scaffolding.
These qualities are especially helpful for classrooms in which foundational knowledge greatly differs between students.
Read more in our adaptive learning guide
4. Curriculum alignment
If a given math program doesn't align with your curriculum, it can limit the effectiveness of adaptability and teacher control.
For example, in the United States, some state curricula are similar to -- whereas others are completely different from --Common Core. So, you may have a strong need for an uncommon curriculum.
In short: Some software will align with your curriculum; some will not.
5. Data actionability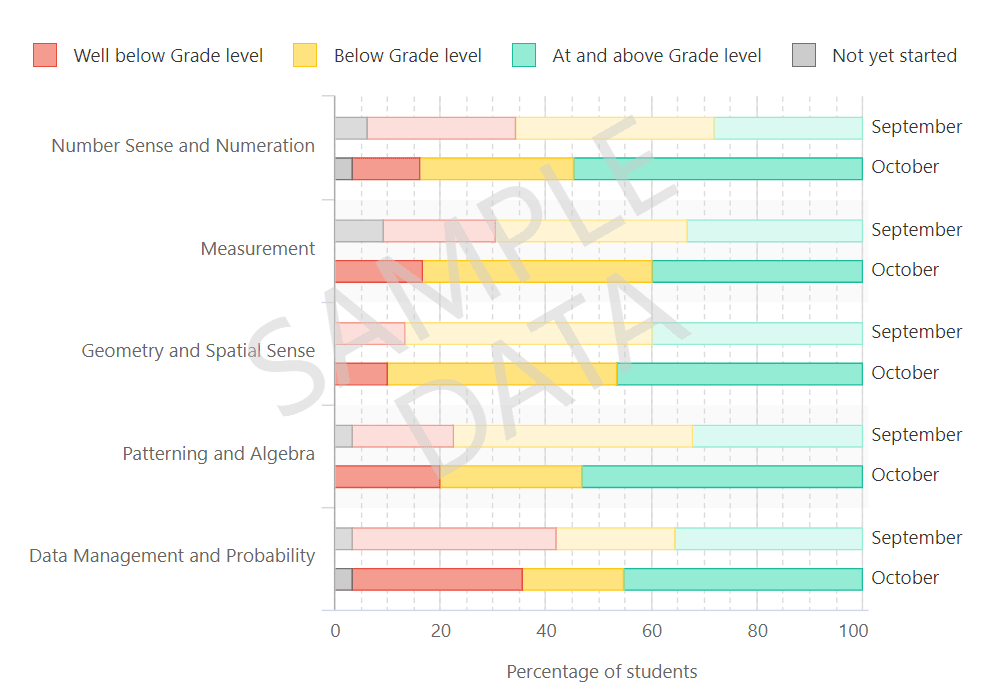 Relevant student data is always valuable, especially when it allows teachers and school leaders to monitor progress.
There are math programs that run diagnostic tests throughout the year, quantifying and visualizing each student's growth. These programs, and others, may also have reports about topic and curriculum coverage.
Such reports help pinpoint struggling students, opening the door to scaffolding and intervention.
6. Ease-of-use
It could offer robust data and be curriculum-aligned, but nobody in your building will adopt math software that's too hard to use.  If students can't follow in-program language, would teachers schedule time to use it? If teachers struggle to use core features, would they log in? And how long would you look for progress data before logging out? For students, you must ensure the program:
Is intuitive to navigate
Uses simple, yet descriptive, language
Loads and displays properly across devices
For teachers and school leaders, you must ensure the program:
Offers built-in explanations and instructions
Requires few clicks to find and use core features
Allows you to add and remove students in straightforward ways
Math software meeting these requirements shouldn't cause major usability issues for your building.
7. Training and support
Finding a math platform that offers training and ongoing support should address uncertainty with school- and district-level implementation.  If this is a concern, look for a platform that:
Offers training sessions to school leaders, tailored to your needs
Teaches teachers, offering step-by-step instructions for using core features
Provides a dedicated support manager to answer questions and concerns as they arise
With a streamlined and informative implementation period, your building should get up-and-running with new software relatively quickly.
8. Student engagement
Building students' investment in learning is a never-ending initiative, but one you can support by choosing software they'll enjoy using.
Game-based learning (GBL) is growing more popular as a way to engage students while appealing to diverse learning styles. Some math games are made up of disparate challenges, whereas others present problems through cohesive storylines. The former is more common, whereas the latter is like many mainstream video games that students actively play.Regardless, compared with continuously drilling content in the same format, it's easy to see why students would want a GBL program.
If you're interested in a math platform that's engage and free for teachers, check out Prodigy
9. Cost
Unfortunately, cost can be a major barrier.
Fortunately, platforms with diverse content, teacher tools and student reporting greatly vary in price. Whereas some can cost upwards of $10,000 USD for a large school, others are free. There are many more between these price points. This means there should be at least one or two platforms that fit your budget.
Final thoughts about assessing math software
Keep these nine factors in mind when evaluating any math software. They'll allow you to find an affordable solution that's engaging and educational for students, helpful and intuitive for teachers and informative for school leaders. Looking to adopt new math software at your school? Prodigy Math Game is a no-cost, adaptive game-based learning platform that helps students from 1st-8th grade practice curriculum-aligned math — covering more than 1,500 skills across three DOK levels. Prodigy engages students and helps teachers track student progress to provide targeted, differentiated instruction. Many students love Prodigy so much, they play at home more often than they do at school! Teachers can use Prodigy to:
Engage students in the math classroom and at home
Send students lesson-aligned Assessments while they play
Pinpoint students' working grade levels and their levels on key strands
Sign up for your free teacher account today to get started!
Sign up now