Written by Laney Kennedy

Teachers
Help inspire your students to love learning with Prodigy's online learning platform.
Learn more
Category
School Leaders

School Leadership
What worries parents and teachers the most?
If you took a survey, a huge majority would claim school safety as a top contender.
Turn on the news or check social media on any given day. You'll quickly notice that school safety is one of society's biggest concerns right now. With the number of negative stories floating around, you might wonder if your school is safe enough.
Of your many daily responsibilities as an instructional leader, your obligation to protect staff and students is arguably the most important.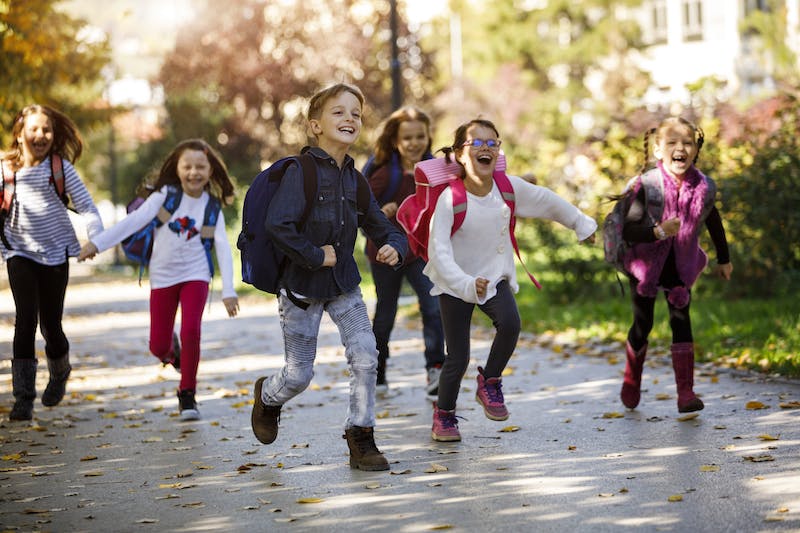 According to Education Week, 114 people were killed or injured in a K-12 school shooting last year. Schools across the U.S. increased school security initiatives following major tragedies like the Parkland shooting, putting many of their resources into physical security systems and school security officers.
Many people have questioned the effectiveness of such measures, and experts suggest more security is good-- to a point.
It is vital that genuine substantial threats are taken seriously, but a suspicious and fearful school culture that overestimates the likelihood and normalcy of rampage violence threats, and encourages students and teachers to come forward with even minor concerns about students' dangerous thoughts, questionable actions, and overall violence potential, amounts to a rather unwelcoming learning environment.-- Dr. Eric Madfis, Associate Professor of Criminal Justice, University of Washington Tacoma
Physical security measures and harsh punishments aren't the only way to promote school safety. School leaders should create well-rounded safety plans to protect students' well-being while fostering a positive learning environment.
Tragedies like those aren't the only concern, either. Physical injuries, mental health, food allergies and bullying are just a few of the many safety issues you should work to combat throughout the year.
Use some (or all) of these strategies to create a safe, welcoming environment at your school every day.
Top 5 school safety tips
It's hard to know where to begin with school safety measures, especially considering their importance.
Use these five suggestions to give teachers, parents and students confidence in your school's safety.
1. Regularly update school safety plans
Maybe you worked tirelessly to create a school safety plan at the beginning of the school year, and haven't made any changes since.
This scenario is extremely common, but you'll see far more benefit when you review your safety plan often, making any changes or additions as necessary.
New incidents and considerations will likely come up during the school year, and updating your plan to reflect this information ensures you're considering the best safety measures for your school. Careful review will help you avoid contradictory policies and will remind yourself and your staff to commit to school safety at all times.
You should also consider which concerns are most relevant to your school or community, so you can put more time and resources into these issues.
2. Make staff, students and parents aware of all safety policies
School safety rules should be readily available to every person who enters your building.
Teachers must be aware of all policies so they can use this knowledge to be good teachers for their students. They're also responsible for communicating any student requirements back to you.
Distribute clearly written safety rules to every classroom. Encourage teachers to send them home to parents and display them in class for reference at all times. In addition to rules, offer some tips and resources for what to do in certain situations.
Use a combination of written rules, pictures, videos, staff meetings and assemblies to share policies. The more avenues for communication, the better.
When teachers are made aware of all policies, they can pass on the information in fun, creative ways that capture students' attention.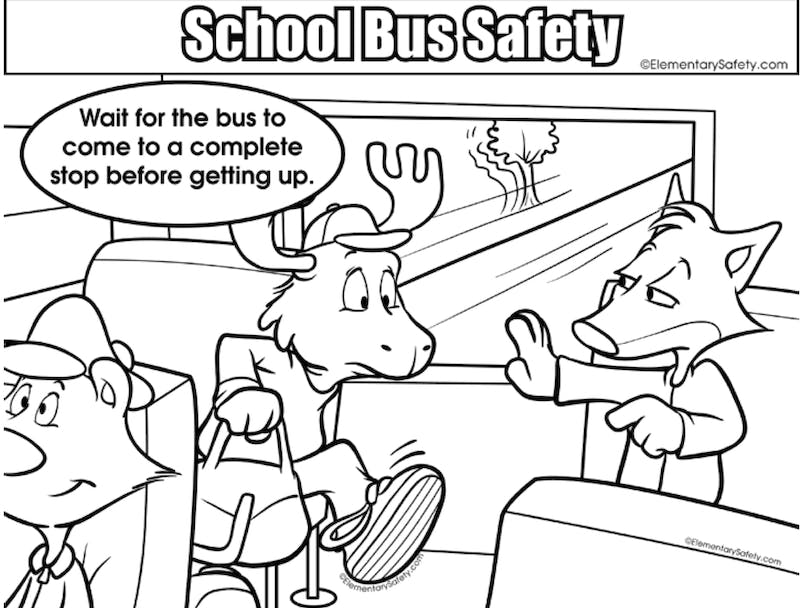 Example of a coloring page to teach students about school safety. Image source: Elementary Safety.
3. Provide teacher safety training
Offer school-provided safety training sessions to help teachers effectively manage their classrooms and keep the school environment as safe as possible.
Safety training is a great professional development opportunity that gives students and parents confidence in their teachers' preparation against safety threats. 
There are many training programs you can offer to teachers or other staff members. For example:
Teachers can then share their learnings with students in a digestible format. You can also work with community organizations, such as your local police or fire service, to provide in-class training to students.
4. Organize a school safety team
School leaders shouldn't have to plan safety strategies alone.
Put together a school safety team, assigning individual roles so every problem can be managed. You might designate emergency planners, logistics officers, communications coordinators or safety response managers.
The school safety team will work together to conduct regular assessments, prepare for safety responses, assist in updating the safety plan and anything else needed.
Staff members can join the school safety team on a volunteer basis. You can also hire an outside safety officer, social worker or counselor to offer more expertise to the team.
5. Create a complete emergency response plan
The numbers show that students are generally safe at school, but preparation against potential emergencies is still an essential addition to your school safety plan.
Any emergency response plan should include the following components:
Prevent-- Develop emergency prevention rules and resources. This could include anti-bullying and anti-violence policies, mental health initiatives or rules against certain allergens.
Prepare-- Create a detailed plan for the event of an emergency. Determine procedures, roles and special considerations. Coordinate with other schools in the community and get emergency contacts for all staff and students. Try to anticipate every possible situation.
Respond-- How will you react when an emergency occurs? This is the phase when the emergency procedures you plan will actually take place. Your plan should also include a crisis communications strategy for informing stakeholders of what happened and next steps.
Recover-- Include next steps for after an emergency to restore your school's environment and reputation. Consider how you'll respond to the emotional and physical needs of staff, students and parents. Think of ways to rebuild confidence in your school's safety.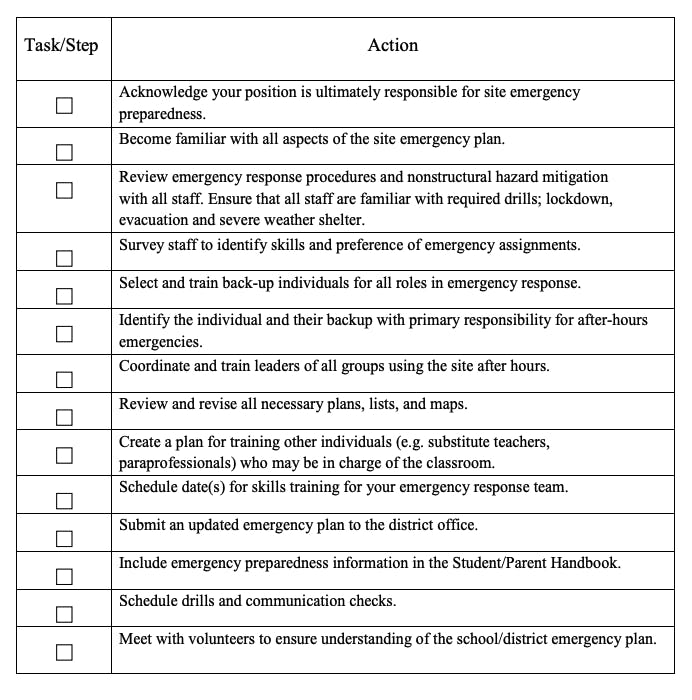 Example of an emergency response plan checklist. Source: HSEM.
Specific school safety tips
There are many school safety issues you should address during the year. We've included tips for you, along with extra advice for your teachers and students.
Explore the categories below for inspiration, and pass along any relevant tips to your staff.
School bus safety
School buses are the safest way for children to travel to school. Despite this fact, they can still present safety concerns. In 2017, school bus-related crashes killed 95 people in the U.S., according to the National Safety Council.
School bus safety rules are necessary to protect your students from potential harm.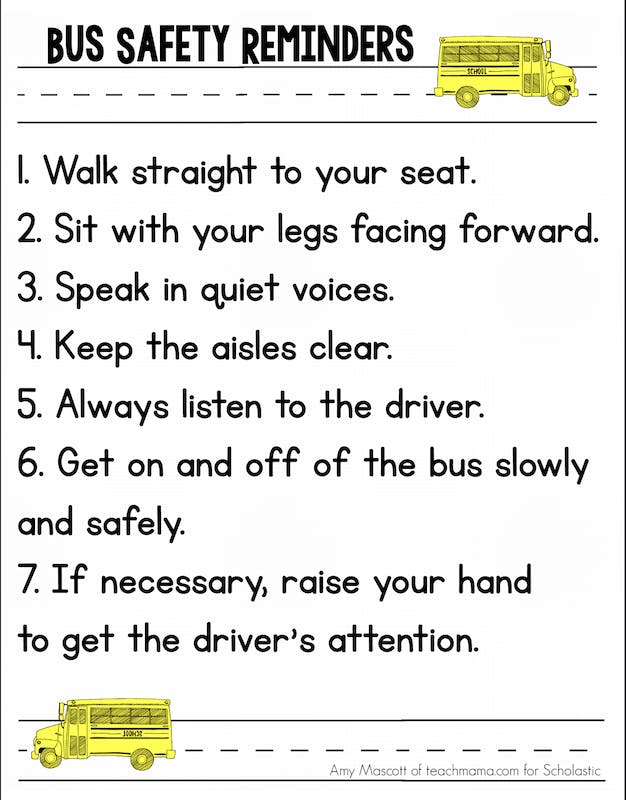 Image source: Scholastic.
Tips for you:
Try to arrange a safe bus stop location, so children don't need to be near busy roads.  
Create signs near the bus stop to identify the "danger zone" that students should stay clear of when waiting to board.
Oversee and document bus safety inspections throughout the year.
Create a volunteer program for older students (ie. high school) to help children get on and off the bus. You can work with your local police service to offer safety training to these volunteers.
Tips for teachers:
Give students time to pack their things and get to the bus stop early.
Encourage a "snack time" near the end of the day so students are less inclined to eat on the bus.
Practice "quiet time" and teach strategies for reducing noise levels.
Instruct older grades to look out for younger students at the bus stop and assist them if necessary.
Tips for students:
Avoid the "danger zone" when waiting to get on the bus. Tell the bus driver if you dropped something near the bus- don't pick it up yourself.
Place bags and other belongings under your seat.
Sit facing forward for the entire journey.
Try to be quiet at all times, to avoid distracting the driver.
Stay in your seat until the bus comes to a complete stop.
Outdoor activity safety
Heading outside and getting active is great for children's physical and social development -- as long as it's done safely!
There are a few things to watch out for when students take part in outdoor activities.
Over 2.6 million children are treated for for sports and recreation injuries every year. These often occur from outdoor sports and activities or playground falls. Traumatic brain injuries (TBIs) such as concussions account for many of these, and can have a severe impact on child development.
Weather-related illnesses are another major consequence of outdoor physical activity. Heat stroke, for example, can lead to organ damage and death if not treated properly.
Take steps to prevent and prepare for any of the above issues.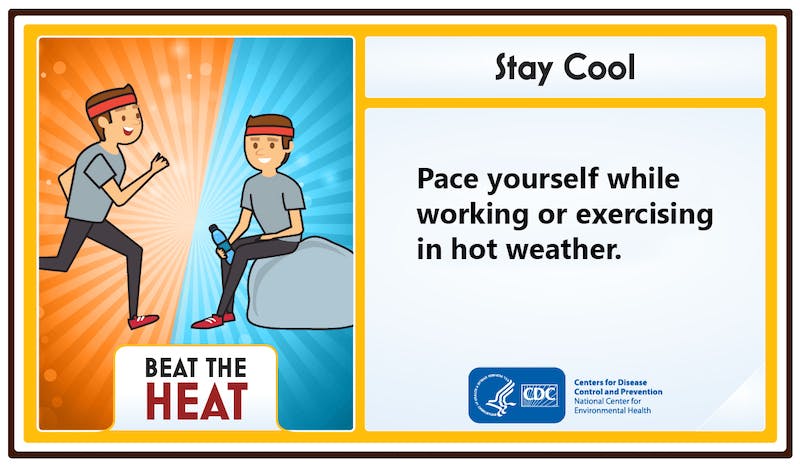 Image source: CDC.
Tips for you:
Announce indoor recess and reschedule sports events during severe weather.
Conduct regular safety checks of playground equipment.
Provide water and snacks for students during sports events or other outdoor activities.
Make sure the building's heating and cooling systems are always in good working condition.
Tips for teachers:
Check for playground hazards when on yard duty.
Avoid outdoor activities in hot weather. Try to avoid scheduling outdoor lessons during the hottest time of day: between noon and 3 pm.
Encourage students to take frequent breaks during physical activity.
Watch for signs of weather-related illness or brain injury. Assist any students who exhibit these signs.  
Tips for students:
Drink plenty of water and take breaks often during any physical activity, especially if it's outside.
Report any unusual symptoms after outdoor activities to a teacher.
Wear weather-appropriate clothing. Dress in layers to prepare for any changes during the day.
Wear sunscreen and reapply during the day.
Emergency preparedness
Active shootings and intruders are likely the first examples of emergency situations that come to mind, but these aren't the only possibilities. Other examples include medical emergencies, illness outbreaks and severe weather events.
According to Injury Facts, weather events resulted in 592 deaths nationwide in 2017.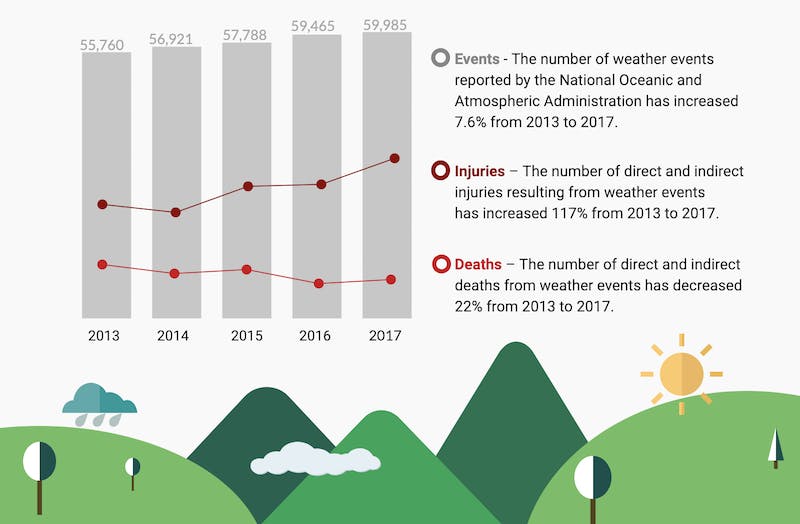 Image source: Injury Facts.
School safety measures should consider all potential situations in their emergency response plans. Below are some additional tips.
Tips for you:
Create and frequently update your emergency response plan, providing easy access to the documents for all staff.
Schedule regular emergency response drills throughout the entire year.
Choose a designated entrance to your building and ensure all other doors are locked from the outside.
Make sure classroom door locks are high quality and up to date.
Tips for teachers:
Promptly inform your school leader of any special requirements for individual students.
Hold regular classroom safety drills outside of the scheduled schoolwide drills.  
Consider including emergency preparedness in your curriculum. Use FEMA's Be a Hero curriculum as a guide.
Tips for students:
Actively listen and participate during regular safety drills.
Keep a cheat sheet of potential emergencies and the best ways to react.
Have all family members' phone numbers written somewhere accessible.  
Report anything suspicious to your teacher or another staff member.
Create an "emergency kit" for school and home, filled with things you may need in different emergency situations.
Physical and mental health
The American Chiropractic Association recommends a backpack weight no more than 10% of a child's weight. So if a child weighs 70 lbs, their backpack should be 7 lbs at most. Unfortunately, this is rarely the case.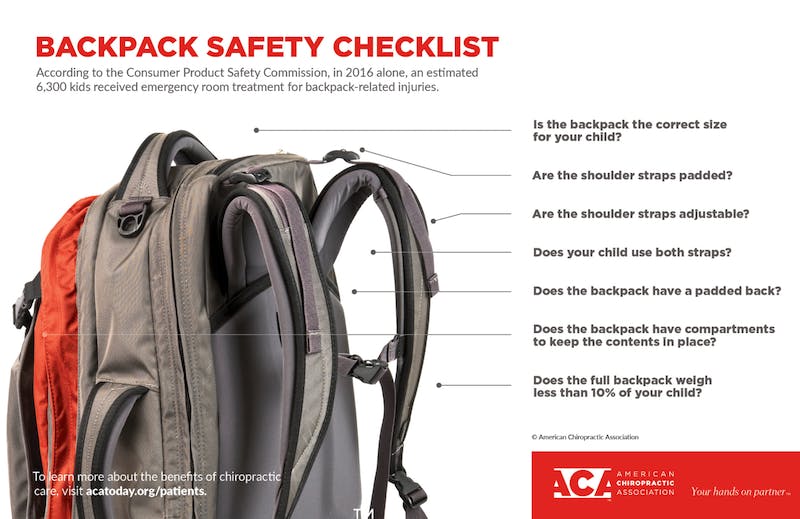 Image source: ACA.
Heavy backpacks are just one possible threat to physical safety. Physical strain, unhealthy lifestyles, slips, falls and food allergies all present safety issues for students. Mental health can also be impacted by things like anxiety and stress at school.
Both physical and mental health should be considered in any school safety plan.
Tips for you:
Keep first aid kits and ice packs in the school office at all times.
Promote safety in hallways. Make sure floors are cleaned often, especially during winter.  
Create school-wide initiatives that promote healthy lifestyles. For example, host a morning "breakfast club" so all students can eat in the morning.
Keep up-to-date school allergy lists posted throughout the building, and make spare EpiPens available.
Consider hiring support workers such as school counselors or social workers. You can also get community organizations to give informative presentations to students.
Tips for teachers:
Include active listening, social/emotional skills and mental wellness in your curriculum.
Talk to your students before resorting to discipline. Work to find the underlying issue and watch out for any warning signs of physical or mental health issues.  
Allow students breaks to collect themselves in stressful situations.
Assign digital resources when possible, to lighten the weight of students' bags.
Tips for students:
Don't run or push in the hallways
Let a teacher know if you feel hurt or sick. Talk to a teacher or counselor if you feel stressed or mentally unwell.
Practice healthy habits- get proper sleep, choose healthy foods and exercise regularly.
Don't be ashamed if you need to take a break to calm yourself down.
Use active listening if a peer confides in you. Report any potentially dangerous information to a trusted adult.
Bullying and violence
The National Center for Education Statistics found students aged 12-18 experienced nearly 750,000 victimizations at school in 2016. Bullying situations are most likely to occur in hallways or stairwells, where supervision is limited.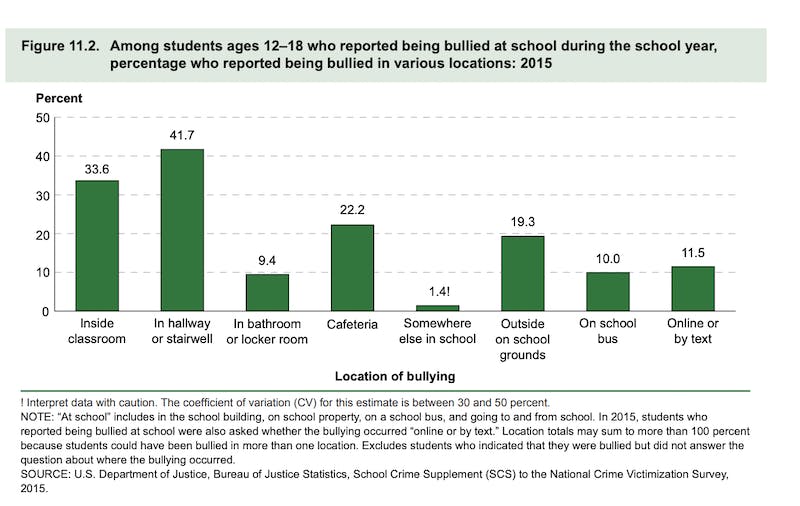 Image source: National Center for Education Statistics.
Dealing with bullying behavior in the classroom is time-consuming for teachers. It limits opportunities for academic instruction and positive learning experiences.
Bullying can negatively impact everyone involved, including those who bully. It can lead to problems with physical or mental health, substance abuse, school performance and more. It's important to create rules and policies that will keep all students safe from these outcomes.
Tips for you:
Create anti-bullying initiatives, promoting kindness and inclusion.
Provide resources to staff and students about what to do in bullying or violent situations.
Record bullying behavior and note any patterns in your school, so you can target specific bullying issues.
Make an effort to build a positive school culture and promote favorable attitudes from staff and students.
Take relevant security measures to prevent violent behavior from students. Consider installing security cameras or metal detectors, depending on individual school needs.
Tips for teachers:
Understand the difference between bullying and conflict (bullying involves repeated aggressive behaviours where a power imbalance exists).
Encourage communication from parents about bullying and take their concerns seriously.  
Don't label students as "bullies" or "victims." Work with each student to understand and solve the situation. Don't assume one child is completely at fault.
Be aware of the signs of bullying and violent behavior, taking appropriate action when necessary. Don't tell the students to "talk it out," as this does not tend to help bullying situations.
Tips for students:
Be kind to other students, including those outside of your friend group.
Include other students in games and activities as much as possible.
Be a good bystander: let a teacher know if you suspect someone is being bullied, or if you witness a situation you think might become violent.  
Only confront someone who is bullying if you feel safe to do so. Stand up for yourself in a calm, clear manner.
Practice "I" statements. For example, instead of saying, "you're being mean," try saying, "I feel upset when you do that."
Final thoughts on school safety
Creating a safe school environment is one of the most important parts of your job. It might feel like an overwhelming responsibility, but a good school safety plan will make you feel ready to take on the task.
Use the above tips to make a plan that works for your school, and share your pledge to make school safety a priority.
Once you've made your school safety plan, you can focus on creating a positive learning environment for your students.
Try Prodigy Math Game — the adaptive, curriculum-aligned math platform that helps students love learning math teachers can use Prodigy to:
Align in-game adventures with classroom lessons
Collect insights into student progress and learning gaps
Send differentiated content and Assessments in just a few clicks
Sign up now