Board Games for Kids: The Ultimate List
All Posts

Parents
Help your child practice math and have fun with Prodigy Math Game.
See how it works
If there's one thing every parent knows, it's that there are only so many times you can play Monopoly during family game night. 
This list of more than 50 board games for kids(and adults!) will help you cut down on screen time, and turn your next game night from this:
Plus, each entry includes the recommended age range, number of players and approximate playing time to help make planning your next game night easier!
Looking for something more than a board game? Prodigy Math is a fun, curriculum-aligned online game that makes learning math an epic adventure. Children battle monsters, collect unique in-game rewards and explore new worlds — all while answering adaptive math questions at a level that's just right for them. Sign up for your parent account to track your child's progress and help motivate their learning.
Join Prodigy today!
Best board games for kids
New and classic, for little kids and big kids, these board games will give every child hours of fun.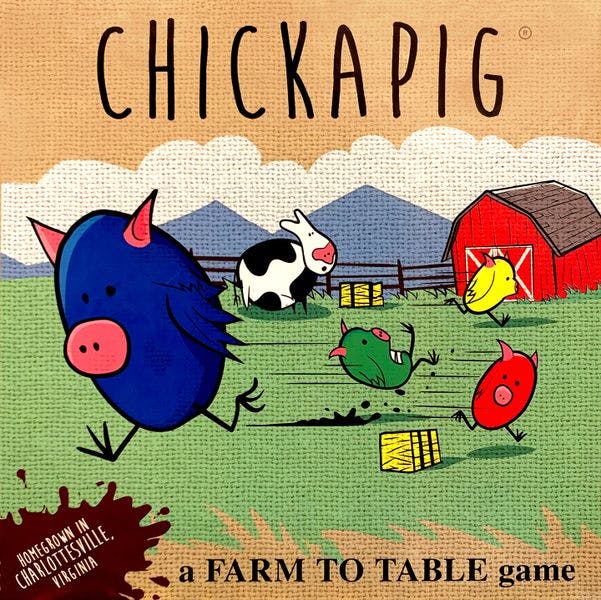 Life's a barnyard in this zany strategy game. Players move across their board with their chicken-pig hybrids, all while dodging obstacles like cow poop and hay bales. The ridiculous fun will delight children of all ages!
Ages 8+
2 to 4 players
25 to 60 minutes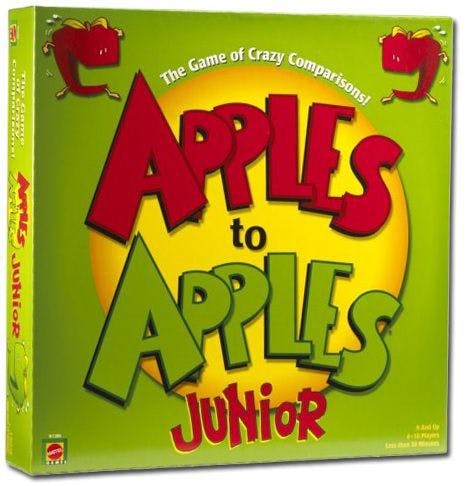 Although older children might be able to grasp the concepts behind the original version, Apples to Apples Junior turns a beloved party game into family-friendly fun. Children will learn to make crazy comparisons, expand their vocabulary and connect abstract concepts to concrete images. 
Ages 9+
4 to 8 players
30 minutes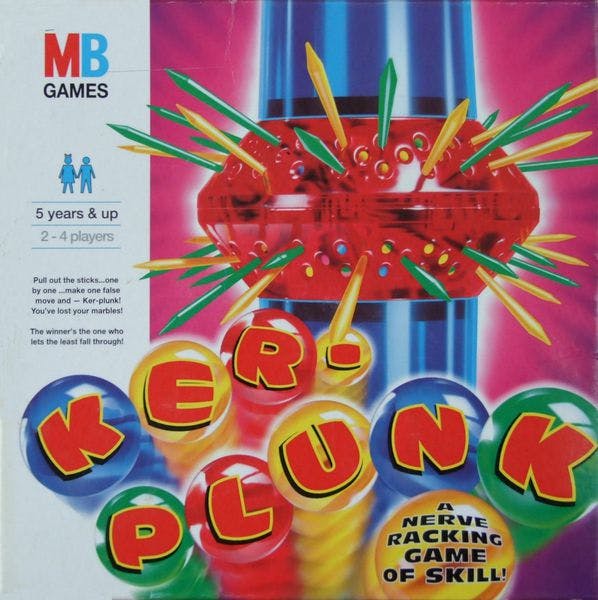 While nottechnicallya board game, this classic is too much fun to leave off the list. Easy to set up and even easier to play, players pull sticks out one by one without letting the marbles on top fall. The player with the most marbles at the end of the game loses. 
Ages 5 to 10 
2 to 4 players
20 minutes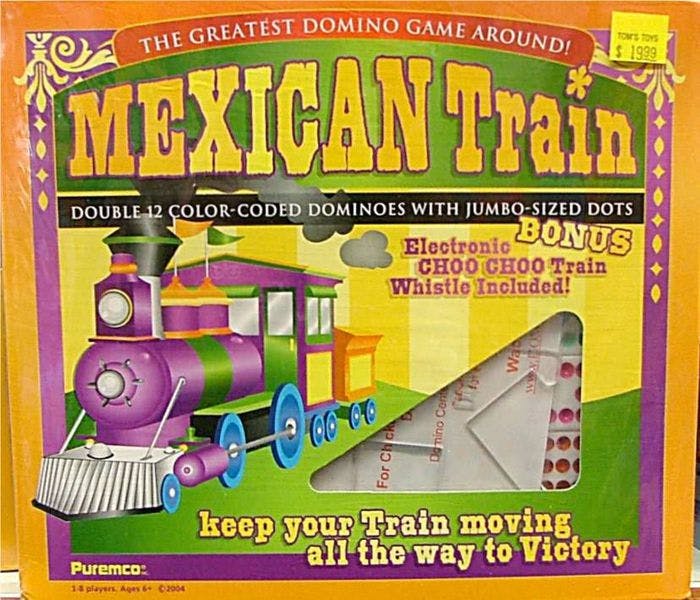 This classic domino game requires players to always think two steps ahead. Players race to build a train of matching values out of dominos before an opponent forces them to change course. 
Ages 8 to 14 
2 to 6 players
20 minutes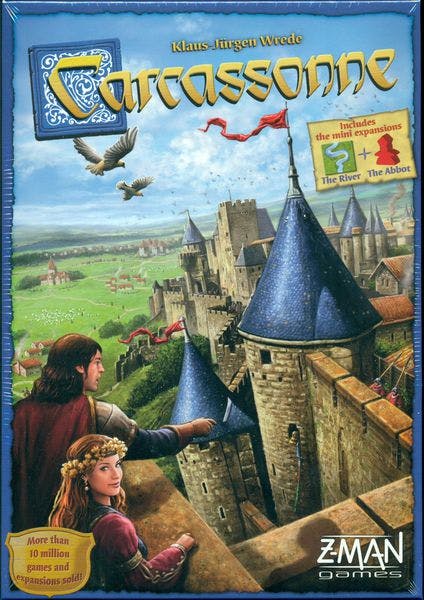 Take a trip to the south of France without having to go to the airport in this unique board game. Players work to map out a shared kingdom, laying tiles and placing "meeples" to score points. Since players only hold one tile at a time, turns go relatively quickly and long-term planning is limited.
Ages 7+
2 to 5 players
30-45 minutes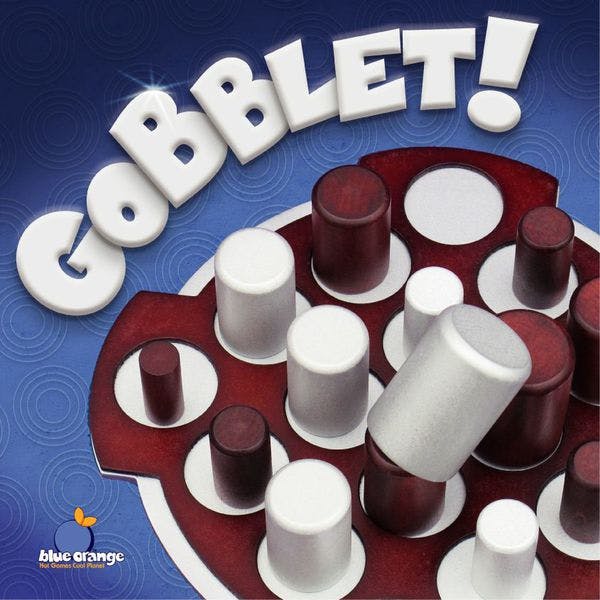 Gobblet is kind of like checkers, if checkers was played with russian nesting dolls. Players work to get four of their own pieces in a horizontal, vertical or diagonal row on the board, but have to be careful to remember what pieces might be hidden underneath theirs. 
Ages 7+
2 players
20 minutes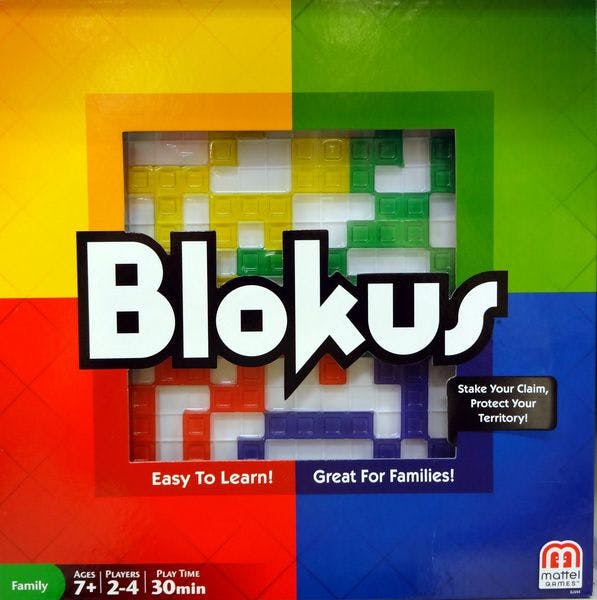 Good for your brain and fun for the whole family, Blokus is basically a 3D version of Tetris. Working with random geometric shapes, players work to place them on the board and block other players. 
Ages 7+
2 to 4 players
20 minutes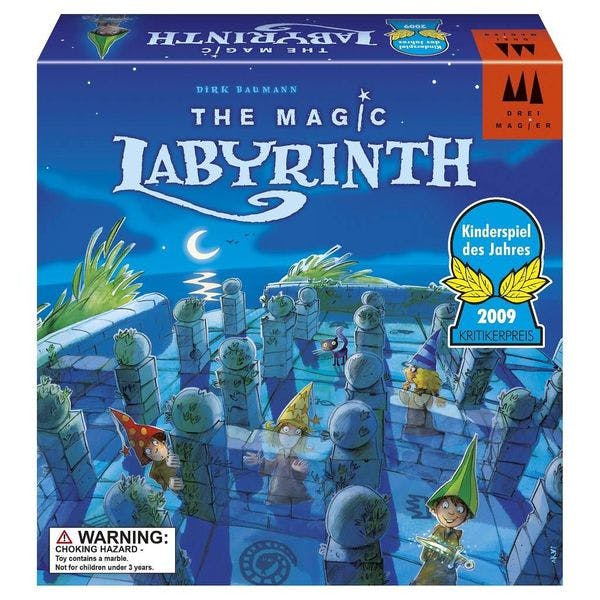 Ingenious construction makes this game a delight to play. This board game comes with two layers: a bottom maze and a top grid. Players use a magnetic token, attached to a metal ball on the underside of the top layer, to carefully navigate the maze. As a bonus? Players also practice their mental mapping, memory and spatial awareness skills. 
Ages 6+
2 to 4 players
20 to 30 minutes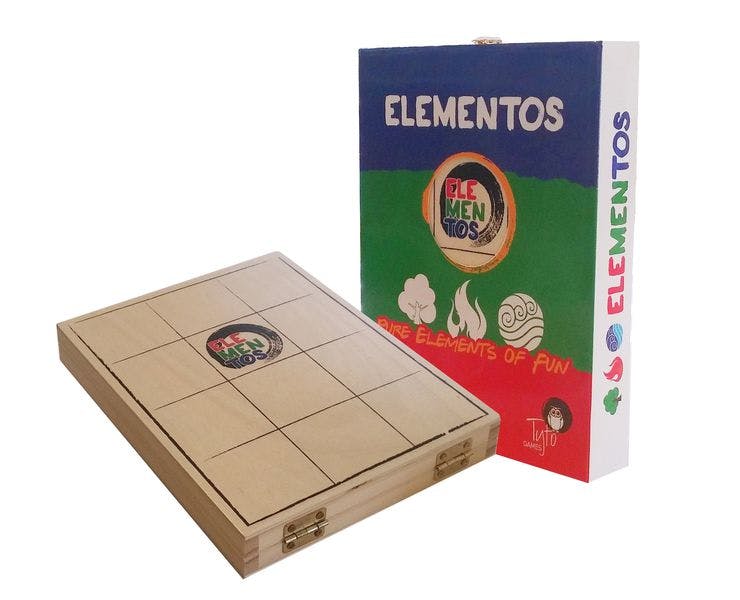 This two-player strategy game seems simple, but actually requires strategic thinking and long-term planning. Similar to the classic Rock Paper Scissors, opponents use the elements of fire, water and a tree to outmaneuver each other and claim victory. 
Ages 7+
2 players
15 minutes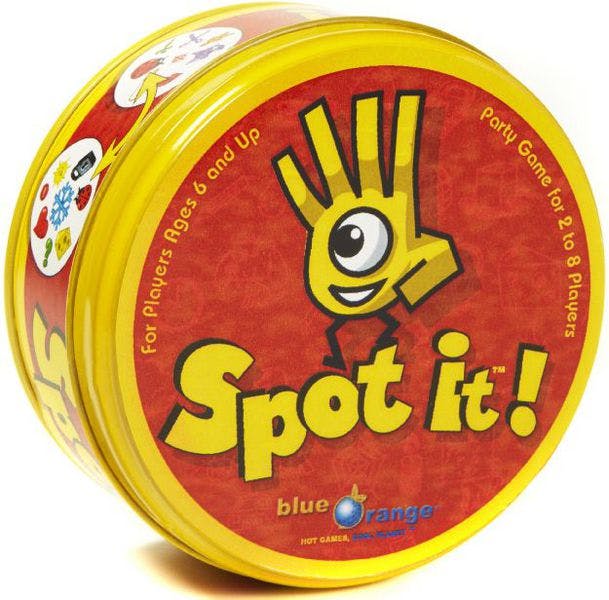 This travel-sized classic is a family favorite. Your eagle-eyed child will have a blast spotting the matching character between the cards, and it's surprisingly engaging for adults, too! Small and portable, this game encourages visual perception skills for players of all ages. 
Ages 7+
2 to 8 players
15 minutes
Board games for the whole family
Make your next family game night memorable with board games the entire family will love. Accessible for kids and engaging for adults, these games offer something for everyone. Plus, we've included some of the best card games for variety!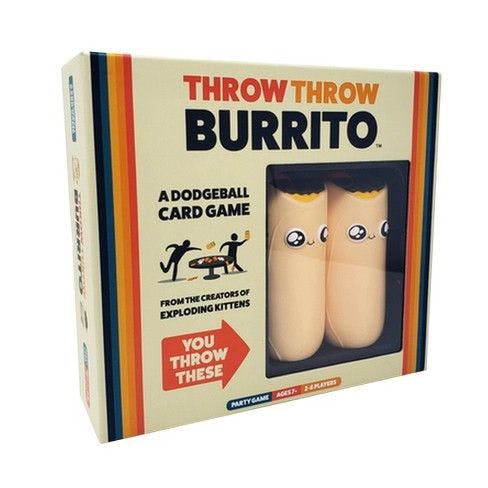 Get your entire family up and moving with this unique game, where players compete to earn points while also throwing and dodging toy burritos. Adults will love the active silliness of the game almost as much as the children (or maybe more)!
Ages 7+
2 to 6 players
15 minutes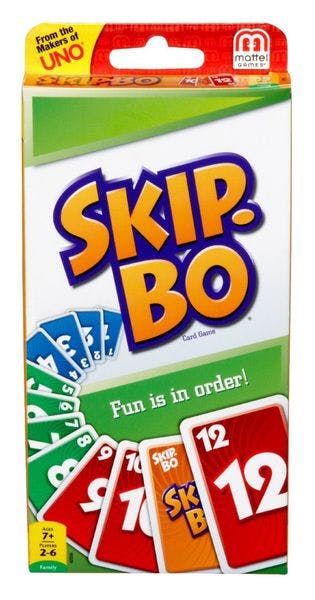 Invented in 1971, this card game is still a classic. Parents and children will have a blast with this unpredictable card game that's easy to understand and engaging. Produced by the same company that created Uno, players race to stack all the cards in ascending sequence until one player has no more cards left.
Ages 8+
2 to 6 players
20 minutes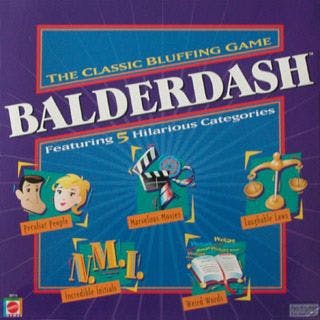 Make up definitions and practice your bluffing skills for unbelievably real words, people, initials and movies. Read the fake answers alongside the real one and earn points to move around the board.
Ages 8+
4+ players
60 minutes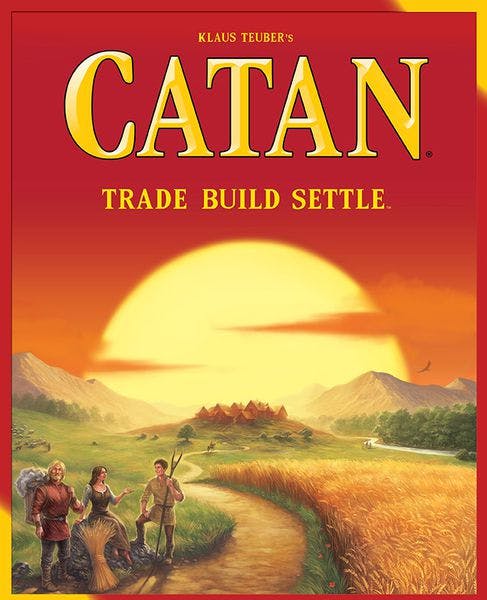 Catan, also known as Settlers of Catan, is one of the most beloved and well-known world-building games. Better suited for older children, players compete to collect resources, build roads and create their own mini civilization. With lots of expansion packs to choose from, there's always something new to explore in the world of Catan.
Ages 10+
3 to 5 players
60 to 120 minutes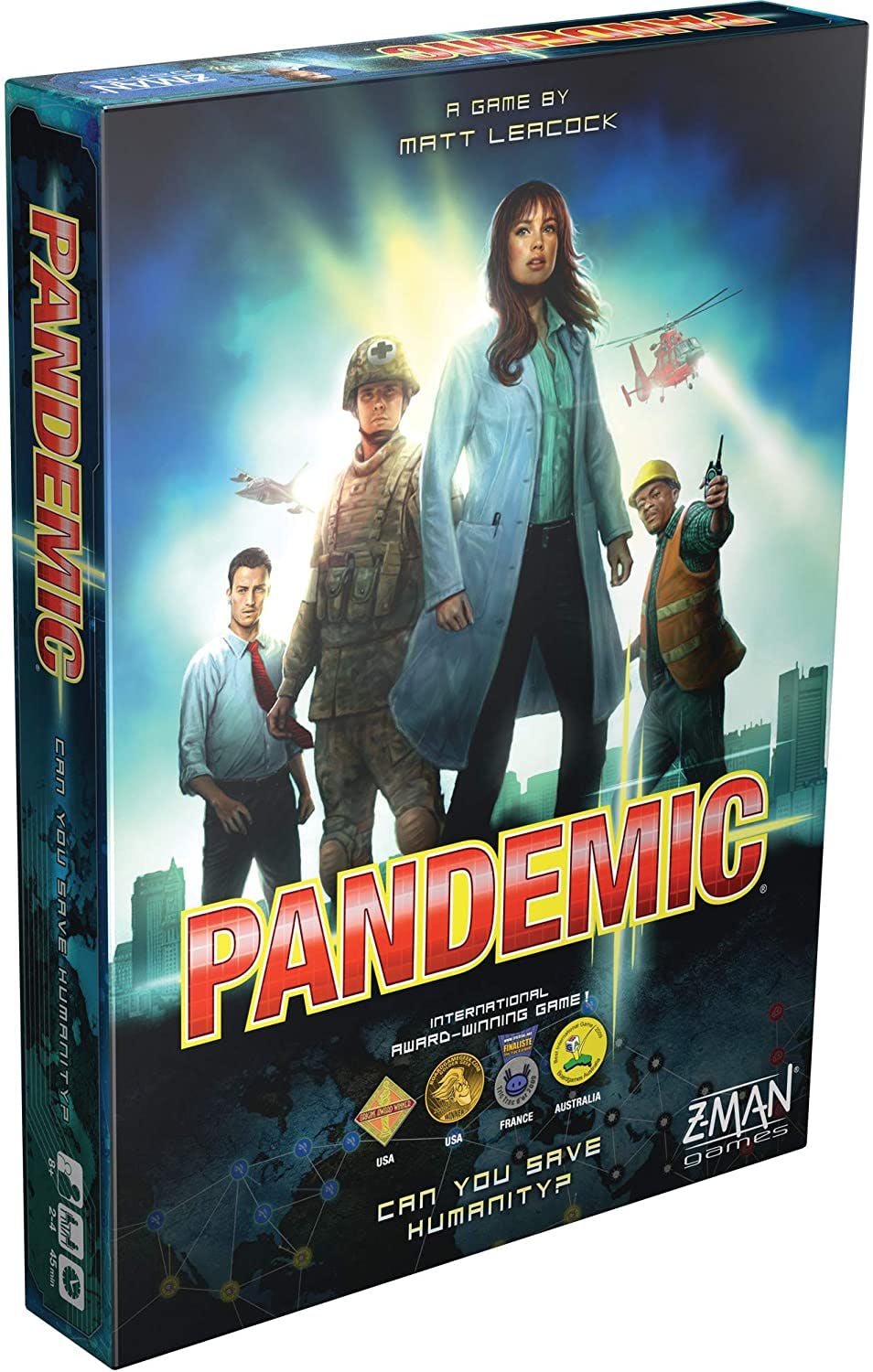 Save the world and stop the deadly diseases in this exciting strategy game. Each player is given a unique role to play and everyone works together to stop all the diseases and save humanity. Plus, if your family loves this game, there are plenty of sequels to choose from!
Ages 8+
2 to 4 players
45 minutes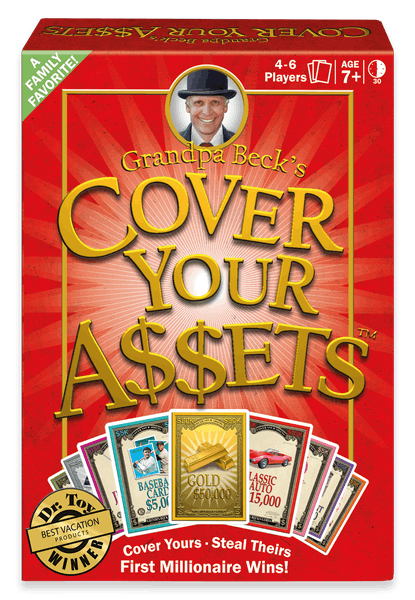 Financial planning meets ruthless ambition in this high-stakes, engaging and infuriating card game. Collect valuables and steal from other players — but remember to cover your assets, unless you want to end up broke at the end of the round. 
Ages 7+
2 to 8 players
15 to 45 minutes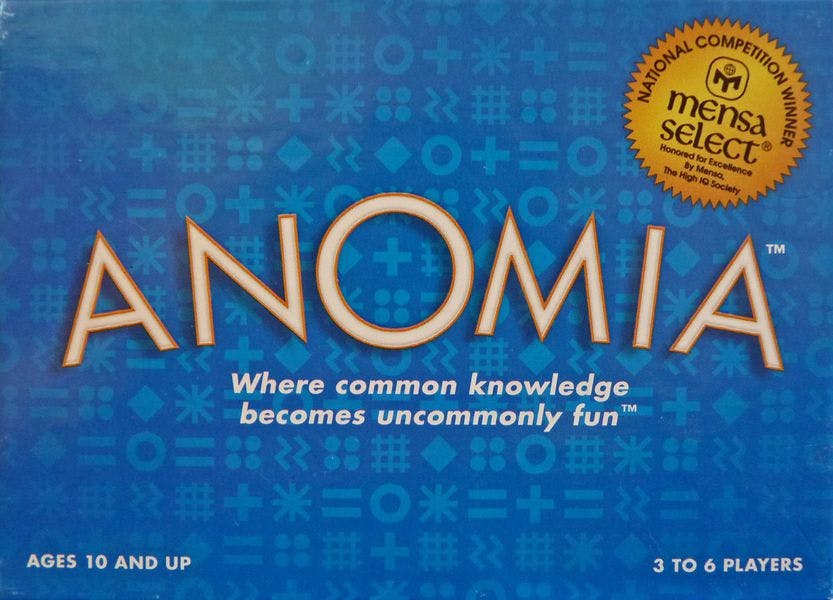 Everyday words have never been more challenging. Fast-paced and hilarious, this card game is great for families. Beat your opponent to the answer, but don't let it get stuck on the tip of your tongue!
Ages 10+
3 to 6 players
30 minutes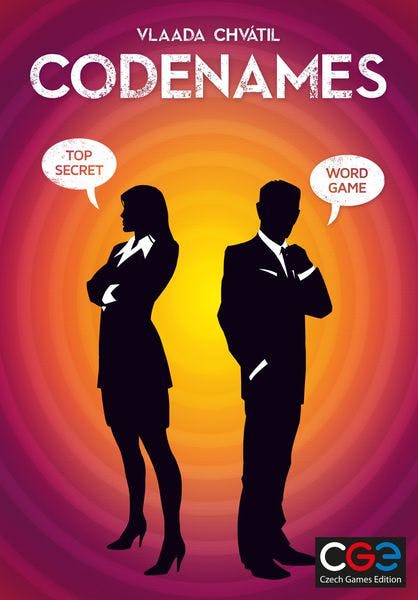 Thrill the whole family with this spy-themed board game built on random words. Spymasters give one-word clues to their spies, and the spies work to find the correct cards without taking out any innocent bystanders. 
Ages 14+
2 to 8 players
15 minutes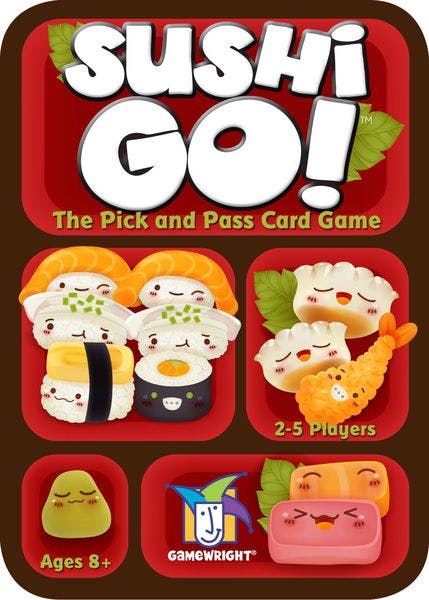 This fast-paced card game doesn't require reading or number recognition, which makes it perfect for both younger players and adults. Select cards as they go by to add to your hand and build sets of cards to earn points. 
Ages 5+
2 to 4 players
15 minutes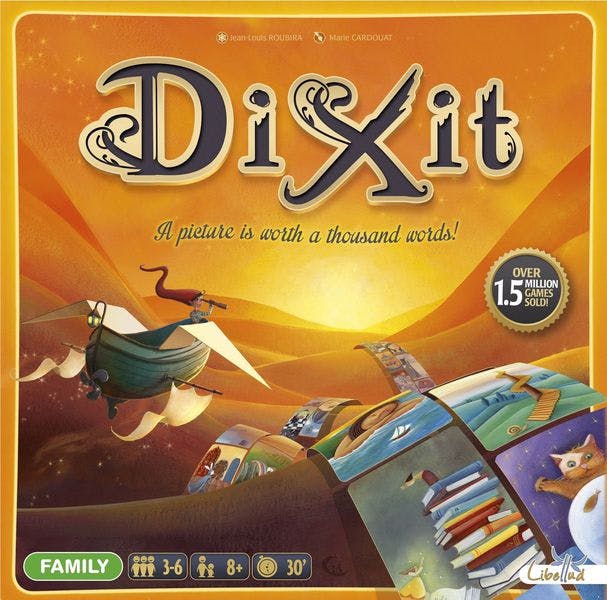 Beautiful illustrations help children (and parents!) build storytelling skills in this board game. Use the pictures on the cards to tell and interpret stories based on the illustrations, and earn points to move across the board. Accessible for a wide range of skill levels, this game promotes creativity over strategy and is perfect for the budding artist in your household. 
Ages 8+
3 to 6 players
30 minutes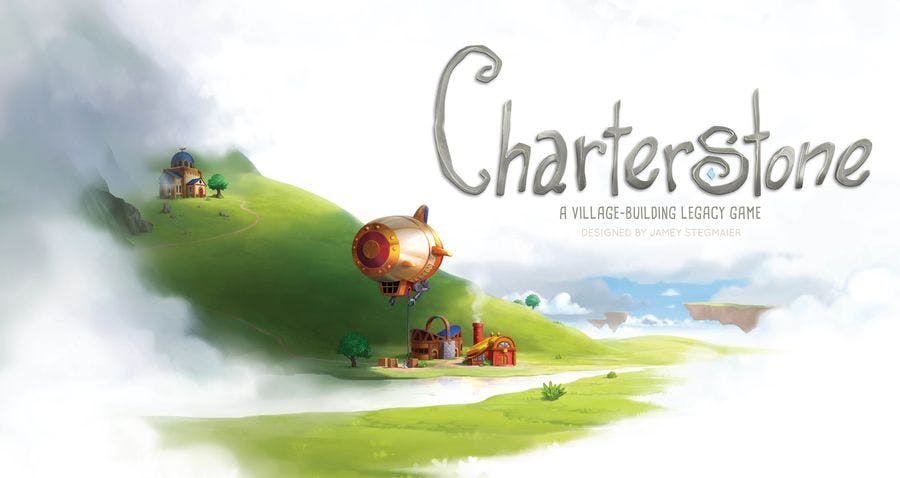 Charterstone is a legacy game perfect for building a family game night tradition. Each time you play, the board is permanently altered with markings and stickers. Over the course of 12 sessions, players compete to build structures and cultivate available land. Although it can get a little complicated for younger players, it's a great way for your family to work together and build something unique. 
Ages 14+
1 to 6 players
45 to 75 minutes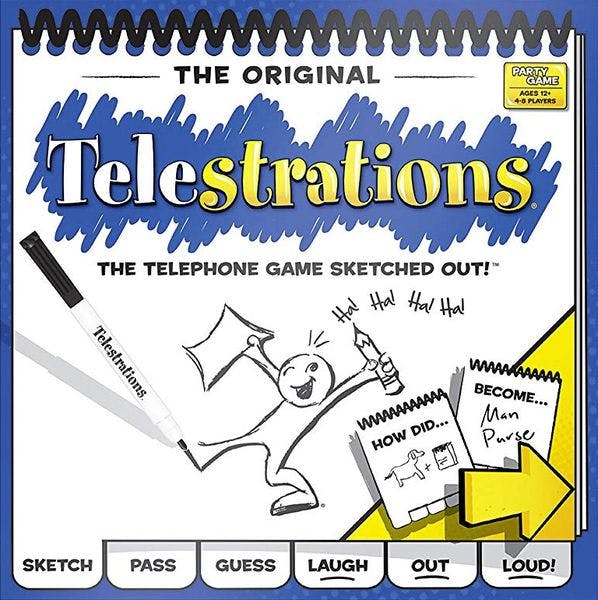 Pictionary meets Telephone in this hilarious game of miscommunication. Each player starts with a random word and draws a related picture, then passes it on to the next player who guesses what the picture is. At the end of the game, unfold the papers to see what the original word turned into!
Ages 12+
4 to 8 players, or more with expansion pack
30 minutes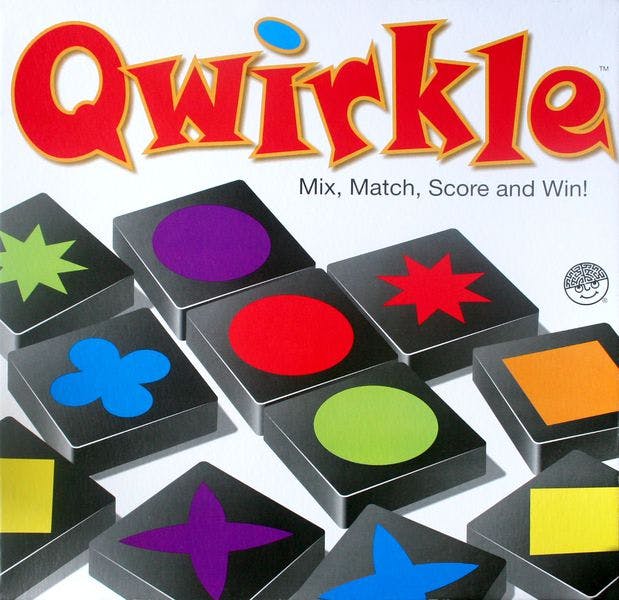 Match blocks based on color or attribute, build logic skills and work to earn points in this colorful board game. Players can trade or choose tiles, and the game goes until one player uses up all their tiles. 
Ages 6+
2 to 4 players
45 minutes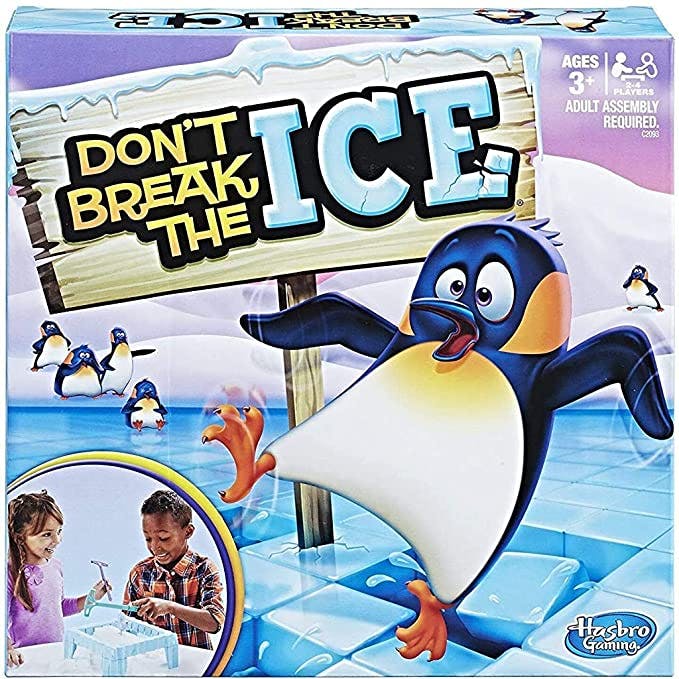 This board game offers an arctic twist to turn-based games. Using a small mallet, each player takes a turn to remove a block of ice from a table holding Philip the penguin. The winner is the person who can keep Philip on the ice without letting him fall. This quick board game is great for small groups and is sure to get a lot of laughter from kids and parents alike!
Ages 3+
2 -4 players
5-10 minutes
Board games for young kids
It's never too early to start introducing your child to board games! Start building their board game skills with these exciting and easy-to-understand options.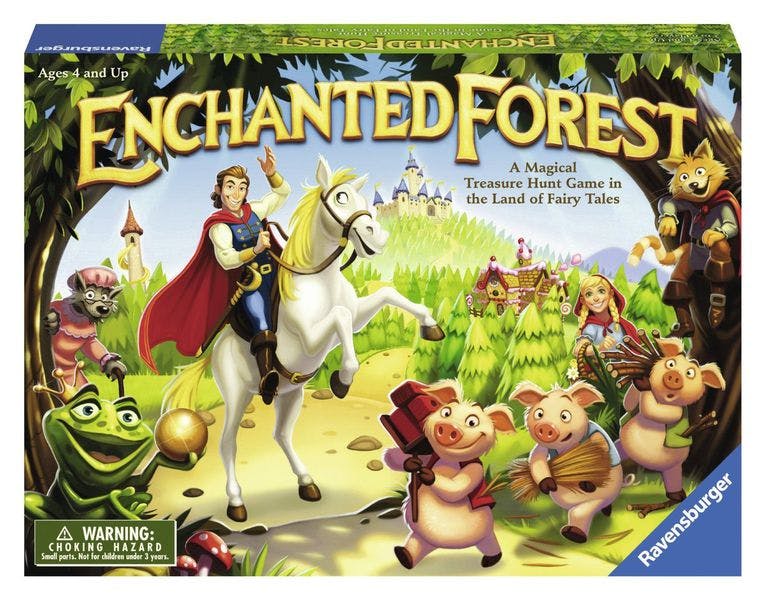 This enchanting board game is a perfect first for any child that loves a good bedtime story. A twist on classic memory match games, players search around the board to find the king's lost treasures and bring them back. 
Ages 4+
2 to 6 players
30 to 60 minutes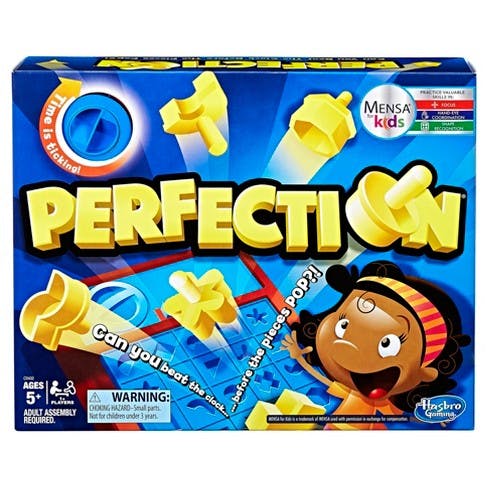 Pop goes the game board! In this race against time, players work to fit all 25 shapes into their matching slots before time runs out. The first player to match all 25 shapes wins. 
Ages 5+
1 or more players
6 minutes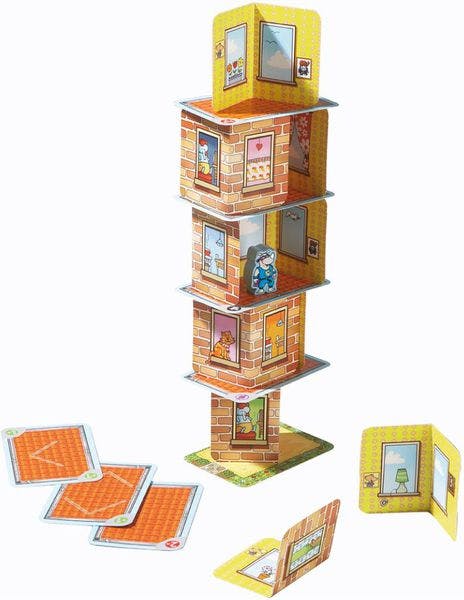 This card-stacking adventure builds fine motor skills, dexterity and attention to detail -- all while being ridiculously fun! Players stack cards in a tower and move the rhino up the floors as they go. The first player to use up all their cards wins, but watch out: if the tower falls, you have to start again!
Ages 5+
2 to 4 players
5 to 15 minutes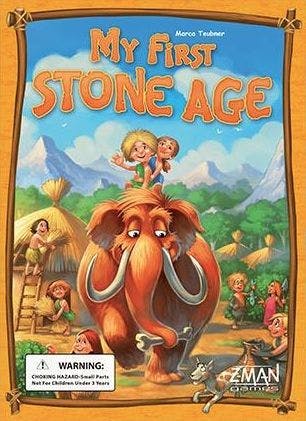 In this kids version of the family favorite Stone Age, players collect resources to build their very own Stone Age village. Another memory match game, players have to use their strategic thinking skills to get the supplies they need and create a civilization. 
Ages 5+
2 to 4 players
15 minutes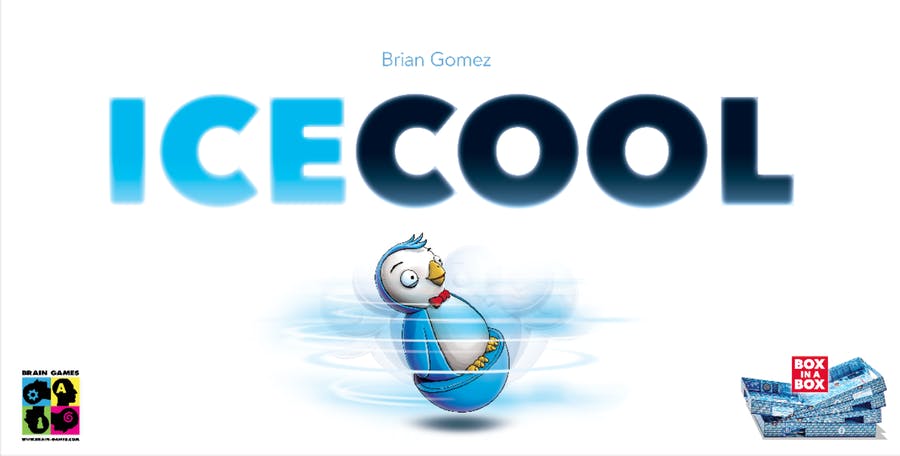 Ice Cool is an action-packed board game for kids that promotes dexterity and fine motor skills. Players flick and spin weighted penguin figurines to send them gliding through an icy obstacle course to collect fish — without getting caught by the hall monitor! Awarded the top prize by the Kinderspiel des Jahres jury in 2017, this clever game is fun for children and adults alike. 
Ages 6+
2-4 players
30 minutes
Classic board games for kids
For years, these games have been some of the top board games for kids and adults. There's a good chance you remember some of these from your own childhood, so why not introduce them to your kids for an afternoon of family fun?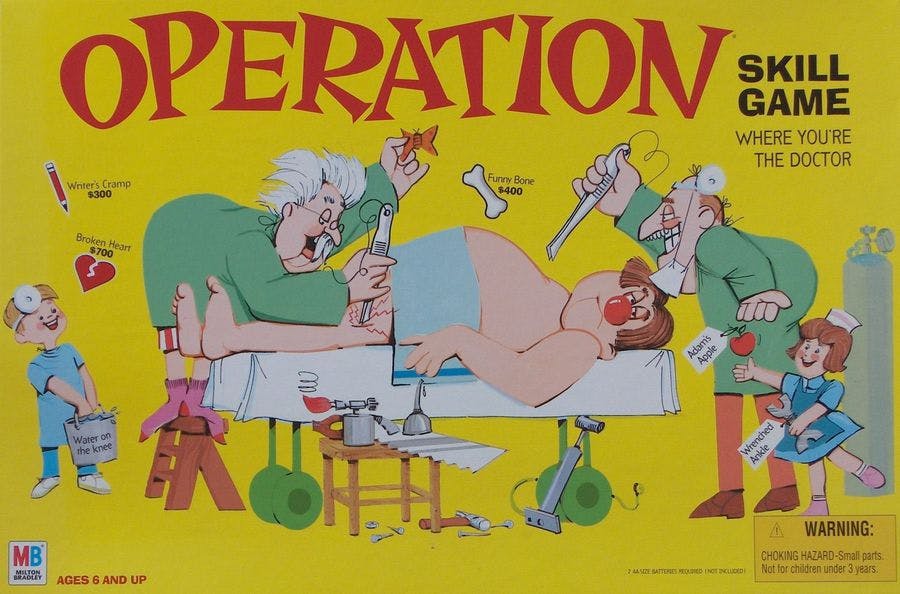 Got a wannabe doctor in your house? Introduce them to Cavity Sam, the unfortunate patient in the game of Operation. They'll see how steady their hands are as they fix his unusual ailments, all while avoiding the dreaded buzzer. 
Ages 6+
1 or more players
10 minutes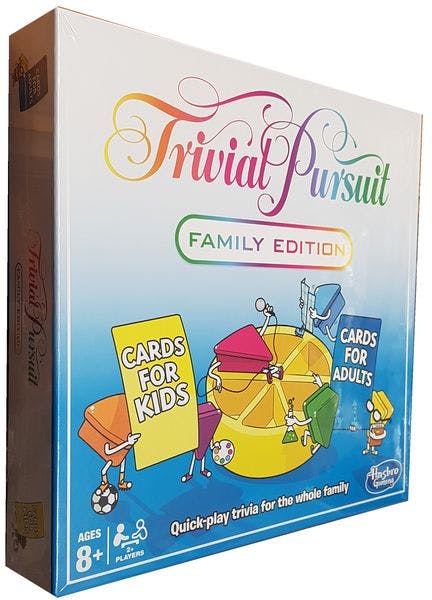 The family edition of Trivial Pursuit takes the classic trivia game and makes it kid-friendly. Play it with the whole family and compete to see who can answer the most obscure facts and make it around the board first. 
Ages 8+
2 to 6 players
90 minutes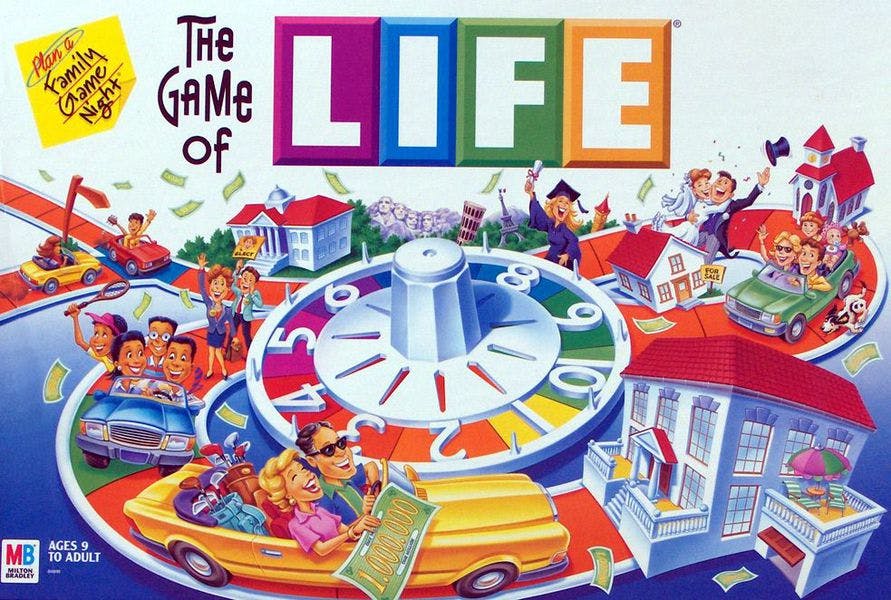 Spin, play and move your way through an imaginary life with this all-time classic. Players travel across the board in their cars, earning money and hitting major life milestones along the way. 
Ages 10+
2 to 4 players
40 to 120 minutes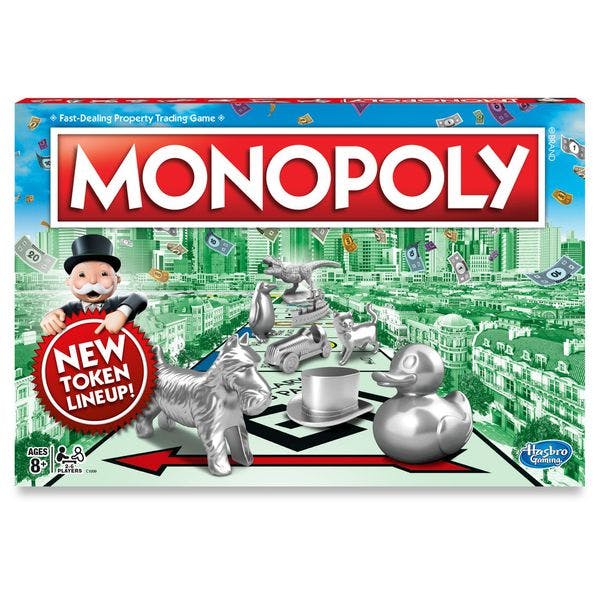 Ah, Monopoly. Many of us transformed into mini real estate moguls when we played this as children, going round and round the board to collect properties and build a real estate empire. There are currently 1144 official versions of Monopoly and its predecessors, so you'll be sure to find one to suit your family's unique interests!
Ages 8+
2+ players
60 to 90 minutes (that is, if you're playing it properly)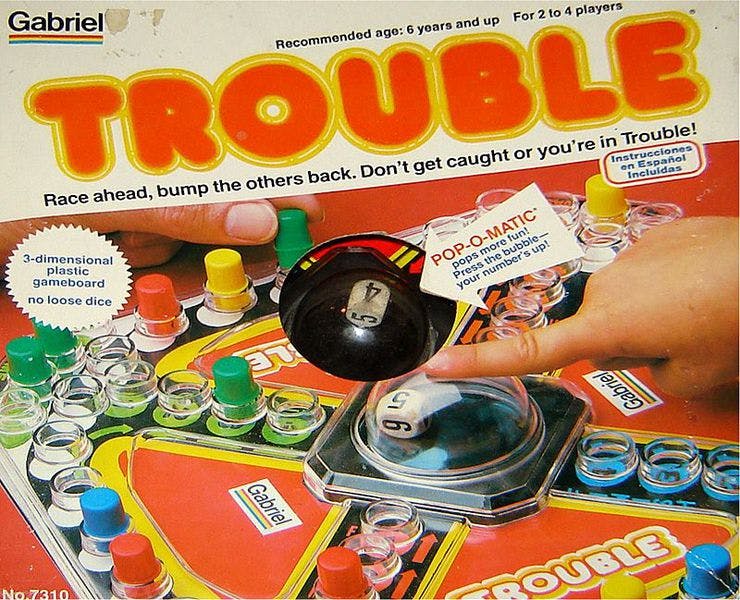 Every child needs to know the joy of gleefully pressing the "Pop-O-Matic," a classic part of the board game Trouble. Players race to get all four of their game pieces around the board without getting bumped. 
Ages 5+
2 to 4 players
30 minutes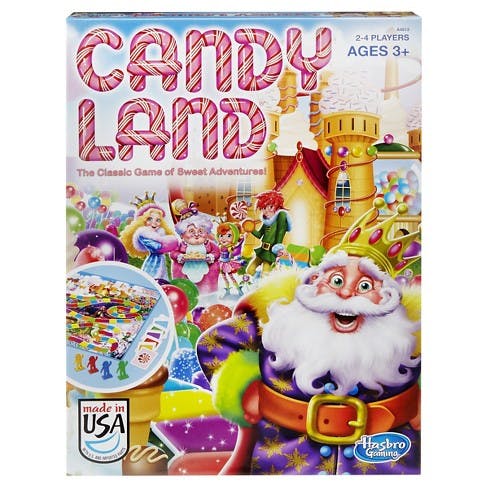 In Candyland, players compete to find the missing King Kandy and move markers along the board, according to instructions from cards. Arguably one of the most beloved (and despised) board games for kids, there's no denying Candyland is a classic experience designed to delight your children with dreams of candy cane forests and sugar plum fairies. 
Ages 3+
2 to 4 players
20 minutes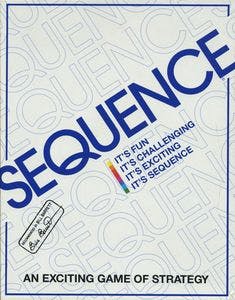 Build number skills while having hours of family fun with this board game. Great for parents and children alike, players compete to make a row of five markers according to the hand they've been dealt.Want an easier version? Check out Sequence for Kids!
Ages 6+
2 to 12 players
10 to 30 minutes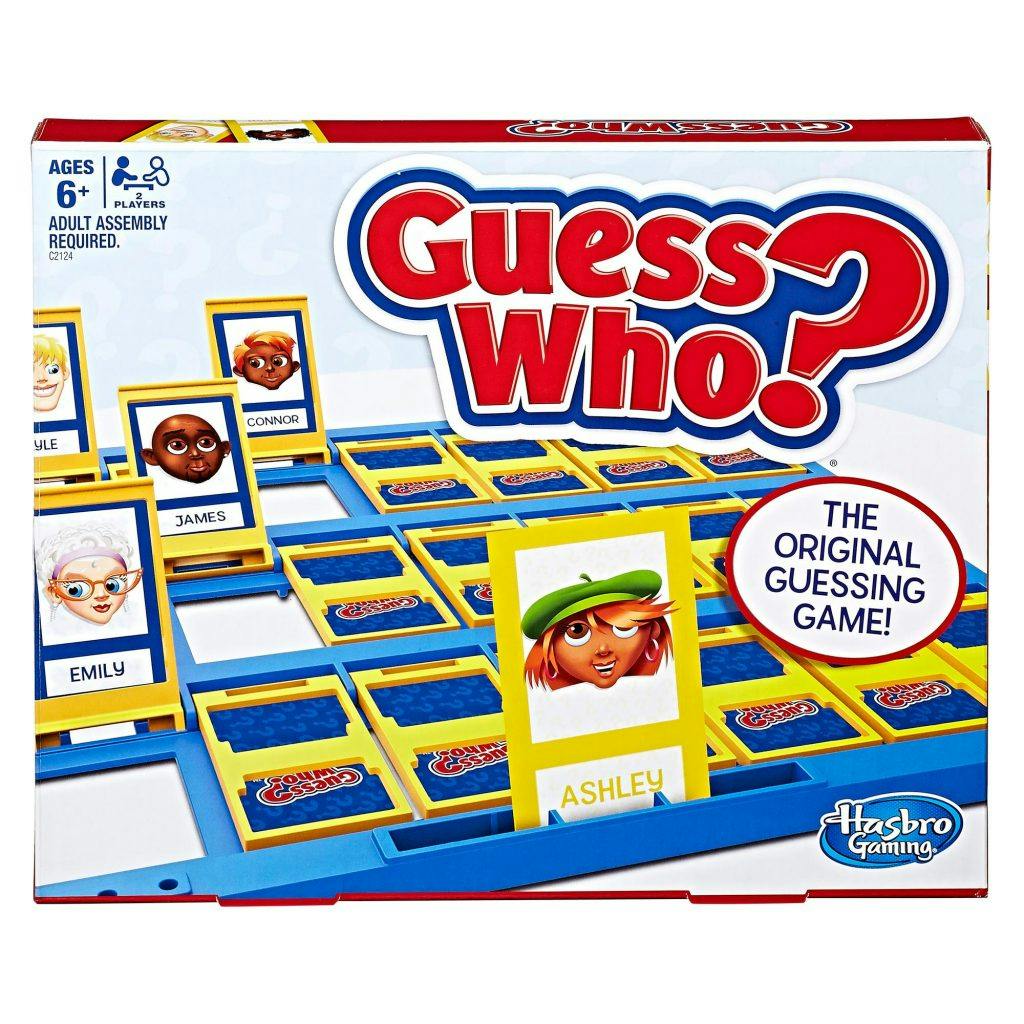 A classic memory game, Guess Who? asks players to find their opponent's mystery character. Ask questions, flip tiles and put your deduction skills to the test. First one to guess the character wins!
Ages 6+
2 players
20 minutes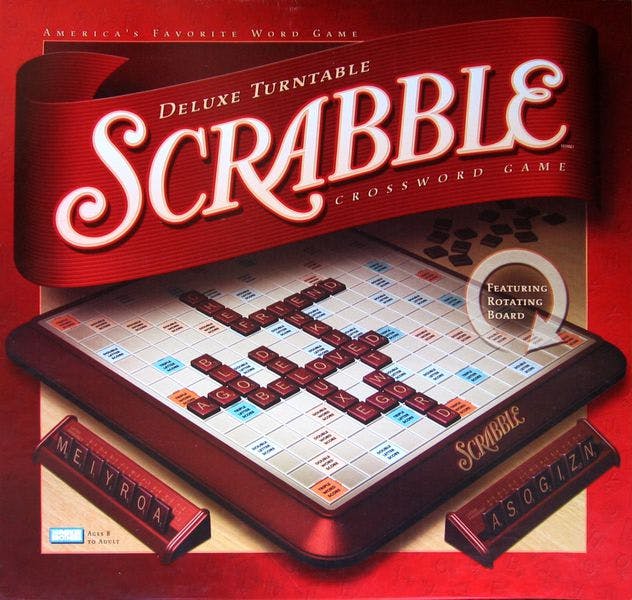 Keep a dictionary handy while you're playing this classic word game, because there's a good chance you'll need it. Great for adults and kids practicing their literacy skills, players compete to make words out of random tiles and earn points. 
Ages 8+
2 to 4 players
90 minutes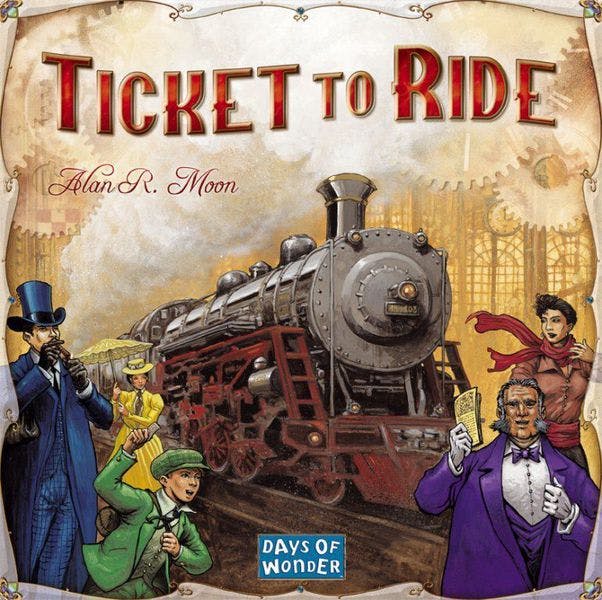 This cross-country railroad adventure captures the spirit of the railroad boom in the 1830's in an engaging, easy-to-understand board game format. Build train routes to connect cities, collect essential resources and race your competitors to see who can connect the most cities across North America -- in just a week! 
Ages 8+
2 to 5 players
30 to 60 minutes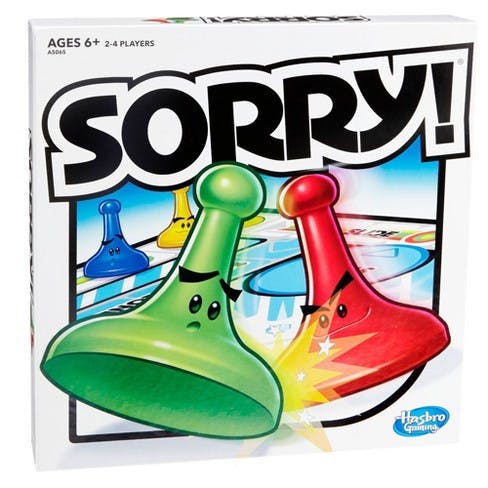 Knocking your opponents down has never been so polite. In Sorry!, players race to get all their tokens around the board without getting knocked back by another player. Best of all, children can practice splitting the value of cards and counting as they move forwards and backwards. 
Ages 6+
2 to 4 players
30 minutes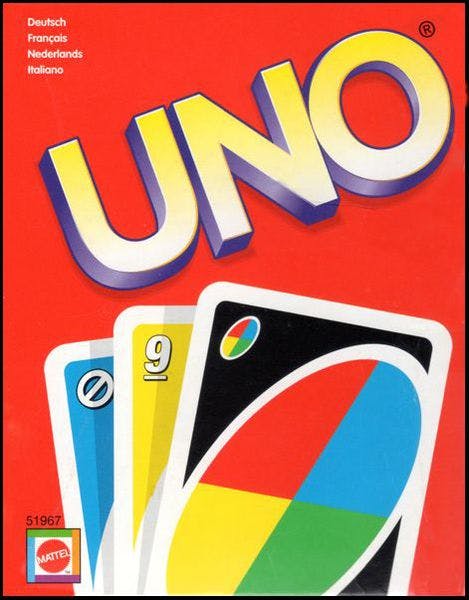 Exciting for players of all ages, this card game based on the classic Crazy Eights is colorful, unpredictable and easy to understand. Better be careful, though: with the wrong card, your luck might just turn on you. 
Ages 7+
2 to 10 players
5 to 10 minutes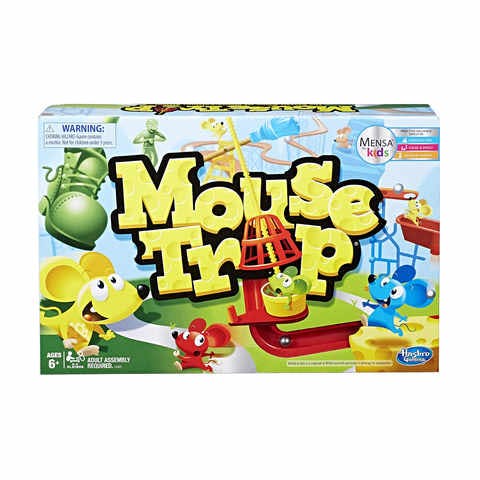 Cheese, please! Players scamper through mousetraps and machines to collect and steal cheese from other players. Plus, children get the chance to understand how moving parts work together in real life. 
Ages 4+
2 or more players
30 minutes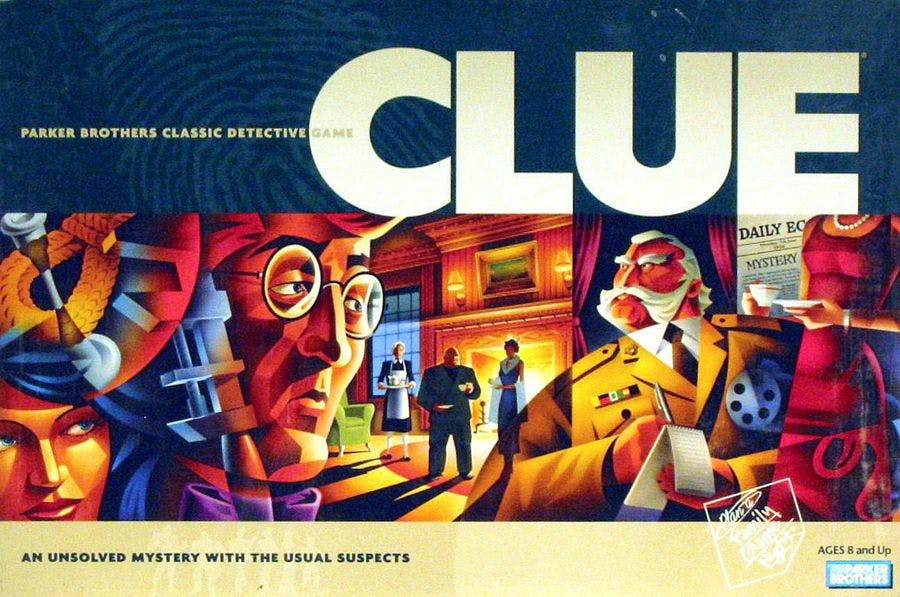 Everyone's a suspect in Clue, the classic murder mystery game. Players practice their deduction skills as they compete to uncover the mystery of who killed Mr. Boddy. Just gruesome enough to keep the entire family engaged, this board game is perfect for an evening of spooky family fun!
Ages 8+
3 to 6 players
45 to 60 minutes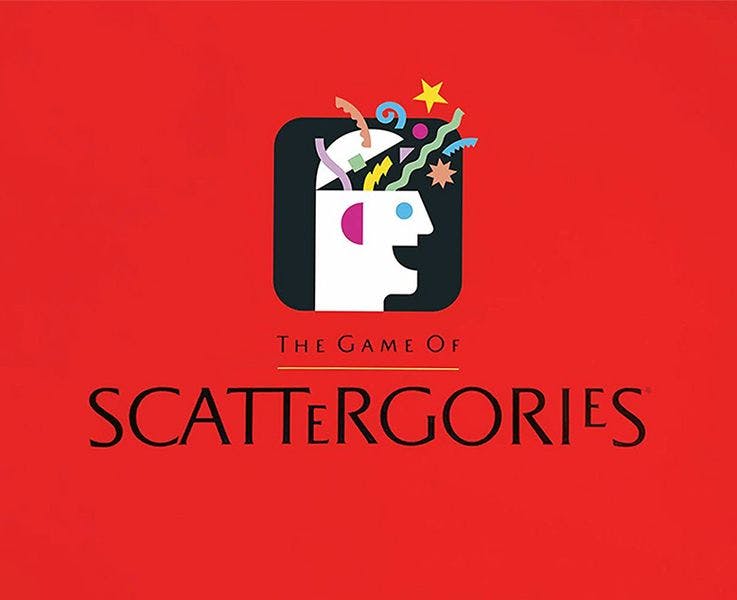 Got a budding wordsmith in the house? Get them thinking with this fast-paced game kids and adults love. Pick a category card, roll the dice for a letter and start the timer before you race to see how many words you can think of!
Ages 8+
3 to 6 players
3 minutes per round
Educational board games for kids
Want family fun night to be educational, too? These board games teach kids basic STEM and literacy skills to help them succeed beyond the game board.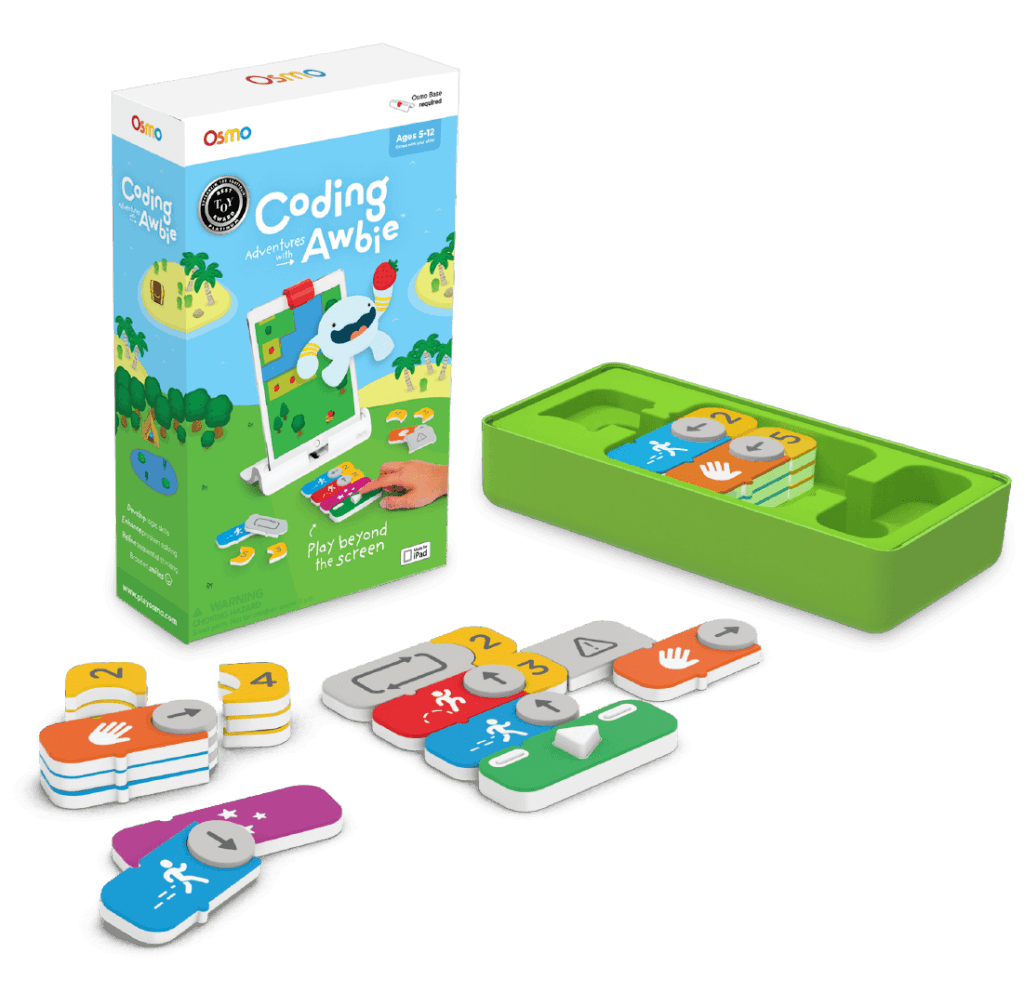 Osmo combines classic board game elements with a digital experience to help young children learn the basics of coding. Physical blocks transform into on-screen actions in a magical world and start to introduce children to the wonderful world of coding. 
Ages 5 to 7
2 to 12 players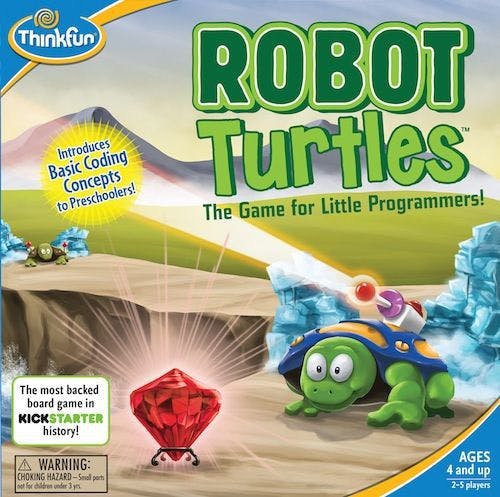 Another game designed to teach young children coding basics. The most backed board game in Kickstarter history, Robot Turtles includes silly turtle noises to keep children delighted and engaged while they learn.
Ages 4+
2 to 5 players
15 minutes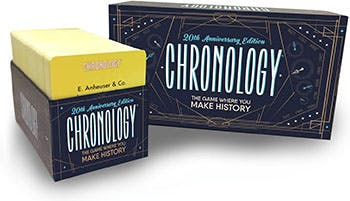 Test your historical knowledge and learn fun facts with this board game for older children. Build a timeline of events with your cards, then place a random historical event in the timeline. Grow your timeline to 10 cards to win!
Ages 14+
2 to 8 players
30 minutes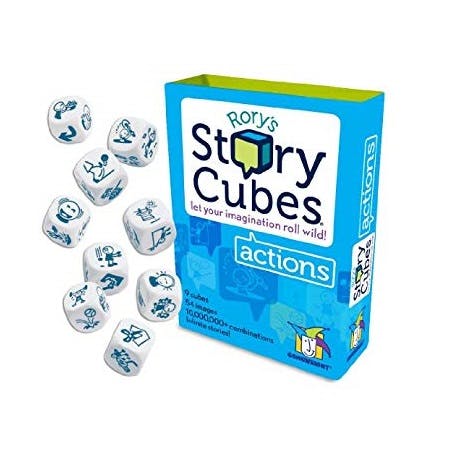 Start building storytelling skills early with this open-ended game. Players roll nine six-sided cubes with simple pictures on them, then make up a story based on the pictures that appear. Children learn how to deal with abstract concepts and get to let their imaginations run wild!
Ages 8+
1 or more players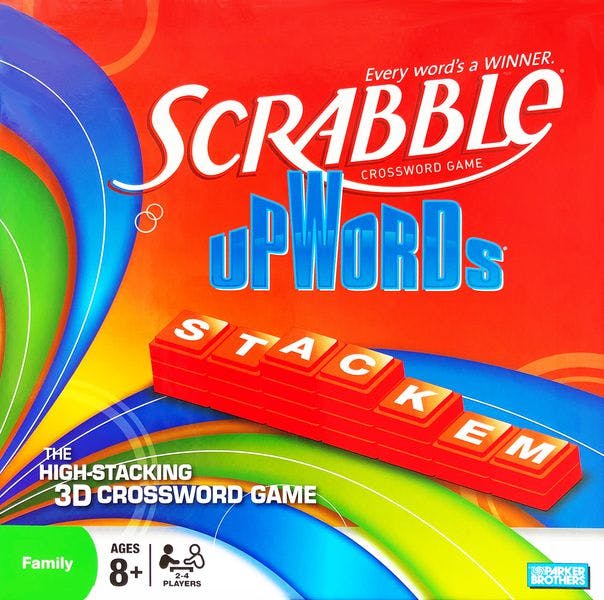 Practice 3D word building with this dynamic version of Scrabble. Players stack letter tiles beside and on top of each other to create words that go side to side and up and down. Just like in Scrabble, players compete to see who can score the most points by using unusual letters and hitting extra point spaces. 
Ages 8+
2 to 4 players
90 minutes
Cooperative board games for kids
Less competition and more cooperation is the theme of these games, where players work together to solve challenges and learn board game basics.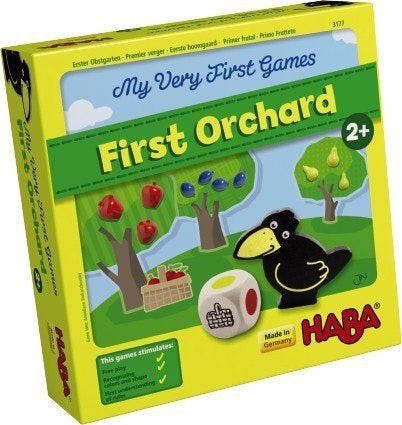 Like the name suggests, First Orchard is a great game for the littlest players in your family. The game teaches players board game basics like taking turns, rolling dice and matching colors, all while players race to gather fruit before the raven gets it!
Ages 2 to 5
1 to 5 players
10 to 15 minutes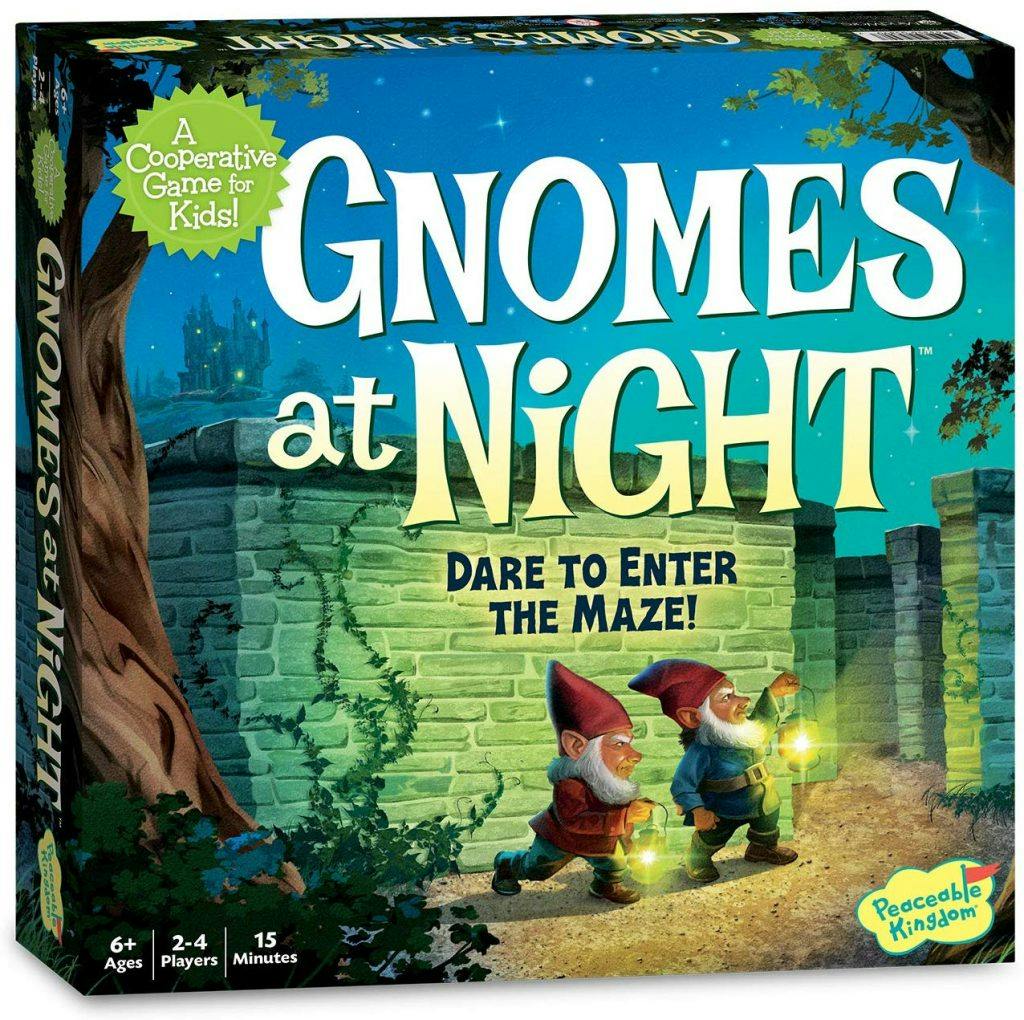 The queen's treasures have been scattered around the castle, and you have to work with your opponent to find them! A cleverly designed game involving a vertical board and magnetized game pieces, players travel through a maze and pick up treasures along the way.
Ages 6+2 to 4 players15 minutes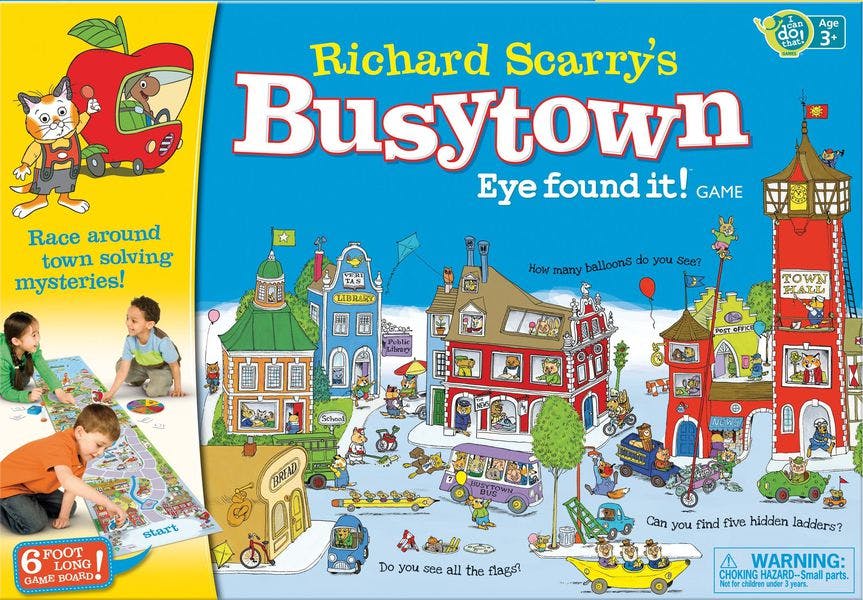 There's a good chance you remember the classic Busytown books from your childhood, and now your child can visit Busytown for themselves! Players travel around town on a gameboard that's over 6 feet long, developing basic skills like matching, object finding and teamwork.
Ages 3 to 8
2 to 4 players
30 minutes
Final thoughts: Best board games for kids
Family game nights can be a great way for the entire family to have fun together. Plus, many of the board games on this list teach children essential skills like reasoning, strategy and planning. 
We want to know: what are some of your family's favorite board games? Leave a comment below!
Want a game that's fun to play and gets your kids excited to learn?
Prodigy is a digital game-based learning platform that makes learning subjects including math and english an adventure.
Curriculum-aligned, it's used by more than 2.5 million teachers and 100 million students. Sign up to see how Prodigy turns play time into education time.
Join Prodigy today!