How Digital Game-Based Learning Improves Student Success
All Posts

Classrooms today look very different than they did 30, 20, or even ten years ago. 
That's because digital game-based learning is now a prominent teaching method, thanks to the technology that has become available in classrooms today. This has drastically changed how students are taught as well as how they learn.
Studies show kids play video games an average of 4-6 hours a day — and it's thought using similar gameplay in the classroom can increase engagement and overall learnings in classes like math!
Research has shown 74% of teachers already implement digital game-based learning to help augment instruction.
Let's explore the different facets of digital game-based learning and how it's used in education!
Digital game-based learning keeps students engaged with educational content and can improve their overall success at school.
74% of teachers implement digital game-based learning into their lessons
Progress monitoring has value when used across all students
34% of conversations revolve around math when using game-based learning
Key takeaways
Compared to traditional instruction, digital game-based learning has shown to be more effective in improving students' mathematical learning.
While interacting with games rooted in math, students reported enjoying math more and research found students to be more engaged with the content.
Blended learning classrooms that use both traditional lessons and digital game-based learning have the most effect on student learning.
DGBL & gamification: what's the difference?
Digital game-based learning (DGBL) and gamification bring similar gaming concepts to the classroom, but both are quite different teaching strategies.
DGBL — Offers a delicate balance between in-class lessons and educational gameplay. Teachers introduce students to new concepts and show them how they work. Then students practise these concepts through digital games.
Gamification — involves taking elements from games -- such as leaderboards, levels, or points -- and adding them to lessons. The purpose of this is to make lessons that might not be enjoyable more engaging for students.
Both of these strategies take things many children enjoy doing outside of the classroom and add them to their education. This helps students pay attention in class and improves their overall understanding of fundamental concepts.
Types of games
How do we differentiate games that are appropriate for helping students learn in the classroom from those that are used purely for entertainment? Researchers have classified games into two categories:
Video games — Games designed for pure entertainment.
Serious games — Games designed to teach or help students practice specific skills or content.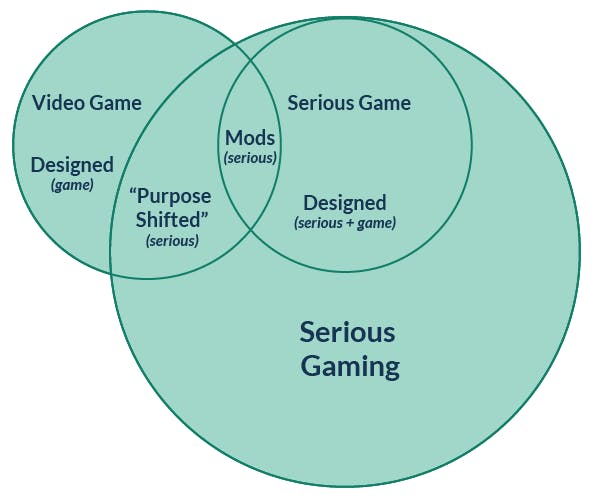 While intended for fun, certain video games can be shifted to teach different skills — bringing them into the realm of serious gaming. On the other hand, serious games can incorporate elements of video games to make them more entertaining and engaging.
There is a distinct balance that needs to be reached between these two types of games, to create something educational and fun for students. 
DGBL continues to grow in popularity and is being used more frequently. Many teachers have already found reason enough to use various games in their classrooms every week and even more use them on a monthly basis.
How DGBL is used in the classroom
Digital game-based learning has been around longer than you might think — A common game we see with young children is Duck-Duck-Goose, which can help teach attention, rules, and various motor skills. 
In the world of DGBL, The Oregon Trail was one of the first games created for educational purposes. 
Back in 1974, The Oregon Trail gave children a fun way of learning about what life was like for pioneers. This revolutionary concept helped teachers immerse their students in educational content like never before. As technology has evolved, DGBL has become more useful in and out of the classroom.
The image below outlines the framework of game-based learning and how it covers all aspects of learning engagement.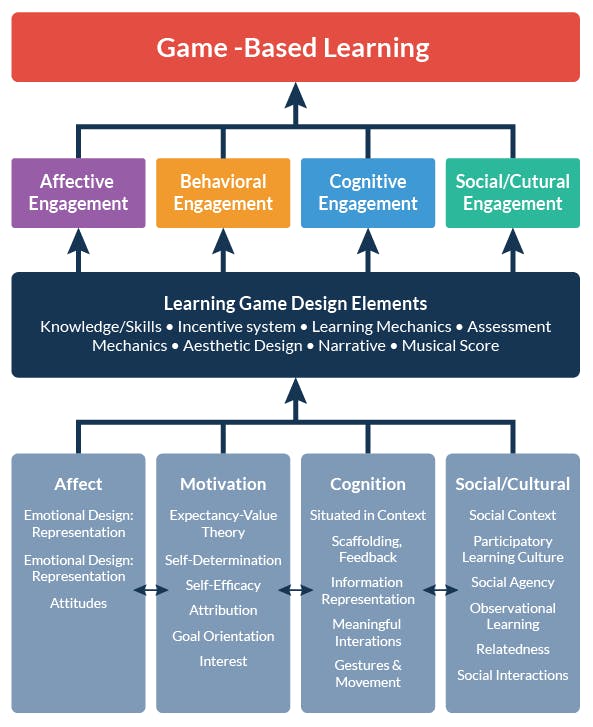 Since the first instance of DGBL, the teaching method has evolved in both quality and content. 
Now, DGBL learning platforms can easily personalize learning for every student through real-time analytics that pinpoints student strengths and weaknesses.
DGBL platforms track progress in the background — meaning students usually have no idea they're being tested at all! Teachers can use this data to see how far along each student is in their development and make sure the game is helping them progress at the right level. 
DGBL software helps educators engage students with content in a way that wasn't possible in the past. But research has shown DGBL works best in tandem with in-class lessons — in other words, using the blended learning strategy. 
Playing games to practice what's taught in class can help students gain confidence with educational content and relieve things like math anxiety.
Is DGBL effective at school?
Integrating DGBL is easy enough with the software available today, but is it the right move for your students, class, and school?
Several studies have looked at this question and the overall conclusion appears to be —YES!
Research shows some relation between improved educational achievement and the use of GBL/DGBL strategies. 
Let's look at the effectiveness of DGBL in a little more detail.
The success of DGBL starts with engagement. These platforms help students stay interested in what they're learning in and out of class.
A study from the International Journal of Serious Games found that the improved engagement DGBL learning provides also leads to students having more motivation to complete school work.
In fact, a 2012 study by the Mathematics Education Research Journal showed 93% of class time was spent on task when using game-based learning, compared to only 72% without it. This shows when students are engaged with content, they're more likely to stay motivated in class.
Teachers who are consistently using DGBL strategies in their classrooms — and adjusting their lessons based on the feedback they receive from the software — are seeing more improvements to learning and grades than those who don't. 
DGBL appears to be particularly effective in helping kids improve their overall math knowledge and understanding.
In their 2014 survey, the Games and Learning Publishing Council stated, "Nearly three quarters (71%) of digital game-using teachers report that games have been effective in improving their students' mathematical learning."
When students fall behind — especially in cumulative subjects like math — they can lose confidence in their abilities and develop things like a feeling of anxiety. DGBL helps combat these pain points by pinpointing strengths and weaknesses and letting students practice at their own pace.
DGBL platforms offer many tools for educators to take advantage of — they just need to be implemented and used effectively for positive results to take hold.
DGBL and Prodigy
Prodigy is a DGBL platform currently used by over 100 million students, teachers and parents around the world. It was founded on the principle of helping every student in the world love learning.
This DGBL platform falls under the category of a serious game with video game features. It addresses all forms of engagement and keeps kids motivated to practice math. 
Prodigy offers an abundance of tools to help educators at all levels:
Get real-time statistics
Personalize instruction 
Review student progress
Give students confidence
Communicate achievement to parents
Even with all these tools available, we recommend using the software in tandem with an excellent teacher who has a deep knowledge of content, pedagogy and the technology at hand to enjoy the full benefits DGBL has to offer.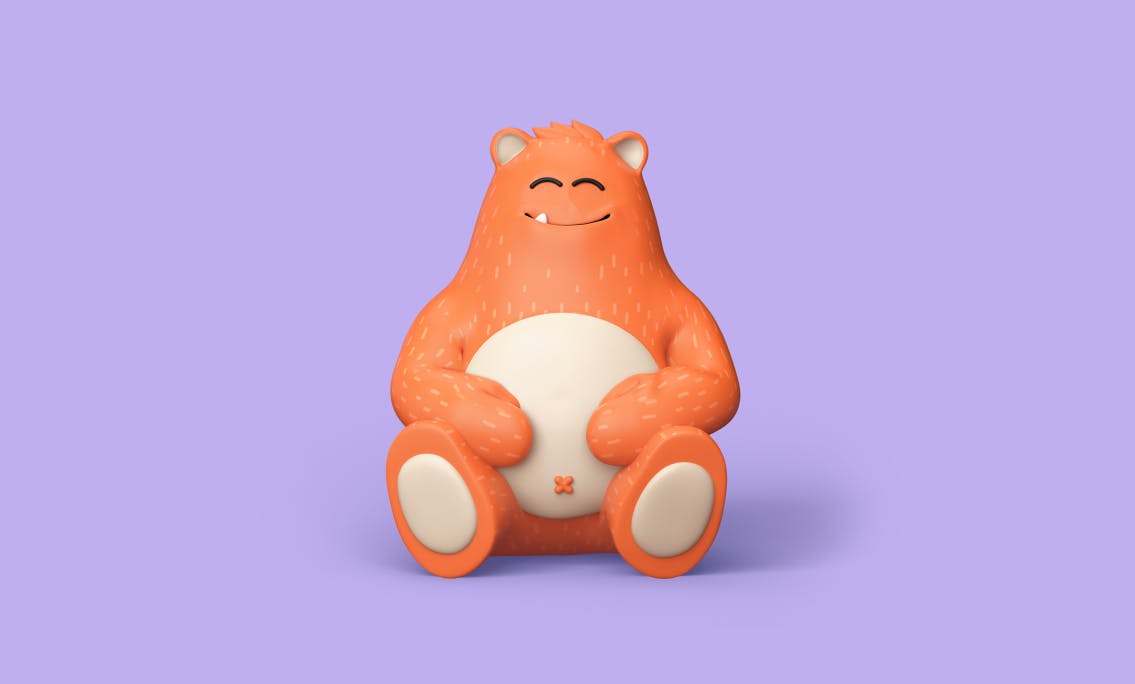 Prodigy creates fun and effective game-based learning experiences
Discover how we design, build and deliver incredibly engaging learning experiences for students, teachers and parents.
Learn more
DGBL and the future of education
Children love playing games - whether board games, card games, outdoor games, or digital games. 
Combining games with education in the form of game-based learning or digital game-based learning is a proven positive factor in improving engagement, motivation, and overall educational achievement.
While more research still needs to be done on DGBL to ensure best practices in the classroom, the teaching strategy is growing in popularity as it continues to help students in school — especially in math!
Technology and DGBL can let teachers enhance lessons to help every child succeed in their education.
Read the full Literature Review here.
Want an EdTech tool that can help you harness the power of game-based learning?
Try Prodigy, an adaptive learning platform for grades 1 to 8. While students explore, they'll answer curriculum-aligned questions that help them level up their skills and stay excited to learn. Plus, our teacher tools can help you differentiate and align lessons to in-game play in just a few clicks.

Create a free teacher account now