Summer's here! Your kids love all the free time, but you need a little more structure — and a bit of a break.
Keep your summer hours full of fun by planning plenty of playdates. Playdates are a great way to keep your kids busy and social — whether they're tiny toddlers or big elementary kids. And as a bonus, you get some social time too.
In this article, we'll share why playdates are awesome, and how to plan the perfect playdate — one that will have both kids and parents excited for the next get-together!
Benefits of playdates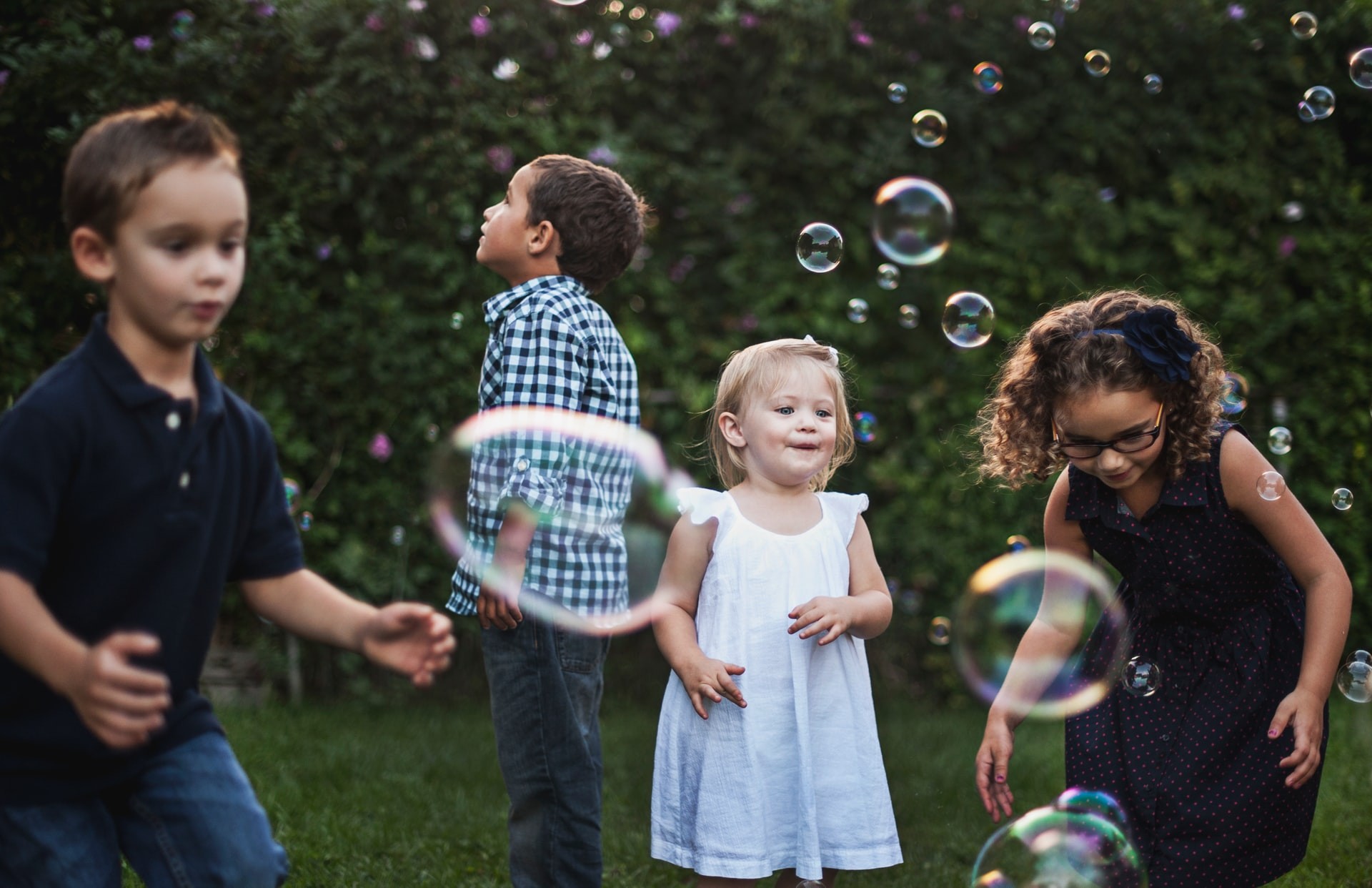 Playdates are a fun way to pass the time this summer. No matter your child's age, they can benefit from some extra play and social time. You can incorporate play-based learning activities to keep their brains primed for next year or boost their imaginations and creativity with some unstructured free time.
Here are just a few of the benefits of playdates for kids and parents.
Build strong friendships
This is a huge benefit for both of you! Parenting can feel lonely at times. Helping your child connect with other kids their age means you also have some built-in social time with parents who are likely experiencing the same parenting challenges as you.
Your kids can bond through play, while you get a chance to share your most recent parenting wins and frustrations. Lifelong bonds can be formed during fun, summertime playdates. 
Help kids build creative skills
Kids' imaginations are amazing. But as a parent, they can also be hard to keep up with. If you find yourself struggling to focus after 10 minutes of pretend play, plan a playdate and let the kids play together. 
Meet up at a playground or park and watch them take off on daring adventures. Or maybe they'll decide to act their way through a silly social situation. They can work together to come up with the rules and roles before jumping in and playing — all while you enjoy a parenting break.
Help kids learn to enjoy new experiences
If your child is more introverted, it might be difficult to motivate them to leave the house. But by scheduling a weekly playdate with the same group, they have a chance to get more comfortable in social situations. And when you're surrounded by friends, it's easier to try something or someplace new.
Help kids strengthen important emotional and social skills
The rules of socialization take practice. And one of the best ways for kids to work on cooperation, kindness, and empathy is by taking part in regular playdates.
When difficult situations pop up, keep your ears open, but don't step in right away. Watch how the kids work things out. Then referee only when necessary. Having a child experience the natural social consequences of their actions is an important learning moment for everyone involved.
Help little kids build motor skills in sensory play
Climbing, jumping, swinging, running — all of these motor skills are best developed through play. And when you can get a group together, kids are more likely to be motivated to try something new. 
This isn't always a good thing, of course. But when you're talking about relatively safe, confidence-building, risky play, playdates can give your child a chance to explore all they're capable of.
Things to do at a playdate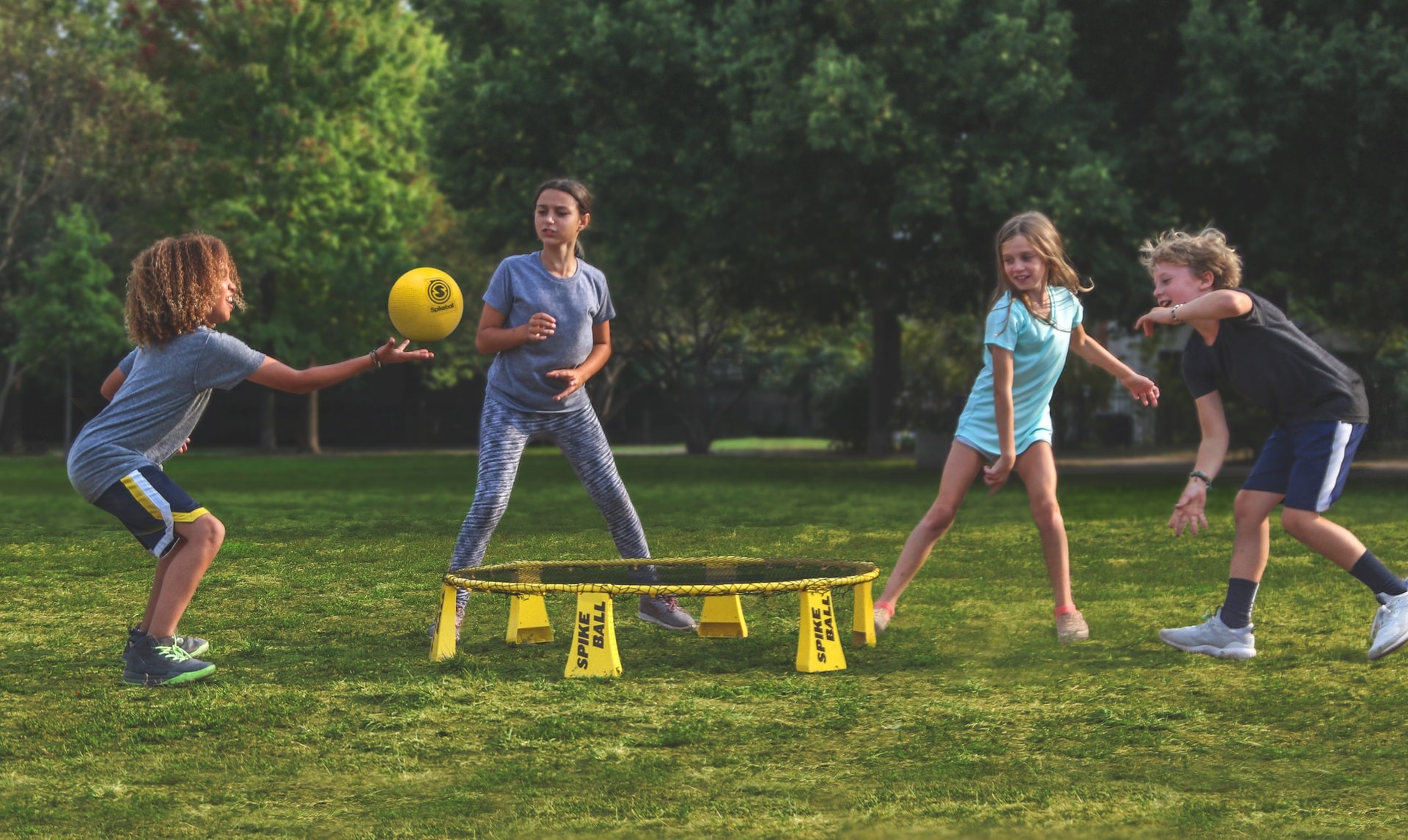 Playdates can be as complicated or as simple as you'd like. Just be sure to have the main components — a group of kids and a place to meet. 
From there, you can plan a couple of structured activities or just let them loose to explore. Here are a few more tips for creating a fun and stress-free playdate.
Be ready to go with the kids' flow
Pick only a couple of activities from the list below
Allow time for kids to engage in unstructured, free play
Set a time limit so kids (and parents) know how long they'll be playing for
Think about including a calm down activity to help with the transition away from the playdate
Choose a time that doesn't interfere with meals or be sure everyone plans to eat (and always keep plenty of allergy-safe snacks handy) 
Ready to plan your next amazing playdate? Check out our list of ideas to keep your playdates awesome, no matter the weather!
Indoor playdate ideas for kids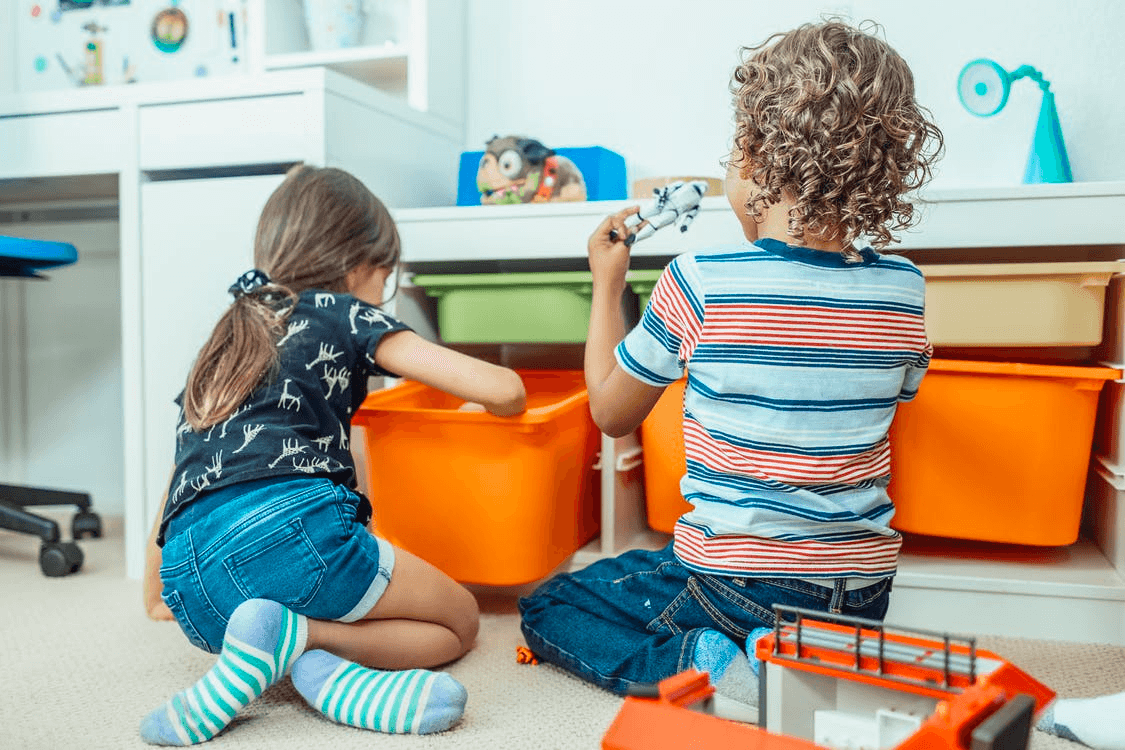 If you're trying to beat the summer heat, or you're looking to fill time on a rainy day, try one of these fun indoor playdate ideas!
1. Build a fort
Grab some delivery boxes, couch cushions, and blankets and put the kids to work building a fort. They can hide inside while planning their next activity or just relax with a snack. Want to increase the fun? Give them an extra challenge to use only certain materials or make it large enough to fit everyone.
Ideal for: Kids of all ages who like to build and get creative
2. Dance party
Does your crew have a lot of extra energy to burn? Crank up the kid-friendly tunes, clear a space, and have a dance party! Include play silks or glow sticks and turn down the lights to add some extra fun to this activity.
Ideal for: Kids who love to move
3. Science experiments
Bring some learning to your playdates with some simple kitchen science. Lay down a tarp or plastic sheet and create slime or oobleck to explore different states of matter. Or create a classic baking soda and vinegar volcano. The kids are sure to have a blast!
Ideal for: Kids who love some messy learning
4. Board games
If your regular group is driven inside by the weather, try a kid-friendly board game. This activity is generally best for elementary-aged or older kiddos who have a little more practice with patience and competition.
If you don't have a board game handy, you could try a simple game of charades or Pictionary to keep the fun going.
Ideal for: Competitive kiddos who enjoy structured play
5. Movie marathon
Playdates don't have to be all about a bunch of noisy running around. Offer to host your older child and a few of their friends for a movie marathon. Pick a theme, then start the show. And of course, don't forget the popcorn and movie candy!
Ideal for: Older kids who just want to hang out
6. Educational video games
If your kiddos love video games, try to mix up playtime with some educational fun. Bring all the kids together, pass out the snacks, and let them play parallel through some educational games, like Prodigy Math or Prodigy English. Or try a trivia game up on the TV for everyone to see. 
Even a regular video game can be educational with the right guidance and objectives. Keep it fun and engaging and they'll have a great time exploring games together. 
Ideal for: Gaming kids who also want to get social
Psst — Sign up for your Prodigy parent account to track your child's learning while they play. They'll get a fun, game-based learning experience and you'll get more ways to track and support their learning. 
Create a Prodigy parent account today
7. Art project
Kids love to create! You can plan a simple art activity for your playdate, like friendship bracelets or rock painting, to help bring out their creativity while they chat and play. Or look around your local area for a business that hosts painting parties.
Ideal for: Creative kiddos of all ages
8. Tea party
Get fancy and host a tea party for your child and their guests. Include play clothes, like princess dresses and fancy hats, and set out a real or pretend display to get them started. Tiny, triangle-shaped sandwiches, scones, and jam never looked so cute!
Ideal for: Kids who love dress-up and pretend play
9. Baking party
Does your child have a sweet tooth? Who doesn't! Bring some sugary fun into your play with a baking party. Let younger children all work together to create one amazing treat, or ask a small group of older kids to bring their own recipes to make and share. It's a delicious way to pass the time.
Ideal for: Culinary kiddos of all ages
10. Pretend play
This is an easy one — just pick a location and let the kids go! You can include some dress-up clothes or open-ended play items. But the only real requirement is a group of imaginative kids and some free time to play. 
Ideal for: All kids who love to play
11. Film a movie
Kids are natural storytellers. Harness that creativity by inviting their friends over to make a movie. Give them a couple of phones and… action! 
This can become a big production, complete with a script and sets. Or just watch them create on the fly. Either way, you'll be left with an entertaining memory.
Ideal for: Creative kiddos who are ready for the stage
12. Card games
Did a rainy day ruin your plans? Don't cancel — just break out a deck of cards. The kids can play any number of card games, from Go Fish to Memory to Spades. Choose an age-appropriate game for your group and watch (or join in) the fun!
Ideal for: Kids who love a little competition
13. Laser tag
Looking to entertain some preteens this summer? Plan an outing at your local laser tag arena. Kids can run around, burning off some energy while playing an objective-driven game of capture the flag. 
Ideal for: Older kids who need to blow off some steam
Outdoor playdate ideas for kids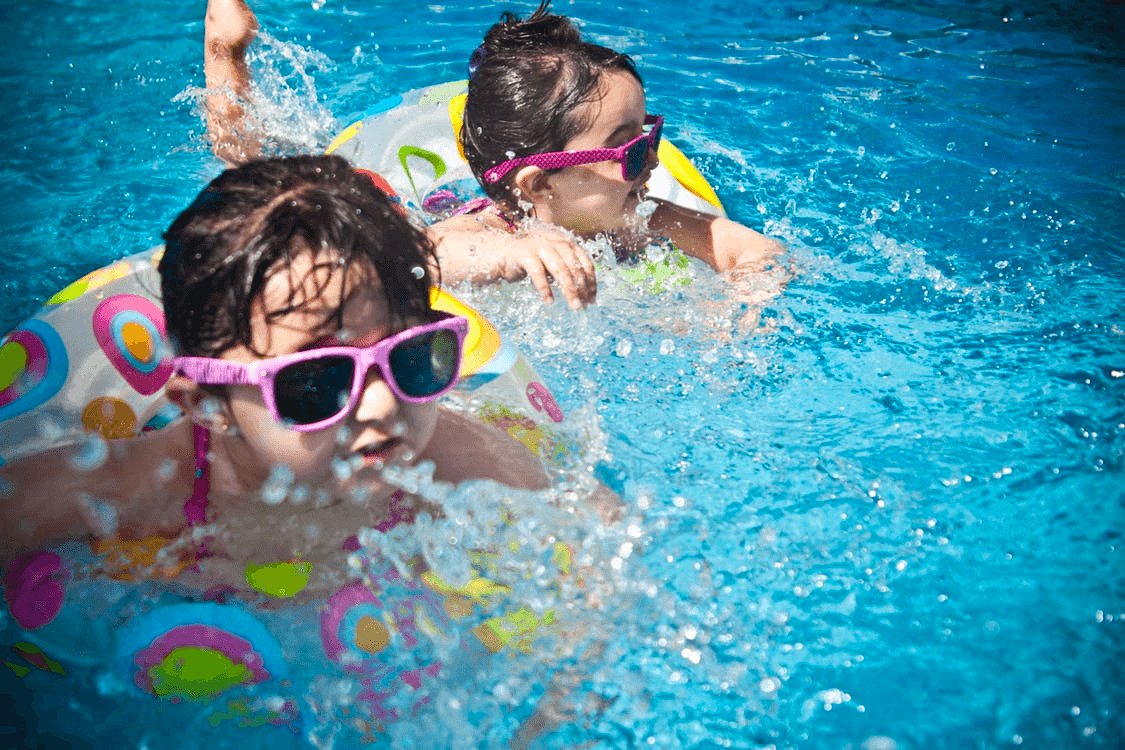 If the weather's nice, take the fun outside! Then enjoy a whole lot of fun with a lot less clean-up (except for maybe the kids themselves).  
14. Obstacle course
Use the playground equipment or create your own obstacles with a few wooden planks or cardboard boxes. Then start the race.!
Ideal for: Kids who are ready to move
15. Outdoor painting
Enjoy art without the mess. Hang some paper from the fence, or even an old white sheet, and break out the paints. If you're feeling really creative, invite the kids to make their own paint using natural ingredients like turmeric or beet root. 
Ideal for: Younger creative kiddos
16. Scavenger hunt
Fill hours of your child's day with an exciting scavenger hunt! For younger kids, post clues around your house and yard leading to a big surprise. With an older group, you can shuttle the kids around town while they uncover clues at the local park or museum.
Ideal for: Kids who love a good mystery
17. Paintball play
If your kids love laser tag, but you don't want to waste a pretty day, try a game of paintball! Gather up their friends and head out to your closest paintball center. The kids can have a blast while you watch and relax.
Ideal for: Older competitive kiddos who have energy to burn
18. Visit the park
You don't have to plan an elaborate outing for kids to have a good time. A meetup at your local park or playground is the perfect setting for a playdate. Pack a snack and enjoy some parent social time while your kids play.
Ideal for: Kids of all ages
19. Backyard camping
Break out the tents, build a fire, and roast some s'mores during this fun playdate! No matter their ages, kids love to camp out — even if it's just in a backyard. Plan for a fun overnight sleepover, or just do a few hours of 'camping' fun. Either option is bound to be a hit.
Ideal for: Outdoorsy kiddos
20. Plant a garden
Grab your child and their friends and head to your local community garden. There are always tasks to be completed — weeding, watering, fertilizing. They can get to work on something the whole neighborhood can benefit from while also enjoying the fruits of their labor.
Ideal for: Kids who want to give back
21. Play a sports game 
If the kids' free play is running out of steam, try to start up a game of soccer or kickball. Pick teams, share a few ground rules, and throw a ball in the middle of the group. They'll be running and laughing in no time. 
And don't forget about fun, sporty outings like mini-golf or swimming. You can't go wrong with a little friendly competition.
Ideal for: Sporty kids who want to socialize
Finish the perfect playdate with Prodigy
Playdates are a great way to bring kids together over the summer. As long as you keep the activities engaging and fun, everyone is sure to have a great time.
If you're looking for the perfect way to end a playdate, bring the energy down while keeping the fun high with Prodigy Math or Prodigy English. The kids can share what their characters are doing and which cool objects they've found while practicing math or language skills — giving you plenty of time to finish your coffee and conversations.
Explore Prodigy today and share with your friends to keep the learning going all summer long!
Create a Prodigy parent account