Rewards
Motivate your students with Prodigy
Set goals, give rewards and create challenges that'll inspire teamwork and friendly competition among your students as they play Prodigy.
Create your free teacher account
Prodigy is free for teachers and schools
Engage, motivate and challenge your students
Use your teacher portal to set challenges and goals that'll engage your class and motivate them to practice more questions.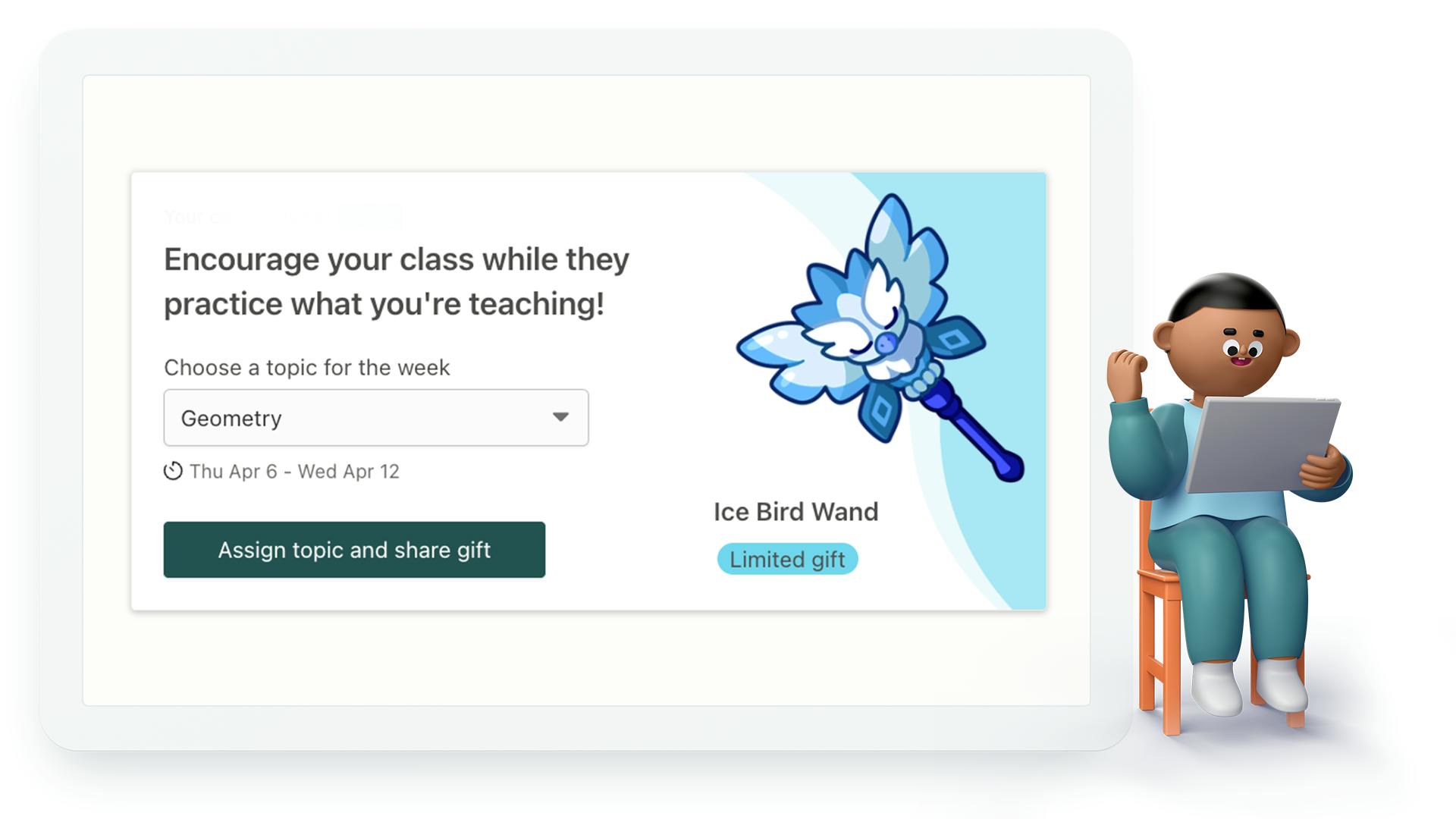 Classroom Goals & Rewards
Inspire your class to practice more skills and answer more questions with a Classroom Goal. When your class reaches their goal, you can gift them an in-game reward.

Available for Prodigy Math.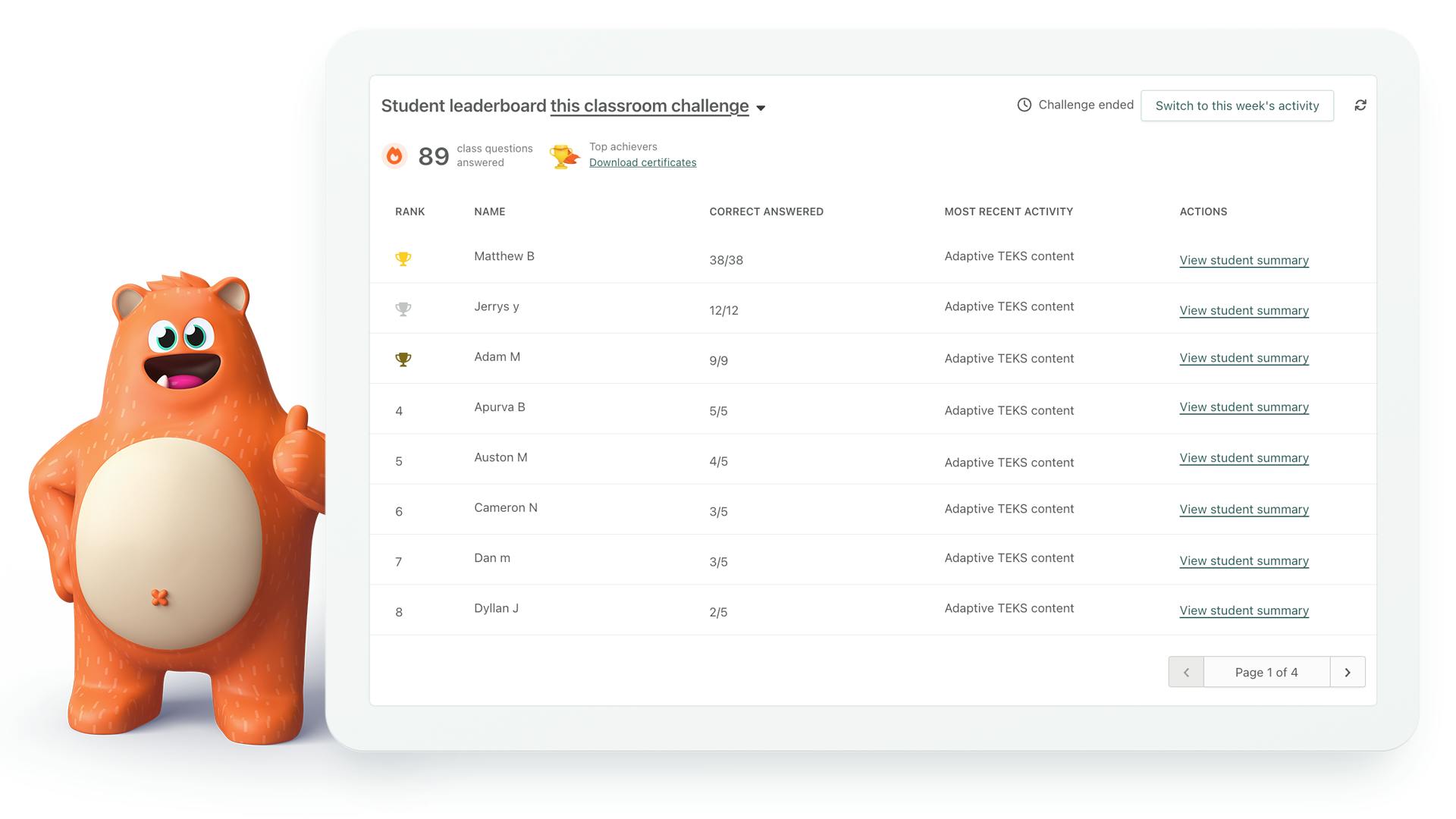 Classroom Challenge
Inspire friendly competition in your class with a challenge to answer as many questions possible in a given period. Students who answer the most questions earn a certificate.

Available for Prodigy Math.
How Prodigy supports teachers and students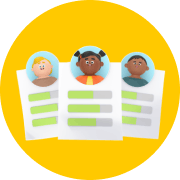 Student engagement
Prodigy's game-based format turns assessments into exciting adventures, replacing test stress and anxiety with fun gameplay that inspires a love of learning.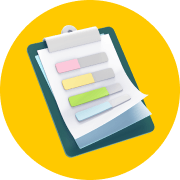 Curriculum-aligned
Made by teachers, Prodigy's educational content is aligned to your standards and covers skills from elementary to middle school grade levels.
Free for teachers
Don't let classroom budgets hold you back. Prodigy is free for all teachers and schools, meaning no fees, no licences and no financial burden on educators.
Also included in your portal
With Prodigy's free teacher portal, you'll have access to a range of features designed to support your everyday instruction.
Reports that show you how your students are progressing through a topic, curriculum or assessment.

Assessments that let you test topic knowledge, student comprehension or prepare for standardized testing.

Co-teaching that lets you easily co-operate with other teachers in your school to access and support your class.

Classroom management tools that make it easy to connect your class, invite parents and refer other teachers for rewards.
Learn more
Frequently Asked Questions
How is Prodigy free for teachers?
Prodigy is a completely free resource for teachers, designed to support learning and ease classroom budget constraints. Over 800,000 teachers use Prodigy annually at no cost, including access to thousands of standards-aligned questions in math and English.
Offering free in-game educational content enjoyed by millions of students, Prodigy is sustained by optional parent memberships that provide additional gameplay features and promote family engagement. 
What rewards do students receive?
The in-game rewards students can receive include:
In-game currency items
Potions that provide strong resistance or damage boosts in math battles
Morph Marbles that temporarily transform a student's character into a specific pet. 
Other exclusive items may also be available for limited periods of time.

When your class reaches their weekly goal, you will be notified to assign the reward to your class. The reward will be randomly assigned to your class and can be sent once per week.
What grade levels does Prodigy cover?
Prodigy Math covers grades 1-8, while Prodigy English is designed for students in grades 1-6. The platform offers content tailored to the curriculum standards for these grade levels.
Is Prodigy aligned to my school, state or national standards?
Yes, Prodigy aligns with school, state, and national standards. 
Prodigy Math offers comprehensive coverage for a wide range of curricula in the US, including Common Core, TEKS (Texas), SOL (Virginia), and many more state-specific standards. It also provides coverage for curricula in Canada, Australia, India, and the UK. 
Prodigy English currently aligns with Common Core standards for grades 1-6, with more coverage on the way.
For a full breakdown of all the standards and skills Prodigy covers, see our math curriculum coverage and English curriculum coverage pages.
What do students see when playing Prodigy?
What students see will depend on whether they are playing Prodigy Math or Prodigy English.
In Prodigy Math, students customize their character's appearance and engage in an immersive storyline with math battles against Prodigy creatures. The math question interface offers video lessons, hint bubbles, and text-to-speech support, along with tools like digital manipulatives. Correct answers progress the game, while incorrect answers result in a missed move. The engaging battle aspect of the game motivates students and builds their math confidence as they answer standards-aligned questions.
In Prodigy English, students immerse themselves in building an online village while mastering curriculum-aligned reading, writing, and language skills. As they explore and collect supplies, students answer standards-aligned questions to earn energy, which is essential for improving their village and progressing in this sandbox-style game.
Yes — and we're working every day to make it as effective as possible. 
Our team of certified teachers makes sure that all of our questions align with best practices in education, leveraging effective pedagogical approaches. 
We've conducted research and written internal papers to support our mission of motivation-first digital game-based learning and learner-centric pedagogical approaches. 
Why should I choose Prodigy?
There are lots of options when it comes to online tools for your classroom. But would your students love using them as much as they'll love Prodigy?
Prodigy doesn't just give your students a way to practice math and English. It turns classes into exciting worlds filled with quests, creativity and rewards.
While students play, our adaptive algorithm delivers questions that keep them engaged without getting frustrated. Whether they're playing at home or at school, Prodigy can help your students discover a passion for learning.
How does Prodigy protect student privacy?
At Prodigy, protecting the privacy of students and teachers is paramount. That's why we've partnered with an independent privacy expert (iKeepSafe) to ensure full compliance with all federal privacy legislation – like FERPA and COPPA – as well as state-level legislation. 
When students play Prodigy Math and Prodigy English, no personal information or inappropriate language can be shared with or seen by other users.