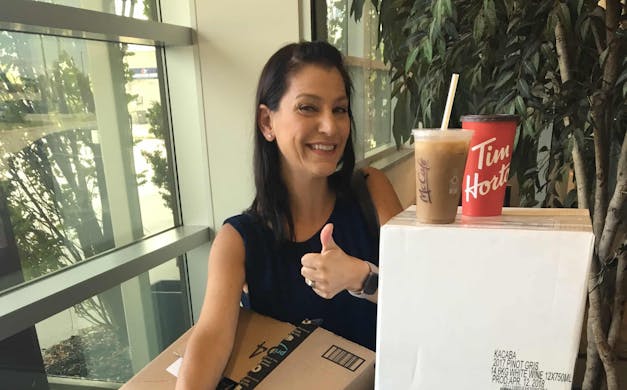 Meet Kim Hammond! One of Prodigy's long standing employees! As Prodigy's Workplace Experience Manager, Kim has been with Prodigy for more than 4 years! She ensures that our employees are at the center of the workplace, creating a seamless service experience in person and virtually. She works with leaders to understand the different needs of the teams and how her team can boost morale, including planning events, organizing birthdays, anniversaries, and SO much more. Working with teams across Prodigy, Kim ensures that employees have the opportunity to create moments that matter. Let's learn more about her!
So Kim! When did you first start at Prodigy and what made you want to work here?
I started working here back in 2019! Prodigy was a smaller company back then, and was still called Prodigy Game (vs. Prodigy Education!). We were also based in Burlington, ON at the time. I originally started as our Office Manager, making a career shift out of the hospitality industry. I knew I wanted a career change, and so I started researching companies and came across Prodigy! I knew a few colleagues who worked for Prodigy at the time, spoke with them and immediately knew I wanted to be a part of such an amazing company. I loved that the company was a Canadian start up, with a strong mission to support learning and amazing values that stood to grow a strong community within. I'm so glad I took the leap to join Prodigy when I did. 
We're glad you joined us Kim! What has your journey been like here at Prodigy so far?
I spent the first year working as our Office Manager, and along the way my Manager and I had discussed an opportunity that intrigued me, which was our Manager, Workplace Experience opportunity. This was a new role for the company, but we both felt it was needed to ensure our employees felt appreciated and enjoyed their work atmosphere. As this was a new role, with different skill sets, my Manager assisted in setting me up for success. She recommended courses, books and development avenues the company provided such as our Gym and Learning fund, to ensure I was set up to succeed. I really enjoy my role, it's rewarding to be able to make an impact! 
What motivates you in your role and here at Prodigy?
Where do I even begin! First off, I really enjoy the flexibility we have at Prodigy through our flex hours. Having two teenagers, this really allows me to be present in their lives. I have the opportunity to ensure I can attend school sporting events, do the pick up and drop off and be present for other big milestones. Our Epic weekends are also something I enjoy, having an additional day off each quarter for an extra long weekend, really allows me to reconnect with myself. Our values are something that I really connect with through my job, specifically 'User Obsession', I love our "Prodigies" and my role and passion is to do whatever I can to support them. Along with 'Growth Mindset', I love that we encourage continuous learning. I am a big fan of continuously growing my skill sets and having our quarterly Gym and Learning fund really allows me to continue doing so.
What is your most memorable moment here? 
That's a tough one! I have so many. Supporting our big move from our Burlington office to our brand new Oakville office was a huge accomplishment and something I will never forget. One of the funnier moments was having the opportunity to dunk one of our CEO's at our Summer Fiesta party. Who wouldn't want to dunk their CEO?
What advice would you give someone thinking of joining Prodigy? 
I would tell someone it's a marathon, not a sprint. Take your time, learn and ask for help when you need it. Don't be afraid to take risks and fail, it's how you learn and grow! We learn from our mistakes here. I've had a lot of wins, but I have also had a ton of failures along the way. Make sure you take advantage of all Prodigy has to offer, for example participate in seminars we hold, it will be beneficial to your growth. Most importantly, have fun along the way!