Addition Worksheets
Use these free, printable worksheets to help your students in first and second grade build key addition skills.

1st Grade Addition Worksheets
Introduce your first graders to basic addition skills with single digit numbers
2nd Grade Addition Worksheets
Advance your second graders' skills in addition, including multi-digit addition practice
Make learning addition fun with Prodigy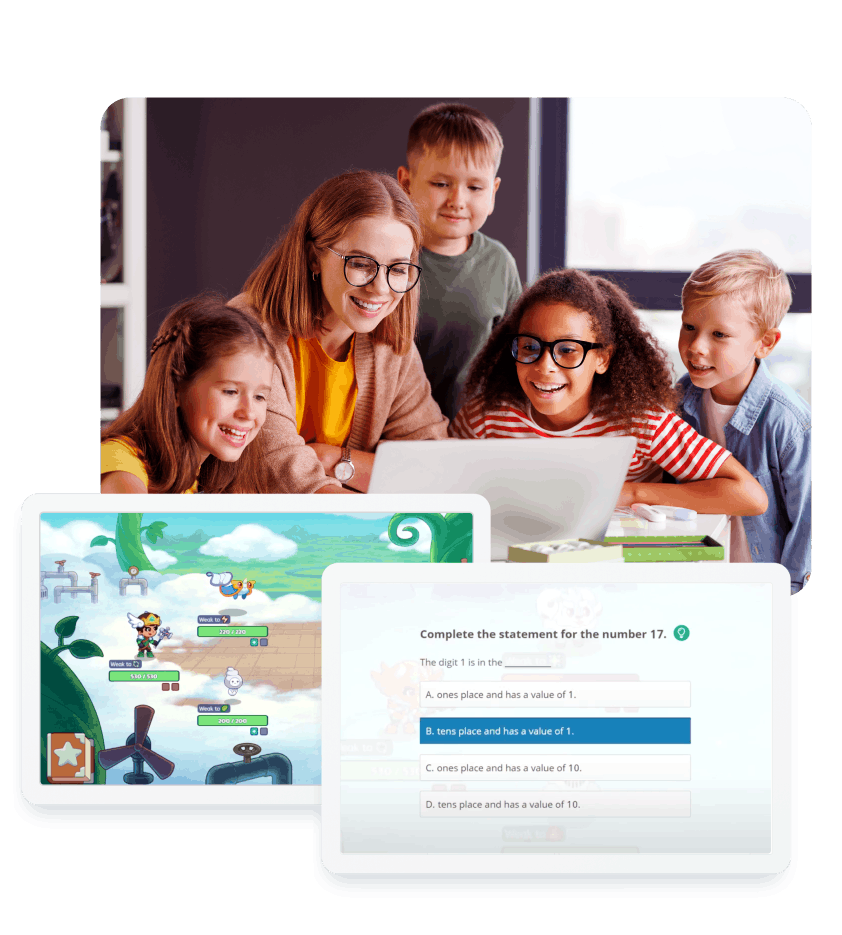 Engage your students and elevate their addition skills with Prodigy's game-based learning platform, specifically designed to support teachers like you.
Effortlessly differentiate content to match your lesson, curriculum and individual student needs.

Automatically graded assessments, complete with reports offering valuable data and insights.

Full access at no cost for you or your school.
See how it works
Frequently Asked Questions
Are these worksheets really free?
Yes, these printable math worksheets are free.
At Prodigy, we believe teachers should never be held back by budgets. That's why we made Prodigy Math, to help every student love learning and have access to engaging, educational content.
Do I need to create an account to download these worksheets?
No account is needed to access these free math worksheets.
Are there answer keys available for these worksheets?
Yes, answer keys are included when you download our free math worksheets. You can print this for your reference while your students complete the activity on the worksheet or have it ready to review with them afterwards.
How can I use these worksheets in my classroom?
As an educator, there are several ways you can use these worksheets in your classroom:
1. Practice Material: After teaching a specific concept, such as single-digit addition or place value, you can use these worksheets as practice material to reinforce what students have been taught in class.
2. Assessments: You can use these worksheets to assess students' understanding of the topics you've taught. The variety of exercises, including word problems and numeric problems, can help gauge students' grasp of the material.
3. Homework Assignments: These worksheets can be assigned as homework to give students additional practice outside of the classroom. They can help fill in the gap from regular workbooks.
4. Centers or Stations: In a classroom that uses a centers or stations approach, these worksheets could be used at a math center where students rotate through different activities.
5. Early Finisher Activity: For students who finish their work early, these worksheets can provide an additional challenge and keep them engaged.
6. Group Work: Some worksheets could be used for pair or small group work, promoting collaborative problem-solving skills.
Remember, it's important to go through the worksheets with the students after they've completed them, or provide them with the answer keys, to ensure they understand any mistakes they might have made.
Great question! Unlike traditional worksheets, Prodigy is a game-based learning platform that delivers differentiated, standards-aligned content through engaging, interactive gameplay.
With Prodigy, educators can:
Assign standards-aligned content with no grading needed.
Motivate your students with in-game rewards and challenges.
Access reports filled with learning insights from a student, class and curriculum level.
Best of all? Educators can use it for free! See how it works here!
Can I set these math skills and topics in Prodigy?
How can I make addition practice more engaging for my students?
Turning addition practice into a fun activity can make it real difference in your students' perception of math.
Here are a few engaging ways to amp up addition practice: 
Games: Incorporate addition into board games or card games. For example, you might play a game of "addition war" using a deck of cards, where the winner of each round is the one who can add the two drawn cards the fastest.
Real-life scenarios: Practice addition with money, or while preparing meals. This not only teaches math, but also practical life skills.
Art projects: Ask your to create art using objects like beads, counters or buttons and then add up how many they used.
Interactive online activities: There are plenty of online resources for addition practice, including interactive addition games and our very own game, Prodigy Math, that can make math practice an exciting adventure.
Looking for more ideas? Check out these 15 fun addition activities for new learners.
Remember: The goal is to make addition feel like a game, not a chore. Keep it light, fun and within your students' skill level to build interest and foster a love for learning math. 
What are some common mistakes students make when learning addition?
Learning basic addition can be quite challenging for many leaners. As one of the first major math skills they learn, it can be easy for them to fall into common pitfalls that may hinder their progress. Let's take a look at some of the common stumbling blocks they might face:
Mistake #1: Counting on fingers 
While this is a great way to introduce the concept of addition to them, relying too much on finger-counting can limit their mathematical growth. It's essential to encourage mental math skills for long-term success. 
Mistake #2: Overlooking the Zero 
One tricky concept for kindergarten and first graders is the addition of zero. They may think that adding zero changes the number (e.g. 10 + 0 = 100), a misconception teachers should aim to correct early on. 
Mistake #3: Reversing numbers 
Reversing numbers is a common mistake among new math learners. Make sure they understand that the order of numbers in addition does not affect the result - this, my friends, is the beautiful concept of 'commutativity'. 
Mistake #4: Confusing Addition with Subtraction 
Ah, the old switch-up between addition and subtraction. This mix-up is common, especially among students who are just beginning to learn and practice operations. Gentle reminders can help them distinguish between the two. 
Remember, mistakes are a healthy part of the teaching process and can even empower you as an educator to know where to support best. The good news is, with patience and persistence, they can be overcome. That's why it's so important to practice key skills on a regular with addition worksheets or math games like Prodigy, so you know exactly where your students are at.
Like these resources? You might also like these...